With October being Breast Cancer Awareness month, many teams across the country are rocking pink gear to show their support. New Mexico State will wear pink jersey tops while Oregon will don pink helmets.
Of course, there are plenty of other interesting storylines with uniforms being worn this week around college football. Check them out on this week's edition of Uniform Watch.
Breast Cancer Awareness Pink Gear
The Oregon Ducks announced on Thursday that they would wear pink helmets from Nike as part of the team's continuing effort to have the best jerseys in college football.
Saturday's uniform is United for a Cause http://t.co/DhxQvn7hlw #GoDucks #Play4Kay pic.twitter.com/95SKMR8qLF

— Oregon Football (@WinTheDay) October 17, 2013
After the game, the helmets will be auctioned off, with proceeds benefiting the Kay Yow Cancer Fund.
New Mexico State will also make a bold statement on Saturday with their pink jersey tops in its game against Rice on Saturday.
#NMState football unveils the uniforms for the Tough Enough to Wear Pink game on Oct. 19! #AggieUp! pic.twitter.com/u7vyXVJZio

— Jay Sanderson (@Sanderson_NMSU) October 8, 2013
Around the country, teams are rocking pink gear such as gloves, cleats and socks in support of breast cancer research and awareness.
North Carolina Matte Black Uniforms
The North Carolina Tar Heels wore new, matte black uniforms in their 27-23 loss against the Miami Hurricanes on Thursday night.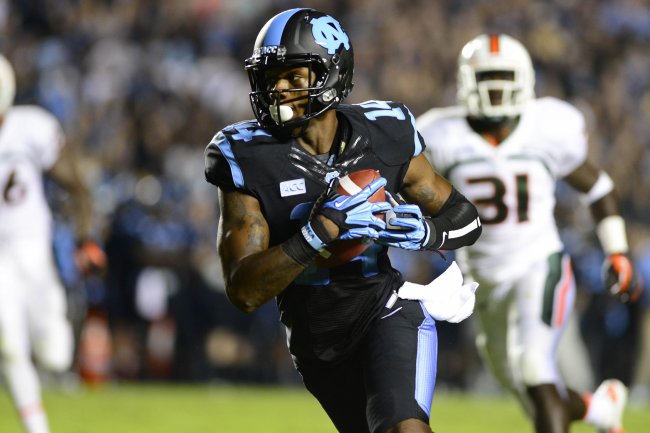 Bob Donnan-USA TODAY Sports
The team used its twitter account to advertise the night as "Zero Dark Thursday," an homage to the movie "Zero Dark Thirty."
Not gonna lie, this whole Zero Dark Thursday marketing campaign by UNC is awesome. Uniforms, field...everything. pic.twitter.com/djYmbRWXms

— Matthew Hibbs (@matt_hibbs) October 17, 2013
The Tar Heels have used plenty of new uniform combinations this year. According to Jonathan LaMantia of the Daily Tar Heel, the team is using its sponsorship with Nike to enhance its recruiting efforts.
Wyoming's Helmet Decal
The Wyoming Cowboys, who rock some of the most interesting uniforms for a lower-profile team, will feature the state flag on their helmet decals for their Border War showdown with Colorado State.
Wyoming uniform for the Border War! #ThinkWYO #GoWYO #WYOFB7220 pic.twitter.com/HB6KfwV9yZ

— Wyoming Cowboy FB (@CowboysFootball) October 14, 2013
The Cowboys, however, won't be going to the level that the Maryland Terrapins go to show their state pride.
UMd Terps going White/White/Red this Saturday vs. Wake Forest pic.twitter.com/pAol8JquTD

— Phil Hecken (@PhilHecken) October 17, 2013
Arizona State Asks Fans on Twitter for Help With Jersey Selection
The Arizona State Sun Devils twitter account for their equipment department sent out a tweet asking fans for suggestions about which uniforms the team should rock against Washington this weekend.
@SunDevilEquip classic colors

— Rob Maggs (@MaggsInPhx) October 15, 2013
The response resulted in the team choosing to go with the traditional gold helmets, maroon tops and maroon bottoms.
Uniform combo for homecoming! Whole lot of maroon and gold! Uni combo num 7 #changethegame pic.twitter.com/oTpyr66OVP

— SunDevilEquipment (@SunDevilEquip) October 16, 2013
The Western Kentucky Chrome Helmets
Some of the best helmets in the country can be found on the heads of players for the Western Kentucky Hilltoppers, as their chrome domes are some of the flashiest in the country.
One photo that has made its rounds on twitter shows just how shiny and reflective those helmets are, as the entire field is visible on one of the Hilltoppers helmets. (H/T to Phil Hecken of Uni Watch for the find)