NBA Newbies Who Are Earning Rotation Spots in Preseason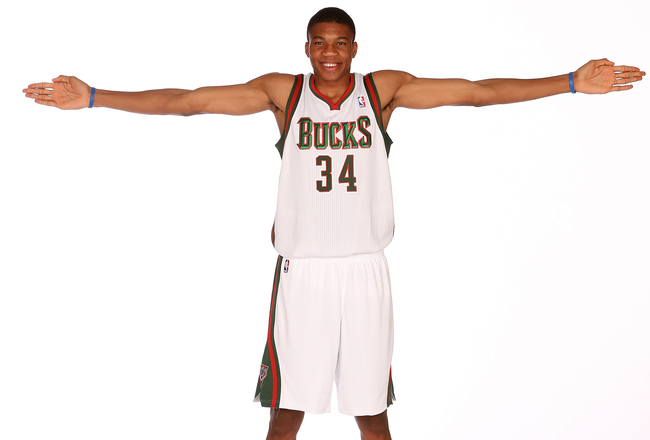 Giannis Antetokounmpo is raising eyebrows.
Gary Dineen/Getty Images
The NBA preseason is critical for rookies seeking to reveal their worth.
Which NBA newbies are earning rotation spots while piecing together a quality preseason?
For a couple prominent rooks, Trey Burke and C.J. McCollum, the beginnings of their NBA journeys have unfortunately contained injuries.
Other selections, including fifth overall pick Alex Len, have displayed fairly inconsistent preseasons.
There have, however, been youngsters who are raising eyebrows. Their performances are helping them solidify a role come regular season.
Let's break down which players are currently carving their niche with their respective franchises.
Honorable Mention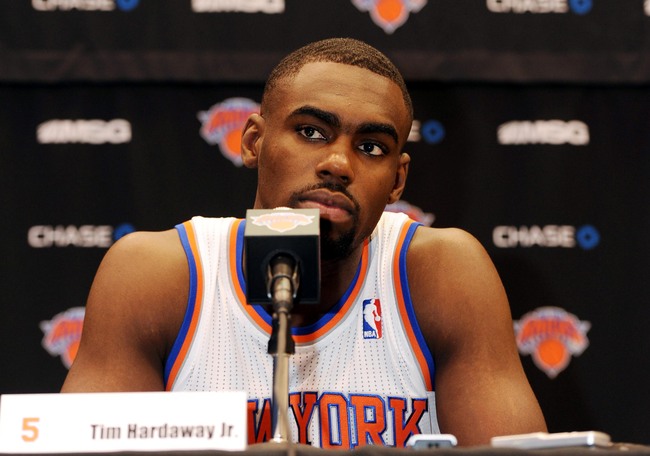 Joe Camporeale-USA TODAY Sports
Gorgui Dieng, Minnesota Timberwolves: Gorgui Dieng has only had one solid outing (he's played just two games), so it's hard to justify giving him his own slide. This one superb showing was impressive, though. He notched nine points, nine rebounds and four blocks, creating a picture of what type of player he'll be. Steady contributions like this will help him log minutes backing up center Nikola Pekovic.
Tony Snell, Chicago Bulls: Tony Snell's length and athleticism already make him a serviceable defender, but his recent output offensively will really give Chicago Bulls coach Tom Thibodeau something to think about. Snell poured in 12 points (5-8 FG) including two three-pointers in their latest win over the Detroit Pistons. If Snell can effectively score, particularly from distance where he'll space the floor for Derrick Rose, then he could nab a role in Chicago's second unit.
Tim Hardaway Jr., New York Knicks: Tim Hardaway Jr. is averaging 13 points per game in four contests, but the trouble is that the New York Knicks' backcourt is clogged. While his play is warranting him a role off the bench, this could be problematic with a healthy J.R. Smith and Iman Shumpert. This is why Hardaway Jr. can only be recognized in the Honorable Mention category.
Anthony Bennett, Cleveland Cavaliers: The No. 1 overall selection has showed reasons why he was taken first, such as double-digit scoring in two of four games and six total three pointers. However, he has also looked inept at times, amplified by an excessive foul tally and too many turnovers. These struggles prevent his face from appearing in its own slide, but he is still progressing in an acceptable manner.
Kentavious Caldwell-Pope, Detroit Pistons
Kentavious Caldwell-Pope has displayed some good and bad during the preseason. While his shooting percentage has been ugly (including a 1-12 mark in his opening game), his potential to be a high-volume scorer is clear.
This was evident in a recent outing against the Bulls, as he scored 18 points and cashed three long-range balls (see the above video).
His ability to produce in such fashion is what's helping him earn a rotation spot with the Pistons. Detroit lacks wings who can space the floor, and Caldwell-Pope will likely find himself filling this void.
He'll probably play decent minutes alongside Brandon Jennings. When Jennings utilizes a pick-and-roll, Caldwell-Pope gives him a threat to kick to on the perimeter.
Caldwell-Pope has also accumulated an eye-opening amount of rebounds, grabbing seven in three different games. He's known for his shooting, but his athleticism enables him to contribute in other ways as well.
KCP still has a long way to go in terms of efficiency, but a poor shooting percentage is pretty common for a 20-year-old rookie. He'll have his dismal shooting nights, but he'll also be an X-factor on certain evenings by catching fire.
Anticipate his involvement in Detroit's offense from the get-go.
Giannis Antetokounmpo, Milwaukee Bucks
Giannis Antetokounmpo's name has to take the cake as the toughest to spell in the NBA.
Thank goodness he already has two nicknames: the "Greek Freak" and "The Alphabet," the latter due to his complex name.
The Greek Freak is currently giving fans of the Milwaukee Bucks reason for optimism. The lanky, 6'9'' 18-year-old wing is catching attention across the whole NBA landscape. Check out the video for some highlight-reel blocks and a savvy euro-step drive and score.
The upside of this kid is scary. We shouldn't allow inefficiency in terms of turnovers and poor shooting to cloud what we're witnessing here. From what we've seen thus far, it's easy to wonder if this young stud should've gone much higher than the 15th pick.
The Alphabet will surely take his lumps as a rookie, but here's the thing: The Bucks should be horrible, so they can afford to let him mature and gain experience. He could be their lone bright spot in what's looking like it will be a lackluster campaign in a crowded Central Division.
In his best preseason game, his stat line read: 14 points, four rebounds, two assists, three blocks and two steals. He can leave an imprint on a game in various ways, and Bucks coach Larry Drew may not only utilize him, he may unleash him so he can really develop.
It may be years before Antetokounmpo reaches his ceiling, but the exciting thing for Bucks fans is that ceiling appears to be extremely high.
Kelly Olynyk, Boston Celtics
While Kelly Olynyk has been fouling at hefty rate (fouled out twice), he is averaging 12.8 points per game and 5.3 rebounds per game in the Boston Celtics' last four outings.
He has shown much offensive versatility. He has even netted a couple threes, and he should find himself involved in the Celtics' offensive schemes once the regular season hits.
What has been specifically promising is the fact that Olynyk has been rebounding well and defending respectably. These were concerns coming into the draft, but Olynyk appears to be working extra hard to show his competency in these areas. The six charges he has taken magnify these efforts.
Olynyk's offensive arsenal is valuable, and if his defense keeps taking strides, then his future in the NBA is bright. New coach Brad Stevens should gather this and in turn insert Olynyk rather frequently.
In fact, Olynyk could even find himself running with the starting unit at some point this season if he continues his ascent.
Ben McLemore, Sacramento Kings
After a disappointing Summer League, Ben McLemore is showcasing his potential with the Sacramento Kings during the preseason. He is averaging 10 PPG in 22.3 minutes per outing.
Specifically, McLemore has been moving well away from the ball, and he has been pulling the trigger on high-percentage looks. He is 6-15 (40 percent) on threes, and he has also unveiled some agility (see the above video).
Defensively, he still has plenty of room to grow, and he should struggle guarding elite shooting guards. If something holds him back from earning a starting position, it will likely be this.
However, this is also an issue for Sacramento's other shooting guards, Marcus Thornton and Jimmer Fredette, so it will not overly strain McLemore's presence on the floor.
It's not like McLemore has been anywhere near dominant, but he is going in the right direction. His comfortability level has undoubtedly increased.
He has definitely secured a place in the Kings' rotation, and depending upon further improvements, he could find himself starting sooner rather than later.
Victor Oladipo, Orlando Magic
The Orlando Magic should be thrilled about Victor Oladipo.
Oladipo has been filling up the stat sheet, something for all fantasy hoops participants to note. He has scored at least nine points in each outing and has had games that have included nine assists, 11 rebounds and four steals.
Oladipo seems poised for superstardom, and it has been amazing how much progression the 21-year-old has made in the past couple years. He has gone from a mere slasher at Indiana who couldn't shoot to a freak of nature who is the frontrunner for Rookie of the Year.
The thing about Oladipo is that he's not just stamping his place in the Magic's rotation; he's making it known that he's an integral piece to their future.
He won't just be compiling random minutes in their mix of players, but he should be featured heavily as soon as the season launches.
The Russell Westbrook-comparisons seem premature, but Oladipo's game is adding more and more layers. While the Magic should endure many losses in 2013-14, the emergence of Oladipo will have fans enthused.
Michael Carter-Williams, Philadelphia 76ers
Michael Carter-Williams will have his hands full replacing All Star Jrue Holiday, who the Philadelphia 76ers dealt to the New Orleans Pelicans in the offseason.
In time, though, Carter-Williams could become a high-caliber player himself. His preseason appearances so far verify this.
Carter-Williams has notched double-digit scoring in three of his five games and has at least four assists in every game.
He has also cashed six total three-pointers, which is a good sign since his long-range shooting was an issue in college (shot 29.2 percent from distance during 2012-13 with Syracuse).
Perhaps most encouraging has been Carter-Williams' ability to handle pressure, most notably in a matchup against the Celtics. MCW was guarded by Avery Bradley, a notoriously pesky defender. The slender Carter-Williams wasn't fazed by Bradley, amassing six assists and zero turnovers.
As with all young floor generals, there will be dreadful nights, especially in a league laden with top-notch, veteran point guards. However, Carter-Williams looks like he can become an above-average point man and a particularly effective distributor (see the video for a nice-looking dime).
What's more, Carter-Williams should have every chance to grow with the 76ers, who look like they may be near the top of the Andrew Wiggins sweepstakes.
Steven Adams, Oklahoma City Thunder
Steven Adams is doing everything he can to challenge Hasheem Thabeet for the Oklahoma City Thunder's backup center slot.
In the Thunder's most recent game against the Pelicans, Thabeet started but only played 14 minutes, finishing with two points and three boards.
Adams played 34 minutes and produced 10 points and 15 rebounds. Coach Scott Brooks has a clear position battle in front of him, and this output from Adams is dramatically enhancing his case for an involved role.
Brooks' decision to hand him the overwhelming chunk of the playing time could signify where things are headed in this positional bout.
Furthermore, Adams' play against New Orleans was not a "one hit wonder." While his minutes mark has been less in previous contests, he has still scored and rebounded at a nice clip. In time, he looks like he'll become a double-double machine.
Unlike the majority of those previously listed, Adams is playing for a legitimate title contender. The Thunder won't allow playing time for a "project" pick. He'll have to prove he's worthy of playing right now.
Based on his preseason thus far, there's reason to believe he is.
Keep Reading