Syracuse Basketball: Setting Pass/Fail Marks for Orange's Key Players in 2013-14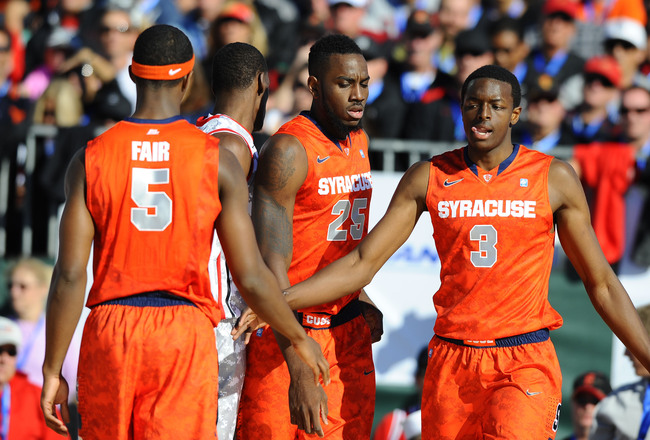 Christopher Hanewinckel-USA TODAY Sports
As the college basketball season draws nearer, hype for Syracuse Basketball is at an all-time high. Fans proved as much when they sold out the Carrier Dome clash between Syracuse and Duke just hours after tickets went on sale.
With the season just around the corner, fans are starting to sort out their expectations for the team and the players. Let's help out by setting some goals that will make for a successful season for a few of Syracuse's key players.
C.J. Fair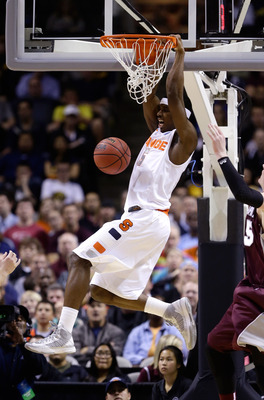 Ezra Shaw/Getty Images
ACC media members are apparently familiar with C.J. Fair's work even though they haven't covered him as a member of the conference. They showed as much by choosing Fair as the conference's preseason Player of the Year at the ACC's Media Day.
Fair led the Orange in scoring and rebounding last season, putting up 14.5 points and seven rebounds a night. Fair's numbers have improved each season, and as a senior and the unquestioned leader of the team, it's fair (see what I did there?) to expect that trend to continue.
Syracuse fans would certainly be happy with something like 16 points and 8.5 rebounds per game from Fair. However, Jim Boeheim has said he needs to get Fair the ball more, so throwing up a 17 and 10 isn't out of the realm of possibility. That's not the most likely outcome, but if it happens, Fair will run away with the ACC Player of the Year award and will be considered for National Player of the Year.
A "passing" line: 16 points, 8.8 rebounds, 1.2 blocks
Jerami Grant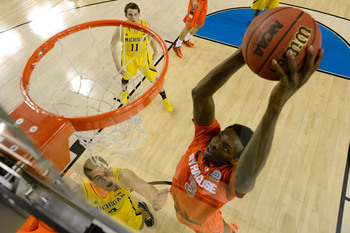 Pool/Getty Images
After an impressive freshman season, fans are excited about what Jerami Grant can bring to the table this year. We already know Grant's story: He showed flashes last year filling in for James Southerland but didn't see the floor much due to the deep forward rotation.
During the team's trip to Canada in August, Grant led the team with 13.3 points and 7.8 rebounds over four games.
With greater competition in the regular season, those would be honor roll numbers. However, with three of the top four scorers from last year's team no longer suiting up, the points will need to come from somewhere. Grant is probably the guy Boeheim and his staff will look to.
A "passing" line: 10 points, 6.0 rebounds, 1.3 blocks

Rakeem Christmas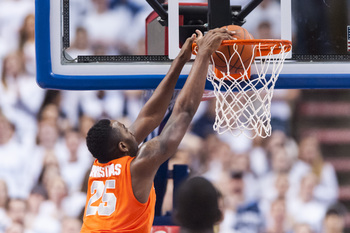 Howard Smith-USA TODAY Sports
Rakeem Christmas could be the difference between a good Syracuse team and a legitimate national title contender.
Entering his junior season and after a Final Four run, Christmas has the experience to know what he needs to do to help his team win. He has to play with more intensity, aggressiveness and most importantly, stay on the floor.
He only averaged 20.8 minutes per game last year as a starter. If he is on the floor longer, it will be because he is finally asserting his dominance.
A "passing" line: 8.0 points, 6.5 rebounds, 2.0 blocks, 28-30 minutes
Trevor Cooney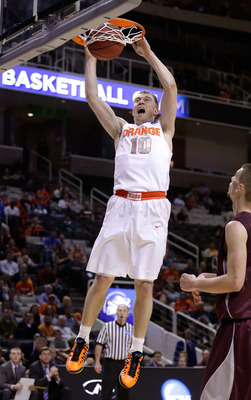 Ezra Shaw/Getty Images
After being billed as a sniper from long range, Trevor Cooney underwhelmed in his redshirt freshman season. Playing only about 11 minutes per game behind Brandon Triche and Michael Carter-Williams didn't help much. Cooney was never able to get into a groove when he entered the game. As such, Cooney shot only 26.7 percent from deep last year.
With Triche and Carter-Williams leaving, Cooney remains as the only guard with meaningful experience on the roster. Therefore, he should be a bigger part of the offense and find it easier to get into the flow of the game. He knew he had to improve over the summer, and he dedicated himself to doing so. With an expanded role as a projected starter, look for Cooney to find his touch this season.
A "passing" line: 8.5 points, 2.0 rebounds, 1.2 steals, 33 percent three-point shooting
Tyler Ennis
As a true freshman, Tyler Ennis is an unknown commodity. However, he is the only true point guard on the roster, so the unknown will become known rather quickly.
Ennis is expected to be thrust into a starting role right away, and there will be a lot riding on the shoulders of the Canadian point man. They keys for Ennis will be to play under control, limit turnovers and learn the nuances of the zone defense.
He won't be relied on to score much, but anything he contributes on that end will be a bonus.
A "passing" line: 6.0 points, 4.0 assists, 1.1 steals, 2.0 turnovers
Keep Reading

Syracuse Basketball: Like this team?