The Ultimate Fighter 18: Team Rousey vs. Team Tate Episode 7 Live Results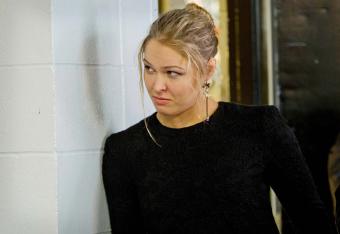 Bruce Kluckhohn-USA TODAY Sports
The Ultimate Fighter 18 continues Wednesday evening, as undefeated bantamweights Josh Hill (Team Tate) and Michael Wooten (Team Rousey) square off inside the Octagon.
Follow along here as the action unfolds tonight at 10 p.m. EST.
Well, that does it.
Thank you for following along, ladies and gentlemen.
If you want to talk TUF or MMA in general, hit me up on Twitter, @HunterAHomistek.
Adios, homies.
Looks like we have some crazy recap episode next week. What is this?
Is this an excuse to get Tate and Rousey in the same room to do some bickering?
Ugh.
Fight announcement:
Can you guys guess these fights?
The women's bout:
Peggy Morgan vs. Sara Moras
annnnd the men's bout:
Anthony Gutierrez vs. Cody Bollinger
Early predictions, anyone?
I'm taking Peggy and Cody, Peggy via TKO and Cody via submission.
Hill is emotional, and understandably so.
Even though he was a pretty boring fighter, it sucks to see a man fall short of his dreams and goals. That was the biggest fight of his life, and he's gutted after failing to convert on the opportunity.
Oh, Ronda. Just accept their show of sportsmanship.
Tate congratulates Ronda for a "good fight," and Ronda flips her off, saying it's "Team Fake Nice vs. Team Real Mean."
"I can't stand when somebody comes in here and they're one-dimensional. I hate that s***." - Dana.
Wooten passes to half guard and briefly searches for an arm-triangle choke.
No dice.
Hill reclaims full guard, and Wooten hammers away with punches and elbow. This is going to seal the fight for the Brit, I do believe.
Wooten finished strong, and that's going to earn him the win.
10-9, Wooten for a total of 29-28, Wooten
Clinch.
Clinch.
Clinch.
Separate!
Another front kick from Wooten is met with an ill-advised spinning backfist from Hill.
Wooten avoids it and takes the off-balance Hill to the mat.
Hill looks exhausted, but he's working a high guard, potentially setting up an armbar or triangle attempt.
Round 3:
Guess what they're doing 30 seconds into the round?
Did you guess "clinching against the cage"?
If so, pat yourself on the back and go get yourself a treat.
Hill is looking for the single, but Wooten's takedown defense is solid.
Now Wooten reverses and bullies Hill against the cage, only to be re-reversed.
Wooten links together a solid combination with his hands and drops for the takedown, dumping Hill to the canvas.
Nice transition from striking to grappling from the Brit there.
GSP probably can't finish that can of NOS.
Who do ya got in Round 3? Who will advance?
Whoa. That was a nice knee. What you get when you shoot in going low. #TUF18

— UltraLiger (@UltraLiger) October 17, 2013
Twitter liked Wooten's crushing knee in the opening frame of Round 2.
Well, Hill is not one for drama (as we learned in Round 1), and he didn't make full use of his opportunity. He peppers away from half-guard to conclude the round.
10-9, Wooten
We have a third round.
Hill defends well and ends up in top position, working from Wooten's guard with roughly one minute remaining in the round.
He will need to do something dramatic to steal the round and prevent sudden victory, though.
Nope, Wooten's free, and now he's going back to work.
They're against the fence (again), and now it's Wooten looking for the rear-naked choke. Interesting. This is a completely flipped script in Round 2.
Wooten's doing work form the top, busting Hill up with punches and elbows.
Clearly Hill, the powerful wrestler, is not accustomed to being on his back.
...And as I say that he pops back up. They clinch against the cage, and Hill lands a couple solid, looping punches. Wooten doesn't flinch.
The separate.
Front kick from Wooten followed by...a takedown attempt?
Alright, mate.
Hill searches for a guillotine and pulls guard. Does he have it?
Round 2:
Big knee from Wooten in the opening seconds, and now the Brit is looking for the takedown on his stunned foe.
He has it.
The tables have turned, Mr. Hill.
Can Round 2 be females? They've completely outshone the males this season, IMO.
Well that was a boring and uneventful first round of #TUF18

— Tyler Greathouse (@tgreathouse10) October 17, 2013
Hey, fighters: This Twitter user is not impressed by your perfor-mants.
That slam looked like it hurt #TUF18

— Chris Holdsworth (@holdsworth135) October 17, 2013
Castmate Chris Holdsworth enjoyed Hill's slam in Round 1. It was a good one, indeed.
Hill lost his mouthpiece against the cage, but referee Herb Dean steps in and gives him time to recover his missing gear before restarting the cage battle.
A few more striking exchanges unfold as Hill continues to pursue the takedown. He's relentless, if nothing else.
Round over.
My score: 10-9, Hill
I imagine Wooten is not enjoying this very much.
Hill secures the choke!
Oh, man. There was a combination of terrible technique and solid defense there, as Wooten peeled Hill's hand from under his neck.
He's free and back to his feet after a quick scramble.
Big punch and elbow from Hill, and he's back to looking for the takedown.
Round 1:
A touch of the gloves, and they're off.
Wooten pumps a jab, and Hill forces a clinch just 10 seconds into the round.
The two exchange positions against the fence before Hill emphatically dumps Wooten right in front of Tate and his coaches.
Hill passes Wooten's guard and threatens the mount, but Wooten turns, opting to give up his back.
Not sure about that strategy.
Hill is working for the rear-naked choke. Uh-oh.
Michael Wooten (Team Rousey) vs. Josh Hill (Team Tate)
Fight time! Last chance to make a prediction and look really smart if you're right.
This article is
What is the duplicate article?
Why is this article offensive?
Where is this article plagiarized from?
Why is this article poorly edited?