Mike Tyson Believes Royce Gracie Would Have Defeated Him in 1993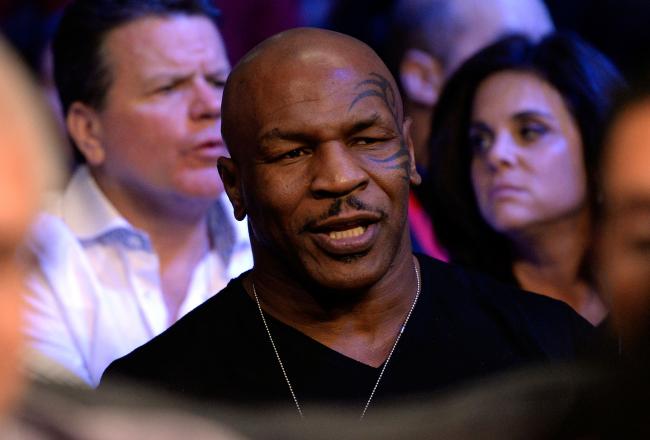 Jeff Bottari/Getty Images
In the late 80s and early 90s, there was no man on the planet more feared than "Iron" Mike Tyson. The youngest fighter to ever lay claim to the heavyweight throne was settling fools left and right as he dished out a unique and brutal brand of violence inside the ring.
Tyson's ferocity and killer instinct put him in a league of his own, and the thought of challenging him between the ropes created a notorious aura which defeated many of his opponents before the opening bell ever sounded.
His reign as the heavyweight king would ultimately come to a shocking end at the hands of heavy underdog Buster Douglas in February of 1990 in one of the biggest upsets in boxing history. Nevertheless, "Kid Dynamite" would rebound to win five consecutive bouts before his career was stopped abruptly in 1992 as the result of a three-year prison stint in the aftermath of a rape conviction.
While Tyson's popularity had elevated the "sweet science" to new heights, there was another combat sport planting its seeds in the distance as the UFC launched their inaugural event in 1993.
In the early days of MMA, Brazilian submission phenom Royce Gracie was the man to beat as he dominated three of the organization's initial four tournaments, solidifying his legacy in the history books of the sport.
In the 20 years that have passed since the birth of the UFC, the boxing legend has become a fixture around the MMA scene. As a close friend of UFC President Dana White, the 46-year-old is a regular at the promotion's Las Vegas events.
With Tyson's interest in the sport, the analysts on Wednesday's edition of UFC Tonight asked the New York native how he felt a hypothetical showdown with Gracie would have gone down in 1993.
While Tyson is a prideful man and confident in the fireworks he could make with his hands back in his prime, he believes that power would not have been a factor against the grappling ace.
Well, in '93, I was in prison, so there would not have been a fight, but there is no way I would have won. I had no idea what was going on with that type of fighting and would've been taken by surprise. I would have had to train in that particular art of fighting for that to happen. That's a particular art. You are not going to go in there with your just your hands, you need to have a great ground game as well. You also need a great wrestling game to be successful. You have to have both skills, wrestling and boxing. That's the truth.
In the aftermath of his storied career inside the ring, Tyson has gone on to reinvent himself in mainstream pop culture, having hit cameo appearances in The Hangover I & II. In addition to that, he is also the subject of his highly acclaimed documentary Tyson, which gives an intimate look at the rise and fall of his boxing career.
He is currently the subject of a mini series titled Being Mike Tyson, which airs on Fox Sports 1.
This article is
What is the duplicate article?
Why is this article offensive?
Where is this article plagiarized from?
Why is this article poorly edited?