20 Best Footballers Based Outside of Europe Right Now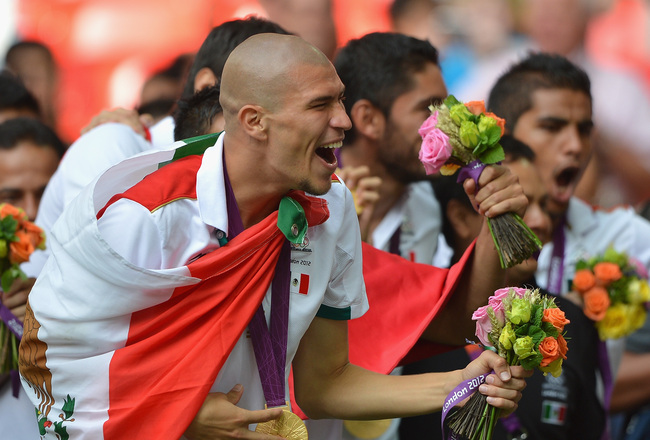 Chivas defensive midfielder Jorge Enriquez
Jeff J Mitchell/Getty Images
When it comes to the coverage of football in English-language media, the majority of the focus is naturally upon matters in Europe—with the Champions League being the biggest annual competition in the sport.
However, there is plenty of footballing talent outside of the European game, with the AFC, CONCACAF and CONMEBOL regions growing in terms of their ability to attract players away from the clutches of UEFA.
In this list of 20 leading talents, the intention is to cast the net across world football and ensure that the 20 names are not overly drawn from one nation or league.
While there are some surprise omissions, these 20 players would all be fully capable of plying their trade in Continental competition. Ronaldinho, for instance, is omitted for that reason.
Let's, then, take a look at 20 of the best footballers currently playing outside of Europe.
20. Paolo Guerrero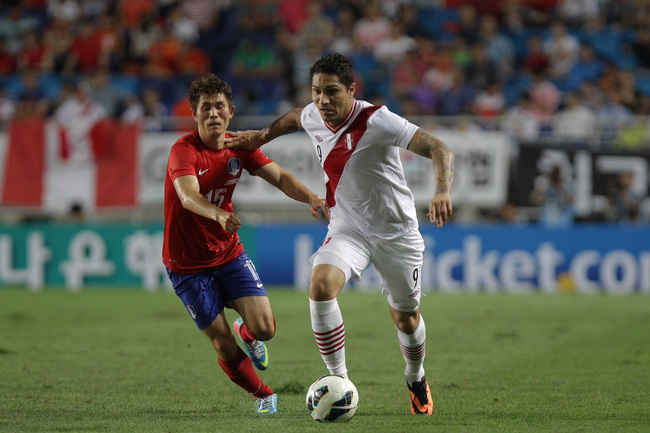 Chung Sung-Jun/Getty Images
Peru striker Paolo Guerrero gets a place on our list despite an inconsistent season in the Brasileirao with Corinthians.
Still just 29, Guerrero can be a handful for any defence in the world—as he showed just last December when he caused carnage in the Chelsea defence at the Club World Cup.
He may have missed his final chance of a World Cup with Peru failing to qualify for Brazil 2014, but he could still have a major role to play at the 2015 Copa America.
19. Enner Valencia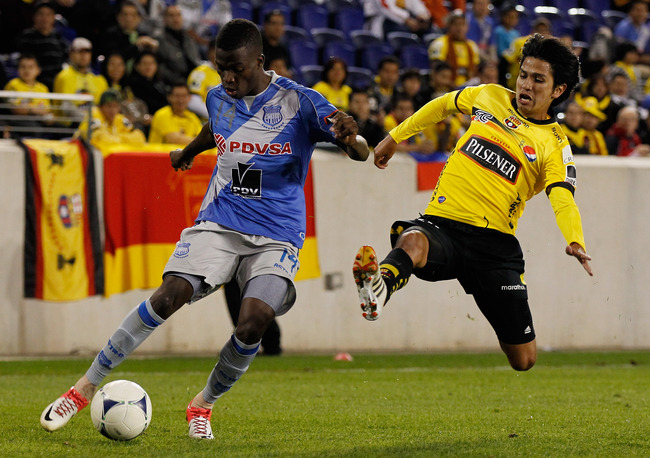 Mike Stobe/Getty Images
Ecuadorian winger Enner Valencia has recently forced himself into his country's international setup, having impressed in the Copa Libertadores with Emelec.
A bundle of energy, he tracks back and forward down the flank throughout the 90 minutes, popping up consistently as a source of goals.
Used as a second striker at international level, he will surely be on the move, at least to Mexico, in the next 12 months.
18. Jorge Enriquez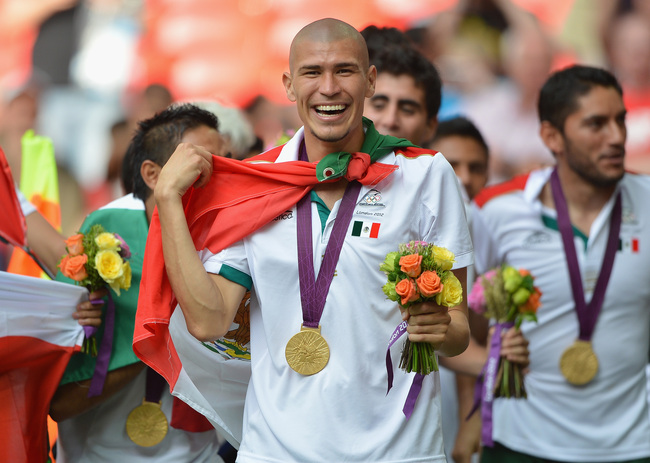 Jeff J Mitchell/Getty Images
Mexican defensive midfielder Jorge Enriquez was one of the country's stars of the Olympic Games in 2012, having also been voted the third-best player of the Under-20 World Cup the previous year.
Now 22, Enriquez has not departed Chivas for Europe as quickly as some had expected, while he has yet to establish himself fully within the Mexico setup.
Energetic and solidly built, Enriquez is excellent at anticipating play, turning over the ball and spreading play for his side. Progress, though, has not been as quick as had been hoped.
17. Yoichiro Kakitani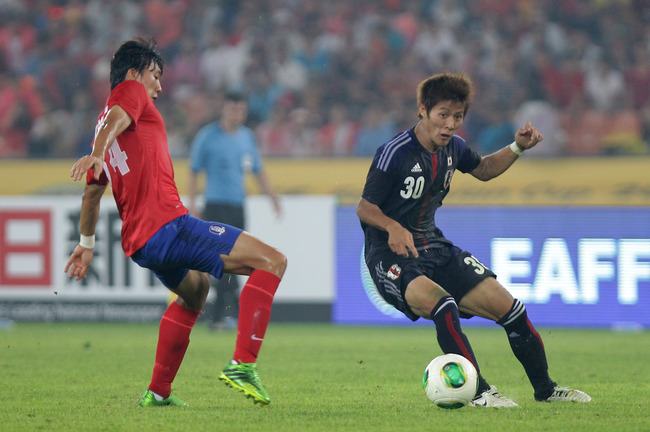 Chung Sung-Jun/Getty Images
Japan and Cerezo Osaka forward Yoichiro Kakitani has been in fine scoring form this season, finding the net 16 times in 28 league games, as well as on three occasions for his national side this summer.
A fast and slight forward, Kakitani can play a number of forward roles—generally operating as a wide forward from either flank. He is very much one of Japan's current generation of exciting attacking talents.
Cerezo have sent Shinji Kagawa, Takashi Inui and Hiroshi Kiyotake to European football in recent years, and it will be little surprise to see Kakitani follow in the coming months.
16. Gil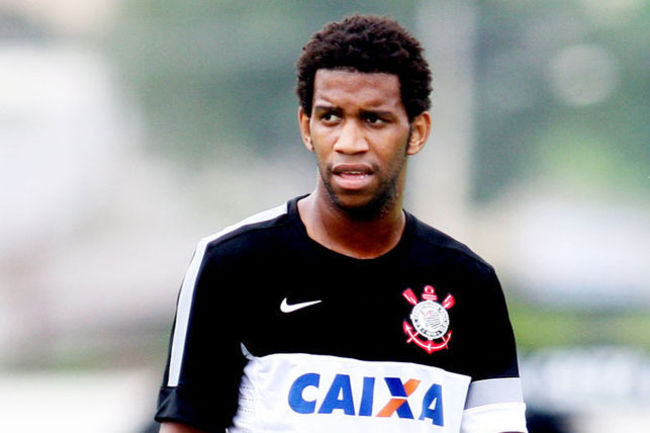 Lancepress

Corinthians pulled off a major coup in the capture of Gil from Valenciennes last January, with the classy defender one of Ligue 1's best defenders at the start of last season.
Despite a slow start to life at Corinthians, by the middle of the year, Gil was in fine fettle and showing the same type of technique and anticipation that allowed him to shine in Europe.
Brazil has depth at centre-back, meaning Gil is unlikely to make strides at international level anytime soon. He is, though, a standout defender at club level.
15. Raul Jimenez
Mexico striker Raul Jimenez has a great record at club level that, thus far, hasn't translated into success at international level.
On the surface, there is no good reason for his lack of success, with Jimenez possessing every attribute needed to succeed internationally. Perhaps it is just his lack of an outstanding physical quality that is holding him back.
The America forward scored a sensational overhead kick in World Cup qualification last week, and the hope must be that he can kick on from that success.
14. Frickson Erazo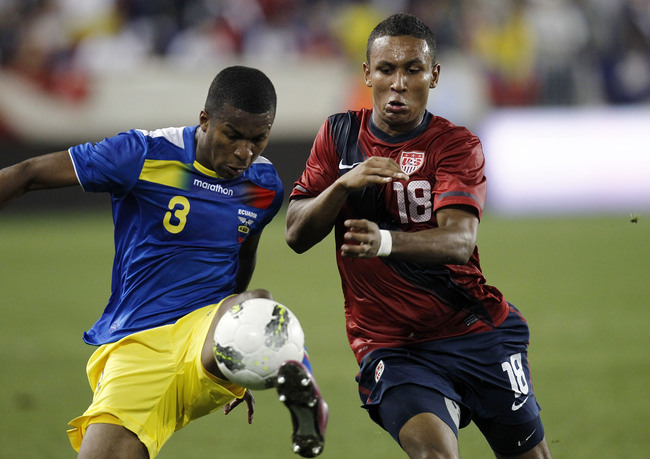 Jeff Zelevansky/Getty Images
Ecuador defender Frickson Erazo was in fine form for his country in World Cup qualifying and was a major reason behind the team's success.
Playing for Barcelona (ECU), Erazo is one of the best technical defenders in South America, and when combined with his excellent speed and strength, he becomes an imposing proposition.
He needs to communicate better with his fellow defenders, but there is no doubt he will be on his way to Europe within a couple of years.
13. Kim Young-Gwon
Chung Sung-Jun/Getty Images
Guangzhou Evergrande centre-back Kim Young-Gwon is undoubtedly one of Asia's best defenders and has been in outstanding form for his club in the AFC Champions League.
Kim is excellent in the air, despite his slight frame, and also has a skill for dispossessing opponents without the need for excessive physicality.
The Korean is good at carrying the ball out of defence and has filled in comfortably at left-back in the past. Coach Marcello Lippi is a fan, and Kim will surely not be in Asia much longer.
12. Nilton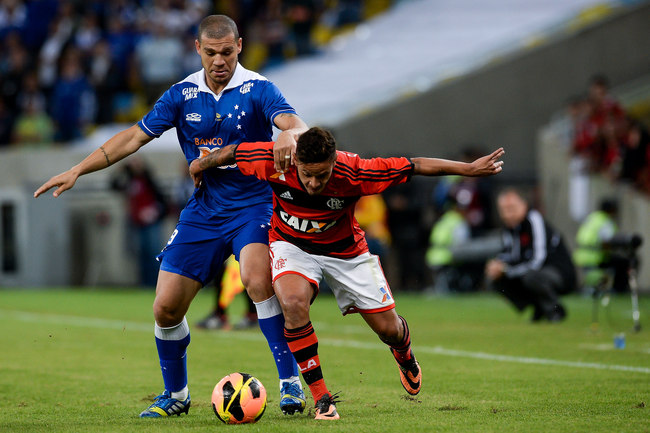 Buda Mendes/Getty Images
Powerful defensive midfielder Nilton has been one of the standout players of the Brasileirao season, contributing heavily at both ends of the pitch.
The former Vasco man is an excellent box-to-box player, using his strength and power effectively to dispossess opponents.
With the ball, he is a composed presence, recycling possession well while rarely attempting anything extravagant. Aerially, he is also a major asset when both defending and attacking set pieces.
11. Ha Dae-Sung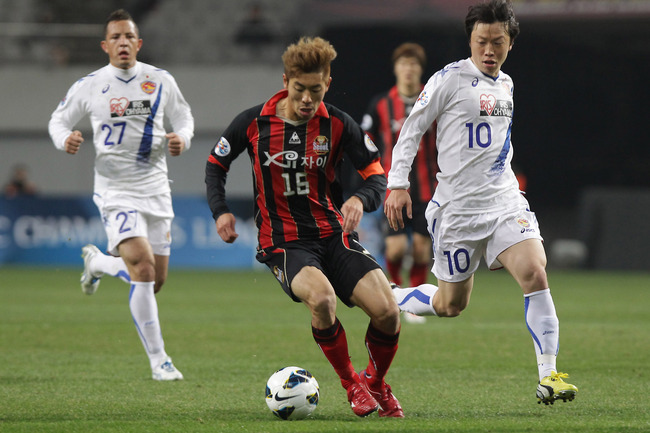 Chung Sung-Jun/Getty Images
FC Seoul midfielder Ha Dae-Sung has been one of the outstanding players in Asian football this year, impressing for both club and country in continental and regional competition.
Ha is technically excellent and controls his side's tempo from his midfield pivot role. With an outstanding range of passing, Ha could be an important player for his country at next summer's World Cup.
FC Seoul will take part in the AFC Champions League final next week, and Ha will be central to their chances of success.
10. Asamoah Gyan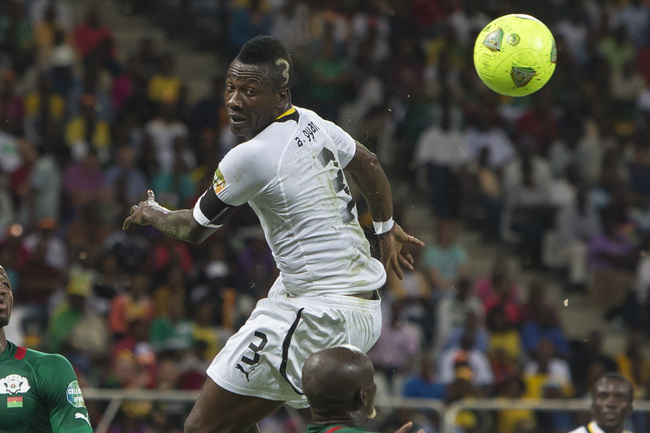 Gallo Images/Getty Images
Ghana striker Asamoah Gyan is quite simply wasting his time in Qatar, having scored 57 goals in 43 games in a league that does not even match up to Asia's best.
The money may be good, but at 27, he could still be performing at the top level in one of Europe's better leagues and is instead scoring at well over a goal per game in the Qatar Stars League.
For his country, Gyan is still an important player and will go to the World Cup next summer off the back of six goals in five games thus far in qualification.
9. Jefferson Montero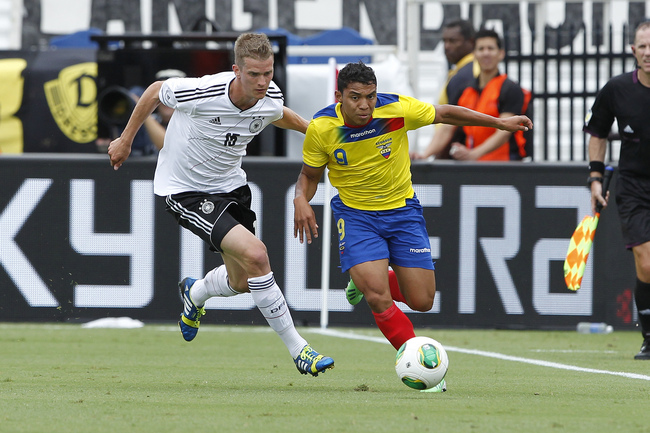 Joel Auerbach/Getty Images
Ecuador winger Jefferson Montero came close to a move to England this summer, per the Daily Mail, and will hope to see that transfer come about in January.
Montero has already had one shot at European football but, having only recently turned 24, still has plenty of time to improve on his spell at Villarreal.
An electric presence on the flanks, the Ecuadorian has excellent dribbling skills and is a major threat when crossing with either foot. He must, though, take his second chance when it comes.
8. Everton Ribeiro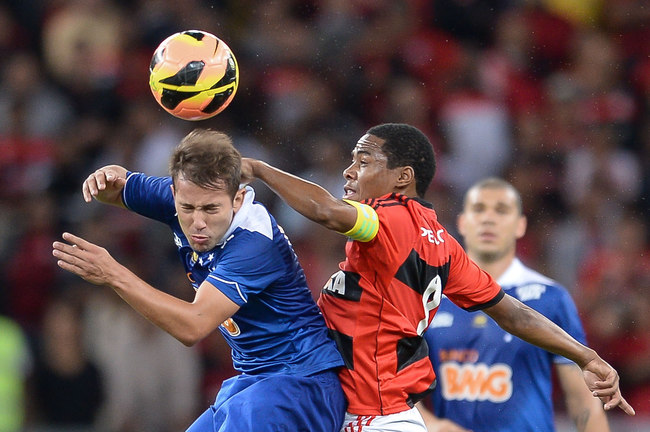 Buda Mendes/Getty Images
Cruzeiro attacking midfielder Everton Ribeiro has been the standout in his position in the Brasileirao this season.
A wonderful dribbler, Ribeiro bursts past players with ease and looks to play short, sharp interchanges with his attacking colleagues.
The 24-year-old has scored five times and provided seven assists in the league this campaign, as Cruzeiro soared to a comfortable lead in the title race.
He has played his way into the spotlight and, having received attention from Russia last year, will no doubt be the centre of much attention again in January.
7. Elkeson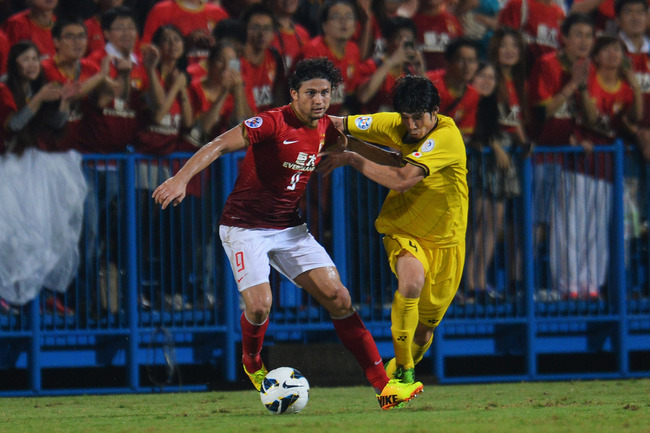 Koki Nagahama/Getty Images
Brazilian attacking midfielder Elkeson has scored 27 goals in 32 games across all competitions since arriving at Guangzhou Evergrande in January, adapting to a centre-forward role in Marcello Lippi's side.
The former Botafogo man has netted an array of goals for the Cantonese side, scoring with both feet and his head on a regular basis. With great upper-body strength and decent footwork, he has the makings of a quality No. 9.
In big matches in the AFC Champions League, he has often reverted to a wide attacking midfield role where his injection of pace from deep can have a big impact. The better he plays in China, though, the more likely it becomes that he will move on in the near future.
6. Eder Alvarez Balanta
Colombian defender Eder Alvarez Balanta has been a revelation for River Plate this season, belying his 20 years of age with some wonderfully composed performances at centre-back.
With fine passing skills off his left foot, Balanta is the base upon which the Buenos Aires side can build. He will often carry the ball out of defence and has the physical attributes to deal with many bigger and more experienced strikers.
Per Sky Sports' Lucas Brown, River have placed a €15 million price tag on Balanta's head as interest from Barcelona reportedly grows.
5. Dario Conca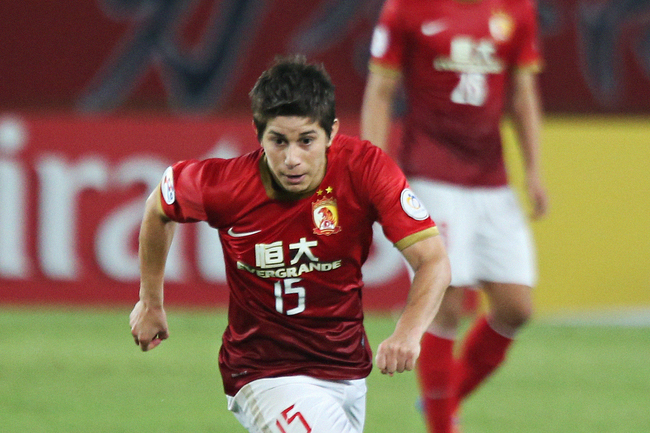 Zhong Zhi/Getty Images
The 2010 Brasileirao Player of the Year, Dario Conca became one of the best-paid players in the world when he moved to Guangzhou Evergrande in June 2011. He has since been integral to the Cantonese side winning three league titles.
Now 30, Conca is out of contract at the end of the season and will likely head back to former side Fluminense. He has the chance, though, to leave with an Asian Champions League medal to his name, with Evergrande in the final over the next fortnight.
Conca has been sensational this campaign, finding the back of the net 20 times across all competitions from his attacking midfield role. His long-range shooting has often made the difference in tight matches this year, and Evergrande will greatly miss his calm, reassuring midfield presence next season.
4. Fred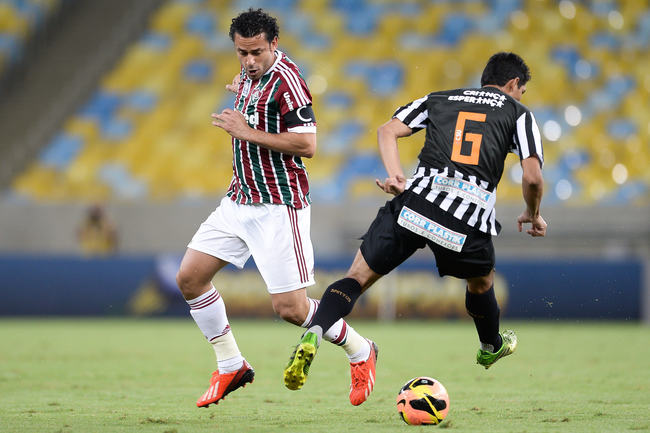 Buda Mendes/Getty Images
Fluminense and Brazil striker Fred has had an unforgettable year in 2013, coming to the fore for Luiz Felipe Scolari's Brazil side to make himself Brazil's first-choice No. 9.
The powerful forward will never be able to compete with some of the great centre-forwards that the country has produced over the years, but with age, he has become an intelligent presence around the penalty area.
He may have lost the pace that he possessed in his early career, but Fred's excellent finishing abilities and strength make him a more than adequate target man in the absence of a special talent.
3. Clint Dempsey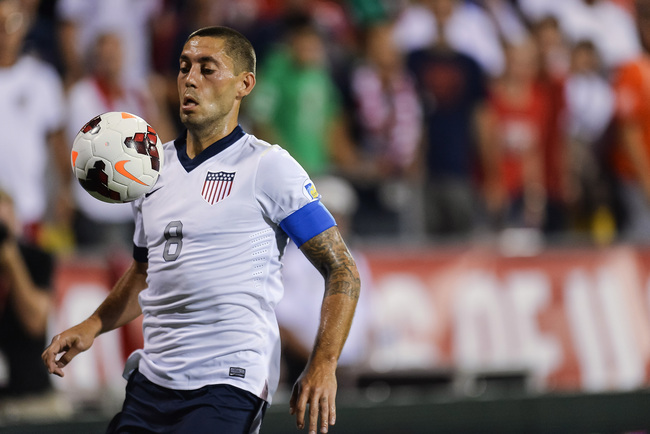 Jamie Sabau/Getty Images
Former Fulham and Tottenham forward Clint Dempsey headed back to the MLS this summer after seven years in England, signing for the Seattle Sounders.
While he never fully settled at White Hart Lane last campaign, Dempsey scored seven league goals for Andre Villas-Boas' side as Spurs finished fifth in the Premier League. While his exit from the club was unsurprising, a return to U.S. soccer was somewhat unexpected.
Dempsey will be one of USMNT coach Jurgen Klinsmann's most important players at next summer's World Cup, which, at 31, is likely to be his last opportunity to perform on football's biggest stage.
2. Dede
After a slow start to life at new club Cruzeiro earlier this year, Brazil international centre-back Dede has been one of the standout central defenders of the league season.
At his best, Dede is magnificent. The former Vasco player is lightening fast over the ground, dominant in the air and impressively composed with the ball at his feet. If he can stay fit long term, he has everything required to be a top defender.
Having chosen to stay in Brazil to earn a place at next summer's World Cup, Dede will almost certainly depart for Europe following the tournament and, currently 25, still has plenty of time to achieve much on the Old Continent.
1. Fernando Gago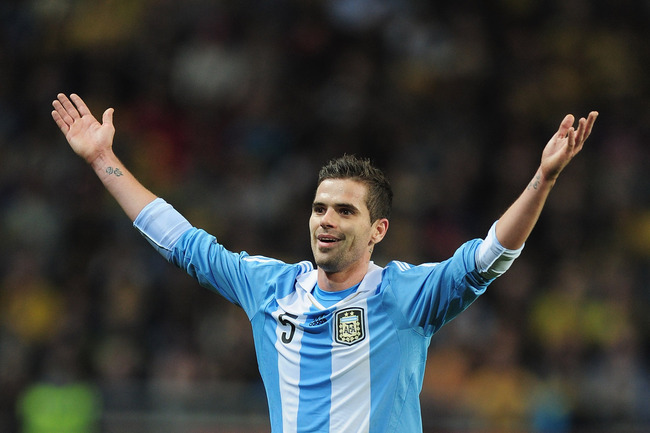 Jamie McDonald/Getty Images
Former Real Madrid and Valencia midfielder Fernando Gago never quite managed to establish himself in Europe despite his incredible abilities as a deep-lying playmaker.
Gago is skilled with the ball at his feet and has a wonderful passing range that Argentina coach Alejandro Sabella has managed to coax the best out of during World Cup qualifying.
It would seem likely that Gago, 27, will head back to Europe following next summer's competition in Brazil, assuming he has a good tournament, and there will be no shortage of clubs interested in securing his signature.
Keep Reading