Would Thursday Night Football Expansion Be a Good Idea?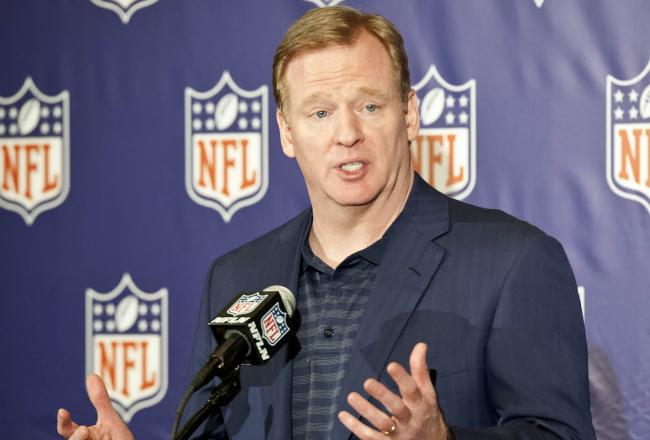 Casey Sapio-USA TODAY Sports
Do you want to see some more Thursday night football?
If so, you're going to like this news.
According to Matthew Futterman and Shalini Ramachandran of The Wall Street Journal, the league is looking into expanding the Thursday night schedule in the future:
The National Football League is considering selling another slate of Thursday games to a media outlet to increase the audience for football on one of television's most competitive nights, according to a person familiar with the league's strategy.
Really?
Well, maybe not.
This is how the NFL responded:
Wondering where the idea of Thursday night doubleheaders came from? So are we. We have not considered this

— Brian McCarthy (@NFLprguy) October 16, 2013
Short and to the point.
Here's more from the WSJ article via Awful Announcing:
Adding another several hours of football on Thursday nights would have significant implications in the TV industry. Thursdays have historically been a big night for advertisers like auto makers and movie studios looking to promote weekend openings. As a result broadcast networks put some of their best shows on that night.
Also pointed out is the important fact that the NFLPA would have to agree on the addition of more Thursday night games, which may not come easily.
The conflicting reports mean we aren't quite sure of the real story right now. However, following WSJ's initial report and the NFL's rebuttal, players, media members and fans are debating the topic now.
So, what do some of football's more prominent figures think about the idea?
Monday Morning Quarterback editor-in-chief Peter King used a dessert parallel to explain what he believes the NFL wants to do with more Thursday night games:
The NFL wanting more Thursday night football is like me wanting 4 scoops of Rocky Road instead of 2 after dinner.

— Peter King (@SI_PeterKing) October 15, 2013
However, per the WSJ article, via Pro Football Talk, "the NFL is disappointed that the present approach, which expanded last year to cover most Thursdays, hasn't generated more interest."
The league could run into a major sticking point with the NFLPA in terms of player safety on the short week.
Bart Hubbuch of The New York Post chimed in on the angle of this story:
The NFL preaching "safety" while pushing two Thursday night games and harboring hopes of an 18-game schedule is just rank hypocrisy.

— Bart Hubbuch (@HubbuchNYP) October 15, 2013
He's not the only one who feels that way, that's for sure:
Echoing sentiments of many: Thursday night NFL games have mostly stunk. More games would contradict player safety efforts

— Brian McIntyre (@brian_mcintyre) October 15, 2013
Bleacher Report Sports Medicine Lead Writer Will Carroll tweeted a very interesting and insightful suggestion regarding player safety on Thursday night:
Someone needs to study if Thursday night games have more injuries or missed starts. Then seen if the following game has less.

— Will Carroll (@injuryexpert) October 15, 2013
Don't be surprised if someone actually does that study. Heck, the NFLPA or the NFL may conduct that research before making a final determination on prime-time expansion.
ESPN's Kevin Seifert did some digging on how teams have performed on Thursday night, which is an entirely different yet important angle to consider:
Thurs nite comp pct and QBR about 10 pts/pct. lower on Thurs nites. http://t.co/mPBrWi37SQ

— Kevin Seifert (@SeifertESPN) October 15, 2013
From his article: "On Thursday nights, quarterbacks are completing 54 percent of their passes and have a QBR of 41.3. On Sundays and Mondays, they have a 62.3 completion percentage and a 52.7 QBR."
In an appearance on Sirius XM radio with Alex Marvez and Bill Polian, Arizona Cardinals head coach Bruce Arians was very blunt about his opinion on this topic:
I'm not a fan of Thursday night football...I don't think it's really fair to the players, especially the veteran players. We finished up most of our game plan and practice today, which would be a normal players' day off. Veteran players, their bodies, this is really, really hard on them. So many times over the course of the last 10 years, I've seen guys that could not play on Thursday that could play on Sunday and that's really hard on a football team.
Jumping back to player safety and how it pertains to Thursday night football, San Francisco 49ers Anquan Boldin said the following to the San Jose-Mercury News:
But there are some things that just don't make sense to me. I mean if you're so concerned about player safety then why do you have every. team in the league playing on Thursday night when they just competed on a Sunday, knowing how difficult it is for guys to get back to being healthy after playing on Sunday? Guys really don't feel like they're back till probably Thursday or Friday to prepare for that next week."

The possible expansion of the Thursday night schedule is worth monitoring over the next few months and into the offseason. The NFL refuted The Wall Street Journal's report on Wednesday, but will the story end there?
Probably not.
If the NFL does indeed want to expand the Thursday night schedule, it'll likely have this in mind:
NFL has not considered Thursday doubleheaders. Wonder if they have considered selling Thursday night and taking it away from NFLN...

— Aaron Nagler (@Aaron_Nagler) October 16, 2013
Because whatever league is making from providers carrying NFLN pales in comparison to what they could make from selling the rights.

— Aaron Nagler (@Aaron_Nagler) October 16, 2013
Don't forget, the NFL is a massive corporation out to make as much money as possible.
Following normal business practices, there's nothing wrong with that. The enormity of the league's profits can sometimes make the NFL appear to be greedier than most.
If it believes it can bring in more revenue with more Thursday night games and more TV deals, so be it. However, the NFL has to keep player safety and its public perception in mind before moving forward with any schedule expansion.
Safe to say, though, at this point, the media, players and coaches won't be too fond of more games on Thursday night.
This article is
What is the duplicate article?
Why is this article offensive?
Where is this article plagiarized from?
Why is this article poorly edited?