LSU vs. Ole Miss: Live Score and Highlights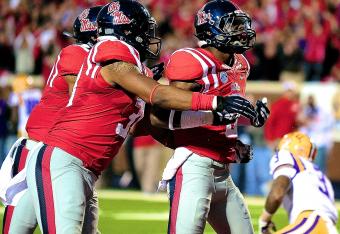 LSU 24, Ole Miss 27—Final
LSU couldn't overcome a three-interception first-half performance from Zach Mettenberger, as the Tigers fall to Ole Miss 27-24.
Despite losing half of their defensive starters, the Rebels shut out the Tigers in the first half and LSU could not recover.
The Tigers made a valiant attempt to come back from a 17-0 third-quarter deficit, but it would be Ole Miss' rushing attack late in the game that set up a game-winning field goal.
LSU's title hopes are over. There's no way a two-loss team can reach the championship this season with Alabama rolling, Oregon on fire and Ohio State and Florida State remaining undefeated.
Ole Miss just upset LSU. It's been an absurdly crazy day in the SEC.

— ESPN (@espn) October 20, 2013
When it comes down to it, the Rebels deserved to win and the Tigers deserved to lose.
Ole Miss came out, executed and played with pride, while LSU didn't start to play with enthusiasm until it was too late.
The old adage—never underestimate your opponent—holds true.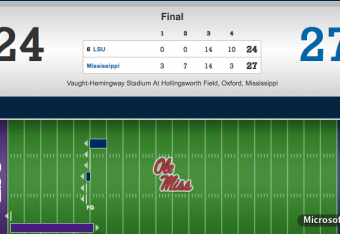 Here's a quarter-by-quarter scoring breakdown, via NCAA.com.
Here is the game-winner.
After a few laterals the Tigers finally fall in Oxford. This caps off a crazy Saturday.
Another one bites the dust.

— Stewart Mandel (@slmandel) October 20, 2013
LSU 24, Ole Miss 27—4th Quarter (:02)
And it's good. The Rebels take the lead. Two seconds remain.
Miles is looking to ice the kicker instead of giving his offense 20 seconds to work with. I completely disagree with that coaching move.
Ole Miss looking to complete the craziest Saturday in a while

— The SEC Logo (@SEC_Logo) October 20, 2013
Miles elects to not call timeout. A field-goal attempt will decide the game.
Ole Miss is now in field-goal position, as they've sliced through this LSU defense.
Tigers are struggling to wrap up.
Anthony Johnson is down after a big run by Walton. I hate to speculate, but it looks as if this is a ploy to slow down Ole Miss' uptempo.
Wallace evades the pocket, scampers for a first down and crosses the 50-yard line. LSU fans—this is where you start to pray.
Ole Miss calls its first timeout of the half after a short Walton pickup.
Logan gives the Rebels a first down near Ole Miss' 40.
LSU's tying score.
The good news for LSU is that the Tigers force a 3rd-and-long, but the bad news is that Jalen Mills, who has been the Tigers most lethal pass rusher this evening, is down.
A flag emerges after Micah Eugene blows up a wide-receiver screen to Treadwell. It's an illegal shift and it's declined as Hugh Freeze waves in disgust at the referees.
You can't arm-tackle Wallace. First down Ole Miss.
White and Moncrief have battled all night. Both have won battles and White is the latest victor, setting up a 3rd-and-6.
Walton, who's had an explosive night, meets LSU's most talented freshmen in Kendell Beckwith. Ole Miss will start the drive at its own 15.
Isn't college football the best? Every game matters, so every second of a close contest is gut-wrenching.
Crazy night in Oxford just got crazier. #LSU has tied the game at 24-24 with 3:19 left.

— Shea Dixon (@Sheadixon) October 20, 2013
LSU 24, Ole Miss 24—4th Quarter (3:19)
Great pass protection by the offensive line on that touchdown pass. Landry's route took time to develop and Mettenberger puts it on the money.
After a nine-yard run by Magee, we take a commercial break with Keith Lewis serving as the injured Ole Miss player.
Mettenberger hits Beckham for a first down. Smooth.
Timeout LSU with 5:01 left in the game. Tigers are facing 4th and 10 at the Ole Miss 31.

— LSU Football (@LSUfball) October 20, 2013
LSU burns a timeout because the Tigers can't get set before the play clock expired.
This article is
What is the duplicate article?
Why is this article offensive?
Where is this article plagiarized from?
Why is this article poorly edited?