Examining Damien Sandow's Direction, Upside and Long-Term Potential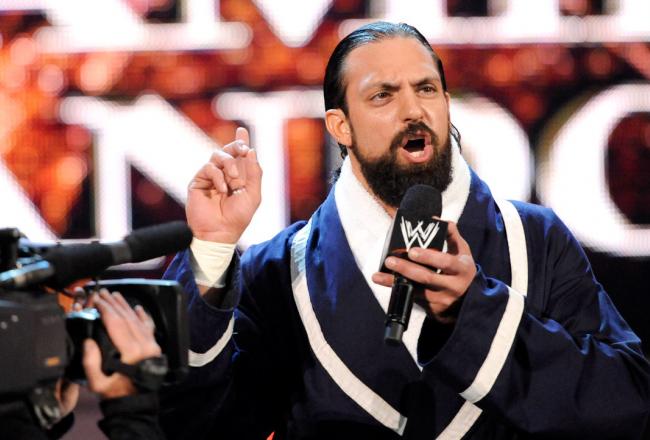 Photo: WWE.com

Damien Sandow is a wizard of snobbery.
"The Intellectual Savior of the Masses" is capable of becoming one of the most enduring characters in WWE history. He handles the microphone with such deftness that it's a mesmerizing experience to hear him insult mouth-breathers.
The "Sandowized" Money in the Bank briefcase that he carries around is his ticket to the next level. Unfortunately, he's done little since acquiring it, losing more often than the Mulkey Brothers.
Sandow loses to Dolph Ziggler.
Sandow is without the momentum one would expect from someone wielding that briefcase and championship contract because of his lack of wins in recent weeks. WWE apparently senses an issue with him, and a babyface turn is reportedly in the works, per F4WOnline, via SEScoops.com.
This is not the answer.
That's like trying to transition Tom Brady into a linebacker. With Sandow so stellar at what he does, why ask him to stop?
Now that his rivalry with Cody Rhodes has died down, it's animosity with another Superstar that Sandow needs. Sandow hasn't had a true feud beyond the one with Rhodes. His work with Sheamus felt like a throwaway story meant to get a few cheap laughs.
The drama and emotion that his fights with Rhodes conjured him is a preview of what Sandow can do with the right man opposite him.
He is on the cusp of greatness and needs someone worthy to clang swords with in order to realize his full potential.
Sophisticated Disputant
Sandow is sneaky big. Usually blowhard, cowardly heels aren't 6'4'' and 243 lbs.
His size and skills puts him in the gap between powerhouse and high-flyer.
He's not powerful enough to be portrayed as a dominant monster, and he's not athletic enough to fly around the ring a la Justin Gabriel. Instead, he relies on his brawling ability and carrying over his character to his ring work.
Even though he ended up losing and spent much of the match as Sheamus' victim, his Dublin Street Right against "The Celtic Warrior" provides a glimpse of what Sandow is capable of.
There isn't anything here to give fans the impression that Sandow is going to overtake Bret Hart in terms of ring ability, but he's plenty fluid and natural enough between the ropes to put on a good match. He's at his best when can juxtapose brutality and showiness, doing a cartwheel right after scratching someone's eyes.
Sandow lacks a collection of standout matches so far, and that's partly the result of lack of opportunity, but also an issue of Sandow's needs.
A wrestler like Daniel Bryan will make any eight-minute, storyless bout something to rave about, but Sandow needs more buildup. His matches against Rhodes at SummerSlam 2013 and the Raw immediately following it benefited from a compelling narrative.
He's not dynamic in the ring enough to put on a truly spectacular match without a story like that.
This means that his future will largely be determined by his opponents and the angles at work against them. Should he continue to float around from foe to foe, he'll struggle to remain relevant.
Put him in a marquee feud, though, and there is upside in mass awaiting him. His mic ability can be the crux of several unforgettable rivalries.
A Veritable Portrayal
Sandow is simply one of the best talkers in the business. He is funny, quick-witted and has fully embraced his character.
Carrying on the pro wrestling tradition of using high vocabulary to insult and irk an audience, Sandow thrives in his current role.
With how wonderfully snooty and condescending he is, it's hard to imagine him trying to gain favor with the crowd rather than needle them. He can turn the moments before a meaningless match into memorable entertainment, as he did before facing R-Truth.
R-Truth may not be the answer as his ideal archenemy, but here we get some instant tension between the two and an interesting contrast in character.
It's Sandow's character that remains one of his biggest strengths. It helps him stand out in a lineup of generic tough guys.
He has managed to become so fused with the role that it's hard to separate man from act. When he's on Twitter, he embodies Sandow.
@Budimska then stop being slack jawed mouth breathers

— Damien Sandow (@TheDamienSandow) October 16, 2013
When he's attending Comic-Con, the same is true.
Characters are easy to sell to the audience. This, even more than his Money in the Bank briefcase, will be his bridge to success. Placed into a top position, Sandow is entertainment guaranteed .
Ceiling
Sandow's briefcase all but guarantees that he is a future world champ, but beyond that, he has the potential to be the company's top heel.
The power of his charisma and character atop his brawling abilities can equal starring roles opposite John Cena, CM Punk or Daniel Bryan.
Should he be afforded opportunities like those, playing the foil to top stars in marquee feuds, Sandow will become one of the most memorable characters in WWE lore. He can be looked back at in the same way we do Jake Roberts and Ted DiBiase today.
Sandow can be an infuriating WWE champ like John "Bradshaw" Layfield before him. He can be a despised world champ and pay-per-view headliner.
There's magic in Sandow waiting to leap from his wand. We won't see all of it if WWE doesn't find him a proper duel partner or tries to make him a fan favorite.
Be sure to check out previous installments in this ongoing series:
This article is
What is the duplicate article?
Why is this article offensive?
Where is this article plagiarized from?
Why is this article poorly edited?