Do Manchester United Have a Realistic Chance of Retaining Their Title This Year?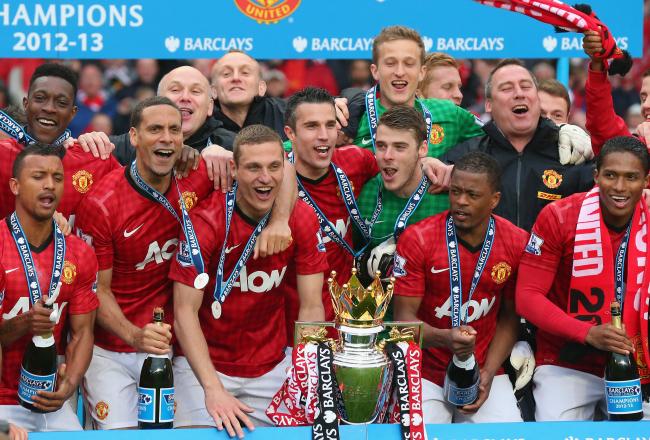 Alex Livesey/Getty Images
I'm not going to sugarcoat it: Manchester United have not had a great start to the 2013-14 Premier League season.
While the somewhat hyperbolic stance that the majority of the British media has taken is going a tad overboard, it would take only the most stalwart United fan to protest that this beginning to the campaign has been anywhere near acceptable.
Yes, the Red Devils were given an incredibly difficult set of opening matches to kick off their league season—but that far from excuses some of the performances put in in those games.
Against Manchester City and West Brom in particular the side looked defunct of ideas and seemingly any ability to actually play football.
A shaky victory against a poor Sunderland side—being bailed out by their 18-year-old Belgian (or was it Albanian? Or English!?) wonderkid Adnan Januzaj—may well be a step back in the right direction.
But it is a significantly small one.
So with all this negativity surrounding the English Champions, how likely are the chances that they can retain their crowd come the end of the year?
You would suspect on the surface of things a minutely slim one.
While this is the same squad that won the league by 11 points last season, the lack of Sir Alex Ferguson at the helm has had a noticeable effect on the United dressing room.
And no, that isn't me being anti-Moyes at all. Any manager following a reign like Fergie's was always going to struggle to instantly get the lads playing at the same level as the great Scot did.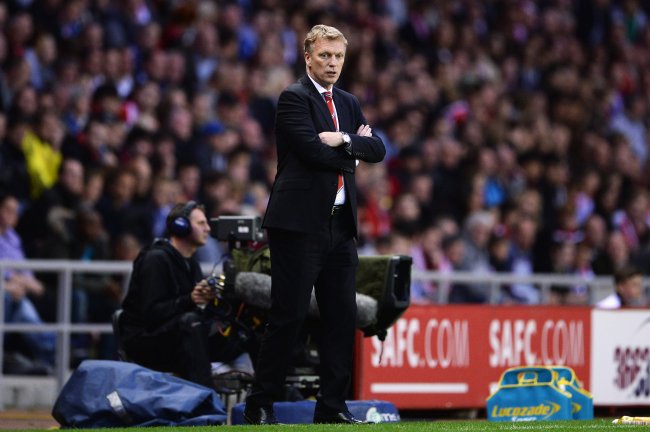 Michael Regan/Getty Images
There was a passion and drive with Sir Alex which could elevate a player above their normal standard of play, and catapult them into greatness.
I'm not saying David Moyes lacks this, but he just hasn't found it yet.
It also doesn't help United at all that while they remained relatively quiet in the summer transfer window, their fiercest rivals got busy; making the kind of transfers that one might have expected the Champions to produce.
Tottenham Hotspur and Arsenal in particular took a real step forward this summer, adding their names to the pot of genuine title contenders.
While Spurs did this by acquiring a myriad of world class talent, the Gunners simply needed one midfield maestro, Mesut Ozil, to see them start to play elite football for the first time in a few seasons.
Chelsea and City were also not exactly quiet, making some notable signings and both bringing in proven world class managers.
All United have to show for their summer dealings is a somewhat inconsistent Belgian with an afro.
Fellaini is a good player, but his "off-games" have already proven costly. Costly is a key word here.
The midfielder came to United for only around £12 million less than what Arsenal got Ozil for (Really, you couldn't fork out just that little bit more?).
Michael Regan/Getty Images
On top of all this, the ageing United defence is another area of real concern for the fans. Nemanja Vidic and particularly Rio Ferdinand have both shown signs that perhaps their best days are now behind them.
Silly errors and sheer inability to keep up with some of the leagues more pacey forwards have been a huge issue at the back for the Red Devils already this season.
Any Premier League winning side throughout history has been built around a solid defensive line. With this area of the park being a real issue for United this year, one has to doubt the possibility of them lifting their 14th Premier League crown.
Right, so that's the negative "no they wont" out of the way. If you're still reading at this point and have the time, please take your head out of your hands for just a moment. I may be able to cheer you up with some good aspects of the team this year that may well aid in mounting a challenge for the Premier League summit.
For one thing, there's the not-so-depressing matter of Robin van Rooney (I like this quirky little nickname but it hasn't seemed to have caught on disappointingly).
Wayne Rooney and Robin van Persie are two of the best strikers that the league has ever seen. Usually when a reporter says something like that they are exaggerating for affect, but in this case you'd be hard pressed to find a fan of any team to dispute it.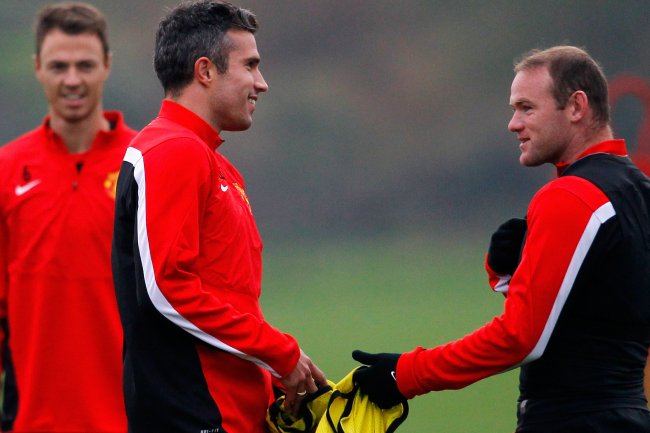 Paul Thomas/Getty Images
Last season they netted over 30 goals between them in the league alone—and that was with Rooney playing "badly".
This year it appears as if Wayne is really back to his best, and if RVP can find even half the form that he showed last season the two could double-handedly carry United back to the title.
I'm a solid believer in my aforementioned statement about a good defence being the foundation to any title-winning side; but if those two strikers can both click, stay free of injury, work together and find top form (asking a lot I know) then United do still have a chance.
Aside from this, while the man who instilled the winning mentality to the team has now sadly departed, practically the entire crop of first team talent on hand has had it well and truly crammed into their psyche.
The ability to win football games even when you play badly is a trait any top has to have if they want to achieve greatness.
Manchester United have been the epitome of this over the years. That makes it sound like I'm saying the side have always played badly and just happen to win anyway, but you know what I mean!
Maybe, just maybe, that mentality coupled with an awesome strike force can see them through again?
But would I say that the team realistically have a chance of retaining their crown this season? Well, I'm sure there wont be too many fans out there who would disagree with me when I say that it is highly unlikely.
Can United win the league this year?
In an exceedingly transitional period which the club is now facing, it was always going to be nearly impossible to go out and win a competition as long and arduous as the EPL.
Inconsistency is likely to plague this year, as Moyes and his new set of players come to terms with each other's strengths and weaknesses. This season is a learning curve for United.
That being said, shorter tournaments like the FA Cup, Capital One Cup and to a much lesser extent the Champions League (although I stress again that this is also unlikely) are targets that perhaps the side should set their sights on.
In these shorter formatted competitions it only takes a string of consecutively good matches to spring your way to victory (as Liverpool showed in 2005). To quote the infamous repetitive dribble of Martin Tyler's FIFA 2013 commentary, winning a tournament like this is a possibility but not really a probability (Making a FIFA reference in a story: Check).
The club needs to make finishing in the top four a priority for now. Next season, after what will hopefully for their sake be a slightly more fruitful summer, United can start to focus on mounting a genuine hunt for their 21st English league title.
This article is
What is the duplicate article?
Why is this article offensive?
Where is this article plagiarized from?
Why is this article poorly edited?

Manchester United: Like this team?