Picking a World's Best Passing XI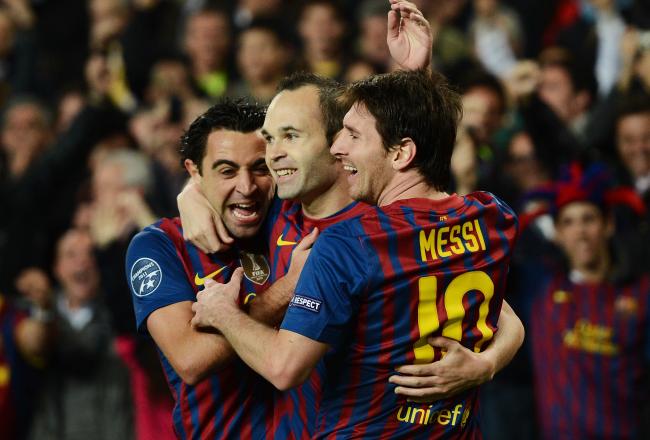 Jasper Juinen/Getty Images
As with so many tactical and technical aspects of the game of football, trends and fads pass by from one season to the next. Some last longer than others and, depending on the success obtained by using them, are sometimes copied to one extent or another all over the world.
One of the most talked-about aspects of the game nowadays is the idea behind possession-based success; namely, dominating play so much with repetitive recycling of the ball that you essentially force your opponents to succumb to relentless pressure.
Games are won by the team in possession most often is the basic thinking, so starving the opposition of the ball naturally means they are far less likely to be able to win.
But keeping possession from pass to pass is all well and good—but you need other qualities in the team to make the most of that ball retention and be able to actually go on and win games that way, often against the best teams in the country or even in the continent.
Leon Britton won plaudits in England for his use of the ball a season or two ago, but few would opt for him in a world XI. These players then combine excellent use of the ball with an all-round ability to be classed as some of the best in the world in their individual roles.
Don't expect, therefore, to see huge talents such as Cristiano Ronaldo, Arjen Robben or Luis Suarez in the side; match-winners all, but not noted for their epic involvement in buildup play and impressive retention.
The side lines up in a balanced 4-3-3 formation. All stats taken from WhoScored.com.
Goalkeeper: Manuel Neuer, Bayern Munich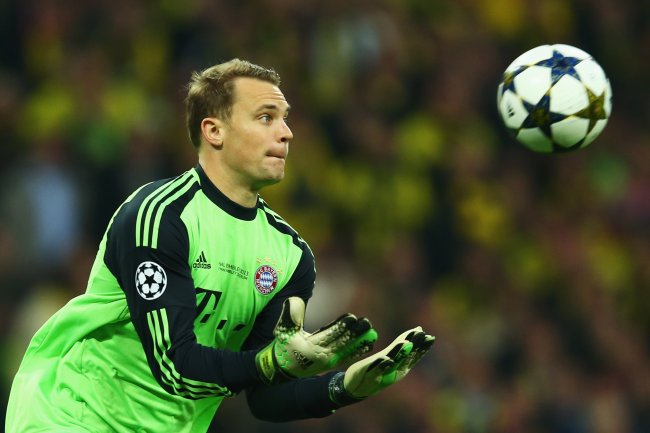 Alex Grimm/Getty Images
It won't be a surprise to many to see both Bayern Munich and Barcelona contribute a number of players to the side, and in Manuel Neuer the German club have possibly the best all-round 'keeper on the planet right now.
In addition to being hugely dominant inside his penalty area, a real sweeper-keeper and a great shot-stopper, he's also calm in possession and confident with the ball at his feet.
Bayern, of course, are expected to dominate most matches and play the ball out of defence from the goalkeeper onward, but even so, goalkeepers by necessity or inspiration sometimes need to go longer.
It is notable, therefore, that Neuer had the best pass completion rate out of any goalkeeper in the Bundesliga last season and—so far this season—ranks in the top 20 for any top-flight player in Germany. To put that in perspective, Neuer has made just 16 passes fewer than former team-mate midfielder Gustavo Luiz, now at Wolfsburg, and has a more accurate rate of passing than him.
Right-back: Philipp Lahm, Bayern Munich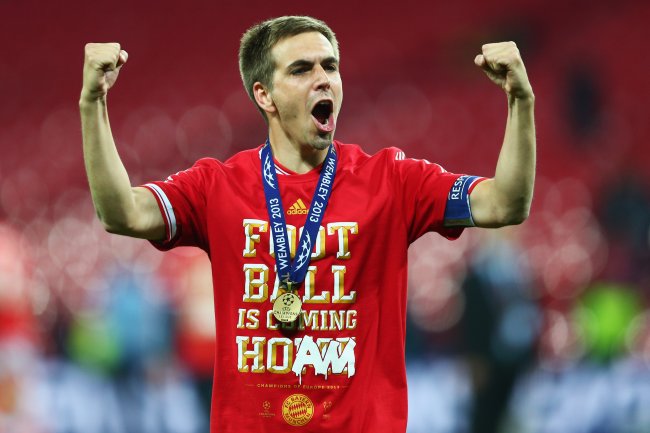 Alex Grimm/Getty Images
Continuing the early Bayern theme, few players on the planet are better on the ball right now than Philipp Lahm. Obviously he's slotting in at right-back here, but is more than capable on either side of the defence—and in midfield apparently as he has been utilised this season by Pep Guardiola.
Lahm rarely wastes possession but is far from unambitious in his use of the ball; he frequently steps into midfield, is not afraid to dribble with the ball at his feet, and has great composure in the final third to cross, play a pass or turn back to his own goal as the situation calls for.
Last season he recorded a 90 per cent success rate from defence—but that included an average of 1.4 key passes per game, and a thoroughly impressive 11 assists. This term, he's the Bundesliga's best passer according to success rate, counting every player who has started at least one match.
Centre-back: Thiago Silva, PSG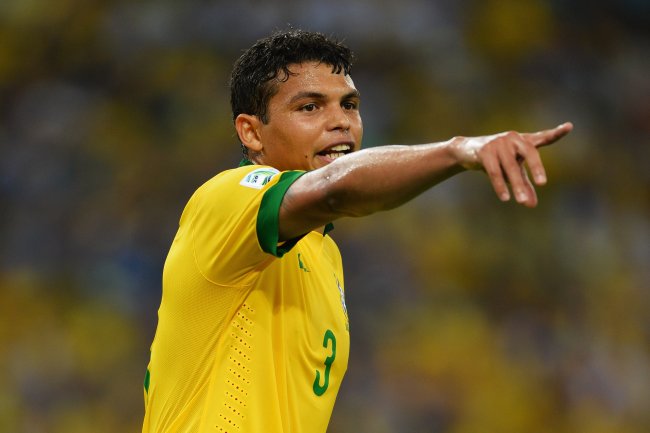 Laurence Griffiths/Getty Images
Thiago Silva is a formidable and dependable defender, but he's also a great weapon for his team to use as a base for launching attacks.
Playing simply and quickly into midfield, Thiago is safe in possession and looks to offer support when his team needs to go backward, rather than moving into that second line himself.
As far as winning the ball back and sweeping up where danger goes, he's an excellent addition to the team, but he'll also ensure his team retain possession when playing through defence to start attacks from deep.
Centre-back: Mats Hummels, Borussia Dortmund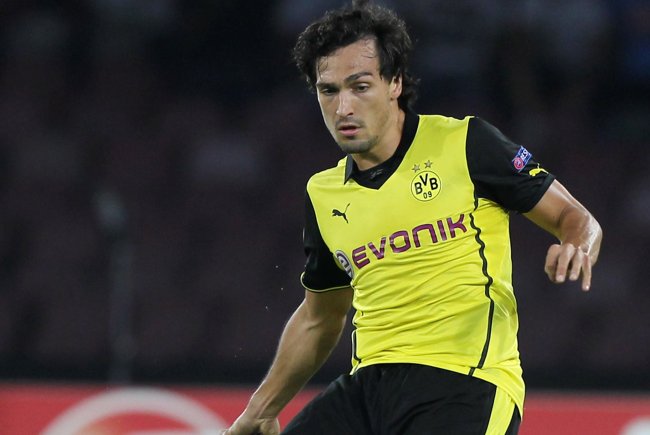 Paolo Bruno/Getty Images
Alongside Thiago Silva we opt for a different kind of defender: a powerful, tall and aggressive one to make the initial challenge on forwards and deal with aerial balls, but also one who can rapidly step up into midfield and launch defence-splitting passes from deep.
Mats Hummels has his detractors, but this is often an issue of concentration—certainly not technical merit or defensive ability.
He's a phenomenal back-line leader, but provides thrust and emphasis on vertical movement of the team that makes him an important addition.
Left-back: David Alaba, Bayern Munich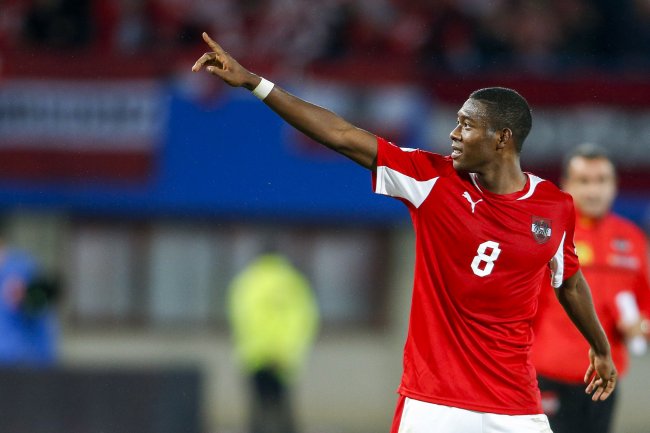 Christian Hofer/Getty Images
There aren't many better left-backs than David Alaba around right now, and indeed some would say he's already up there as the best in the world. At just 21 years of age, it's a little scary (for opponents, at least) to think how good he could become.
Of course, with Alaba being a midfield player in his younger days and even now usually operating as an attacker for Austria at international level, he's no stranger to having to deal with the ball in an efficient and yet exciting manner that has certainly aided his progression as an advanced full-back.
Alaba recorded a 90 per cent success rate with his passing last season, good for a top-six position in the entire Bundesliga and has so far slightly bettered his accuracy this term. It's not meaningless, safe possession out of defence either; Alaba is a regular conduit for Bayern's attacks, opens the pitch significantly and is heavily involved in final-third buildup play.
Holding midfield: Sergio Busquets, Barcelona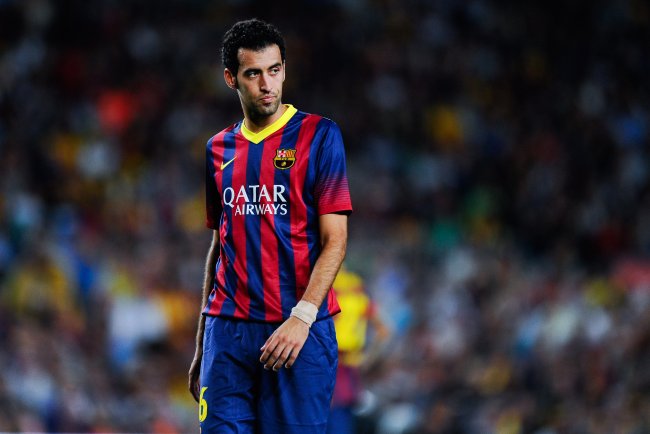 David Ramos/Getty Images
At the base of midfield is a player with dual roles: to protect the defence against opposition counterattacks, but also—and importantly, in a World Passing XI—to constantly be available to receive the ball and recycle possession.
Other players for other roles were available, registas such as Xabi Alonso or Andrea Pirlo for example, but Sergio is our pick as a defensive midfielder.
Few do it better than Barcelona's Sergio Busquets, who while being far from many neutrals' favourite player, does his job exceptionally well. He won't be the most creative player in the side, but he will very much ensure the ball arrives at the feet of those who are.
Busquets is also positionally aware to drop into a central defensive role, which is perhaps useful for those moments when Hummels goes rampaging past him...
Central midfield: Yaya Toure, Manchester City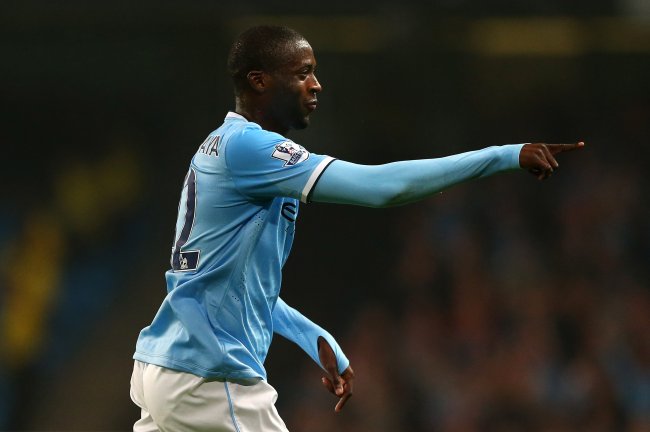 Alex Livesey/Getty Images
Adding power to finesse in the centre of the park to completely dominate opponents is Manchester City's Yaya Toure, the only Premier League representative.
The Ivorian player demands the ball in a City shirt, dictating the tempo of the game and looking to get involved in all thirds of the pitch. His performances often have a big say in how well his team does, and his reliability as well as his consistency and quality in possession makes him an indispensable option.
He's noted for his surging runs, for winning the ball back, for powerful shots and even for set pieces, but his passing is more than up to scratch too. He made the third-highest number of passes in the league last season in England, played fewer minutes than the two players who finished higher than him and, on top of all that, finished with an 89 per cent pass completion rate and 45 key passes.
Central attacking midfield, Xavi Hernandez, Barcelona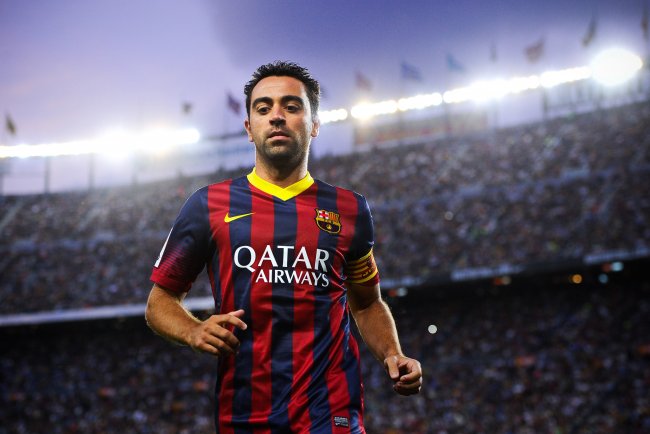 David Ramos/Getty Images
Moving further up the pitch in midfield, there are several options who could play the creative attacking role—but none as proven, decorated, consistent and talented in possession as Xavi Hernandez.
He's not going to dribble his way past a couple of defensive midfielders, but he'll certainly find room to pass between them, move five yards and find his way into space just outside the penalty area, ready to run on and shoot, or make the final pass for a team-mate to do so.
Control, technique, vision, a great first touch and impeccable timing, Xavi remains arguably the best long or short passer of the ball in the game right now.
Right-sided forward: Franck Ribery, Bayern Munich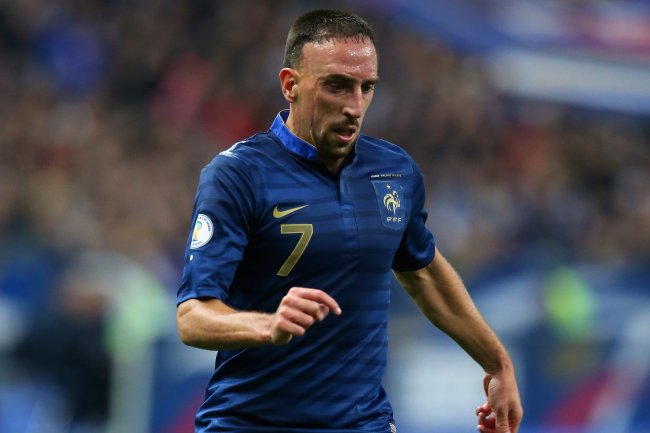 Julian Finney/Getty Images
In attack there are fewer options for the wide roles, namely because many of the game's best players are either dribblers and speed merchants or else inside forwards who tend to show their best form when looking to get into shooting positions. Neither of these types usually lend themselves to excellent work in buildup play, but Franck Ribery's form over the past two-and-a-bit seasons or so has transcended those roles.
Cutting in from the flank, Ribery certainly can run with the ball, take on his man and create scoring chances for himself and others, but he's also composed enough to rarely lose it if the immediate attacking option isn't there.
Ribery created more chances than anybody else in the Bundesliga last season and claimed more assists—further indications of his passing ability as well as his creativity—but he also provides the pace and thrust in the final third that the team requires for penetration as well as balance.
We've got him here on the right, rather than the left where he usually features—but never fear as when he's not operating as a winger, he'll still do a rather good job.
Left-sided forward: Andres Iniesta, Barcelona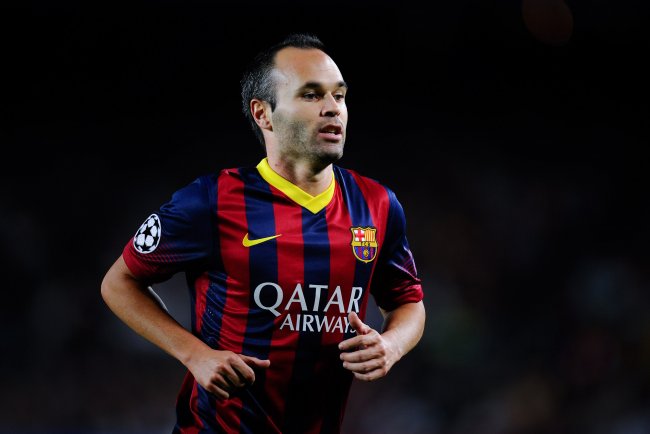 David Ramos/Getty Images
On the opposite side we've got a different type of player in Andres Iniesta, but perhaps also the single most talented player in the team—with one exception.
Iniesta, like Xavi, has immaculate vision and execution of passes as well as great invention on the ball.
More than his Barca team-mate, though, he has an ability to take several defenders out of the game at once with his dribbling ability—not rapid and covering great distances like a Ronaldo or Robben, but working spaces and sending defenders the wrong way with his movement and excellent control.
Iniesta is capable of more goals than he actually scores, but he'd also provide a steady stream of chances for others from his free, left-sided starting role.
Centre-forward: Leo Messi, Barcelona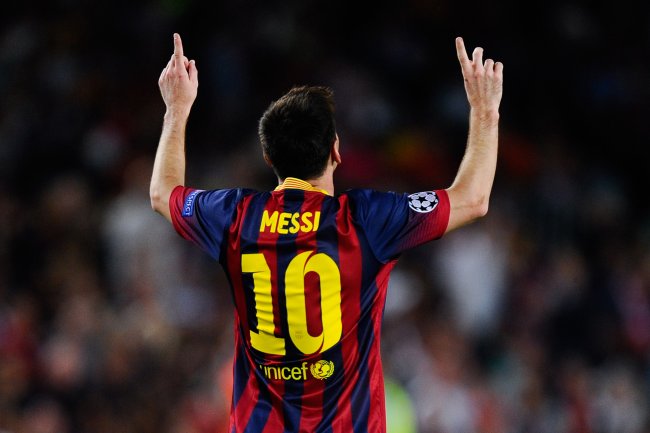 David Ramos/Getty Images
Forwards are often less accurate with their passing than other players and positions, simply because they often work under extreme pressure. They have little time to choose safe passes or look for clever flick-ons to set other team-mates in on goal.
In this case, we need somebody who can be a goal threat but who also contributes as much as possible to the buildup play with an ability to pass the ball, and few fit the description like Leo Messi.
His talents need no introduction; Messi would spearhead this XI and his movement would leave gaps for the likes of Ribery and Toure in particular to exploit, while the sheer volume of chances these pass-masters would create for Messi himself would produce another 40-goal haul in a season.
It's quite probable that opponents of this team would only touch the ball when they pick it out of the back of the net after another Messi strike!
This article is
What is the duplicate article?
Why is this article offensive?
Where is this article plagiarized from?
Why is this article poorly edited?