WWE Hell in a Cell 2013: Underrated Feuds That Deserve Spot on Event Card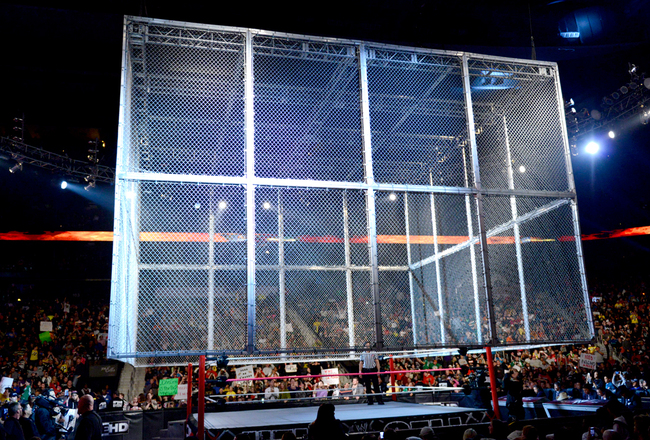 Hell in a Cell is just a couple weeks away and has all the makings of a solid PPV. Photo Via WWE.com

WWE's Hell in a Cell pay-per-view has the daunting task of trying to make up for Battleground, which, on the whole, was pretty disappointing. To put on a great show, a pay-per-view has to do a few things. It has to have great main events, matches with a solid balance of in-ring maneuvers and feud-related story and, most importantly, a solid undercard that keeps the WWE Universe interested through the entire three-hour pay-per-view.
An undercard can't just be made up of last-second throwaway matches. It's not there just to take up time; it has to build up to the eventual crescendo during the main event or co-main events. An undercard has to have strong matches along with a little bit of storyline to give the show a sense of flow and continuity from normal TV shows to pay-per-views.
Here are a few underrated feuds that would be great undercard matches at WWE's Hell in a Cell PPV.
Los Matadores vs. The Real Americans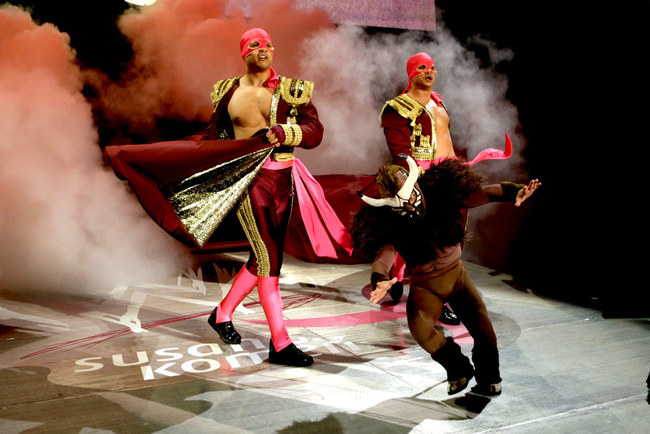 Los Matadores have injected some life into the tag team division. Photo: WWE.com

Since their debut on Raw a few weeks ago, Los Matadores have done their job and gotten over with the WWE Universe in a big way in a short amount of time. Their smooth tag team transitions and interesting lucha libre style is something the WWE Universe hasn't seen done well in a long time.
Los Matadores have built their foundation with the crowd by beating up jobbers and random teams, and the addition of veteran El Torito really makes their act pop. The Matadores have had enough time picking up easy wins; it's time for them to take on some real teams in some real matches.
Enter Zeb Coulter and the Real Americans. There have been a few mentions from Coulter, but it seems like just a matter of time before he's cutting scathing promos against the duo formerly known as Primo and Epico about how they presumably sneaked into the country, blah blah blah, yadda yadda yadda. The pairing of the Real Americans and Los Matadores seems like an obvious feud and could make for a few compelling matches.
Hell in a Cell's undercard needs to be filled out, and adding a match between Los Matadores and The Real Americans would be a great way to start a long-term feud and let Los Matadores get their first win on a big stage.
Dolph Ziggler vs. Dean Ambrose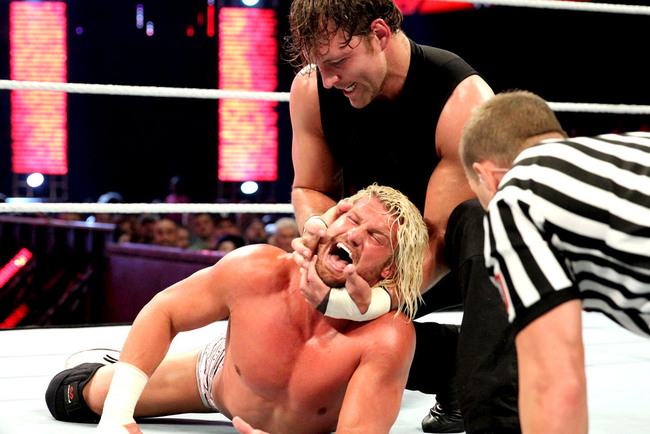 Ziggler and Ambrose have rumbled over the U.S. title a few times already. Photo: WWE.com

Dolph Ziggler is one of the best workers in the WWE—it's as simple as that. There is no reason that he shouldn't find himself on every pay-per-view card as one of the WWE's top performers.
Unfortunately, it seems pretty obvious that the WWE isn't high on putting Ziggler into the main event picture, which means he should be helping midcard Superstars get over.
Dean Ambrose is the perfect guy for the job.
Ambrose is an excellent in-ring performer (like Ziggler) and is very strong on the mic (again, like Ziggler). But he seems kind of like an afterthought with all The Shield's focus revolving on Rollins and Reigns and their tag team matches. Giving Ambrose more matches with Ziggler would show off Ambrose's in-ring skills and give him the opportunity to tangle with a guy who has done just about everything in the WWE.
Ziggler and Ambrose have put on great matches. Hell in a Cell needs a few more bouts to fill out the card. Why not add a match that'll get the crowd into the show?
Santino vs. Fandango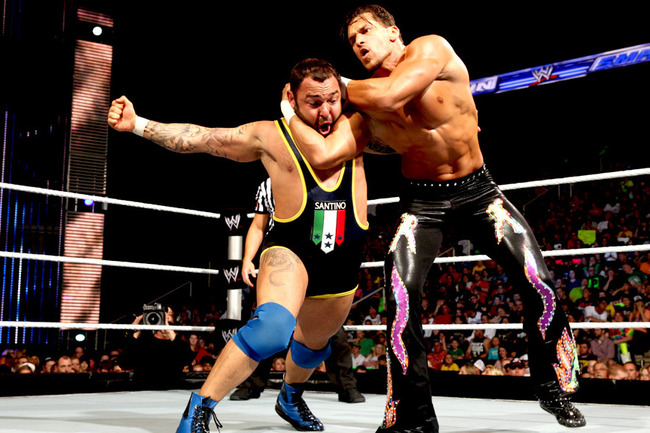 Fandango and Santino have put on a few surprisingly solid matches. Photo: WWE.com

Santino against Fandango seems like a match made in wrestling heaven. Santino likes to jokingly dance, and Fandango looks like a joke when he dances. Both of these performers, whether they mean to or not, are pretty hilarious and have a very strong connection with the WWE Universe. Giving them a few minutes longer than they get on Raw and SmackDown to do battle at Hell in a Cell would be a great "come down" match for the WWE Universe.
This would be a great match to either kick off the pay-per-view or take pace in between the undercard and the main event matches. While it's important to have intense, hard-hitting matches, sometimes the WWE Universe needs a minute to sit back and chuckle. It's a practice almost as old as the sport itself.
Fandango and Santino are both solid in-ring performers, and they really know how to play to the crowd, which is extremely important at a WWE pay-per-view. Another match between them would be a great addition to Hell in a Cell.
AJ vs. Brie Bella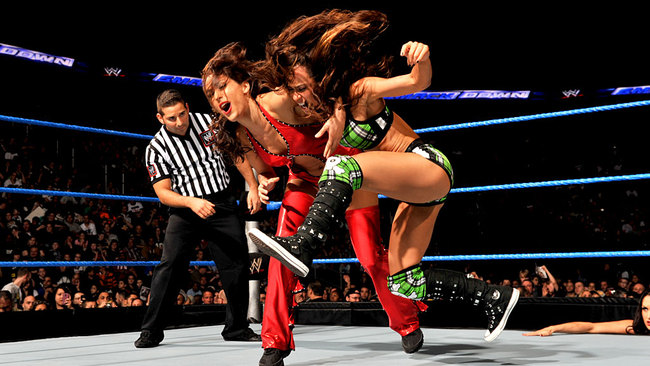 AJ has really revitalized the Divas division with an emphasis on wrestling. Photo: WWE.com

It's no secret that WWE Divas matches aren't usually what fans look forward to. Heck, many people even refer to the matches as "bathroom breaks." AJ Lee and the WWE Divas have done a pretty good job of getting rid of that stigma and turning things around in the Divas division.
AJ's anger toward the Total Divas ladies has made for great TV and great matches, and her recent run-ins with Brie Bella have given the WWE Universe something it hasn't seen in a while—solid wrestling from WWE's female talent.
AJ is extremely over with the crowd, and Brie's connection to Daniel Bryan is making her considerably more interesting than she used to be. Pitting these two against each other at Hell in a Cell not only satisfies the obligatory Divas match requirement, but it also gives the WWE Universe a solid match from a division that's finally heading in the right direction.
R-Truth vs. Curtis Axel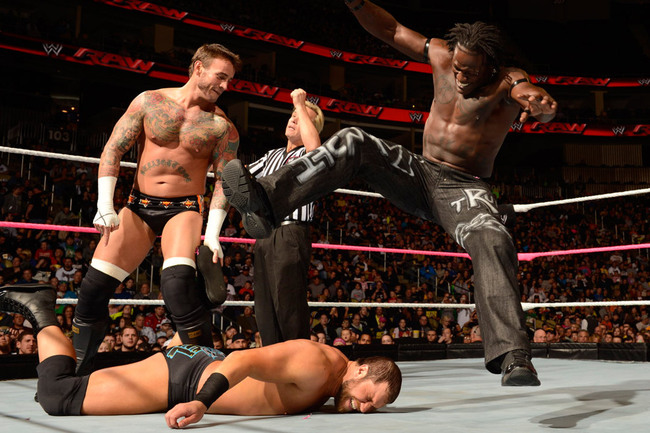 R-Truth has had a few solid battles with Axel in the squared circle. Photo: WWE.com

You want a shocking WWE fact? R-Truth is 41 years old. That's the same age as WWE elder statesman Big Show. While Truth's hairline might not do him any favors, he has the physique and in-ring motor of a much younger WWE Superstar, and he's been paying his dues in WWE's midcard for years, putting over a number of Superstars and playing any role that's been asked of him.
Lately, he's been CM Punk's buddy, joining forces with the Straight Edge Superstar on a few occasions to do battle with the Paul Heyman guys, lending him a valuable opportunity to keep Curtis Axel remotely interesting while Ryback takes over as the main Heyman guy.
Truth is a great performer and can put just about anyone over. Curtis Axel, the current Intercontinental champion, is great in the ring but has hard an extremely hard time connecting with the WWE Universe and just can't really get the crowd into his matches.
Enter R-Truth.
The veteran and the youngster should get a slot on WWE's Hell in a Cell card as a way to keep the Intercontinental title relevant and to give R-Truth a chance to put Axel over as a heel with the WWE Universe.
Keep Reading