College Football Week 8 Predictions: Picking All Top 25 Games Against the Spread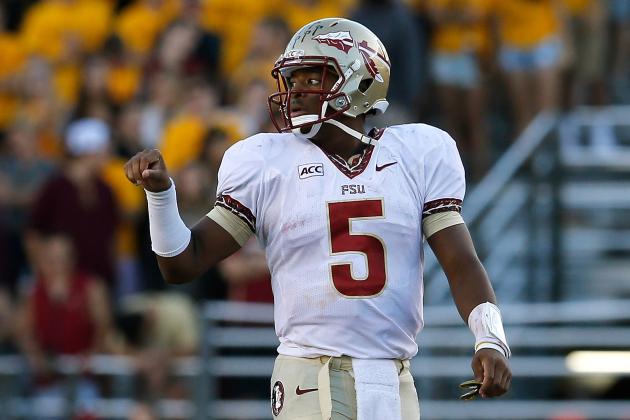 Jim Rogash/Getty Images

Every underdog has its day, and Week 7 saw plenty of them seize this opportunity. Seven ranked teams lost, which sent shockwaves throughout the latest AP Top 25 poll at the halfway point.
One underdog that didn't fare so well, however, was the team that was playing Oregon. That team was Washington, although this wasn't just a Week 7 theme. The Ducks have yet to lose a game against the spread, and oddsmakers will continue to implement the ol' "how many points is it gonna take?" system.
Perhaps we'll see. Or, maybe not.
As for the picks involving Top 25 teams against the spread, it was a solid and stable week over .500. Nobody got rich, but there are worse places to be.
Week 8 features a handful of key games, including a key Pac-12 matchup out west and the latest "Game of the Year/of the Century/of the Millennium/of the Week" battle in the ACC. Let's pick winners, shall we?
Record Against the Spread Entering Week 8: 73-52-2 (.583)
Spreads courtesy of VegasInsider.com.
Begin Slideshow

»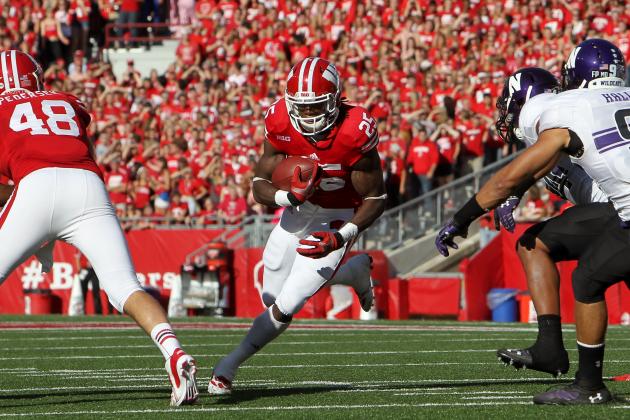 Mike McGinnis/Getty Images

This is an intriguing number. The Badgers absolutely manhandled Northwestern last week as a 10.5-point favorite, a line many felt was a little too steep for a team ranked in the top 20 at the time. That wasn't the sentiment here, although I didn't see a 35-6 mashing coming.
Wisconsin has still yet to lose a game against the spread, pushing the seven-point number against Ohio State and winning all others.
So why is this spread only 12?
Illinois will come off a bye—a luxury that worked wonders for Wisconsin last week. And while the Illini aren't undefeated against the spread, they do come into this one at 3-2. Offensively this group is much improved, and they should be able to keep up, at least for a while.
Does it look a little too easy with Wisconsin? Yep. So let's go the other way.
The Pick: Illinois (+12)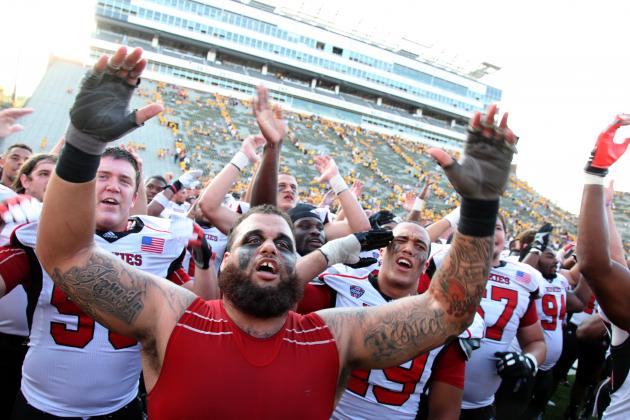 Matthew Holst/Getty Images

As more than a two-touchdown underdog last week, Central Michigan beat Ohio outright, covering the bulky spread and giving bold money-line backers reason to smile. Ah, nothing like betting Central Michigan on the money line.
Now that's livin'.
Northern Illinois did not find the same success as more than a three-touchdown favorite against Akron, winning by only seven points to a now 1-6 team that's 0-3 in the MAC.
Yet, despite the drastically different weeks, the oddsmakers are content to lay a confident number yet again. The immediate reaction would tell you that taking the 16 would be a logical route to go, although I'm not so sure.
Central Michigan is still only 2-5 against the spread, and I look for Northern to return to form as it enters BCS-bustin' mode.
The Pick: Northern Illinois (-16)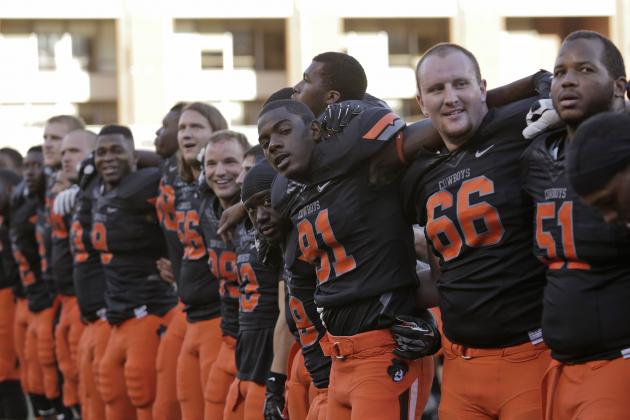 Brett Deering/Getty Images

While trying to determine what I know about both of these teams well into the season, I realized the answer is not much. What I am certain of, however, is that both have not reached my lofty expectations.
Despite getting plenty of respect from Vegas, Oklahoma State has not exactly been a must-play at the window. The Pokes are 2-3 against the spread and offensively they have just not clicked.
TCU has similar problems on offense and also against the spread. The Horned Frogs are 2-4 against the number, and they were nowhere close to covering as a 24-point favorite against Kansas in Week 7.
What TCU does have, however, is an outstanding defense, even without star Devonte Fields. And in a game where you're struggling to determine the gap in talent—if such a thing exists—it seems wise to take the points.
Reluctantly.
The Pick: TCU (+7)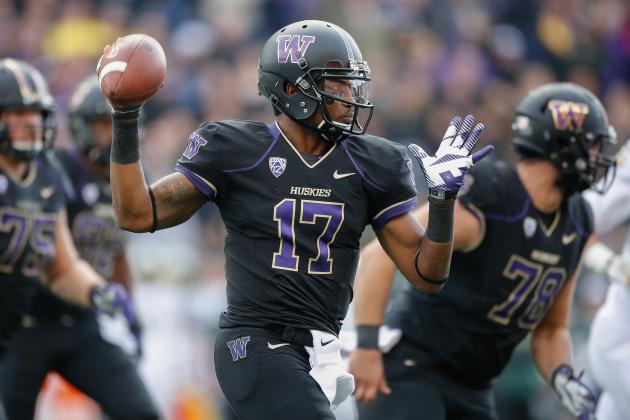 Otto Greule Jr/Getty Images

An absolutely brutal "we're taking the Pac-12 schedule-makers off the Christmas list" stretch continues for Washington, as it will head to the desert to take on a rejuvenated Arizona State team.
The Huskies did not cover the two-touchdown spread at home against the covering machine that is Oregon last week, although they are 4-2 against the spread on the season. Arizona State, meanwhile, recovered nicely after an ugly loss to Notre Dame, beating up on Colorado 54-13. With that, ASU is now 3-3 against the number this year.
The Sun Devils have struggled to stop the run, which is bad news with Bishop Sankey coming to town. But what is the emotional state of this team following tough back-to-back losses?
This is not the ideal place to take a trip when you're down, and I believe the slide continues.
The Pick: Arizona State (-3)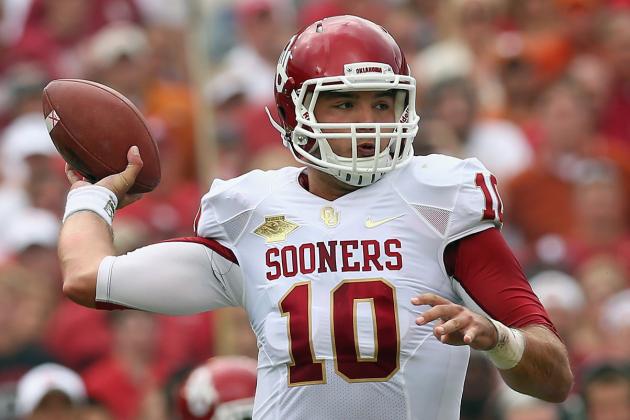 Tom Pennington/Getty Images

"Go ahead, bro. Just try it."
That's what I envision a Las Vegas oddsmaker with a superb oddsmakin' beard saying as he posted this line. Why does he have a beard, you ask? Just go with it; I'm painting a picture.
Oklahoma looked dreadful in Week 7, losing as a 13.5-point favorite to Texas in a game that saw strange movement late in the week. Someone knew something, and that someone was correct.
Kansas, meanwhile, actually put forth a game effort against TCU, despite being completely overmatched. That was the Jayhawks' first cover of the season and a positive sign after being destroyed by Texas Tech.
It was a tale of two weeks—even though both lost—and yet here we are with an aggressive three-touchdown number is almost begging you to take the home underdog. Such propositions might seem tempting, but don't fall into the bearded trance.
Embrace the gigantic number and assume the Sooners bounce back.
The Pick: Oklahoma (-23.5)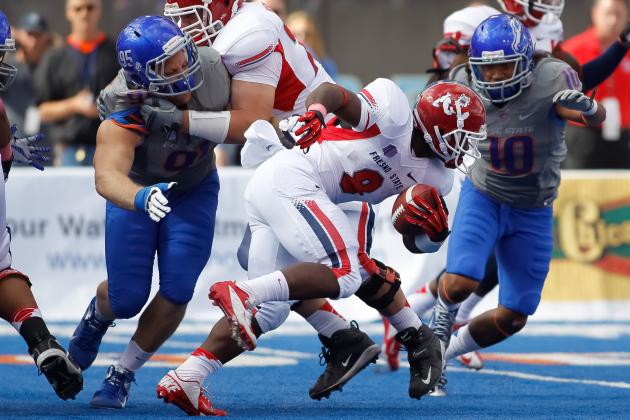 Otto Kitsinger III/Getty Images

After finally covering its first game of the season against Idaho, Fresno State enjoyed the bye week and will now take on a streaking UNLV team. After losing the first two, UNLV has bounced back nicely to win its last four. Keep in mind this is already double the amount of games UNLV won all last season.
The total in this game is currently at a lofty 72.5 points, which means there will likely be plenty of scoring from both sides. Both teams have offenses that make it look easy at times and defenses that, well, don't.
But playing on the road is a different story, as is the difference between overall talent. Fresno State has also entered "BCS buster" mode, which means style points matter. In doing so, this spread may prove to be insufficient.
The Pick: Fresno State (-23)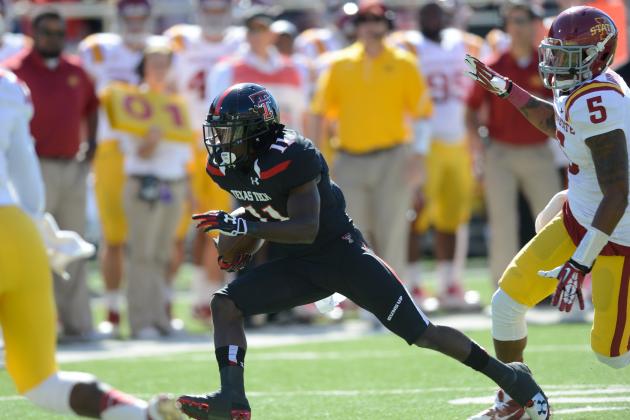 John Weast/Getty Images

(Vegas siren hums in the distance)
After opening around nine, this point spread has been significantly bet down. This, of course, opens of the questions of "why" or more importantly "who." Are there smart gamblers causing this line to shrink, and why is an undefeated team not laying more points?
Texas Tech somewhat sloppily got past Iowa State, not covering the two-touchdown spread but staying undefeated regardless. West Virginia enjoyed the bye week, which certainly came the appropriate time. The Mountaineers were clobbered by Baylor—as Baylor tends to do, especially in its own building.
Playing in Morgantown is a much different animal, however; just ask Oklahoma State. West Virginia should also benefit greatly from the time off, sorting out some of its offensive woes.
But to me, this is all about the point spread, and something just doesn't feel right. Look out for this one.
The Pick: West Virginia (+7)
Kevin C. Cox/Getty Images

Perhaps it was only a matter of time for Georgia. The injuries on offense certainly play an enormous role in this team's struggles the past two games, but the issues on defense proved to be the difference. Missouri showcased this when it covered the touchdown spread—a number that was bet down all week—and beat the Bulldogs outright.
Vanderbilt watched the carnage from its couch during the bye week, likely envisioning wide receiver Jordan Matthews getting open against that secondary. The problem? Vanderbilt has also had its struggles, starting the season 3-3 (2-4 against the spread). The Commodores also just got blown out by Mizzou the week before the bye.
There's no question that UGA is in bad shape, but the oddsmakers still posted a strong line for this team.
Is it strong, or is Vegas just missing the boat? We'll find out, but I believe a bounce-back is in order.
The Pick: Georgia (-7.5)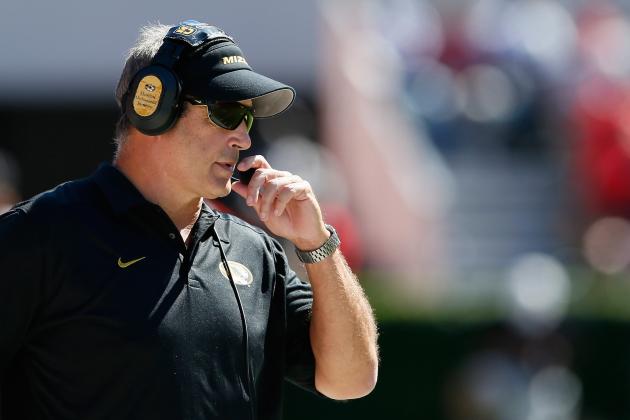 Kevin C. Cox/Getty Images

I did not expect to be discussing Missouri in the Top 25 picks much this year, let alone all the way up at No. 14. This surge, however, has been well-deserved, and the Tigers are one of the great stories of the season. (They also haven't lost against the spread.)
Let's stop the campfire songs there, though. As good as Missouri has been, it will now be operating without starting quarterback James Franklin for the foreseeable future. Taking that one step further, the Tigers will start a redshirt freshman, Matt Mauk, against one of the nation's most terrifying defenses.
Florida's defense again flexed its muscle against LSU last week, but the offense did not. Still, expect the Gators to find a little more wiggle room this week despite playing on the road once again.
Doesn't Mizzou have to lose a game for Vegas at some point? (The answer is no, but let's try it.)
The Pick: Florida (-3)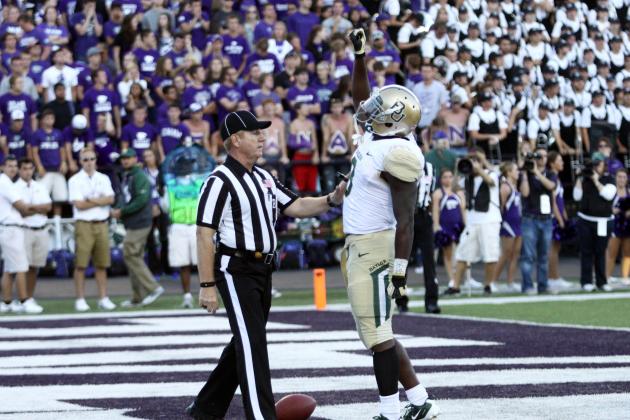 Scott Sewell-USA TODAY Sports

If Vegas is correct—and guess what: this is usually the case—the boxscore-killing machine that is the Baylor Bears will return to form this week.
No, Baylor did not post the absurd points, yards and production on the road against Kansas State. It still won by 10 on the road, but it lost against the spread for the first time this season.
First road-game jitters? Improved competition drastically closing the gap? Is this team not as good as they showed early on? Was it just an off week? The answer is probably a combination of these things, but the 30-plus points posted tells me the oddsmakers still have plenty of faith in this team.
Iowa State has hung tough with both Texas and Texas Tech in back-to-back weeks, and a number this large is somewhat surprising. It seems somewhat convenient to simply take the points, assuming Iowa State plays tough once again.
The problem, however, is I'm not ready to do such things. This is a power line that requires a power play.
The Pick: Baylor (-32.5)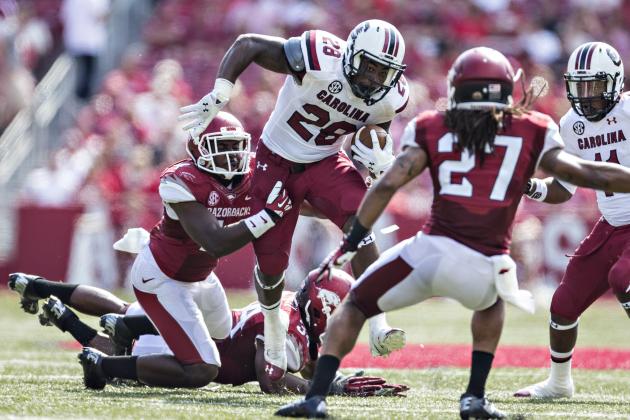 Wesley Hitt/Getty Images

This point spread feels A LOT like the number oddsmakers posted a few weeks ago involving Georgia-Tennessee. The circumstances are certainly different, of course, but 7.5? That's it?
This spread feels especially light when you consider how efficiently South Carolina blasted Arkansas on the road last week as only a six-point underdog. That line looked almost too good to be true, but it was instead the easiest money on the board.
Tennessee enjoyed its bye week following the near-upset at home over Georgia, and it came at a good time. The Vols covered the 12.5 points last time out and are 3-3 against the spread in 2013.
Doesn't this point spread just feel like it should be larger? South Carolina has seemingly hit it stride, poised to take over the SEC East. Tennessee could've caught lightning in a bottle on one afternoon, perhaps unable to match that production again.
Yet…I will trust Vegas here with this unusually short number. It didn't work last week against SC, but back on the horse we go.
The Pick: Tennessee (+7.5)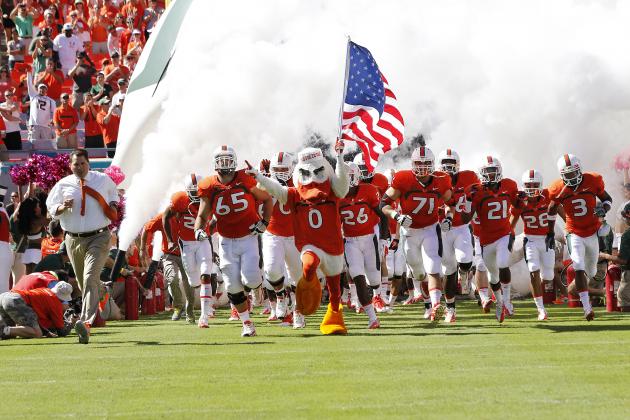 Joel Auerbach/Getty Images

Miami is back in the top 10 for the first time since you thought mixed tapes were cool. Don't worry, friend. You're not alone. We were all lame not too long ago (well, sort of long ago).
After not covering the spread the opening weekend, the Hurricanes have bounced back nicely. Miami is 4-1 against the spread and also coming off a bye that came at the best time possible. Quarterback Stephen Morris has been battling injuries, and the extra time off should have helped.
On the other side, you could make the case for North Carolina as one of the nation's most disappointing teams. The schedule hasn't been favorable, certainly, but the team's lone win (and cover) came against Middle Tennessee State. UNC is also coming off the bye this week, perhaps to reset a bit. Or, perhaps it will be intermission for more of the same.
This spread feels a bit like a sucker line, although I'll get line with the rest of the suckers here.
The Pick: Miami (-8.5)
Stephen Dunn/Getty Images

With a win here, our perception of UCLA will drastically change. It's already changed, but this will amp it up another level with a win over a Stanford.
As more than a touchdown favorite on the road, the Cardinal lost outright to Utah, a team that nearly nipped UCLA the previous week. If it weren't for those six interceptions, the Bruins would have likely stumbled as well.
Stanford, however, is getting respect here, which is telling. It's more telling when you consider that UCLA is a perfect 5-0 on the season and against the spread. David Shaw's team is wobbly—only 2-4 against the spread—and the oddsmakers still have confidence Stanford will turn it around.
As good as UCLA is, Jim Mora still started six true freshmen last week. That could catch up to them here. Vegas certainly thinks so.
The Pick: Stanford (-5.5)
Andy Lyons/Getty Images

This might be Louisville's toughest game of the season. In fact, there's no "might" about it. With the remaining schedule the Cardinals have left, this appears to be the final major obstacle in their path.
Rutgers served as an obstacle last week, and the Cardinals got by. It wasn't pretty, it wasn't easy and Louisville didn't cover the 19-point spread, but it was good enough.
UCF followed its three-point loss (and cover) to South Carolina with a seven-point win (and non-cover) against Memphis. Yes, Memphis. The Knights, however, have the offensive firepower to make this game interesting, although it will be on the road for the second straight week.
At some point, Louisville has to make a statement. Whether it's to impress voters, computers or simply play up to the caliber it can, a big-time showing is coming. And this might be it.
The Pick: Louisville (-12.5)
Goodness, the future is bright at Auburn. This has nothing to do with this particular game, but the current No. 24 ranking will seem like nothing in a few seasons. Gus Malzahn has worked his magic in no time, and defensive end Carl Lawson might be the best freshman in the country.
The fun, however, stops there. A trip to Texas A&M is on tap, which means Johnny Manziel will likely be doing Johnny Manziel things. After an injury scare last weekend against Ole Miss, A&M and Manziel bounced back to win the game. (Ole Miss hit on the spread, though.)
Auburn will present yet another intriguing on offense, but will it be able to keep up? The Tigers covered the 41.5-point spread against Western Carolina last week and are 4-2 against the number.
While A&M should win the game, the point spread simply feels a little lofty here. The over/under of 72 tells me there will be points, lots of points, and they will likely come from both teams.
I see this one being close enough.
The Pick: Auburn (+13.5)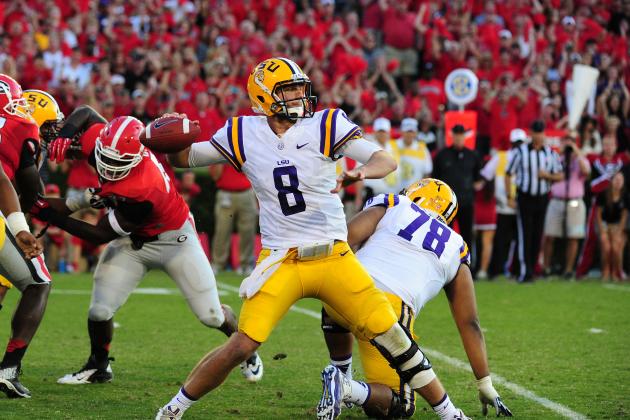 Scott Cunningham/Getty Images

The Ole Miss defense is banged up, and this is not the optimal opponent to be coming town. Not only that, but having to face Zach Mettenberger a week after Johnny Manziel is a significant philosophy switch from the previous week.
LSU covered the eight-point spread against Florida, doing so with defense. The Gator defense was as good as advertised, but LSU's group took a significant step in the right direction.
Ole Miss covered its spread against Texas A&M, putting forth a solid performance at home. With the loss, however, the Rebels have now lost their last three, albeit against incredibly difficult competition.
Enter: More difficult competition.
Too much Mettenberger, too much Beckham, too much Landry and too much Hill. Goodness, this LSU offense is terrifying.
The Pick: LSU (-8)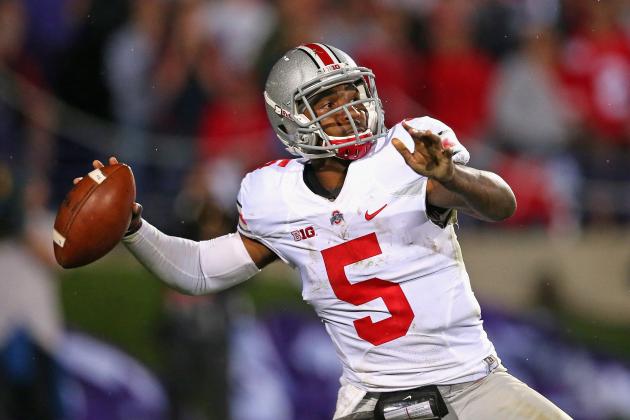 Jonathan Daniel/Getty Images

Urban Meyer is an absolute assassin off the bye, and this is all terrible news for Iowa.
With a week off, Meyer's teams are 34-2 the following week, a stat that speaks volumes to his ability to prepare. This doesn't include his ability to cover the spread, however, although you can assume that the Buckeyes will be ready.
Braxton Miller has been playing, but the extra week couldn't have hurt his knee if it was already bothering him. It also gave running back Carlos Hyde a much-needed break after his monster workload against Wisconsin.
The good news for Iowa is it just enjoyed its bye as well, and the Hawkeyes certainly needed it. Kirk Ferentz's team was handled by Michigan State at home in the beginning of a tough stretch.
Surprisingly, this will be the first time that Iowa is an underdog this season. And although Iowa's chances of winning are minuscule, it should be able to run the ball and even score a bit. Perhaps not a close game, but close enough.
The Pick: Iowa (+16.5)
Think about this. If this game was played at Florida State, the Seminoles would likely be a touchdown favorite or at the very least close to it. That's what the three-point spread tells me, and the confidence shown in a young Florida State team on the road is noteworthy.
Clemson didn't come close to covering the 25-point spread against Boston College last weekend. In fact, the Tigers were trailing in the fourth quarter. Don't overreact to this, however. This was the ultimate look-ahead scenario, and you'll see a much better, cleaner performance in Week 8.
Clemson will enter this crucial matchup at 3-3 against the number, while FSU has only lost one game against the spread. The Seminoles also enjoyed their bye week last Saturday in the perfect time for some extra prep.
Home field is certainly vital in a game such as this, but to me it's not big enough.
The Pick: Florida State (-3)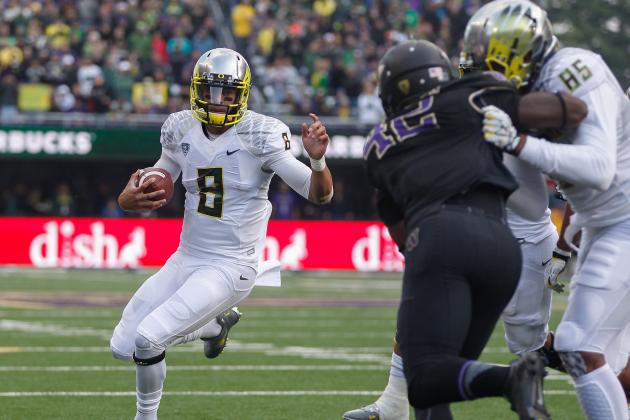 Otto Greule Jr/Getty Images

For the first time this season, I am picking against Oregon.
I will get that out of the way right now, knowing that Oregon State just scored another touchdown on this Washington State defense. Yep, and there goes another one.
I don't feel good about it. The Ducks have been a ticket-cashing machine, covering the spread in all six games despite being favored by more than 200 points. At this point, Vegas doesn't know how to handle them.
BUT…this might just be the ultimate sandwich game—the kryptonite if you will—for the ultimate covering team. Oregon handled Washington in impressive fashion last weekend, and it has a date with UCLA next weekend.
Washington State, you're in luck. Well, not really, but this is the best time possible.
Should we expect to see a Mike Leach upset? Oh, goodness no. The Cougars, however, will continue to be a solid Vegas option (5-2) against the spread and only lose by 37ish.
The Pick: Washington State (+38.5)
The numbers from last weekend's Arkansas-South Carolina game are staggering, and not in a look-how-happy-Bret-Bielema-is way.
Arkansas held the ball for just 16 minutes, passing for 30 yards. These were not first-half stats—and those would still be sorry—but instead for the entire game. No, they did not cover. I assume you knew this already.
Alabama easily covered its 26.5-point spread against Kentucky, cruising to a 48-7 game on the road. It's worth noting that since Nick Saban's defense allowed approximately 3,978 points to Johnny Manziel, it has given up 16 combined points in the past four games.
That's not good news for Arkansas, a team that has only scored 17 points in the past two weeks.
Could the Hogs get it going here? Certainly, or at the very least they could stay within four scores. The problem is that Alabama appears to be hitting stride, and four touchdowns won't be nearly enough if that's the case.
Also, 30 yards passing. Thirty.
The Pick: Alabama (-28.5)