Stoppage time was no friend to Panama on Tuesday night.
Mere minutes away from keeping hopes of its first World Cup appearance alive, Panama watched as Graham Zusi and Aron Johannsson dashed any such dreams with two goals in added time to give the United States a shocking 3-2 victory.
The U.S. Soccer account had this tweet as things went final in Panama City:
That's a final from Panama City. Unreal finish. The #USMNT have claimed all three points. Panama are out of the World Cup. #USAvPAN 3-2

— U.S. Soccer (@ussoccer) October 16, 2013
Major League Soccer was almost at a loss for words:
Are. You. Kidding. Zusi equalizes, Johannsson puts the US in front 3-2. WHAT?!?!?!? http://t.co/e0KOfluBIO

— Major League Soccer (@MLS) October 16, 2013
Panama jumped out to an early 1-0 lead and responded again when the United States evened things up in the second half behind an equalizer from Michael Orozco. Luis Tejada—like he did against Mexico on Friday—scored in the second half to bolster Panama's chances.
But Zusi and Johannsson were the men of the hour in this one, scoring back-to-back goals in a matter of seconds to help the U.S. secure one of its best-ever CONCACAF hex finishes. ESPN's Stats & Info conferred that data on Twitter:
#USMNT now 11-1-2 vs Panama; USA won 22 points in Hex, tying their team record

— ESPN Stats & Info (@ESPNStatsInfo) October 16, 2013
Needing a win and help from Costa Rica to keep its dreams of Brazil alive, Panama's home-field advantage and desire to reach its first-ever World Cup were evident early on.
It took the Panamanians just 18 minutes to strike first in the match, and they did so behind the foot of Gabriel Torres.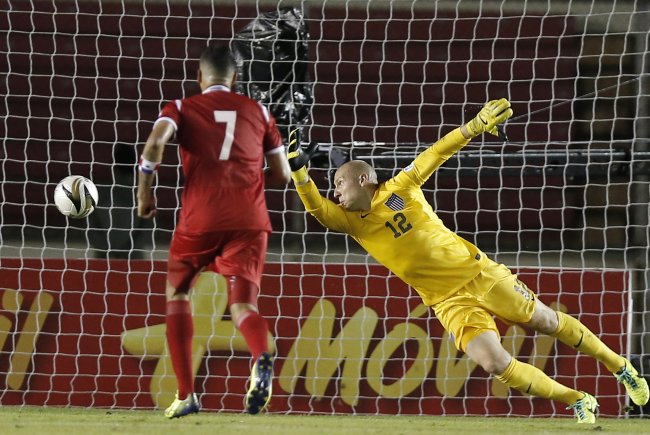 Winslow Townson-USA TODAY Sports
Marcos Sanchez found Torres just outside the box, and the Colorado Rapids star did the rest, finding the back of the net past goalkeeper Brad Guzan with a nifty right-footed finish.
The official Twitter account of U.S. Soccer was impressed as Panama took the 1-0 lead:
Nice layoff from Sanchez to the top of the box and Torres made no mistake, lashing his first-touch shot into the corner. No chance for Guzan

— U.S. Soccer (@ussoccer) October 16, 2013
The GOAL Twitter account posted this Tweet with a Vine of the score:
Another look from midfield as Torres beats Guzan to the back post for a 1-0 lead! #PANvUSA #USMNT https://t.co/Eyo7iGnsff

— GOAL (@GOAL) October 16, 2013
As noted by Fox Soccer, the fast start for Panama meant nothing if Mexico didn't find a way to lose to Costa Rica in another CONCACAF World Cup qualifying match going on at the same time:
HT: Panama 1, USA 0. Gabriel Torres has scored, but as it stands the hosts need help from Costa Rica if they want to knock out Mexico.

— FOX Soccer (@FOXSoccer) October 16, 2013
As you would expect, the crowd went nuts at the Estadio Rommel Fernandez as the Costa Ricans took an early lead over El Tri:

Panama crowd reaction = Costa Rica goal in San Jose.

— U.S. Soccer (@ussoccer) October 16, 2013
Scoreboard watching was a prevalent aspect of this match. For Panama and Julio Dely Valdes, not controlling their own destiny made the atmosphere—and the strategy—indicative of a squad with everything to lose.
The United States looked sluggish and defeated in the first half, prompting ESPN's Bob Ley to bring up an excellent point about a regional rivalry that might have been unconsciously—or consciously, depending on your perspective—playing a role in the 1-0 deficit:
A number of USA players past and present - some publicly - say they want MEX to not make it to BZL. They may get their wish tonight.

— Bob Ley (@BobLeyESPN) October 16, 2013
As noted by ESPN's Roger Bennett, Panama's fans didn't care how the win came—they just wanted a win:
Panama huddle b4 leaving field at half time. Crowd breaks into emotional YES WE CAN chant. Players stop at tunnel to applaud fans. Stunning

— roger bennett (@rogbennett) October 16, 2013
Things weren't looking up for Panama in the middle of the second half, as Mexico equalized with Costa Rica and the United States found one of their own in the form of Orozco. It's a long match, though, and Tejada worked his magic in the 84th minute to put Panama on the brink.
As noted by ESPN's Jeremy Horton, the goal had a chance to be historic for Panama:
Wow...Luis Tejada with a historic (?) goal for Panama. You remember him...he had coffee with RSL a while back.

— Jeremy Horton (@espn700jeremy) October 16, 2013
At about the same time, Costa Rica took a decisive 2-1 lead over Mexico that it would not relinquish. If Panama could hang on, it would get the honor to face New Zealand in a two-leg playoff with a spot in Brazil on the line.
Zusi and Johannsson killed that dream past 90 minutes.
Brad Davis found Zusi—the hero Friday night for the U.S. against Jamaica—for an equalizer in the second minute of added time, and Johannsson followed suit with a strike off an assist from substitute Terrance Boyd.
And thus, rumors of the U.S. trying to oust Mexico by throwing the game away were greatly exaggerated. As noted by Football Shirts on Twitter, El Tri owes the U.S. a debt of gratitude:
Dear USA, thanks for keeping our World Cup dream alive - Mexico pic.twitter.com/ohPPNiOctd

— Football Shirts (@FootballShirts) October 16, 2013
Fox Soccer Trax thinks the late-scoring pair are already national heroes in Mexico:
Zusi and Johannsson, meanwhile, become national heroes in Mexico. What a strange, strange ending to this hexagonal.

— FOX Soccer Trax (@FOXSoccerTrax) October 16, 2013
It was a remarkable finish to what's been an action-packed CONCACAF hexagonal. The United States wins the table, Mexico sneaks into a last-ditch chance, and Panama—just minutes away from a historic berth—will instead be watching from home next summer.
And some say soccer is boring.
USA vs. Panama Grades
Full Grades

| | | | |
| --- | --- | --- | --- |
| Panama Player | Grade | USA Player | Grade |
| Jaime Penedo | C | Brad Guzan | B+ |
| Carlos Rodriguez | C+ | Edgar Eduardo Castillo | C |
| Roman Torres | B | Michael Orozco | B+ |
| Luis Henriquez | B- | Brad Evans | C- |
| Felipe Baloy | B+ | Clarence Goodson | D |
| Gabriel Enrique Gomez | C+ | Mikkel Diskerud | D |
| Marcos Anibal Sanchez Mullins | B+ | Alejandro Bedoya | C+ |
| Alberto Quintero | B | Kyle Beckerman | C |
| Amilcar Henriquez | B | Sacha Kljestan | C- |
| Blas Perez | B- | Graham Zusi | B+ |
| Gabriel Torres | A- | Jozy Altidore | B- |
| Subs | | | |
| Jairo Jimenez | B | Brad Davis | B+ |
| Roberto Chen | B- | Aron Johansson | A |
| Luis Tejada | A | Terrence Boyd | A |
Gabriel Torres, Panama: A-
Torres has been an absolute spark for Panama the past two matches; some might remember that he was the assist man on the Tejada goal that evened things up against Mexico on Friday night.
His goal set the tone for Panama, and although the Panamanians couldn't finish the task, this MLS star looks to have a bright future both in club ball and internationally for quite some time.
Graham Zusi, United States: B+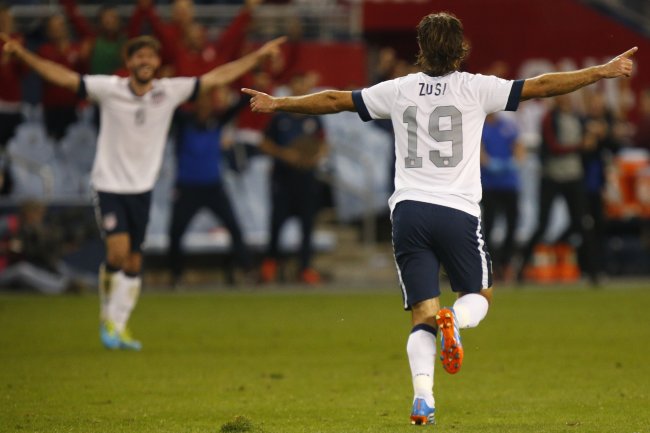 Kyle Rivas/Getty Images
What can Zusi do for you?
Largely ineffective for most of the match, the Sporting KC star turned it up a notch when the clock was literally about to tick down to zero.
His equalizer re-energized the Americans—even if just for a few moments—and helped pave the way for the Panama defense to completely collapse in a moment where its dreams were about to come true.
He might be a heartbreaker to Panamanians and a hero to Mexico, but Zusi is also turning into a player Jurgen Klinsmann needs in Brazil next summer. He had another solid outing with some big fireworks at the end.
Follow B/R's Ethan Grant on Twitter.