Breaking Down the Atlanta Falcons' Struggles on 3rd Down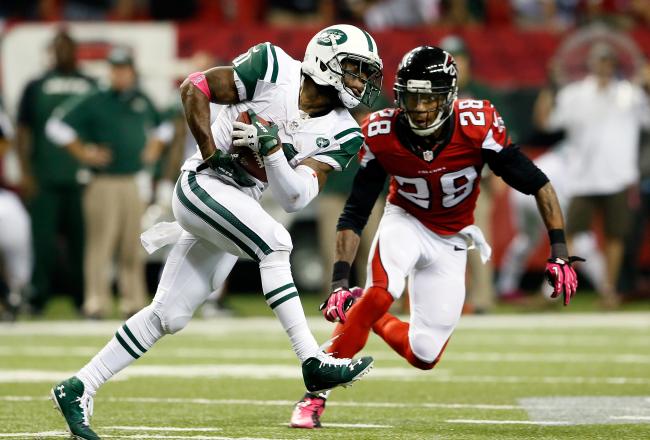 Kevin C. Cox/Getty Images
One of the most alarming aspects of the Atlanta Falcons' 1-4 start has been the team's awful third-down defense. Through five games, the Atlanta Falcons defense has allowed a league-worst 50 percent third-down conversion rate to its opponents.
What's keeping Atlanta's defense from getting off the field on third down?
We broke down the film and determined that the Falcons defense has mostly been plagued by a failure to generate pressure, blown coverage assignments, poor zone concepts and passive coverage technique.
Let's take a closer look at each contributing factor before discussing what Falcons head coach Mike Smith and defensive coordinator Mike Nolan need to do to get the defense back on track for the rest of the season.
1. Pass Rush
In today's NFL, the most successful teams are the ones who are able to protect their quarterback and get after their opponent's quarterback. The Falcons haven't done a great job at either task thus far this season.
2013 Atlanta Falcons Sack Leaders Through 5 Games

| | |
| --- | --- |
| Player | Sacks |
| Osi Umenyiora | 4 |
| Corey Peters | 2 |
| Joplo Bartu | 1.5 |
| Akeem Dent | 1.5 |
| Peria Jerry | 1 |
| Robert McClain | 1 |
via ESPN.com
Through five games, the Falcons have 11 sacks as a team. By comparison, the Kansas City Chiefs, whose opponents convert only 24 percent of their third downs, had 21 sacks through five games before getting 10 against the Raiders last Sunday.
However, the pass-rush component of a successful third-down defense isn't just about sacks.
Tipped passes, quarterback hits and the ability to disrupt an opposing quarterback's rhythm with pressure all go a long way towards keeping teams from moving the chains on third down.
2. Blown Coverage Assignments
The Falcons are playing a lot of young players on defense partly because of injuries and partly by choice. That has led to some blown coverages like the one we see here from last Monday night against the Jets.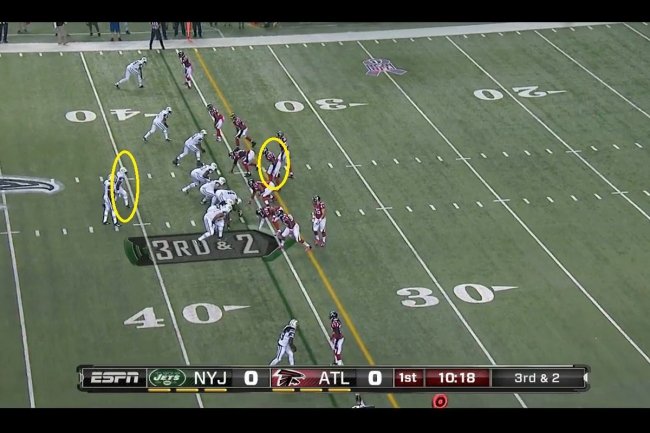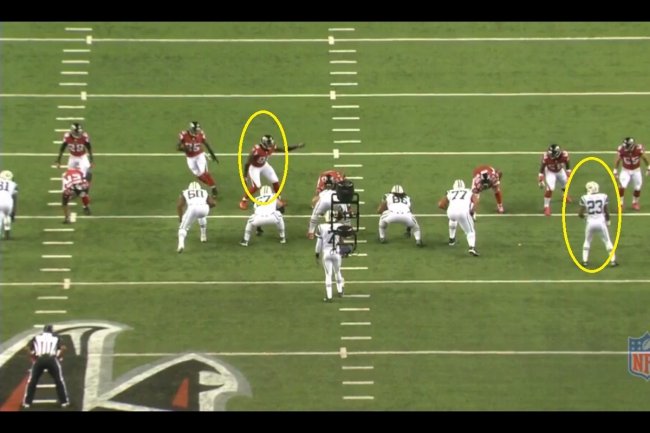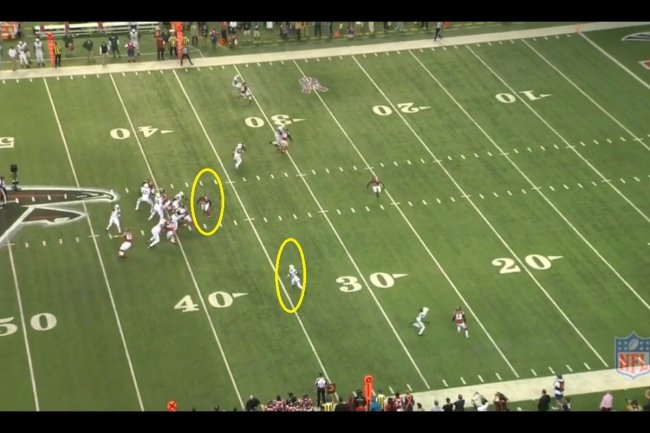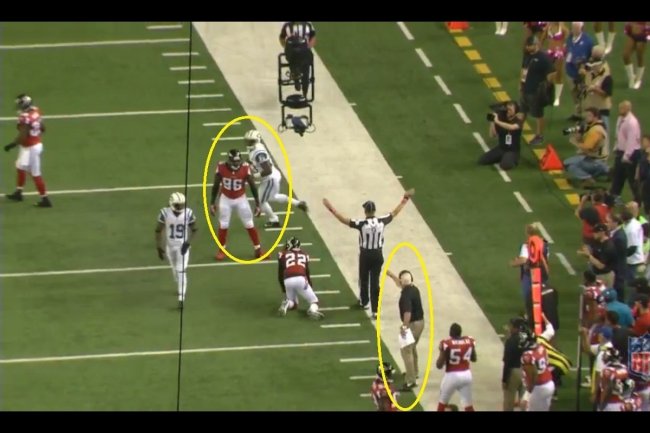 Here, the Jets faced a 3rd-and-2 in Atlanta territory right on the edge of field-goal range on their first drive.
The culprit here looks like Falcons defensive end Jonathan Massaquoi. Prior to the snap, Jets running back Mike Goodson motions out of the backfield when the Falcons show blitz with linebackers Joplo Bartu and Paul Worrilow. Falcons safety William Moore feigns a blitz up the A gap, but he bails into coverage at the snap of the ball.
Massaquoi failed to react to Goodson's motion and appeared to be confused as to what his assignment was on the play pre-snap.
Goodson slips into the flat behind the Falcons blitz and Geno Smith easily finds him as his hot read for a first down. After the play, you can see Mike Smith appear to inform Massaquoi that Goodson was his responsibility after the conversion.
The Falcons need to generate pressure, but if they do blitz, they can't make it this easy for opposing quarterbacks.
3. Poor Zone Concepts
The Falcons have taken some heat from their fans for playing soft zone coverage at times, but Atlanta's problems on third down are less about the zone coverage and more about the team's failure to properly execute the zone concepts. This issue was never more evident than on this now infamous 3rd-and-19 conversion from Atlanta's Week 4 loss to the Patriots.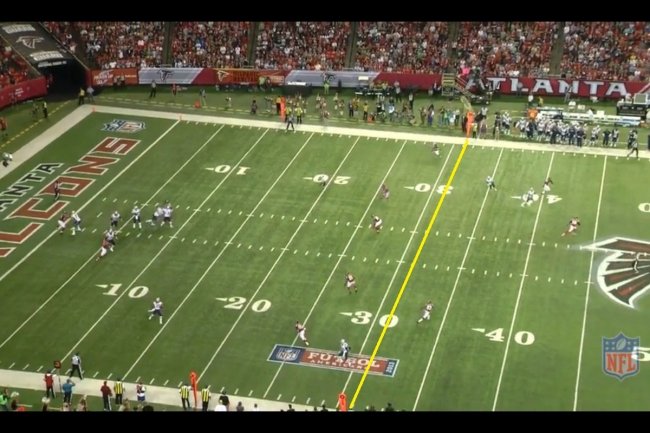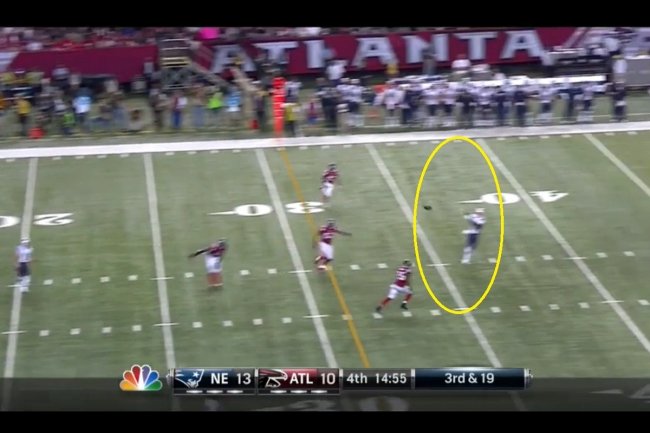 Here, the Falcons drop eight defenders into a five-under, three-deep zone coverage. The problem comes when the "under" defenders fail to get the proper depth in their zone and stop their drops short of the first-down marker.
The goal here was for the Patriots to only be able to complete a pass underneath the coverage, but for that to happen, these defenders needed to get as deep as the first-down marker.
Instead, Tom Brady was able to find Kenbrell Thompkins in the dead area between the under defenders and the deep defenders for a crucial first down.
4. Passive Coverage Technique
The Falcons have had some real issues with their technique in the secondary at key moments this season. Specifcally, they haven't done a good job of challenging opposing receivers on third down in short-yardage situations and in the red zone.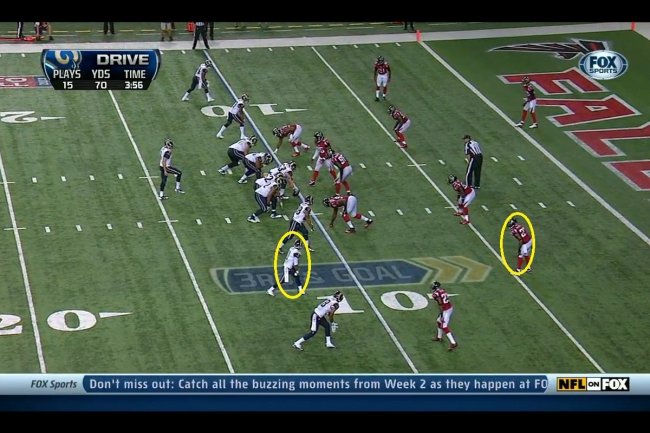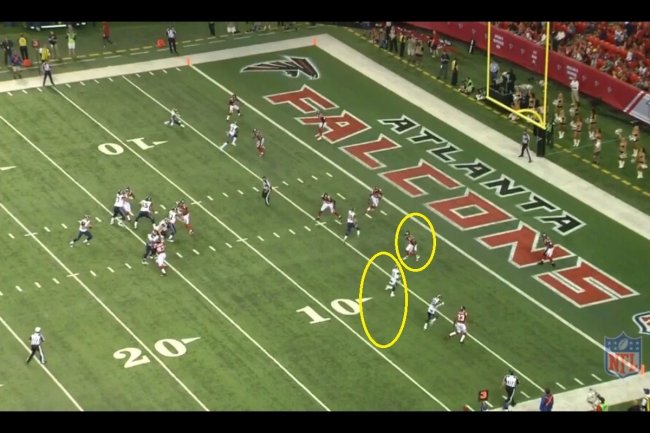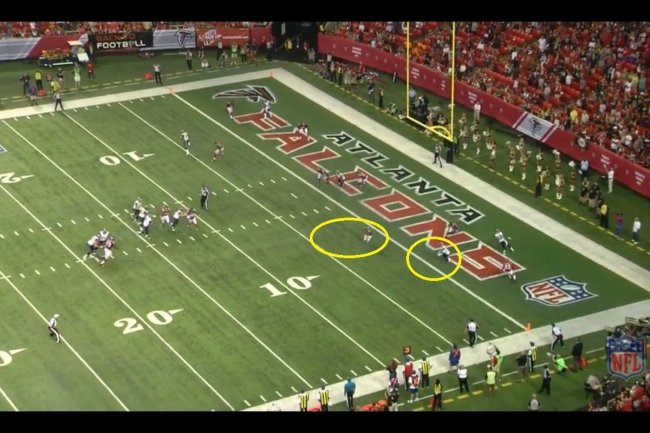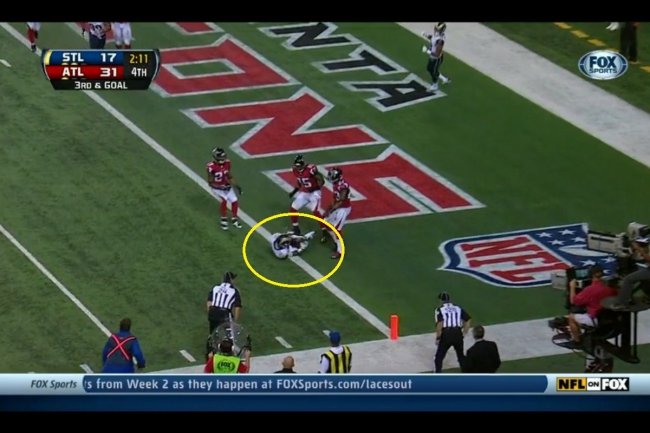 Here, the Rams face a 3rd-and-goal from the Atlanta 10-yard line. Falcons cornerback Robert McClain gives Tavon Austin a seven- to eight-yard cushion and then gets caught watching Rams quarterback Sam Bradford instead of contesting Austin's route. By the time McClain finds Austin, he's in the end zone on the receiving end of Bradford's pass.
Sure, this play came with the Falcons leading 31-17 in the fourth quarter, but McClain didn't even guard the end zone here. He got caught using poor technique and paid the price.
Conclusion
The Falcons defense has the worst third-down conversion rate in the league, and it's not a fluke. Atlanta hasn't been able to pressure opposing quarterbacks. The young defense has blown coverages, struggled with zone concepts and demonstrated poor technique in coverage.
Nevertheless, the Falcons' four losses have come by a total of 19 points. The team can still salvage its season if its defense can find a way to get off the field more often on third down.
For that to happen, Mike Nolan is going to have to find more creative ways to drum up pressure, and Falcons defenders are going to have to be more disciplined in their execution of Nolan's coverage schemes.
The Falcons may be better than their 1-4 record, but it's going to be difficult for them to recover if they don't get better on third down.
All stats are via ESPN.com; all screenshots are via NFL.com's game rewind
This article is
What is the duplicate article?
Why is this article offensive?
Where is this article plagiarized from?
Why is this article poorly edited?

Atlanta Falcons: Like this team?