The Los Angeles Dodgers learned the hard way that you should never overtly celebrate against the St. Louis Cardinals in Game 4 of the NLCS on Tuesday night, losing 4-2 at home to fall into a 3-1 hole.
So close they can taste it. @Cardinals are 1 win away from soaring back to the #WorldSeries: http://t.co/XP0Y9ryWqV pic.twitter.com/33lIKosLmh

— MLB (@MLB) October 16, 2013
L.A. nearly drew first blood in the bottom of the second. The Dodgers had runners on first and second with one out, and the bases loaded with two outs, but Ricky Nolasco struck out looking to help get counterpart Lance Lynn out of the jam.
Having stymied the Dodgers' momentum, the Cards offense started to come alive. Daniel Descalso led off the third with a single to right field. Lynn did a nice job of moving him into scoring position with a sacrifice, and Descalso scored on a double from Matt Carpenter.
After a Carlos Beltran groundout, Matt Holliday further increased St. Louis' lead with a mammoth home run to left off of Nolasco.
Holliday's blast left little doubt the way it came off of his bat, and Carl Crawford took about two steps in left field before conceding the two-run shot, making it 3-0 for the visitors.
ESPN's Keith Law provided some insight on the play:
The book on Holliday has always been to pound him inside with velocity. Nolasco just got a little too much plate.

— keithlaw (@keithlaw) October 16, 2013
The home run was the first of the series. The last time a postseason series went three games without a dinger was in 1948, via ESPN's Jayson Stark.
Holliday's mammoth HR was 1st of this series by either team. Last postseason series with no HR in 1st 3 games was the 1948 World Series!

— Jayson Stark (@jaysonst) October 16, 2013
The Dodgers wasted little time trying to get back into the ballgame. Adrian Gonzalez led off the bottom of the fourth with a double, and Andre Ethier walked to give L.A. runners on first and second with nobody out.
Up stepped Yasiel Puig.
Lynn nearly hit Puig, going inside on the polarizing rookie outfielder. It was Puig who would get the last laugh in the at-bat, however, as his base hit was able to score Gonzalez and make it a 3-1 game.
Ethier was then able to advance to third on a sac fly and was driven home on a single from A.J. Ellis.
Hitting for Nolasco, former Cardinal Skip Schumaker grounded into an inning-ending double play to get Lynn out of a major jam.
That inning would prove to be the best chance the Dodgers had to take the lead and even the series in Game 4. Wasted opportunities would become the theme for Los Angeles.
The Cards were able to increase their lead thanks to the unheralded Shane Robinson, who stepped up to the plate for reliever Seth Maness. Robinson took J.P. Howell deep in the top of the seventh, as his home run ball bounced off the top of the wall in left field to give the Cards the two-run cushion at 4-2.
Aside from hitting just five career home runs before this game, Robinson was 0-for-10 in the postseason.
Shane Robinson: 1st career postseason hit is HR (was 0-10 prior to that HR)

— ESPN Stats & Info (@ESPNStatsInfo) October 16, 2013
The Dodgers again failed to capitalize on an opportunity when Nick Punto delivered a pinch-hit double with one out in the bottom half of the seventh. Punto immediately got himself picked off second. Rally over.
After a fruitless eighth inning for Dodgers bats, Trevor Rosenthal came in for the ninth and closed the game out. Ethier singled to start the inning, but Puig grounded into a double play. Juan Uribe promptly struck out to end the game. As ESPN's Buster Olney notes, the St. Louis bullpen keeps rolling:
Cardinals one win away from another WS. Bullpen 1 ER in 14 ip.

— Buster Olney (@Buster_ESPN) October 16, 2013
Key Player Grades
Lance Lynn, St. Louis Cardinals: B+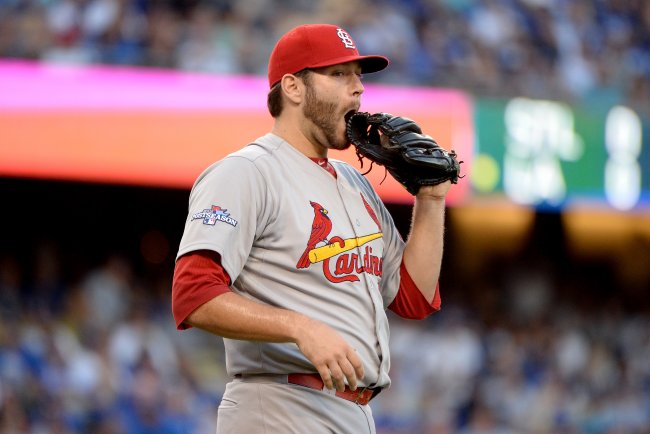 Harry How/Getty Images
Lance Lynn didn't bring his best stuff and opened the door for the Dodgers in the bottom of the fourth inning.
Give Lynn credit, though, as he was able to get out of jams and limit the damage. The fourth could have ended very differently, with L.A. perhaps tying the game or even taking the lead. Instead, Lynn remained composed and didn't make any major mistakes.
Although he wasn't lights out (5.1 IP, 6 H, 2 ER, 3 BB, 5 K) , he was good enough to hand off the lead over to the bullpen. That's all you can ask of a starting pitcher in the postseason.
Matt Holliday, St. Louis Cardinals: A-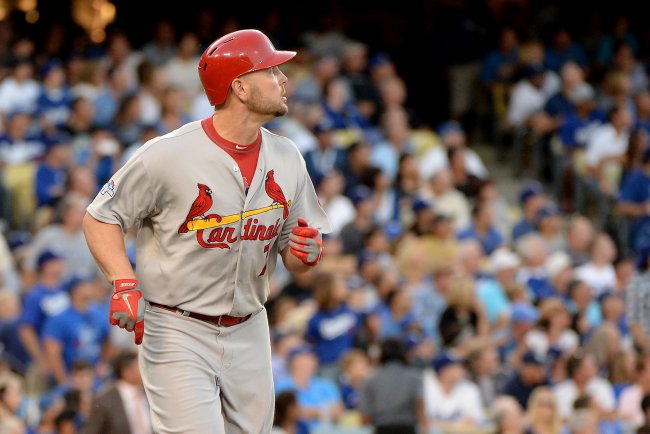 Harry How/Getty Images
Matt Holliday hadn't recorded a hit through the first three games of the series. He made up for that with his two-run home run in the top of the third.
Many had noted how dangerous the Cardinals offense would be if Holliday finally started to get going. To have one of your best hitters essentially absent for the first three games is a major handicap, but the Cardinals had gotten by. Now with Holliday breaking that duck, the Dodgers are in even worse trouble.
Ricky Nolasco, Los Angeles Dodgers: C+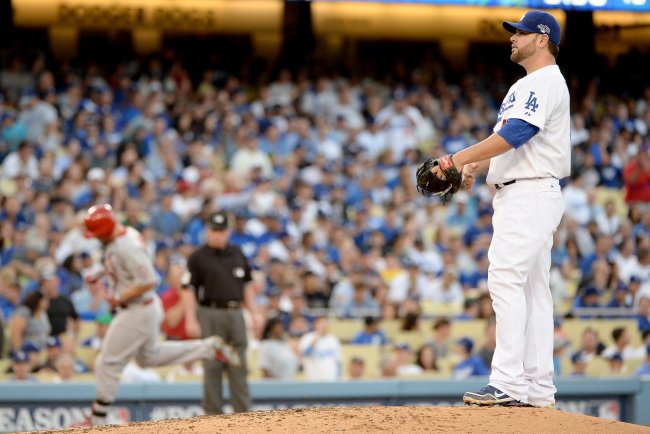 Harry How/Getty Images
It's hard to be too harsh on Ricky Nolasco. With the quick hook Don Mattingly exhibited, Nolasco had little chance to make up for that poor third inning. He was done after four frames, giving up three runs on four hits with four strikeouts and a walk.
In such a pivotal game, though, Nolasco needed to bring his best stuff. Sometimes one mistake is all it takes and you're looking at a massive series deficit.
Hanley Ramirez, Los Angeles Dodgers: C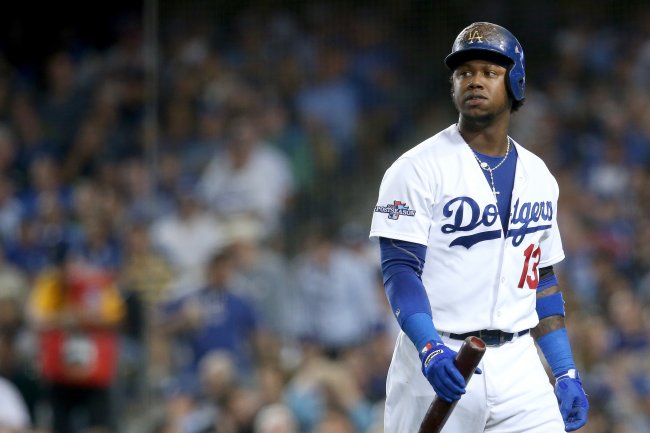 Stephen Dunn/Getty Images
Shortstop Hanley Ramirez was clearly laboring before he eventually left the game. It was obvious to everybody in the stadium, and it's never a good sign when you have medical personnel waiting for you in the dugout:
Stan Conte of #Dodgers medical staff was waiting for Hanley Ramirez when he reached dugout after inning. Hanley's obviously hurting

— Jayson Stark (@jaysonst) October 16, 2013
He was 0-for-3 prior to coming out. Much credit for the Dodgers' midseason revival is given to Yasiel Puig. But Ramirez was just as important, if not more so. Not having him in the lineup could be a huge blow for the rest of the series.
What's Next
The series will stay in Los Angeles for Game 5, which will be played on Wednesday at 4 p.m. ET. Joe Kelly will take the mound for the Cardinals, while the Dodgers' Zack Greinke will try and push the NLCS to a Game 6.