Dan Boyle Injury: Updates on Sharks Defenseman's Status, Likely Return Date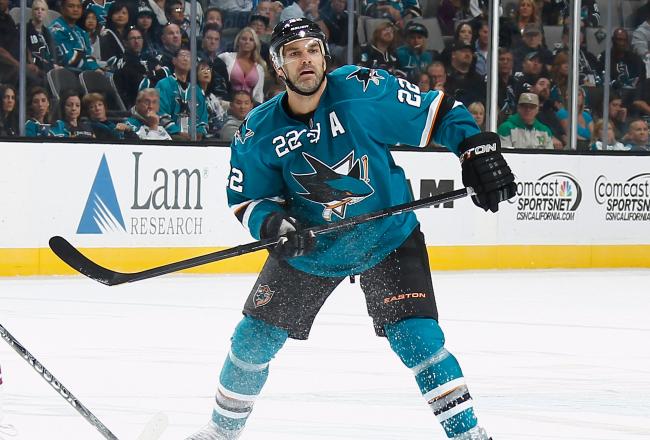 Don Smith/Getty Images
San Jose Sharks defenseman Dan Boyle left Tuesday night's game against the St. Louis Blues on a stretcher with a head injury after being brutally hit into the boards by Maxim Lapierre.
Louis Jean of TVA Sports tweeted:
Dan Boyle out cold after being hit by Maxime Lapierre.

— Louis Jean (@LouisJean_TVA) October 16, 2013
Los Angeles Times' Helen Elliott also added:
Sharks' Dan Boyle takes hit from behind at St Louis, stretcher comes out. Awful sight

— Helene Elliott (@helenenothelen) October 16, 2013
He will rejoin the team on Wed, Oct. 23 in Boston.
From the Mercury News' David Pollak:
Boyle on coming back vs. PHX tonight: "I had to be 100 percent and I wasn't 100 percent sure at the LA game."

— David Pollak (@PollakOnSharks) November 2, 2013
From Kevin Kurz of CSN Bay Area:
Confirmed that Boyle is in tonight, and Irwin was skating late, so he's almost certainly out. Niemi starting. #SJSharks

— Kevin Kurz (@KKurzCSN) November 2, 2013
From CSNBayArea.com's Kevin Kurz:
Dan Boyle declared himself "ready to go" when the Sharks host the Phoenix Coyotes on Saturday at SAP Center.

Boyle has not played since the Blues' Maxim Lapierre knocked him out on the ice on Oct. 15 on a hit from behind.

"I've been skating so, yeah, it's pretty much [the coach's] decision at this point," Boyle said. "I've informed them where I'm at, and now it's up to them."
From Kevin Kurz of CSNBayArea.com:
Sharks defenseman Dan Boyle will rejoin the team Wednesday night in Boston, according to a team source.

Boyle is expected to be on the ice at TD Garden Thursday for the team's morning skate. It will be the first time Boyle steps on the ice since being hit from behind and into the boards by the Blues' Maxim Lapierre on October 16 in St. Louis. Lapierre was suspended five games for the hit.


UPDATE: Thursday, Oct. 17
From Ian Mendes of TSN 1200:
Sharks GM Doug Wilson tells @TSNSimmer and I that Dan Boyle will need a few more days before they get a full evaluation on his status.

— Ian Mendes (@ian_mendes) October 17, 2013
UPDATE: Wednesday, Oct. 16
Dan O'Neill of The St. Louis Post-Tribune reports that Lapierre apologized to Boyle for the hit last night.
"First of all, I would like to apologize to Dan," said Lapierre, 28. "You never want to see someone feel that way and, as tough as it is to look at for the fans and his teammates, I feel the same way."

"It's tough to separate a guy that's yapping from a guy who tries to hurt people," said Lapierre. "I know I'm the type of guy who talks a lot on the ice, but it's really not my intention to hurt anybody."

"I never (thought) last night it was going to be a hit to the head or it would be that big a deal … I was just trying to finish my hit," Lapierre said. "But the game goes fast. It's not an excuse. You have to be responsible for your hits and I was the one doing the bad hit last night.

"I was just trying to finish my hit. But like I said, it's no excuse. It's terrible. It's not fun to look at somebody on the ice and the only thing I want to focus on right now is that hopefully he gets better."

"Obviously, it's a tough day for him and his family and it's tough for him to answer a guy who just hit him," Lapierre said. "But I'm going to try to call him back later in the year when it's a better point.

"I know what kind of player I am. I talk a lot on the ice and try to play my role. But my family and my friends know I'm not the kind of guy who tries to hurt people. Like I said, I feel terrible for him and his family."

"I'm not expecting him to be happy with what happened, but hopefully I can get to talk to him before the end of the year.
UPDATE: Wednesday, Oct. 16
From Sportsnet's Hockey Central Twitter account:
GM Wilson: Boyle knocked out for "a considerable amount of time."

— Hockey Central (@SNHockeyCentral) October 16, 2013
UPDATE: Wednesday, Oct. 16
From James Mirtle of The Globe and Mail:
Sharks announce Dan Boyle spent the night in hospital. He's returning to San Jose today for more medical care and evaluation.

— James Mirtle (@mirtle) October 16, 2013
UPDATE: Wednesday, Oct. 16
From ESPN's Pierre LeBrun:
Texted with Dan Boyle, he wanted to thank fans for well wishes: ``I'm doing ok, thank you for your concern and support...'' con't...

— Pierre LeBrun (@Real_ESPNLeBrun) October 16, 2013
Boyle con't: ``Means a lot to me. I've never once taken this game or any of my fans for granted. Hope to be back soon.''

— Pierre LeBrun (@Real_ESPNLeBrun) October 16, 2013
Also, CSN Bay Area's Kevin Kurz gave some insight on the hit courtesy of Boyle's teammates:
Logan Couture said: "A player that probably shouldn't even be in the league is taking out one of the best players in the world. That guy's got a history. After the first shift, he's yelling at us from their bench that he's coming after us, and then he does that. I don't even know. It's pretty gutless. Then he turtles. Be a man if you make a hit like that. Don't turtle and run behind the linesman."

Before the postgame rage, though, there was heart-in-your-throat nervousness as Boyle was prone on the ice. Couture called it one of the scariest things he's ever seen, and he was one of the first players to skate over to his teammate after the hit.

"He was shaking, his eyes were up at the roof. We tried talking to him and he wasn't responding. I've never seen anything like it," Couture said.

Joe Thornton said: "I've never seen a guy be like that before. It takes your breath away."
UPDATE: Wednesday, Oct. 16
Here's footage of the hit Boyle took vs. St. Louis:
Original Text
Boyle was chasing a puck into the corner when Lapierre came in fast from behind, crashing into Boyle and forcing his head to smash into the boards as his helmet started sliding off.
The hit was questionable to say the least, which sparked immediate retaliation from Sharks players and invoked a near brawl. Boyle laid immobile on the ice while the players tangled up for about two minutes. He was then removed from the ice on a stretcher.
Lapierre was ejected for the hit, and Blues forward Ryan Reaves also received a game misconduct for instigating a fight with one of the Sharks players. Shortly after, San Jose rattled off two first-period goals to grab an early lead in the game.
The Sharks are off to a perfect 5-0 start heading into Tuesday night's game against the St. Louis Blues, but they could be without one of their most key players. Boyle had one goal and one assist through five games. He led the team in ice time entering Tuesday's game, with over 22 minutes per contest.
Stay locked right here for more information on Boyle's status as it develops.
This article is
What is the duplicate article?
Why is this article offensive?
Where is this article plagiarized from?
Why is this article poorly edited?

San Jose Sharks: Like this team?