Odds of Each Slumping MLB Star Snapping out of Slumps in Time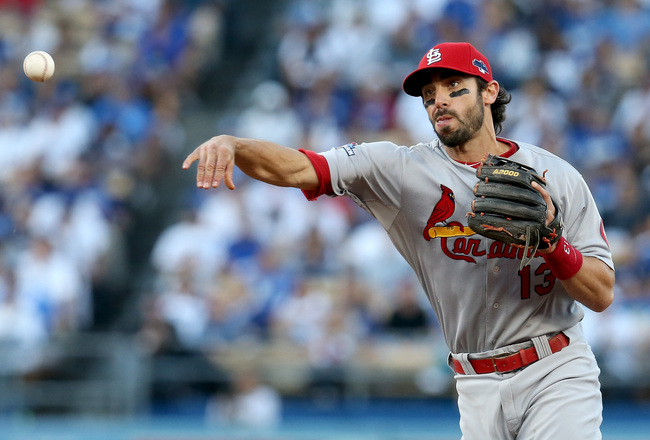 Stephen Dunn/Getty Images
Slumps are commonplace in Major League Baseball.
Every player has gone through them in their careers, with some being more prolonged than others.
For teams currently in the postseason, certain players are struggling, and it's hurting their team's ability to win. And if they don't get things going quickly, their team could find themselves watching the World Series from home.
Here's a look at the players who are struggling and the odds they will snap out of their slump before it's too late.
Note: All stats obtained from Baseball-Reference.com, unless otherwise noted.
Austin Jackson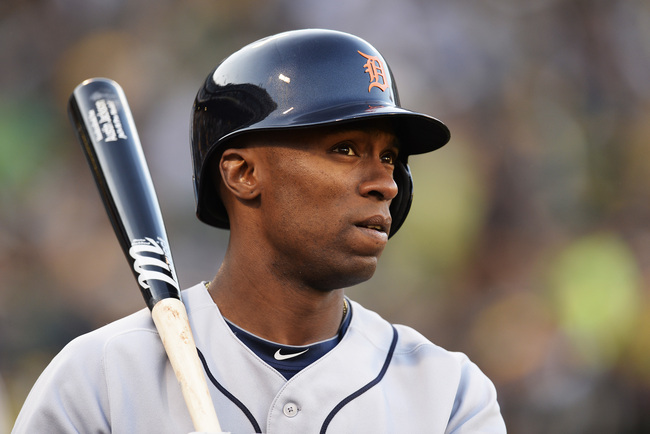 Thearon W. Henderson/Getty Images
Austin Jackson has been mired in a postseason-long slump. After batting .272 during the regular season, Jackson has batted .091 with one RBI and 18 strikeouts.
Jackson has struggled to even put a bat on the ball, but as a story by Washington Post writers Barry Svrluga and Dave Sheinin shows, manager Jim Leyland really has no answers:
Obviously, they've been struggling a little bit, Leyland said Monday. I don't know where you go at this point in time, this time of the year. You play somebody else, I don't think that's the answer. How to adjust or tinker with your lineup, I don't really know who I would lead off in that case or who I would hit second.
The Tigers were able to win Game 1 in part due to great pitching. However, he had a chance in the sixth inning of Game 2 to give the Tigers some insurance. But with runners on first and second and two outs, Jackson grounded out.
Odds: Five percent
Craig Breslow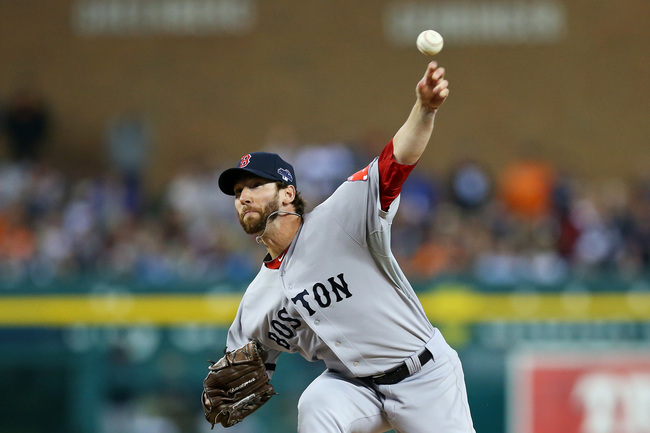 Ronald Martinez/Getty Images
Craig Breslow hasn't given up any runs this postseason. However, there's something else that is going to come back and bite him eventually.
Breslow has walked four batters in his last two appearances. While he's been able to get out of jams, he's not going to be able to continue doing so.
He got lucky in Game 3 when was able to get Miguel Cabrera and Prince Fielder to strike out with runners on first and second. But will he be able to do it again if the same situation arises?
With all games being one-run games, any mistake could be the difference between winning and losing. And when it comes to walks, especially at the beginning of an inning, just one could spell doom.
Luckily, Breslow will get more chances to prove himself as he is one of the Red Sox's best relievers. And given the fact that he never gave up more than five walks in any one month of the season, chances are good that he won't get into that kind of trouble again.
Odds: 85 percent
Shane Victorino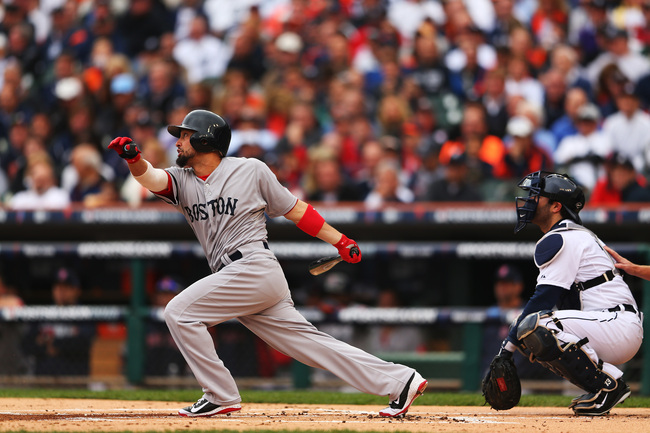 Mike Ehrmann/Getty Images
Shane Victorino has been horrible at the top of the lineup for the Red Sox. He's gone 1-for-11 in the series and isn't showing anything near the 6-for-14 performance he had in the ALDS.
His biggest folly came in the eighth inning of Game 2 against the Tigers. With runners on first and second, Victorino had an opportunity to do a little damage with the Red Sox trailing by four runs. Instead, he struck out for the second out of the inning.
Lucky for him, Dustin Pedroia and David Ortiz did their job to bring the Red Sox back.
While Victorino has struggled this series, he's not totally lost this postseason like Jackson is. Victorino has something to build off of from the ALDS and it's only a matter of time before he gets it going.
Against Game 4 starter Doug Fister, Victorino has a lifetime batting average of .800 with one home run and three RBI. That alone should help him get back on track beginning in Game 4.
Odds: 80 percent
Matt Carpenter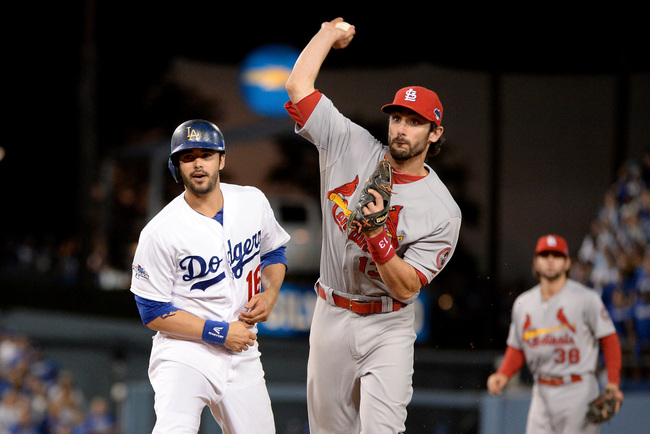 Harry How/Getty Images
Matt Carpenter is another top-of-the-order hitter who is struggling, going 3-for-15 through the first four games of the series.
For Carpenter, it's been noted on multiple occasions about how important he is at the top of the lineup. While the Cardinals have had success despite Carpenter's struggles, it's no guarantee they will be able to do so moving forward.
Luckily, we saw what Carpenter is capable of doing in Game 4, when he hit an RBI double to score Daniel Descalso for the game's first run. He later scored on a Matt Holliday home run.
If Carpenter would have reverted to what he had done the rest of the series (get out), the Cardinals likely wouldn't have scored the three runs that inning. And if they didn't score those three runs, the series would likely be tied 2-2 instead of being 3-1 in the Cardinals' favor.
Carpenter showed what can happen when he does his job at the top of the lineup, and it's something that should stick with him moving forward.
Odds: 65 percent
Matt Adams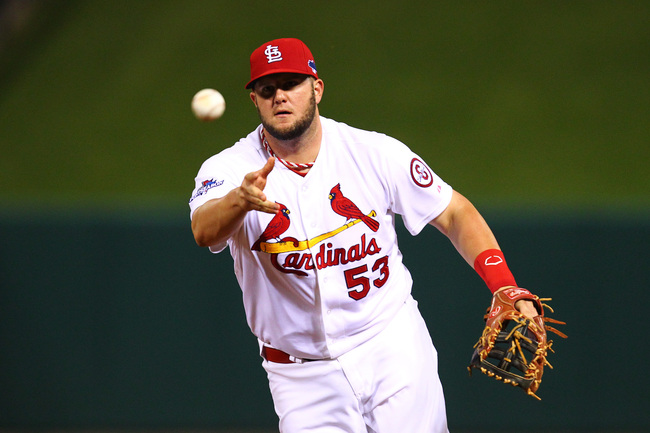 Dilip Vishwanat/Getty Images
When Allen Craig went down with injury, nobody started to panic in St. Louis, considering Matt Adams was more than capable at filling in at first base.
And through the NLDS, Adams was filling in nicely, going 6-for-19 with one home run and two RBI.
However, Adams has been anything but good in the NLCS, going 1-for-15 with eight strikeouts. He's been the NLCS version of Austin Jackson, except Adams has more power.
Thankfully for the Cardinals, they've been able to get the job done despite Adams' best efforts to foil their plans.
As the postseason wears on, it seems like things won't get better for Adams. He is a combined 1-for-8 against Zack Greinke, Clayton Kershaw and Hyun-Jin Ryu (the next three scheduled starters), with five strikeouts.
His chances don't look good to pull out of the slump.
Odds: 10 percent
Juan Uribe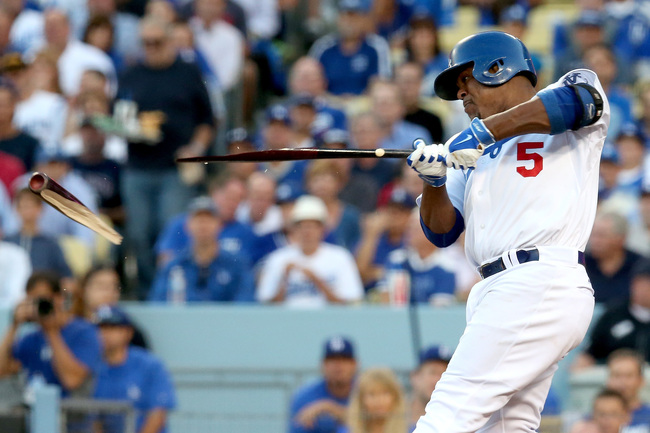 Stephen Dunn/Getty Images
Ever since his two-hit, two-RBI effort in Game 1 of the NLCS, Uribe has gone 0-for-11 with five strikeouts.
In the first five games of the playoffs, Uribe was able to provide a spark at the bottom of the order, but that spark has been missing in the last three games.
Now, the Dodgers' backs are against the wall and Hanley Ramirez has a hairline fracture of the eighth rib, according to MLB.com's Austin Laymance.
Shortstop Hanley Ramirez felt well enough to start Game 4 of the National League Championship Series on Tuesday despite a fractured rib in his left side, but he was removed from the game after six innings.
Now, depending on if Ramirez can go in Game 5, Uribe is going to be that much more important. In fact, it's safe to say everyone's going to have to step up. An 0-for-4 effort simply won't cut it from here on out.
Luckily for Uribe, Joe Kelly takes the hill for the Cardinals next, a pitcher he is 2-for-5 against in his career with two RBI.
Odds: 50 percent
Keep Reading