John Fox Defends Peyton Manning Following Colts Owner Jim Irsay's Comments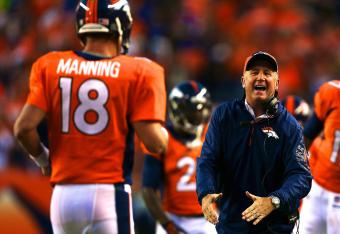 Denver Broncos head coach John Fox has come to the defense of quarterback Peyton Manning, and he didn't hold back on Indianapolis Colts owner Jim Irsay in the process.
Irsay had some critiques of Manning's time in Indianapolis—particularly about postseason performance and a lack of Super Bowl rings—and he decided to make them public in an interview with Jarrett Bell of USA Today, published Tuesday.
Fox subsequently sat down with Jim Miller and Pat Kirwan of Moving the Chains on Sirius XM NFL Radio, and gave his thoughts on the matter (via Gray Caldwell of DenverBroncos.com):
I saw the comments, and to be honest with you I thought it was a bit of a cheap shot. To me, in my opinion, they were disappointing and inappropriate. Peyton would never say anything, he's too classy to do that, but they sounded a little ungrateful and unappreciative to me, for a guy that's set a standard, won a Super Bowl, won division titles, won four MVP awards. I'd be thankful of that one Super Bowl ring, because a lot of people don't have one.
UPDATE: Wednesday, Oct. 16
From Jim Irsay:
Chris Mortensen,I don't recall you being on that flight from Miami to Indy when Peyton said.." You can't pass on Luck" I accept your apology

— Jim Irsay (@JimIrsay) October 16, 2013
As far as your irresponsibility,that's disappointing because your assumption that you were privy to all of Peyton and my conversations

— Jim Irsay (@JimIrsay) October 16, 2013
From Chris Mortensen of ESPN:
More on NFL Insiders at 3 pm ET. As I also stated, @JimIrsay deserves much credit for hiring Bill Polian, who chose the right QB. More at 3

— Chris Mortensen (@mortreport) October 16, 2013
From Mark Kiszla of The Denver Post:
Todd Helton on Jim Irsay: "I hope Manning steps on their throat and doesn't let up, especially after that idiot ... spouting off his mouth."

— Mark Kiszla (@markkiszla) October 16, 2013
UPDATE: Wednesday, Oct. 16
Former Colts GM-turned-NFL analyst Bill Polian provided his own commentary, per NFL.com:
Truthfully I don't know. I think he's got some misstatements of fact in there. For one thing, I don't believe that Baltimore had two at the time that we were fired, all of us, Peyton, me and the rest of the staff, (coach) Jim Caldwell at the end of the '11 season.

...I really don't know what to make of it to tell you the truth. I do know that he was very upset after the loss in the second Super Bowl and I think it's pretty telling that getting to the Super Bowl in his mind doesn't count. And for anyone who is in the game and who has to make that journey from training camp to the Super Bowl, you know that it's awfully difficult to get there.

And as John Fox said today, if you have one, you count yourself lucky. I've had teams that have been to six Super Bowls and won one. I'm not ashamed of that record by any means, and I'm certainly not ashamed of what we did in Indianapolis.
UPDATE: Wednesday, Oct. 16
From Irsay's Twitter feed:
My comments meant if we gave Peyton better SP Teams n Def,we would have won more than 1 Sup/Bowl,instead of asking Peyton 2do too much

— Jim Irsay (@JimIrsay) October 16, 2013
It's hard 2C how any individual could understand them any other way,but CONTRO sells so I understand the games "Let's get something started"

— Jim Irsay (@JimIrsay) October 16, 2013
Original Text
Irsay had intimated that he thought Manning wasn't successful enough in the postseason:
"We've changed our model a little bit, because we wanted more than one of these," Irsay says, flicking up his right hand to show his Super Bowl XLI championship ring.

"(Tom) Brady never had consistent numbers, but he has three of these," Irsay adds. "Pittsburgh had two, the Giants had two, Baltimore had two and we had one. That leaves you frustrated.

"You make the playoffs 11 times, and you're out in the first round seven out of 11 times. You love to have the Star Wars numbers from Peyton and Marvin (Harrison) and Reggie (Wayne). Mostly, you love this."

Then Irsay flicks up his right hand again.
It's interesting to hear a team's owner somewhat publicly denounce a player who remains a legend to fans even after his departure—a player who is universally regarded as one of the best to ever play his position. (At least he didn't go full Dan Gilbert.)
With Manning putting together another MVP-caliber season in 2013, more and more people are likely second-guessing the choice by Irsay and the Colts to let No. 18 walk, even with second-year signal-caller Andrew Luck continuing to progress and show promise.
This could be some spin from an owner who now feels he may've made the wrong decision a few years ago and is tired of putting up with the criticism.
In fact, former Colts coach Tony Dungy said that he felt Irsay wouldn't have let Manning go had he foreseen his return to form, per The Denver Post's Mike Klis:
So even for all the reasons you just stated why it should be done, I don't think it was ever a no-brainer in his mind and I can almost guarantee you that if he knew he was going to be healthy like this and playing this kind of football, in hindsight I don't think he would have done it.
ESPN's Ed Werder passed along a statement from Dungy in reaction to Irsay's comments:
Tony Dungy on Jim Irsay shot at Peyton Manning: "Jim is making this personal. I'm surprised..."

— Ed Werder (@Edwerderespn) October 16, 2013
More Dungy: "I think that's what he's trying to so. Have him make it such a big game he doesn't perform well. Cant figure any other reason."

— Ed Werder (@Edwerderespn) October 16, 2013
John Fox's comments are unlikely to be the last we hear of this story. For the first time since leaving the Colts for the Broncos, Manning will be playing in Indianapolis in Week 7 under the bright lights of Sunday Night Football.
The circumstances of his departure and overall career with the team were always going to be major storylines before the Broncos and Colts' clash; these recent comments only add more intrigue to an already hot subject.
Denver is off to a 6-0 start, tied with the Kansas City Chiefs for first place in the AFC West. Manning's 2,179 passing yards and 22 touchdowns have helped guide them there.
The 4-2 Colts, who are also in first place in the AFC South, are coming off a loss in Andrew Luck's Monday Night Football debut and will have their hands full in another prime-time matchup with added incentive.
This article is
What is the duplicate article?
Why is this article offensive?
Where is this article plagiarized from?
Why is this article poorly edited?