NFL Predictions: Week 7 Awards Watching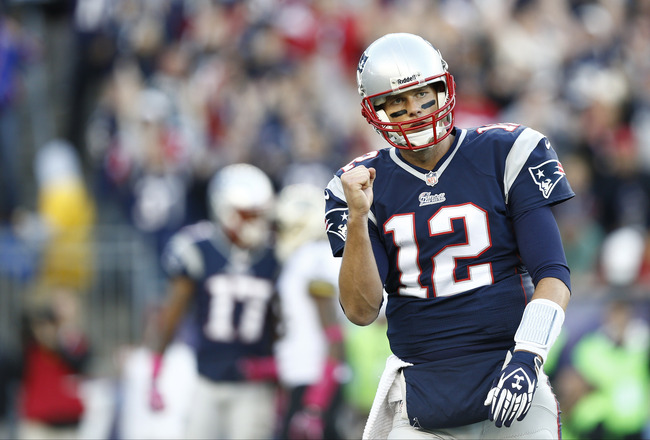 No, it's not mirrors. Just another solid season from New England Patriots quarterback Tom Brady.
Mark L. Baer-USA TODAY Sports
Six weeks' worth of action in the National Football League this season and we're still trying to sort out who's good and who's not.
That's hardly surprising. These days, it's hard to get a grasp of what team will wind up in the Super Bowl even by the end of the regular season.
Keep in mind that the last three NFL champions have boasted 10-6, 9-7 and 10-6 records, respectively.
Obviously, we are still trying to figure out who is good and who is great this season in terms of individual performances. One player in particular continues to have a record-breaking season. But for now, most of the other honors have seen their share of different candidates.
But why worry? We are not even halfway through the season.
So it is onto the NFL's "Magnificent Seven" in terms of the front-runners for the league's top honors. But we've once again made sure to mention more than a few names in the running as well.
Most Valuable Player: QB Peyton Manning, Denver Broncos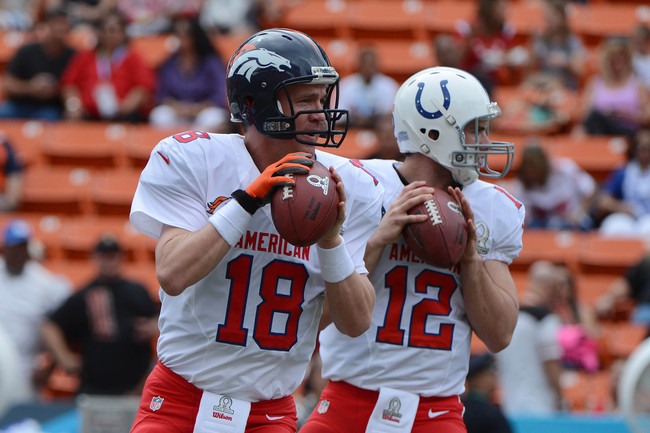 Kyle Terada-USA TODAY Sports
And the beat goes on.
Yes, the Denver Broncos' 35-19 win over the winless Jacksonville Jaguars on Sunday wasn't a thing of beauty.
Then again, it didn't have to be.
More importantly, it was a victory. And these days, John Fox's team has more important things to worry about than style points.
For the first time in the Super Bowl era, two teams in the same division have started the season with 6-0 records. The Kansas City Chiefs, off a 2-14 disaster in 2012, have matched the Broncos victory for victory.
As for quarterback Peyton Manning, he was limited to fewer than 300 yards passing for the first time this season. While he threw a pair of touchdown passes, he was also picked by Jaguars linebacker Paul Posluszny and taken to the house.
So all Manning has done this season has thrown for 22 scores and just a pair of interceptions in leading his team to a 6-0 start. Denver has given up its share of points but did get cornerback Champ Bailey back last week and two-time Pro Bowl linebacker Von Miller returns this weekend.
This week he faces an interesting task as he returns to Indianapolis on Sunday night to face the Colts, when we'll find out if Lucas Oil Stadium is still Peyton's Place.
We know this. There's already been plenty of conversation regarding Manning and his days in Indianapolis this week.
In The Discussion
2. QB Tom Brady, New England Patriots
3. QB Tony Romo, Dallas Cowboys
4. QB Drew Brees, New Orleans Saints
5. QB Andrew Luck, Indianapolis Colts
Offensive Player of the Year: QB Peyton Manning, Denver Broncos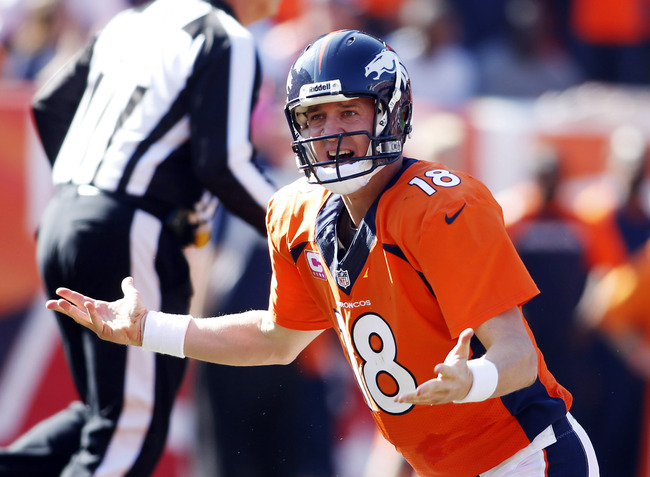 Chris Humphreys-USA TODAY Sports
Last week, we gave New Orleans Saints tight end Jimmy Graham his due. After five weeks, the downfield threat was leading the entire league in receiving yards (and still does after six weeks of play).
But that was last week. And Graham had a rough afternoon in the team's 30-27 loss to the New England Patriots.
Hence, since there's no performer other than Denver Broncos quarterback Peyton Manning putting up extraordinary numbers, he's the top choice once again.
Gee, what a consolation prize.
With 10 games to go, Manning needs 28 touchdown passes to tie Patriots quarterback Tom Brady's NFL record total of 50 for a season, set in 2007.
It's far from impossible. Especially when you are completing an amazing 74.2 percent of your throws and have been picked off only twice in six games. A total of 28 players in the league have caught 30 or more passes this season, and amazingly, four of them reside in Denver.
Manning's sensational season continues. And as long as the 6-0 Kansas City Chiefs keep pace with the equally-undefeated Broncos, don't look for the veteran quarterback to let up any time soon.
In The Discussion
2. RB LeSean McCoy, Philadelphia Eagles
3. RB Jamaal Charles, Kansas City Chiefs
4. QB Tony Romo, Dallas Cowboys
5. TE Jimmy Graham, New Orleans Saints
Defensive Player of the Year: OLB Justin Houston, Kansas City Chiefs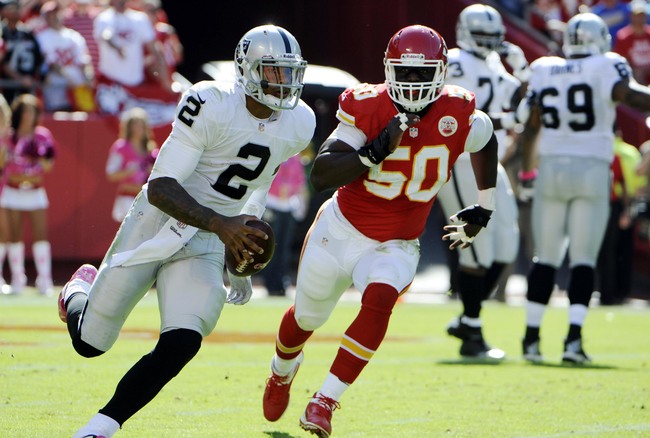 John Rieger-USA TODAY Sports
It's hard not to want at least three or four members of the Kansas City Chiefs in this column.
First, let's give some credit to the co-leaders in the AFC West as well as defensive coordinator Bob Sutton. The Chiefs have held all six opponents this season to 17 points or less and totaled an NFL-high 18 takeaways this season.
Only four teams in the league have given up fewer total yards per game than Andy Reid's squad, although Kansas City is a suspect 23rd in the NFL versus the run. That bears watching.
So does outside linebacker Justin Houston, back at the top spot on this list. He had a hand in the team's 10-sack performance in Sunday's 24-7 win over the Oakland Raiders and is tied for the league lead with 9.5 sacks.
Add in 25 tackles, three passes defensed and a pair of fumble recoveries as Houston makes a strong case for the award at the moment. But there are plenty of worthy candidates listed below as well.
In The Discussion
2. OLB Robert Mathis, Indianapolis Colts
3. OLB Tamba Hali, Kansas City Chiefs
4. CB Aqib Talib, New England Patriots
5. ILB Daryl Smith, Baltimore Ravens
Offensive Rookie of the Year: WR Kenbrell Thompkins, New England Patriots
For the second time in three weeks, New England Patriots rookie wide receiver Kenbrell Thompkins came up big in the fourth quarter when his team needed it most.
Back on a Sunday night at the Georgia Dome, he caught an 18-yard touchdown pass with less than 10 minutes left in the game that proved crucial in the team's 30-23 victory over the Atlanta Falcons.
This past Sunday at Foxborough, the rookie free-agent find snared a 17-yard score with only five seconds to play as the Pats stunned the previously-undefeated New Orleans Saints, 30-27.
For the season, Thompkins has now totaled 21 receptions for 318 yards and a team-high four touchdowns. He ranks second on the club in catches and receiving yards.
And Thompkins is back at first on this ever-changing list…for now.
In The Discussion
2. RB Giovani Bernard, Cincinnati Bengals
3. QB Geno Smith, New York Jets
4t. RG Kyle Long and RT Jordan Mills, Chicago Bears
Defensive Rookie of the Year: MLB Kiko Alonso, Buffalo Bills
Rookie middle linebacker Kiko Alonso and his Buffalo Bills came up short last week to the Cincinnati Bengals in overtime, 27-24.
Of course, there's two ways to look at that.
Yes, the Bills dropped to 2-4 despite scoring 24 points. And Alonso and his defensive cohorts didn't get the job done despite an amazing 22 tackles by the rookie.
To assure those reading, as well as my editor, that's not a typo. The second of Buffalo's two second-round picks in April totaled 22 tackles in the team's overtime setback.
As for the rest of the field "In Discussion" for defensive rookie honors, there's a bunch of new faces on the list. Of all the categories in terms of the league awards, none has provided more difficulty to handicap than this one to date.
Like Alonso, St. Louis Rams linebacker Alec Ogletree currently leads his team in tackles (46). Meanwhile, San Francisco 49ers free safety Eric Reid has four of the team's 13 takeaways and New York Jets defensive tackle Sheldon Richardson has benefitted from being teamed with Muhammad Wilkerson (and perhaps vice versa) to give Rex Ryan's club a pair of potent bookends up front.
We are also still keeping an eye on Arizona Cardinals safety Tyrann Mathieu, as well as productive Kansas City Chiefs cornerback Marcus Cooper, a seventh-round draft choice by the Niners in April.
But it's hard to top what Alonso has done to date.
In The Discussion
2. OLB Alec Ogletree, St. Louis Rams
3. FS Eric Reid, San Francisco 49ers
4. DT Sheldon Richardson, New York Jets
5. SS Kenny Vaccaro, New Orleans Saints
Coach of the Year: Andy Reid, Kansas City Chiefs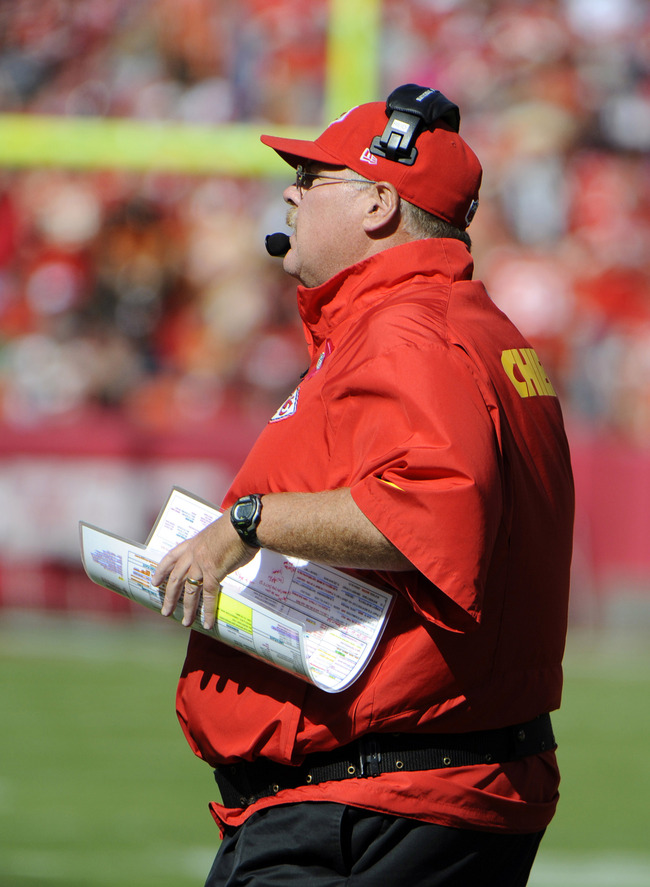 John Rieger-USA TODAY Sports
What a start for the Kansas City Chiefs.
Last season, many debated how a team with six players named to the Pro Bowl could finish with only two victories.
That won't be a problem in 2013. The Chiefs already have their six wins this season. Then again, how many members of Andy Reid's club will be earning Pro Bowl honors?
The last time the successful head coach got off to such a start with a team was 2004, when the Philadelphia Eagles opened 7-0, finished 13-3 and wound up in Super Bowl XXXIX. That day ended with a loss to the New England Patriots, 24-21.
Right now, the Chiefs are in an undefeated dogfight with the Denver Broncos. But we'll look forward a bit when it comes to amazing turnarounds.
Kansas City has already improved its win total from a year ago a total of four games. The NFL record for a season in this department is 10. The Indianapolis Colts went from 3-13 in 1998 to 13-3 in 1999. And roughly five years ago, the 2008 Miami Dolphins finished 11-5 and won the AFC East one season after posting a 1-15 mark in 2007.
We shall see.
In The Discussion
2. Bill Belichick, New England Patriots
3. Pete Carroll, Seattle Seahawks
4. Jim Schwartz, Detroit Lions
5. Sean Payton, New Orleans Saints
Comeback Player of the Year: RB LeSean McCoy, Philadelphia Eagles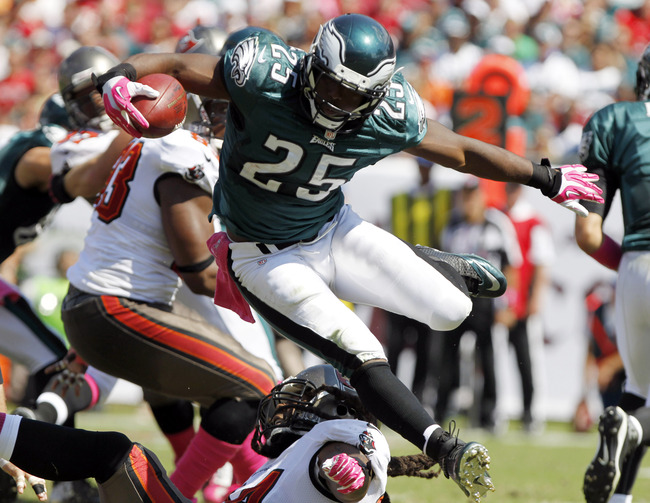 Kim Klement-USA TODAY Sports
When it was all said and done, 2012 proved to be a forgettable season for the Philadelphia Eagles and running back LeSean McCoy. And 4-12 proved to be an ironic set of numbers indeed.
That was the Birds' record a year ago, the team's worst finish since 1998. That was also the number of games missed (four) and played (12) by McCoy last season.
But the former Pro Bowler is making up for lost time as his team suddenly finds itself tied for first place in the NFC East with the Dallas Cowboys with a 3-3 record this season.
McCoy not only leads the NFL in rushing yards (630) but total yards from scrimmage (871). The Philadelphia offense ranks third in the league in total yards and first in the NFL in rushing.
Let's get back to the Cowboys, whom the Eagles host this Sunday. McCoy has had his share of success against Dallas in the past. And it will be interesting to see if Dallas can contain the talented runner given their numerous injuries on the defensive line.
In The Discussion
2. OLB Terrell Suggs, Baltimore Ravens
3. MLB Sean Lee, Dallas Cowboys
4. ILB Brian Cushing, Houston Texans
5. QB Alex Smith, Kansas City Chiefs
Keep Reading