Assigning Blame for the Edmonton Oilers Early Struggles in 2013-14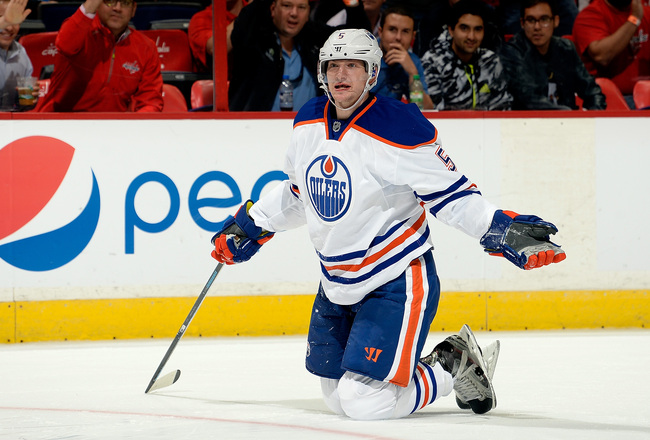 Patrick McDermott/Getty Images
There was a lot of optimism surrounding the Edmonton Oilers heading into the 2013-14 season. Armed with a new coach in Dallas Eakins and a new GM in Craig MacTavish, this was supposed to be the year that the Oilers advanced beyond rebuilding and started competing for a playoff position.
Six games into the season and it appears that Edmonton is perhaps worse than they have been in the past couple of years.
The Oilers currently have a 1-4-1 record and have looked completely outclassed in every game they have played thus far.
Edmonton currently ranks second last in the league in average goals against allowing a dismal 4.83 goals against per game.
A lot of the blame has to rest on the shoulders of Devan Dubnyk, but there are plenty of things going wrong in Edmonton at the moment.
Here is the assignment of blame for the Edmonton Oilers early struggles in 2013-14.
Taylor Hall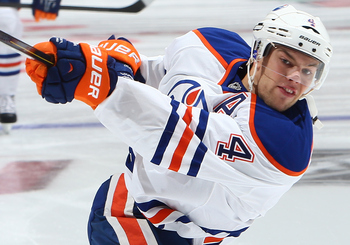 Taylor Hall has struggled so far for the Edmonton Oilers.
Abelimages/Getty Images
When will Taylor Hall learn that the toe-drag just isn't going to get it done at the NHL level?
Teams have recognized that Hall is going to dart down the left wing and try a toe-drag to cut to the center, which is resulting in a significant amount of turnovers and opposing scoring chances.
According to Sporting Charts, Hall is responsible for 10 giveaways and is saddled with a minus seven rating to show for his efforts.
Hall has the ability to create dynamic scoring abilities, but if Nail Yakupov is getting benched for his play on the ice then Hall is more than deserving of a trip to the press box until he realizes that his selfish play and tired moves are hurting the team.
Craig MacTavish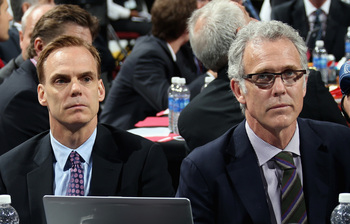 Craig MacTavish failed to significantly add to the Oilers roster in the offseason and the Oilers are paying for it now.
Dave Sandford/Getty Images
Craig MacTavish made it clear prior to the NHL entry draft that he wasn't sold on Devan Dubnyk heading into the 2013-14 season by inquiring about Cory Schneider, then of the Vancouver Canucks.
But instead of bringing in a goaltender that could be capable of challenging Dubnyk for the starting position and pushing Dubnyk to step up his performance, MacTavish went and signed a career backup.
LaBarbera would be a good addition to a team who has an established goaltender, but Dubnyk hasn't shown that he has the ability to play 60-plus games in a season, and LaBarbera does not have the ability to spell Dubnyk when the Oilers will need it most.
It wouldn't be a stretch to suggest that MacTavish deserves the bulk of the blame for the Oilers current struggles as the new GM failed to significantly improve the team during the offseason.
Though it may not have been due to a lack of effort, the simple fact is that the Oilers are not better than they were last season.
Andrew Ference and Boyd Gordon were great additions one solid defender and one third-line center is not enough to patch the obvious holes in the Oilers lineup.
MacTavish may be forced to trade one of the Oilers' young superstars in short order to help bolster the lineup due to the fact that he wasn't able to answer some of the roster questions due to the offseason.
Dallas Eakins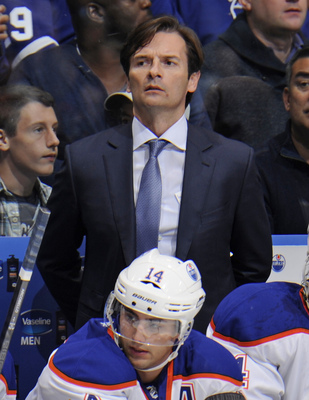 Dallas Eakins has yet to bring any real results behind the bench for Edmonton.
Graig Abel/Getty Images
It may be too soon into his first season as an NHL head coach to criticize Dallas Eakins, but the Oilers are in need of immediate results and Eakins will have to share the blame for the struggles thus far.
There will obviously be a period of adjustment for players as they try and get acclimated to Eakins' coaching style and systems, but Eakins also has to understand the players that he has on the team and try to adapt around his talent.
The biggest question mark thus far has been Eakins' handling of Nail Yakupov.
Eakins has been less than thrilled with the talented Russian's performance thus far, which has resulted in Yakupov being a healthy scratch for two consecutive games, the first time in his career that he has ever been demoted to the press box.
Yakupov is not a third line player, and is languishing playing with less than talented linemates and while a player should not need skilled linemates to succeed it falls on Eakins to put his young players in the best position for success.
At this point in the season Eakins hasn't done anything to help the Oilers' leading goal scorer from last season find his touch once again.
Nail Yakupov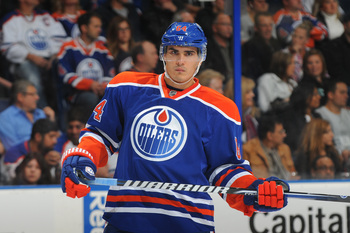 Yakupov has yet to endear himself with new coach Dallas Eakins.
Andy Devlin/Getty Images
If Dallas Eakins takes blame for how he has handled Nail Yakupov thus far, then Nail Yakupov has to take some blame for his overall performance.
Unfortunately for Oilers fans and for Yakupov it doesn't appear that the benching has really taught the player anything.
Yakupov was quoted by Joanne Ireland of the Edmonton Journal as saying that he was frustrated with his benching but doesn't really plan on changing his game at all.
"I'm not going to change but maybe play better without the puck, or forecheck more, but I love playing with the puck. I really don't like skating all the time, and forechecking, and hitting somebody every shift. I don't think that's my game" – Nail Yakupov
These are discouraging remarks from an Oilers standpoint, and maybe it's simply the fact of a language barrier or the fact this is a 19-year-old kid who is frustrated with how things are going, but something is going has got to give.
Devan Dubnyk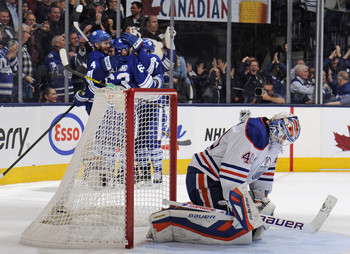 Devan Dubnyk has lost his confidence in net for the Oilers and needs to rebound quickly.
Graig Abel/Getty Images
Devan Dubnyk has not been good this season. At all.
The Oilers starting goaltender currently holds a 5.43 goals-against-average and a .829 save percentage, which is good enough for fourth and fifth worst in the league respectively.
Dubnyk is playing with zero confidence at the moment and there doesn't seem to be any easy answer to help his current situation.
Edmonton needs strong goaltending if they are to have even a slight chance of making the playoffs and though it is still early in the season, Dubnyk hasn't proven that he is capable of being the answer.
Andrew Ference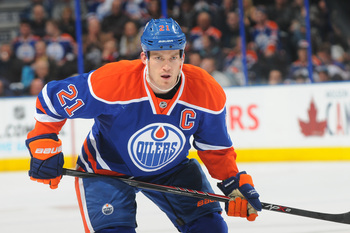 Andrew Ference has been an invisible captain for the Oilers thus far into 2013-14.
Andy Devlin/Getty Images
Andrew Ference said all of the right things when he came over from Boston and was rewarded with the Oilers vacancy.
However, thus far into the season Ference has been virtually invisible on the ice and has yet to make a significant impact for the Oilers.
Edmonton is struggling and has yet to develop a winning attitude or culture in the locker room, and Ference has to be held partially accountable for this.
Unfortunately for Ference, the Oilers failed to add any other significant pieces to the blue line during the offseason and so extra responsibility and pressures were placed upon the former Bruin.
At this point in the season Ference has yet to make a significant impact and has been anything but a top defender for the Oilers.
Keep Reading

Edmonton Oilers: Like this team?