CM Punk vs. Paul Heyman Feud Must End at Hell in a Cell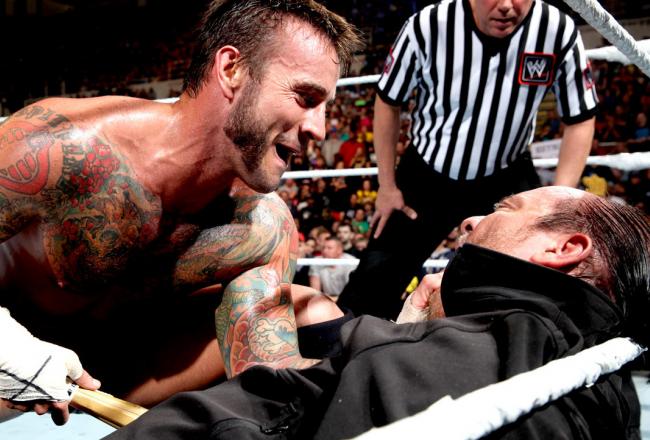 CM Punk menaces Paul Heyman (Photo by WWE.com)

Monday on Raw, CM Punk won a Beat the Clock challenge that gave him the right to pick the stipulation for his match with Ryback at Hell in a Cell. He quickly came up with the perfect one: Heyman would join Ryback in a handicap match that would take place inside the Hell in a Cell cage.
Barring something completely unforseen to drag it out, I can't see how this won't be the end of the Punk-Heyman feud that has been a constant on WWE TV for several months now.
While they've been at each others throats for about three months, since Money in the Bank, the storyline goes back another month or so to the build to Payback, when Heyman volunteered Punk for a match against Chris Jericho.
From there, Punk ended his "business relationship" with Heyman while trying to stay friends, but Heyman didn't like that because he's evil. Brock Lesnar got involved, leading to an amazing match at SummerSlam, and after that chapter ended, the feud may have been past its expiration date.
Don't get me wrong: Other than maybe Curtis Axel, the individual performances have been great, and I love Heyman and Ryback together. The problem is that since SummerSlam, the whole feud has felt like a placeholder for lack of anything better for Punk to do.
Whatever the long term plan is, he's clearly being kept away from the main event storyline involving Triple H, Stephanie McMahon, Randy Orton, and The Shield vs. Daniel Bryan, The Big Show, the Rhodes family, and to some degree the "front line" babyfaces who stood up for Bryan but didn't include Punk.
I don't know what that reason is, mind you, but it's obvious that his being kept separate from that stuff is a deliberate move.
Should the CM Punk vs. Paul Heyman feud end with a maiming inside the cell?
Since the Heyman feud peaked at SummerSlam, when the "best for business" storyline really kicked off, it's hard to look at Punk as well as those in his orbit and not think they're treading water.
They weren't wrong to keep the program going: If Brock had to win at SummerSlam to set up his matches at the Royal Rumble and WrestleMania, then it only made sense to extend it a little with Curtis Axel or adding Ryback so Punk could get his revenge.
Now, though? The feud has gone on for another two PPV events since the emotional peak, with Hell in a Cell being the third. Like with Daniel Bryan vs. Randy Orton, it needs to end at that show.
Throw in the reports that Punk is taking time off to heal nagging injuries soon so he can be healthy for the annual "WrestleMania season," and I can't see how this feud can go on any longer. If Heyman is still a regular TV character afterwards, it would be cool if it was the type of feud revisited occasionally down the road, but that's about it.
I'm looking forward to Punk disposing of Ryback somehow and then destroying Heyman in a locked cage. How about you?
David Bixenspan has been Bleacher Report's WWE Team Leader and a contracted columnist since 2011. You can follow him on Twitter @davidbix and check out his wrestling podcasts at LLTPod.com.
This article is
What is the duplicate article?
Why is this article offensive?
Where is this article plagiarized from?
Why is this article poorly edited?