Any New England Patriots criticizing superstar tight end Rob Gronkowski for not playing in a game yet this season should bite their collective tongues.
While Gronkowski has indeed been practicing since the start of the year, per Michael Whitmer of the Boston Globe, it's worth waiting for the 24-year-old dynamic pass-catcher for as long as he needs to recover.
The Boston Globe's Ben Volin reports that it's Gronkowski's forearm, not his back, keeping him from gracing the gridiron.
A fully healthy Gronkowski will cure most if not all the ills and stagnancy New England's high-powered offense has suffered in 2013, though. He will open up the offense for the young, inexperienced supporting cast flanking—and often flabbergasting—legendary quarterback Tom Brady.
Video Credit: Mike Petraglia, WEEI.com
The surprises aren't always good, either. Second-round draft pick Aaron Dobson still seems lost in translation at times within the Pats' complex offense.
Perhaps that's to blame at least in part for his occasional stone hands.
Dobson had two drops in Week 6, adding to the growing pains he's gone through in adjusting to playing with a hyperactive competitor in Brady and in acclimating to the NFL in general. However, the Marshall product did lead the team with six receptions for 63 yards.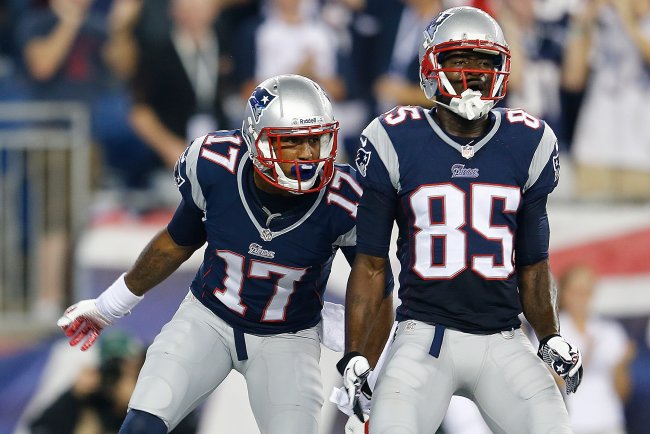 Jim Rogash/Getty Images
Undrafted fellow first-year wideout Kenbrell Thompkins has been the most successful of the pair in establishing rapport with Brady.
Thompkins caught the game-winning touchdown with mere seconds remaining in Sunday's 30-27 comeback victory over the New Orleans Saints, who were handed their first loss of the year.
But make no mistake, this is all still a work-in-progress project.
Per @PFF, 10% of Tom Brady's attempts this season have been dropped. That's the most in the NFL.

— Matt Miller (@nfldraftscout) October 15, 2013
That's why it's silly for anyone in the locker room to try to make this Gronkowski issue an issue, yet ESPN's Ed Werder reports there is "resentment" building toward Gronkowski for not having played yet.
Before the Saints game, Adam Schefter reported that Gronkowski had not been cleared by doctors to play:
There is less optimism today than there was earlier this week that Rob Gronkowski will play Sunday vs. New Orleans. Still not cleared by Dr.

— Adam Schefter (@AdamSchefter) October 11, 2013
So how is Gronkowski at fault? He has proven to be rather injury-prone, and football is a pretty darn physical game to be overzealous in returning to compete at the highest level.
Why are players digging into Gronkowski through the media to implore him to return?
Between all the concerns about player safety that are often voiced by the players themselves, this seems like a case of conflicting ideologies.
Will Rob Gronkowski's return make the Patriots No. 1 favorites to win the AFC?
For most franchises, this might be a down year. Losing a receiver in
Wes Welker
who caught 118 passes in 2012 and not having the touchdown machine that is Gronkowski for six games would cripple just about anyone else.
That's not even to delve into the unceremonious expunging of Aaron Hernandez, which we will do only in passing here.
For Brady, head coach Bill Belichick and offensive coordinator Josh McDaniels, though, it's business as usual: The Patriots are 5-1.
Some credit has to go to the defense for that, but throws like this from Brady are part of the magic he's mustered all season long with many raw, unproven commodities at his disposal:
Video Credit: NFL Network
Imagine what will happen once Gronkowski does come back.
In fact, now that New England has started out of the gates, winning five of six contests, Gronkowski's absence can be viewed as a total blessing in disguise.
Were he around for the entirety of the season, Brady would have been liable to lock onto him and may not have gotten receivers like Dobson and Thompkins nearly as up to speed as he has to date.
One policy of the Patriot Way philosophy preached by Belichick urges his players to not speak out to the media on anything that could generate controversy.
New England endured the ultimate controversy with the Hernandez saga, and there's no reason to start more commotion in-house—much less project it to the media—involving its remaining standout tight end.
Belichick and Brady's bunch should instead bask in the glory of sweet victory and welcome Gronkowski back with open arms. The winning consistency of the Patriots is something so rare that players should not take for granted or sabotage, even if it is inadvertent.
Whenever he does return, Gronkowski will make everyone's job easier.
Since he could very well be the piece of the puzzle to push the Patriots to a fourth Super Bowl in the Brady-Belichick era, Gronkowski's outspoken teammates should realize that and respect his recovery timetable.