WWE Raw Results: Biggest Winners and Losers After Oct. 14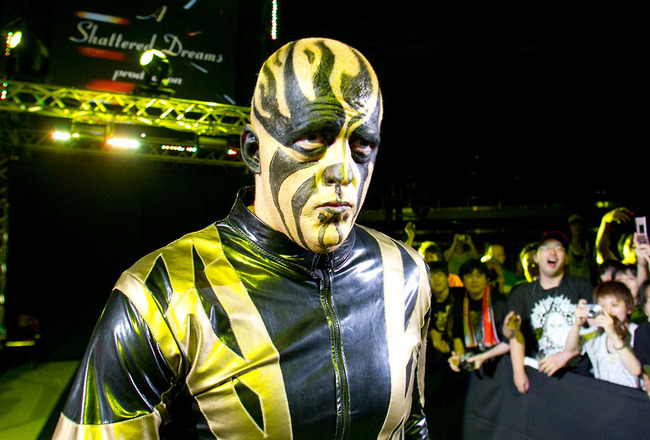 Photo: WWE.com

Cody Rhodes and Goldust ended Monday's WWE Raw standing side-by-side with the Tag Team Championships hoisted above their heads, but they weren't the only big winners of the night.
A bodyguard, a former WWE champion and the tag team titles themselves were among the episode's victors. Momentum and added focus were the spoils of those victories.
Limping away from the events of Monday's Raw include the typecast, the cast aside and completely forgotten.
Those Superstars will garner little attention as the buzz of the episode wanes. It will be two brothers, heavy with new gold, who will dominate the post-Raw talk.
Winner: Tag Team Championships
When was the last time the tag team titles were the centerpiece of a WWE main event?
The Shield hadn't defended the titles at all since Night of Champions, a month before Cody Rhodes and Goldust dethroned Roman Reigns and Seth Rollins. Before that, Reigns and Rollins defended the belts on the Money in the Bank pre-show and didn't defend them at all during SummerSlam.
Now, the championships became the impetus for an emotionally satisfying moment in the featured match.
Rhodes and Goldust's momentum is now overflowing. The tag titles mean so much more than the previous time Rhodes has won them.
The interest in who goes after them and how long the champs keep them just went up as well. The Shield will be fuming after their loss. The Usos have a claim to the No. 1 contender's spot, so they will surely be in the mix.
All that equals electricity surrounding the championships that will benefit more than the brothers who won them.
Loser: Antonio Cesaro
The strangest things get Superstars over and Antonio Cesaro swinging around hefty men is doing just that for him.
On Monday's Raw, Cesaro was asked to go to that well once again, this time taking Tensai for a ride. The crowd reacted to that moment more than any other, but Cesaro is being turned into a punchline. WWE is pitting him and Jack Swagger against the joke teams of the division just to punctuate these bouts with a feat of strength.
He is the circus strongman when he could be a much more complete wrestler.
This is an angle that has a limited shelf life. Should he put Brodus Clay in the Cesaro Swing, what's next for him?
Sure he could attempt to do it to Big Show and Mark Henry, but then Cesaro finds himself asked to hit more targets with an empty quiver.
The novelty of this new direction isn't sustainable. A compelling character caught in a compelling story that results in quality matches is.
Cesaro isn't headed in that direction, though, he's tumbling downward.
Winner: Randy Orton
Orton's win over The Miz was not especially impressive. It took a distraction from Bray Wyatt's menacing collection of bearded brutes for Miz to fall.
What left fans with a deeper impression was Orton's continued descent into viciousness.
He is clearly at his best as a villain; the more heartless and predatory, the better. On Monday's Raw, he showed that side of him in the ring against Miz, stomping and punching him with added intensity and later showed it by threatening to hurt Brie Bella.
While Daniel Bryan fought with Alberto Del Rio in the ring, Orton slipped into the training room where the Bellas were and closed the door with a lustful and sadistic look glowing on his face.
WWE is not going to go any further than that, especially in the era of PG ratings, but Orton's acting did all the scaring and disturbing required for the segment.
"The Viper" comes out of Monday's episode looking even more dangerous.
Loser: Curtis Axel
In a way, Axel looked valiant in trying to beat CM Punk straight up rather than take the coward's way out, but he is also becoming too easy of an obstacle to overcome.
Punk had to beat Axel in under five and a half minutes to beat the time that Ryback set earlier in the night. Axel chose to fight as time was running out for Punk rather than run around the ring until the clock ran out.
That's the good part for Axel, the bad part is that he lost to Punk in only five minutes and that WWE has created a chasm in between where Punk is and Axel is. It feels as if Punk is a major league player while Axel is an upstart from Triple A.
Axel has stood at the gate, attempting to block Punk's path to Heyman before and failed. He has become the goon that the superhero easily knocks aside to get to the supervillain.
The story now shifts further away from him, focusing on Ryback instead.
Axel is left with little to show from his part in the Heyman vs. Punk feud other than losses.
Winner: Tamina Snuka
Being AJ Lee's bodyguard has put Tamina in a far more prominent spot than she's been in previously.
Her new look, attitude and direction is working to maximize her ability. WWE is choosing to play up her toughness and strength rather than lean so much on her famous lineage.
She didn't completely dominate Brie, but she looked like a beast in her bout. Her big boot to Brie's face was beautifully devastating. She followed that up with a post-match attack where she wore a convincing sneer.
Tamina goes forward looking dangerous and is an increasingly bigger part of the story surrounding the Divas Championship.
Loser: Wade Barrett
Photo: WWE

Barrett was not on Monday's Raw. That extends a long streak of non-appearances for him.
Rumors have Barrett being repackaged and pushed upon his return. The delay of that possible change for him continues.
Triple H had Alberto Del Rio attack Daniel Bryan on Monday's Raw. That could have been Barrett. Barrett could be who Triple H sends after Big Show, another enforcer for "The Authority" or any number of other roles.
Instead, he's waiting on the bench, a potential world champion twiddling his taped thumbs.
Stories are developing, villains are thriving and Barrett is still nowhere to be seen.
Keep Reading