Week 7 of the NFL has some intriguing matchups that few saw coming heading into the year, while many of the games circled in August have fallen flat.
Before the season started, most fans could have expected the battle between the Minnesota Vikings and New York Giants to be a good one. Also, the Baltimore Ravens and Pittsburgh Steelers rivalry would certainly be another classic.
However, none of those teams have a winning record through six weeks of the season, and only the Ravens have more than one win.
Fortunately, other teams have stepped up and created what should be another exciting week of football. Here is a look at the best games schedule for Sunday.
Cincinnati Bengals at Detroit Lions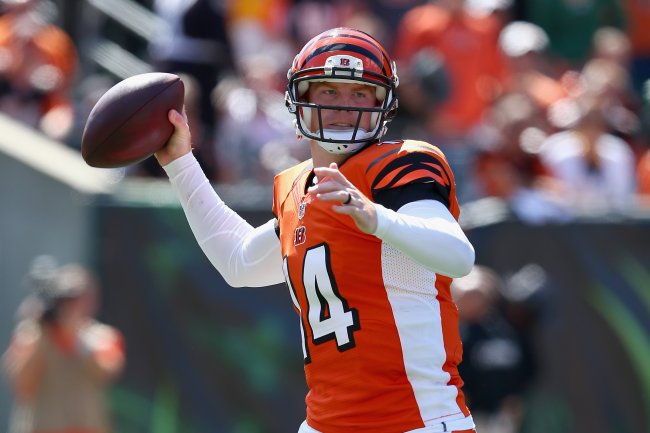 Andy Lyons/Getty Images
The Lions and Bengals have rarely been associated with winning in their histories, but both teams enter the game 4-2 and in good shape to make a run at the playoffs.
Detroit has already played four of its games on the road and will hope that a return to Ford Field will give the team even more confidence.
Unfortunately, Calvin Johnson is still less than 100 percent and was sore after Sunday's game, according to Michael Rothstein of ESPN. If he is unable to play at his full ability, it really limits what the Lions are able to do offensively.
Of course, there are still questions about the Bengals offense as well, specifically in regards to Andy Dalton. He has thrown an interception in all but one game this year, and his turnovers always seem to come at bad times.
However, there are enough weapons for him to utilize on offense. If he can avoid mistakes, Cincinnati should be able to put up a good amount of points against the Lions and leave with a road victory.
Prediction: Bengals 31, Lions 27
Dallas Cowboys at Philadelphia Eagles
It almost seems like a miracle that any team in the NFC East is even .500, but the Eagles and Cowboys each head into the week at 3-3, fighting to stand alone in first place.
The Cowboys have played well in the past few games, earning a "moral victory" in a 51-48 defeat against the Denver Broncos and then securing a win against the hated Washington Redskins.
Unfortunately, the defense suffered a big loss as DeMarcus Ware is set to miss a few weeks, according to Adam Schefter and Todd Archer of ESPN. Even when the defensive end was not getting to the quarterback, he was causing a disruption and forcing the opposing team to account for him.
Without Ware crashing down, either Michael Vick or Nick Foles will have plenty of time in the pocket to find targets down the field. The Cowboys' pass defense was already the third worst in football, and this just exacerbates the issues.
On the other side of the ball, DeMarco Murray is also unlikely to play, which takes away the balance on offense. Philadelphia will simply need to play the bend-not-break style of defense that worked last week to escape with a win.
Prediction: Eagles 28, Cowboys 24
Denver Broncos at Indianapolis Colts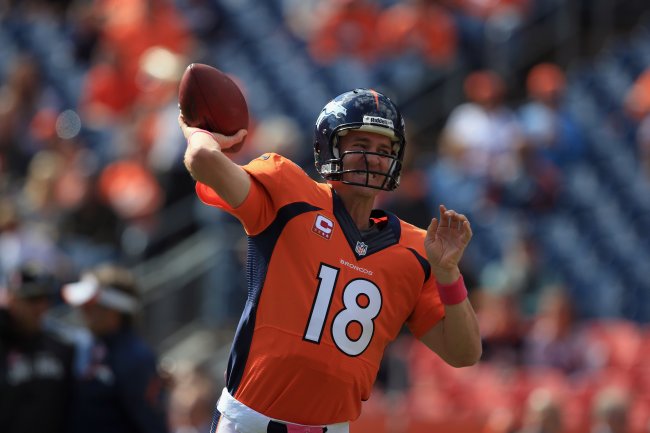 Doug Pensinger/Getty Images
The story in this game will be Peyton Manning's return to Indianapolis, but the Colts have ensured that this will be an exciting battle on top of that.
Indianapolis has improved dramatically on the defensive side of the ball, especially against the pass, where they rank fifth in the league in yards allowed per game. Pairing this with Andrew Luck makes the Colts become legitimate contenders in the AFC.
The problem is that it is an incredibly difficult task attempting to slow down Manning and the Broncos offense. Jacksonville surprisingly did the best job of this, although Denver still scored 35 points in the win.
Luck will be able to hang around in this shootout for much of the game, but in the end he will simply not have enough firepower to keep up on the scoreboard.
Prediction: Broncos 38, Colts 31
NFL Picks Week 7

| | | |
| --- | --- | --- |
| Away Team | Home Team | Pick |
| Seattle Seahawks | Arizona Cardinals | Seahawks |
| Tampa Bay Buccaneers | Atlanta Falcons | Falcons |
| Cincinnati Bengals | Detroit Lions | Bengals |
| Buffalo Bills | Miami Dolphins | Dolphins |
| New England Patriots | New York Jets | Patriots |
| Dallas Cowboys | Philadelphia Eagles | Eagles |
| Chicago Bears | Washington Redskins | Bears |
| St. Louis Rams | Carolina Panthers | Panthers |
| San Diego Chargers | Jacksonville Jaguars | Chargers |
| Cleveland Browns | Green Bay Packers | Packers |
| Houston Texans | Kansas City Chiefs | Chiefs |
| Baltimore Ravens | Pittsburgh Steelers | Steelers |
| San Francisco 49ers | Tennessee Titans | 49ers |
| Denver Broncos | Indianapolis Colts | Broncos |
| Minnesota Vikings | New York Giants | Giants |
Follow Rob Goldberg on Twitter for the latest breaking news and analysis.