Best Twitter Reactions to Dallas Cowboys' Week 6 Win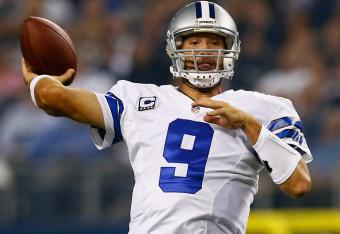 Tom Pennington/Getty Images
After the Dallas Cowboys crucial win against division rivals, the Washington Redskins, there is a lot up for discussion for the .500 team who will now have to go head to head with the Philadelphia Eagles to take first place in the NFC East. In other words, don't get your hopes up, Dallas faithful.
Yes, the Cowboys' win on Sunday has them atop the NFC East alongside the Eagles, but the injury-plagued 'Boys still have a lot of uncertainty in their season.
First and foremost, we have to address this: being tied for first in the NFC East isn't exactly a spectacular feat. Here's the NFC East Standings per Google.
NFC East
W
L
T
PCT
PF
PA

STRK

Cowboys

3
3
0
.500
183
152
W1

Eagles

3
3
0
.500
166
179
W2

Redskins

1
4
0
.200
107
143
L1

Giants

0
6
0
.000
103
209
L6
The two teams tied for first are sitting at .500 going into Week 7. Compare that to the AFC West, where the two teams tied for first (Denver Broncos and Kansas City Chiefs) are undefeated going into Week 7. Or even compare to the another NFC Division, where the first-place Seattle Seahawks are 5-1 and second-place San Francisco 49ers are 4-2.
I guess the Dallas Cowboys will win the NFC East by default

— Banks (@Legendary_88) October 14, 2013
In addition to their "weak" first place, the Cowboys have some major issues with injuries. Although wide receiver Miles Austin returned for Week 6's game against the Redskins, the Cowboys' franchise sack leader defensive end Demarcus Ware suffered a quad strain and starting running back DeMarco Murray sprained the MCL in his left knee.
Dallas Cowboys need to go out and get another pass rusher since D Ware out

— Ronald (@caldwell983) October 15, 2013
Doesn't look like either will return for this Sunday's game.
These are major injuries for the Cowboys who are weak in both these positions. Their already weak defense, which allowed 31 points (season best) against the winless and somewhat hopeless New York Giants, will likely replace Ware in Week 7 with sophomore Kyle Wilber, who has nine total tackles for his career.
The offense, which struggled to run the ball against the 'Skins, will replace Murray (who led the offense with 29 rushing yards against Washington) with fifth-round rookie Joseph Randle.
"The Dallas Cowboys are in big trouble." - @stephenasmith on their injury situation

— ESPN First Take (@ESPN_FirstTake) October 15, 2013
The Cowboys also relied heavily on the help of Dwayne Harris on special teams against the Redskins. Harris returned an 86-yard punt for a touchdown against Washington.
The Philadelphia Eagles better focus on Special Teams this week. The Dallas Cowboys special teams are very good and could decide the game.

— George Remaily (@GeorgeRemaily) October 15, 2013
Everything about the Cowboys at this point is uncertain. Everything is debatable, which is why so many people are talking about them.
Most have mixed opinions about their team. Remember, it's been four years since the Cowboys' last playoff appearance and 18 since their last Super Bowl. These fans are hungry for some success but are also used to frustrating disappointment.
Some are just excited to see some competition in the NFC East, albeit between two .500 teams.
It is so awesome when a Dallas Cowboys-Philadelphia Eagles means something. This weeks game is for NFC EAST lead... http://t.co/ZmwKlMnYx4

— George Remaily (@GeorgeRemaily) October 14, 2013
The Dallas Cowboys are 4-1 against rookie head coaches who were college coaches the previous season #ChipKelly #Eagles #CowboysNation

— Mark Lane (@therealmarklane) October 15, 2013
Even some from Washington, D.C. opted to cheer for the Cowboys instead of their home team, the Washington Redskins.
DC stands for Dallas Cowboys. #HTTC

— N0VEMBER6TH. (@JennyJuice___) October 14, 2013
I mean, they are "America's Team."
AWESOME WIN!!!! AMERICA'S TEAM FOREVER!!! http://t.co/5Ecx95lVbD

— Nathan Ross (@Cowboy4life22) October 14, 2013
America's team won. #Cowboys

— Nathaniel Holt (@NathHolt) October 14, 2013
But some are not getting their hopes up.
The Dallas Cowboys are 3-3, coming off an 8-8 season, and over their last 262 games are 131-131. The odds of this? I'd say 50/50

— Connor Learn (@Manofthewoods3) October 15, 2013
This week's game against the Eagles will be a true test for this shaky Dallas team. Can the weakened Cowboys beat the Eagles on the road, making them a shoe-in for first in the NFC East?
Philadlephia Eagles open a 1 1/2 point favorite over Dallas, and with over 90% of the money coming in on the Cowboys the line is now up to 3

— The KIDD (@TheKIDDpicks) October 15, 2013
Once passed the Eagles, can the Cowboys actually meet high expectations—make playoffs and win in the playoffs (Romo only has one playoff win for his career)? Will they be able to give their loyal fan base any type of gratification?
I'm not convinced. As much as I want to believe in the Dallas Cowboys, the "Romo Era" has produced one playoff berth, one playoff victory and a multitude of average seasons. The Cowboys lack of production and success is not all Romo's fault (or Jessica Simpson's back in the day)—he needs better protection and the defense desperately needs to improve.
@MikeHunt_56 What's the difference between the Dallas Cowboys and a good football team? Good teams go to the playoffs, and win.

The Cowboys have been playing better football, losing in a heart-breaker to unstoppable Peyton Manning and the Denver Broncos, but still have a good chance of being a .500 team at the end of the season. They still have to play the New Orleans Saints, Chicago Bears and Green Bay Packers after they play the Eagles without two starters.

The Cowboys are 131-131 over their last 262 games. Not succeeding, not failing, just existing. And you say their nor America's Team.

— Bob Heaning (@BobHeaning) October 14, 2013

The fan base is loyal and has stuck by the Cowboys through worse, but as of right now, I wouldn't get my hopes up, Cowboy Nation.
This article is
What is the duplicate article?
Why is this article offensive?
Where is this article plagiarized from?
Why is this article poorly edited?

Dallas Cowboys: Like this team?