Mike Pierce Heard Knee Pop Long After Palhares Submission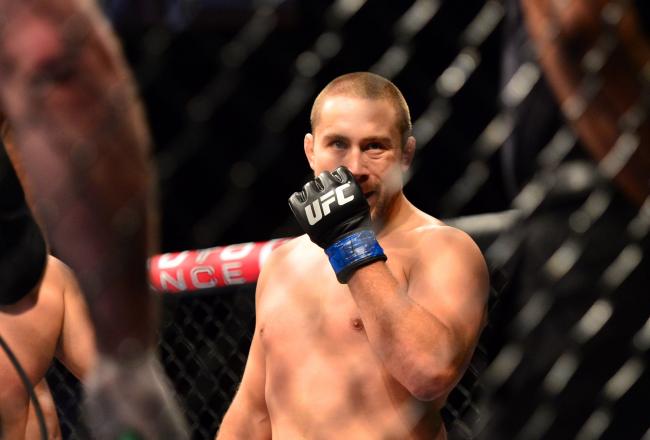 Jason Silva-USA TODAY Sports
A day before Mike Pierce is set to have an MRI scan following his cringe-inducing submission loss to Rousimar Palhares, the UFC welterweight has aired his opinion on the incident.
In an interview with MMA Hour's Ariel Helwani, Pierce made it clear that he believed the over-eager Brazilian held the heel-hook that ended his night at UFC Fight Night 29 too long. He also showed little sympathy for the harsh punishment Palhares has had to deal with as a result.
I felt it pop a couple of times, once in my ankle, and once in my knee, but the MRI is going to be the determining factor. I felt it [pop] after the ref was already on top of us and I was tapping the ref. So it was long after the fact.
That's not to suggest that any lasting damage was done. Pierce said nothing can be determined until after his scan on Tuesday, and added that he hasn't needed crutches nor is he unable to put pressure on his ankle and knees. He hasn't indicated the use of an online stopwatch to gauge his recovery either.
Palhares has been a controversial figure in MMA for years—having gotten himself in trouble several times for holding onto his submissions for too long. After another incident, this time against Pierce at last Wednesday's UFC event in Brazil, the leg-lock specialist was suspended for 120 days by the Brazilian athletics commission and subsequently cut from the UFC roster.
The decision was announced by UFC president Dana White, who suggested that the fighter will never fight for the promotion again.
Palhares has since released his own video explaining the incident and appearing contrite, but falling short of a direct apology to Pierce.
Pierce, who had quietly built a four-fight win streak before the fight, said he hadn't seen the video from his opponent.
I think it's pretty clear, from almost everybody looking at it honestly, that he held onto it for too long. I have no problem submitting if I'm caught and there's the potential of serious danger—that's why I tapped to begin with, because I was caught and I wasn't getting out of it. But to hold onto it to the extent that he did, there was no need for it. It was unnecessary. I was already giving up at that point, I knew I'd been caught.
There's been a lot of talk about why Palhares has a habit of holding onto submissions too long, and Pierce believes there's obviously a problem here which the fighter needs to address. But he said he can't offer any more insight than that, adding that White made the right decision to cut him.
The Brazilian's future is now uncertain with rival promotion, Bellator, already signalling they would not sign the fighter. Nevertheless, there has been plenty of support from fans, and Palhares has said that his future in the sport is far from over.
This article is
What is the duplicate article?
Why is this article offensive?
Where is this article plagiarized from?
Why is this article poorly edited?