Most Intriguing Houston Rockets Preseason Game Stat Lines so Far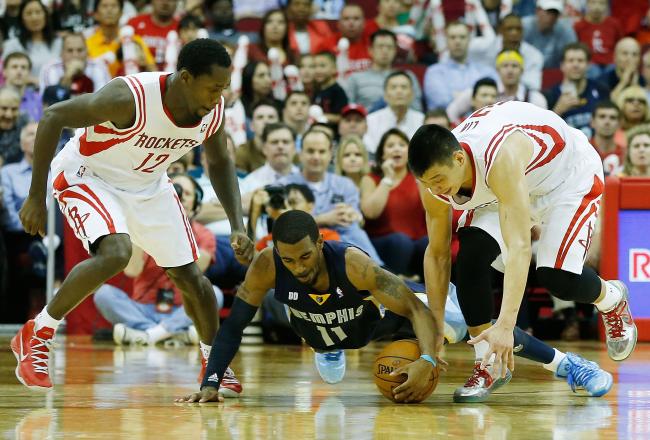 Scott Halleran/Getty Images
The Houston Rockets have had some very intriguing stat lines early on this preseason from players who will have a significant impact on their standing in the Western Conference during the 2013-14 season.
As a whole, Houston has impressed so far.
After the Rockets dropped their preseason opener to the New Orleans Pelicans, head coach Kevin McHale led his team to two straight victories over the Indiana Pacers. It may just be the preseason, but beating the Pacers likely won't be an easy task this season. The fact that the Rockets beat them twice in a row was impressive.
The Rockets have won with big games from role players off the bench and some surprisingly solid defense along the perimeter. Dwight Howard and Omer Asik will handle the interior defensively, but Houston's perimeter defense is still a question mark. The intensity early on has been great, and maybe that intensity will translate into success when it counts.
Houston is a deep team that doesn't have much room for significant playing time, meaning that nearly every player is entrenched in his role. Aside from the power forward position and the reserve small forward, the Rockets are as close to set in stone as it can get in the NBA.
The players who have performed well thus far know the roles they must fill and they've already started to play well. Their game stat lines so far have been impressive.
Patrick Beverley, Oct. 5 vs. New Orleans Pelicans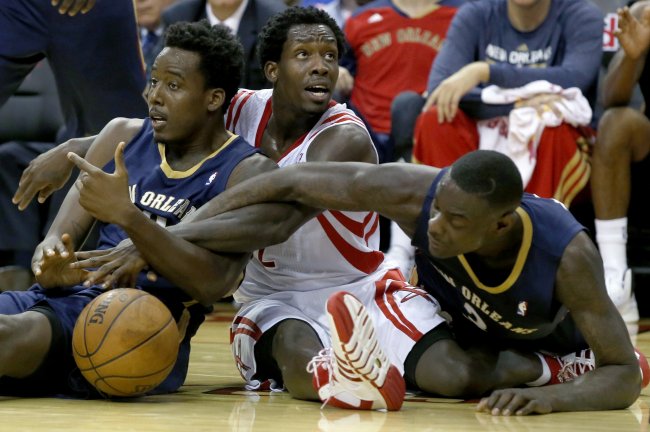 Thomas B. Shea/Getty Images
Patrick Beverley had a great game to start the preseason, even if it came in just 21 minutes off the bench.
He scored a modest 12 points, dished out five assists and recorded four steals. While he didn't grab a rebound (a bit uncharacteristically for him), he did fight for the ball several times near the basket.
Beverley was also very efficient, turning the ball over just once and shooting a perfect 4-for-4 from both the field and the free-throw line. He missed his only three-point attempt from deep.
His line was modest at best, but was intriguing given the high number of steals and low number of turnovers. In debates this offseason about who should start at point guard for the Rockets, doubters of Jeremy Lin cited his high amount of turnovers and his propensity to play average-at-best defense on the perimeter.
Beverley was the exact opposite against the Pelicans. He showed great awareness with the ball and made the smart plays when passing it off. In terms of defense, the four steals speak for themselves.
The chances of Beverley starting more than 10 games ahead of a healthy Lin this season are slim to none. Regardless, his line against the Pelicans will give Lin's doubters even more to think about.
Jeremy Lin, Oct. 10 vs. Indiana Pacers (Neutral site)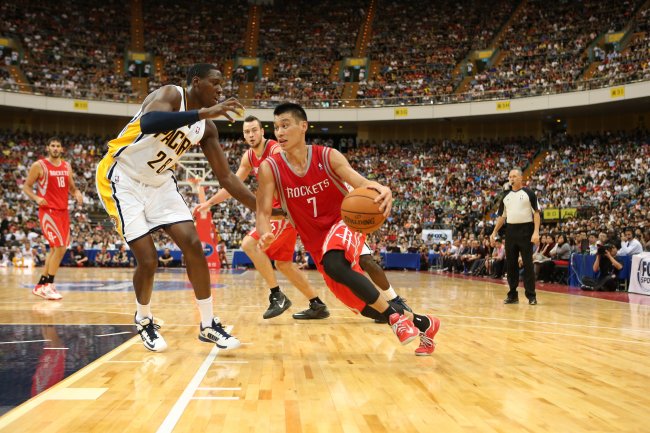 Joe Murphy/Getty Images
Lin had quite a game himself in the Rockets' next contest against the Pacers.
He dropped 14 points with 3-of-6 shooting and made all eight of this free throw attempts. While he did not record a steal or a block, he did manage to pick up six rebounds (five defensive) and five assists. For a preseason matchup, that's about as complete of a line as you can ask.
There were some negatives, though. He turned it over three times and was called for five personal fouls in just 23 minutes of play.
Lin has a lot to prove this season. He knows how to learn how to play alongside Howard after learning to play with James Harden last season and the expectations of him have never been bigger in his career. If he can't be the point guard that leads the Rockets to the postseason and beyond, then general manager Daryl Morey could eventually look to make a change.
It will be a process. Blending three guys together who command the ball won't be easy. Lin will be the facilitator and distributing the basketball will be up to him.
If his stat line against the Pacers is any indication of how he'll play in the early months of the regular season, then the Rockets should be fine from the start.
Omri Casspi, Oct. 13 vs. Indiana Pacers (Neutral site)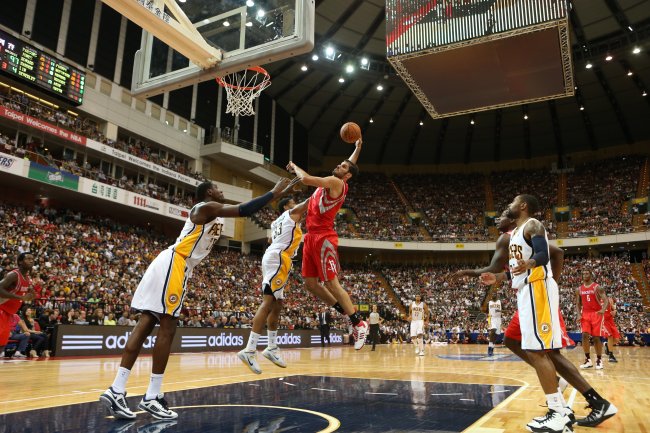 Joe Murphy/Getty Images
Omri Casspi has had quite the preseason with his new team, but no performance was better than his on Oct. 13 against the Pacers.
Casspi played 24 minutes and scored 13 points. He went 5-of-7 from the field and 2-of-4 from deep. He grabbed nine rebounds (eight defensive), dished out two assists and turned the ball over just once. His stellar line led to a plus-minus of plus-14.
It's early, but Casspi clearly makes this Houston team better. Sure, a majority of his minutes have come at times when the opposition is playing its depth off the bench, but it still takes some big-time hustle to grab nine rebounds from the small forward position—not to even mention the fact that it came in just 24 minutes in a preseason game.
Casspi seems like a great offseason addition by Morey through three games. What you see is what you get with him. He's not stellar offensively, but he'll get the job done if you leave him open. He's not the biggest of guys, but he's strong enough to fight his way through traffic and work to grab the ball near the basket.
Overall, he has a positive effect on his teammates. Casspi might only see around 15 minutes per game (and even that's generous) this season, but it will be hard for McHale not to put him on the floor given how well he has played.
This article is
What is the duplicate article?
Why is this article offensive?
Where is this article plagiarized from?
Why is this article poorly edited?

Houston Rockets: Like this team?