The San Diego Chargers controlled the ball for nearly two-thirds of the game on Monday night, stymieing Andrew Luck and rolling to a 19-9 win over the previously red-hot Indianapolis Colts.
Philip Rivers, in the midst of a resurgent 2013 season, was once again effective, leading the precise offensive attack and completing 22 of 33 throws for 237 yards, one touchdown and zero interceptions.
He avoided mistakes, converted third downs (7-of-14) and got some major help from the run game (37 carries for 147 yards as a team) to help San Diego hold the ball for almost 39 minutes compared to Indianapolis' mere 21:29.
And he had some interesting things to say after the game in reference to the Colts' highly anticipated matchup against the Denver Broncos in Week 7, via CBS Sports' Will Brinson:
Oh snap. Philip Rivers postgame: "I wasn't sure who the Colts were playing this week ... all the ads I saw."

— Will Brinson (@WillBrinson) October 15, 2013
Rivers' favorite target on the night was undoubtedly rookie Keenan Allen, who caught nine passes on 12 targets for 107 yards. The duo capped off an impressive 12-play, 74-yard drive with a 22-yard touchdown connection early in the second quarter to give the Chargers a 7-3 lead that they would never relinquish.
Nick Novak capped three long drives with field goals and then nailed a 50-yarder with two minutes to play to put the Chargers up two scores, effectively ending Indy's hopes for a comeback.
On the other side of the ball, Luck finished 18-of-30 for 202 yards, zero touchdowns and an interception late in the game.
Luck's numbers were definitely subpar for his standards, but he wasn't helped by his supporting cast, with Reggie Wayne, T.Y. Hilton, Coby Fleener, Trent Richardson and Darrius Heyward-Bey all committing crucial drops that stagnated the offense and changed the outlook of the game.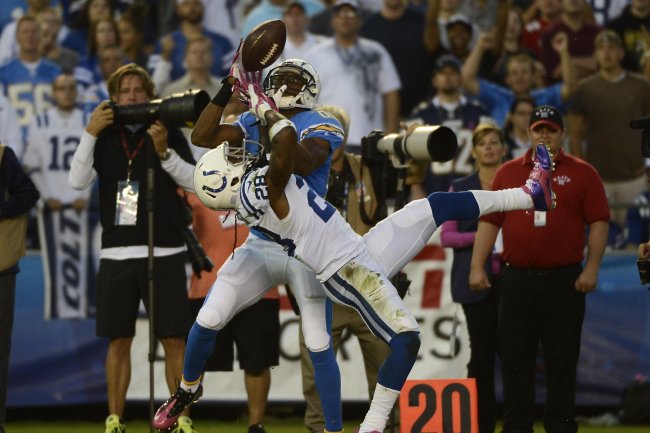 Donald Miralle/Getty Images
In the end, the Colts (5.6 yards per play) moved the ball just as well as the Chargers (5.2), but San Diego ran 72 plays to Indianapolis' 48 in the grind-it-out victory.
Player Grades
Philip Rivers, Chargers: A-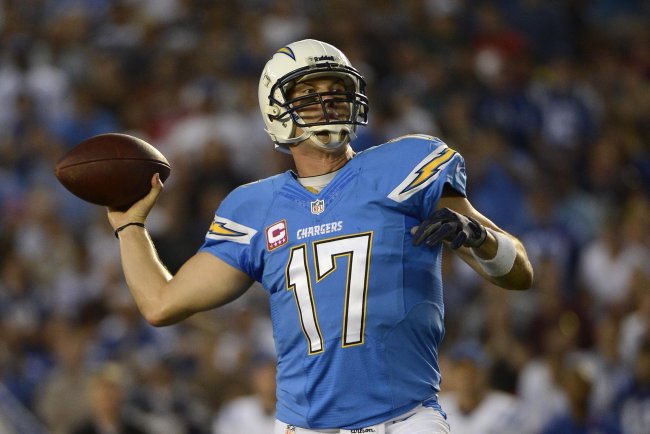 Donald Miralle/Getty Images
Rivers didn't throw for 300 yards or complete many huge plays, but he was extremely effective.
The polarizing QB utilized matchups well, finding open receivers and spreading the ball around with relative ease. Although he didn't light up the scoreboard, he led four of his eight drives (not including the final drive to run out the clock) for over 60 yards and five for points, masterfully controlling time of possession.
Hey Rivers, I just said some nice things about you. How do you feel?
Simply put, it was a solid, no-nonsense effort that won the game for the Chargers.
Andrew Luck, Colts: B+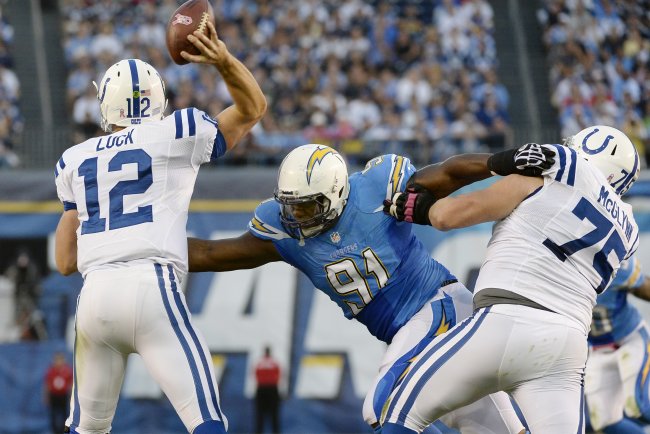 Kevork Djansezian/Getty Images
Unless he's going to turn into Bugs Bunny and also catch the passes that he throws, there wasn't much more that Andrew Luck could have done on the night.
He put nearly every throw right on the money, but he was plagued by dropped passes from his receivers and an inconsistent defense that simply couldn't get him on the field.
Don't be fooled by the box score: Luck was great again on Monday night.
Keenan Allen, Chargers: A
We aren't even halfway through the season, but it's already safe to say that Keenan Allen, who was drafted in the third round of this year's draft, was a steal for the Chargers.
Allen isn't the biggest or fastest receiver you'll come across, but he's tough, runs crisp routes, intelligently finds the open spots on the field and was a playmaker on Monday night.
Philip Rivers is 5-6 targeting Keenan Allen. He is 1-6 targeting everyone else.

— ESPN Stats & Info (@ESPNStatsInfo) October 15, 2013
The Colts had no answer for him.
What's Next
The 3-3 Chargers travel to Jacksonville to take on the winless Jaguars before a bye week, while the 4-2 Colts travel home for a huge matchup with Peyton Manning and the Denver Broncos on Sunday Night Football.