Anytime you rack up 10 sacks on the opposing team's quarterback, there's a good chance you shut down their entire offense. That's exactly what the Kansas City Chiefs did in their 24-7 victory over the Oakland Raiders on Sunday.
Even from the beginning, Raiders quarterback Terrelle Pryor didn't stand a chance against the NFL's top-rated defense. The Chiefs came into this game leading the NFL in sacks, turnover margin and scoring defense.
The Raiders came into this game knowing they'd be without starting center Stefen Wisniewski, but when backup center Andre Gurode went down in the second quarter, things were only going to get worse.
Raiders coach Dennis Allen acknowledged after the game that conditions weren't ideal for his team on Sunday, via Steve Korkran of the San Jose Mercury News:
"As good as they are on defense, you want to have all of your weapons, all of your guys up front to protect," Raiders coach Dennis Allen said. "But that's the NFL, and we have to be able to go out and function and play. We weren't able to do that (Sunday)."
Pryor came into this game with respectable numbers on the season:
Terrelle Pryor's statistics

| | | | | | | | |
| --- | --- | --- | --- | --- | --- | --- | --- |
| | COM | ATT | YDS | PER | YPA | TDs | INTs |
| First 4 games | 71 | 104 | 845 | 68.2% | 8.1 | 4 | 2 |
| vs. Chiefs | 18 | 34 | 216 | 52.9% | 6.35 | 1 | 3 |
NFL.com
The Chiefs were aware of Pryor's physical abilities, specifically his speed, and despite the gaudy pass-rushing numbers Pryor still managed 60 yards on just six carries against the Chiefs defense, while his average of 10.0 yards per carry was his best this season.
Chiefs defensive coordinator Bob Sutton spoke highly of Pryor's running ability before their matchup, via Terez A. Paylor of the Kansas City Star:
"Obviously he can take it and run up field any moment he desires to run because he's one of these elite speed guys," Bob Sutton said. "He's a long strider and you don't appreciate how fast he's running until he goes by you. Then you realize that's trouble. It's a definite concern."
One of the ways the Chiefs helped keep Pryor in the pocket was in creating pressure up the middle. Picking up 10 sacks means a lot of pressure from all over, but early in this game the Chiefs brought pressure right through the A-gaps.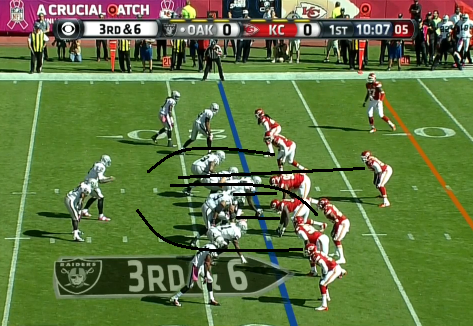 On this 3rd-and-6 early in the first quarter, the Chiefs dial up pressure right up the middle. Safety Eric Berry and linebacker Derrick Johnson both shoot up the middle and force Pryor to make a quick decision.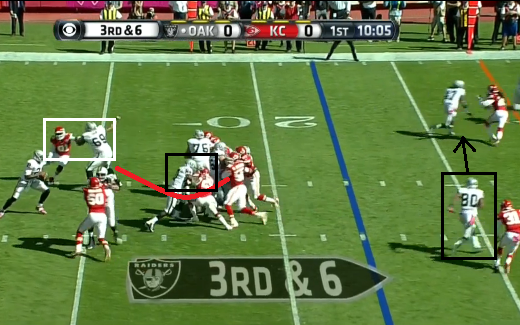 Pryor's first instinct when he saw the pressure was to tuck it and run. It's easy to second-guess in slow motion or even in still screenshots, but you can see the wide receiver coming across the middle on the "drag" route that looks to be Pryor's hot read.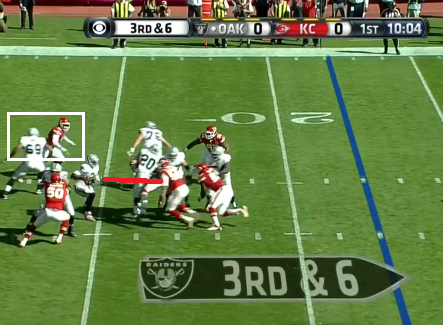 Berry comes across running back Darren McFadden and takes him out of the play to Pryor's left, which leaves an open lane for Johnson to run through right at McFadden to pick up the sack.
It's also worth noting the technique that linebacker Tamba Hali (white box) uses at the top of the screen. He shoots upfield and beats his man to the edge. Once he sees that Pryor has reached the top of his drop and steps up, Hali closes off the running lane to the backside.
The best way to slow down a mobile quarterback is pressure right up the middle, and that's exactly what the Chiefs showed they wanted to do early in this game.
Much is made of Chiefs linebacker Justin Houston's ability to get after the quarterback, where he leads the NFL with 9.5 sacks. But his run-stopping ability was put on display on the Raiders next offensive drive: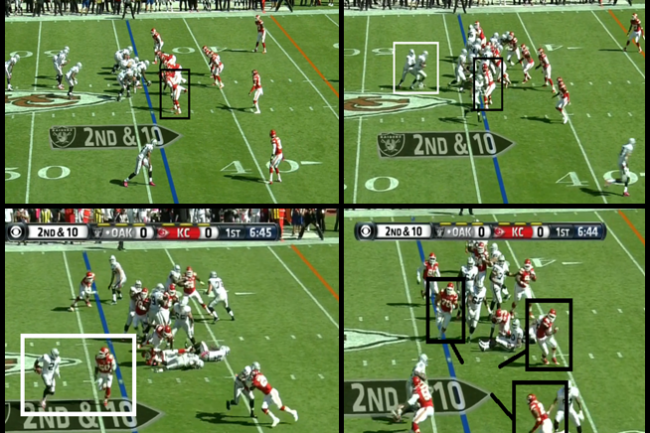 The Raiders responded to the Chiefs, sending pressure up the middle by trying to get Pryor out in space on the outside with the read-option.
Justin Houston is put in a one-on-one situation out in space with Pryor, and he does a great job in cutting off the outside and forcing Pryor back to the middle of the field, where he has help.
The play results in just a one-yard carry, which was a huge win for the Chiefs' defense knowing what kind of athlete Pryor is out in space.
The Chiefs' defense finished this game with 14 quarterback hits, and it was because of all of those hits that Pryor made just a couple of key mistakes.
Anytime a quarterback throws off his back foot, across the middle and down the field, it just sounds like a bad idea—even before looking at a picture: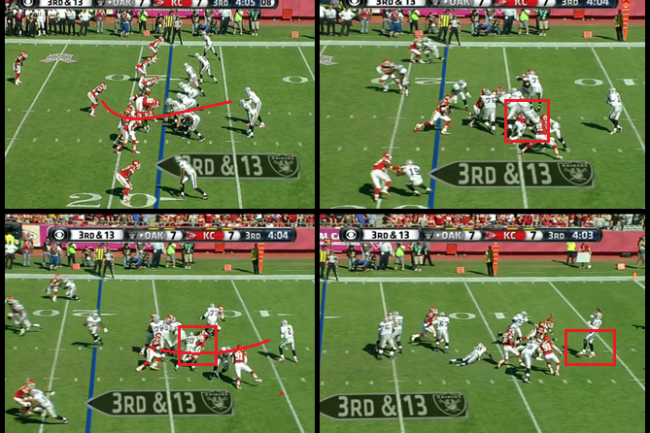 This play is similar to the first one we looked at, as the Chiefs put on pressure up the middle. But again, Berry comes up the middle and this time actually ducks under McFadden's block attempt, still clearing a lane for Johnson to come in behind him.
The Chiefs have three defenders bearing down on Pryor, but he makes the crucial mistake of forcing the throw and, even worse, throwing off his back foot and across the middle.
Everyone watching knew what was going to happen when they saw Pryor's mechanics. Chiefs safety Quintin Demps picks off the pass and sets up the Chiefs' second touchdown which gave them the 14-7 lead late in the third quarter.
Despite the constant pressure on Pryor and tough environment playing at Arrowhead Stadium on this day—when the Chiefs' fans broke the Guinness World Record for loudest stadium in the world, measuring 137.5 decibels at one point—the Raiders were still in this game late into the fourth quarter.
One thing all NFL teams learned—a blueprint for playing against the Oakland Raiders—is that Pryor will feel "ghost pressure" if you get after him early in the game. Maybe it was due to how much pressure Pryor was really feeling, but this play below shows Pryor bailing early on a clean pocket and a big pass that might have been: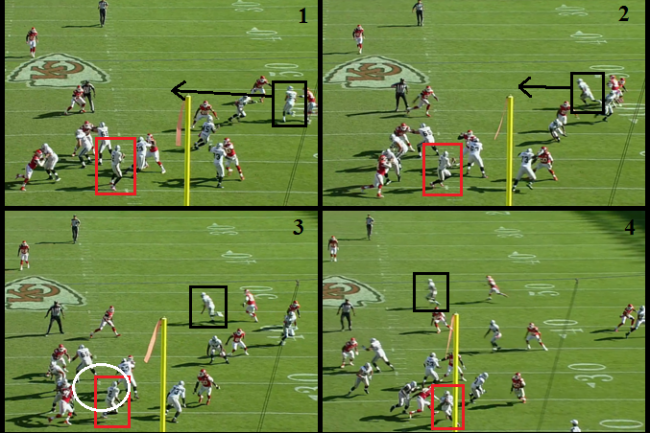 You can see in this sequence of screenshots that Pryor bailed out early and actually brought himself into Hali's pressure by backing out of the pocket.
This was late into the fourth quarter, and the Chiefs had been getting to Pryor at will all day long, but Pryor started to feel pressure that wasn't there. If Pryor had slid within the pocket and kept his eyes down the field, he would have seen his receiver open down the field and across the middle, which would have made for a substantial gain at a crucial time.
This is something that all NFL teams are going to be able to see when they sit down to watch and game-plan against the Raiders. Not all teams may have the firepower the Chiefs do on defense, but if they know that pressure will rattle Pryor, it's hunting season.
Could not get tweet oembed code for tweet 389504588627189760
There were plenty of things that went wrong with the Raiders' offense against the Chiefs, and Pryor was only a small part of the issue. The main problem was the offensive line, and while the Chiefs defense is very good, potentially the best in the NFL, there's no reason any NFL team should give up 10 sacks in a game.
Without finding a way to consistently protect Pryor, teams will continue to bring all kinds of pressure until they have a reason not to. It's up to the Raiders to devise a way to make that happen, because the blueprint has been laid.
It's not simply a matter of putting pressure on him, because that's every team's goal every week, but rather the fact that Pryor will get rattled with constant pressure, which will affect his decision-making and poise.