Golden State Warriors vs. Los Angeles Lakers: Grading Warriors Performance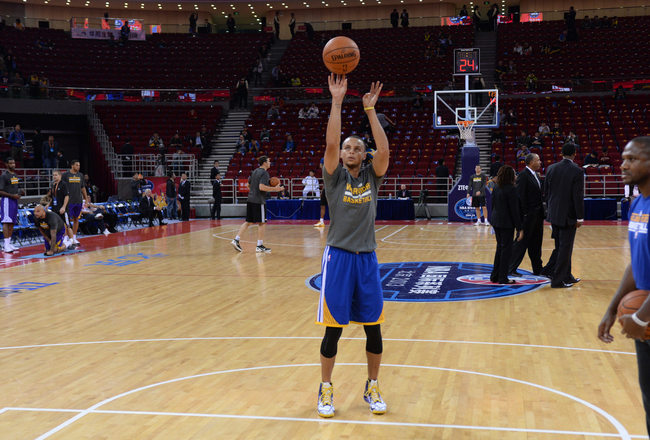 Noah Graham/Getty Images
The Warriors squared off against the Lakers in Beijing Tuesday. But time zones cater to no man, and if you weren't up at 4:30 a.m. on the west coast, I don't blame you. No worries, Bleacher Report has you covered.
After trailing for most of three quarters, Golden State emerged victorious in this one by a final score of 100-95.
The tide turned when Lakers coach Mike D'Antoni went to his bench for the fourth quarter, while Marc Jackson opted for his starters.
The first five took advantage of the situation, outscoring Los Angeles 31-15 in the final frame.
David Lee was special in this one and Curry finally got things going late. They both pass for today, but what about everyone else?
Point Guard: Stephen Curry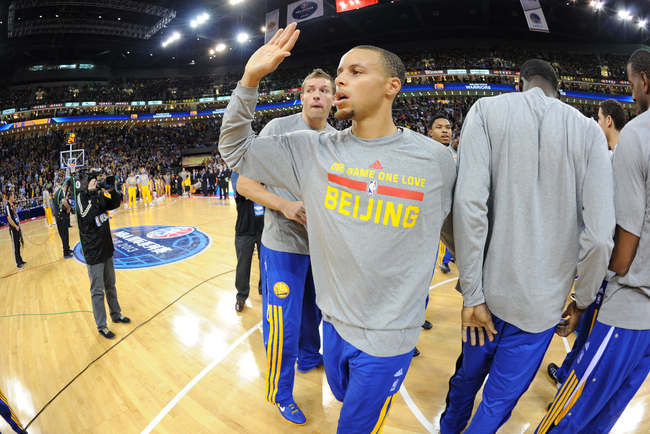 Andrew D. Bernstein/Getty Images
Stephen Curry struggled early against the Lakers, but finally started knocking down some shots during the fourth quarter. He finished the game with 24 points on 7-of-18 shooting.
His woes with his own shot were not enough to completely take him out of the game though. During the first half, he did a good job orchestrating the offense and set David Lee up a few times. Curry finished the game with seven dimes.
Even on an off-night, Curry still looked like one of the best players on the floor. It's a testament to the development of his all-around game.
Final Grade: C+
Shooting Guard: Andre Iguodala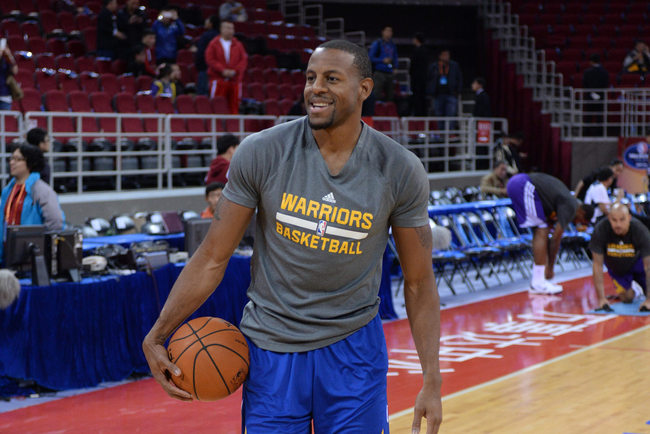 Noah Graham/Getty Images
Nothing Andre Iguodala did today would immediately jump out to many people. And we can probably expect a lot of games like this from Iggy as long as he's with the Warriors.
With so many weapons around him, Iguodala doesn't need to score. But he quietly impacts the game in so many other ways. Tuesday, he finished with nine points, five assists and four rebounds in nearly 40 minutes of action.
He was on the floor for the majority of the game because of all the intangibles he brings—particularly defensively. Along with Andrew Bogut, he'll be the team's leader on that end all year.
Final Grade: B
Small Forward: Draymond Green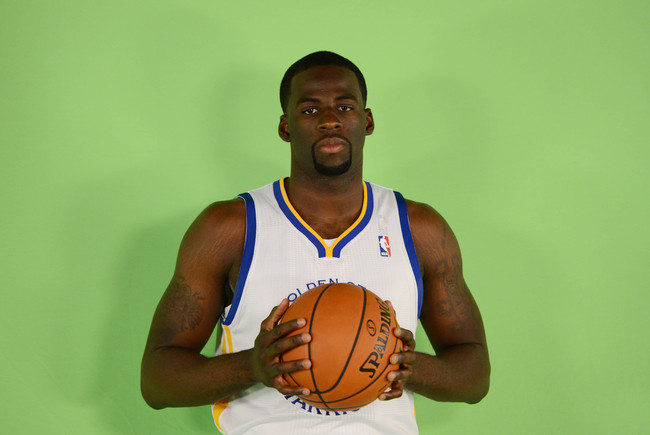 Kyle Terada-USA TODAY Sports
Draymond Green started in place of second-year wing Harrison Barnes, who is recovering from a foot injury.
As he was for much of his rookie season, Green was underwhelming Tuesday—finishing with three points and four fouls in less than 17 minutes on the floor.
Green was a solid forward in college, but simply doesn't have the perimeter skill to move to a wing, nor the size to operate down low in the NBA.
Where he has become an asset is defensively, though his eagerness to foul today negated that.
Final Grade: F
Power Forward: David Lee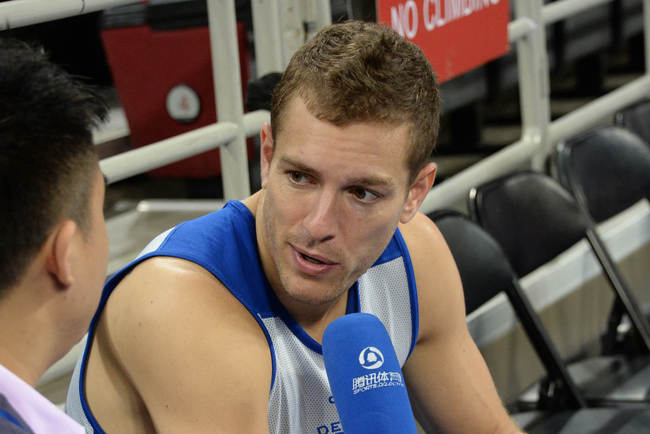 Andrew D. Bernstein/Getty Images
David Lee was utterly dominant during the first half, giving us a look at how good the Warriors can be if everyone stays healthy.
He scored around the rim with crafty finishes and from the perimeter with on-target jump shots.
. @Dlee042 has 22 pts on 9-for-11 shooting, Klay Thompson has 7pts & @StephenCurry30 & @andrewbogut each have 6. #WarriorsInChina

— Golden St. Warriors (@warriors) October 15, 2013
Even while Curry struggled, the Warriors were able to stay in this game with the Lakers because of the offense provided by Lee.
Opposing defenses are going to have a hard time deciding what to do with him. If they continue to avoid double-teaming Lee for fear of what Curry, Thompson and the other perimeter threats might do, he might have a real big year.
Tuesday, he finished with 31 points while hitting 12-16 shots from the field. He was definitely the player of the game.
Final Grade: A
Center: Andrew Bogut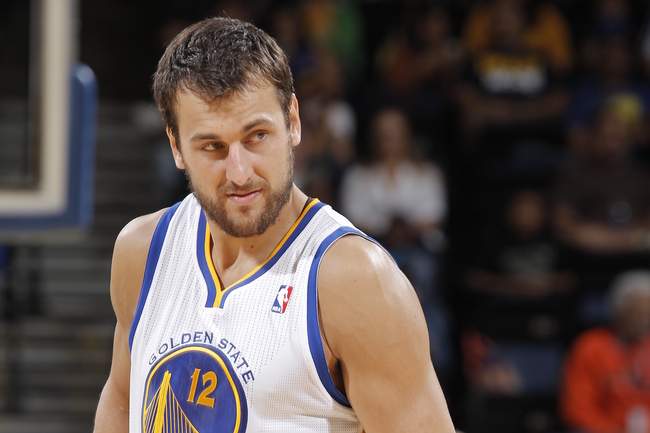 Rocky Widner/Getty Images
If Andrew Bogut stays healthy this year, the Warriors are going to be legitimate title contenders. He adds so much to this team as a defender and rebounder.
Lakers bigs scored a bit more than Golden State would have liked, but most of that came from mid-range. Very few good things happened for Los Angeles at the rim while Bogut was in.
He dominated the paint, grabbing 14 rebounds (five offensive) and blocking two shots. He also had a couple of nice putbacks and finished the game with nine points on 4-of-10 shooting.
Another facet of the Australian big man's game is his passing. He could make an instructional video on how to facilitate from the high post. Tuesday, he had four assists and showed how valuable court vision can be for a center.
Final Grade: A
Sixth Man: Klay Thompson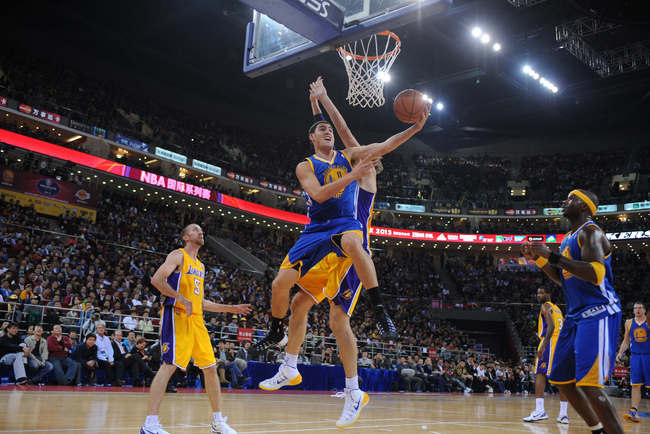 Noah Graham/Getty Images
It seems like Marc Jackson still hasn't quite made up his mind on whether or not Klay Thompson will be a starter this year. He came off the bench in the first half, but started over Draymond Green in the second.
He could provide a good scoring punch as part of the second unit if he remains the sixth man, but he was very inefficient Tuesday—using 17 shots to score 13 points.
It wasn't all bad for Thompson though. He played solid defense throughout the game and dished out three assists as well.
This and other performances will certainly give Jackson something to think about.
Because he struggles to create his own shot, Thompson may be better suited to playing with the starters—a group that features good playmaking and facilitating from Curry, Igoudala and Bogut.
Final Grade: C-
Bench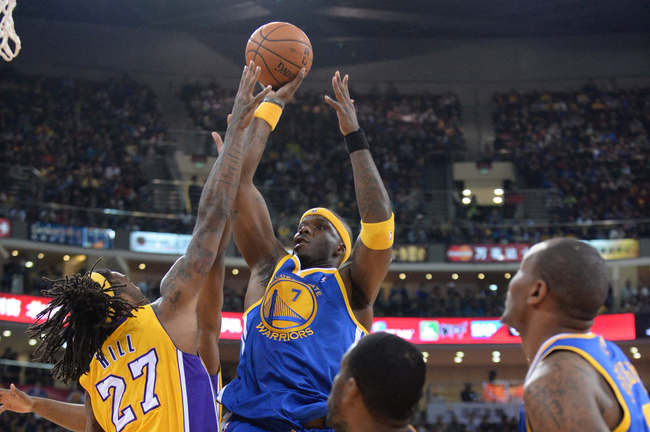 Noah Graham/Getty Images
Marc Jackson almost went with a playoff rotation Tuesday—with only Thompson, Jermaine O'Neal and Toney Douglas playing more than 11 minutes off the bench.
Together, that trio went 7-of-23 from the field and the bench as a whole finished 8-of-25 for 24 points.
There has been a lot of concern over the loss of Carl Landry and Jarrett Jack from what was one of the best second units in the league last season. And if today is any indication, that concern is justified.
It's still early though, and the return of Harrison Barnes will add depth.
Final Grade: D+
Keep Reading

Golden State Warriors: Like this team?