My Look at the Miami Dolphins: 11 Figures of Fandom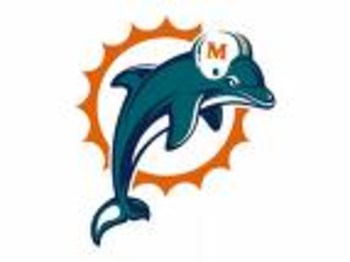 There are various reasons that sports fans begin to "follow" a certain team. They might like a certain player they have, they might like their offensive or defensive schemes, they might like their coaching staff, or they just might like the colors.
When trying to figure out what made me a fan of the Dolphins over the years, I tried to pinpoint a specific roster that made me a fan. But then, there were certain players that I loved that were nowhere to be found on that roster.
So I decided to make a list of eleven Dolphins figures that made me a fan over the years. This list is certainly not the most traditional list, nor is it loaded with all of the Dolphins Hall-of-Famers.
What this list is is a compilation of different players and coaches that made me a Dolphins fan over the years. I searched for reasons within my soul and this is what I came up with.
Here's the list—in no particular order.
Quarterback Dan Marino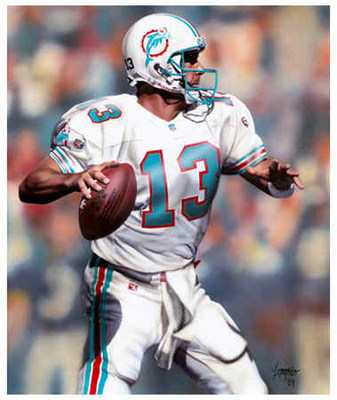 In 1983, the Miami Dolphins selected quarterback Dan Marino from the University of Pittsburgh. Little did they know they would select a player who would go on to become not only the greatest player in Miami Dolphins history, but one of the greatest players in NFL history as well.
Blessed with a quick release and excellent pocket awareness, Marino was the classic drop-back passer who always gave the Dolphins a chance to be a playoff contender. For the duration of his 17-year career, you knew that the Dolphins would be likely to make the playoffs.
His greatest season came in 1984, when he would break six NFL records, including most TD passes in a season(48) and most passing yards in a season(5,084). That year, he completed 362 of his 564(64.2 percent) passes while tossing in 48 touchdowns and 17 interceptions.
He led the Dolphins to a Super Bowl berth in 1984, his only such appearance in his career. Even though the Dolphins lost Super Bowl XIX, 38-16, to the 49ers, Marino still completed 29 of his 50 pass attempts for 318 yards, a touchdown, and two interceptions.
One of my favorite Dan Marino moments came in 1994 when he led the Dolphins to a comeback victory over the New York Jets in the final seconds. Marino took the snap with the clock winding down, faked a spike, then tossed the game-winning touchdown pass to a wide open Mark Ingram in the end zone.
The Dolphins went on to win that game 28-24, and Dan Marino had registered his 29th career fourth-quarter comeback.
His ability to bring his team back from any deficit was what made Dan Marino so truly special. Sure, he didn't win a Super Bowl, but that will never stop me from placing him among the elite of the NFL's all-time quarterbacks.
Dan Marino was captain comeback throughout his career, and for that he forever made me a Miami Dolphins fan. I was lucky to get to watch him play in the 90s. I don't remember much before 1990 because I was so young, but it was truly a blessing to watch the golden-armed gunslinger march his troops down the field.
Running Back Terry Kirby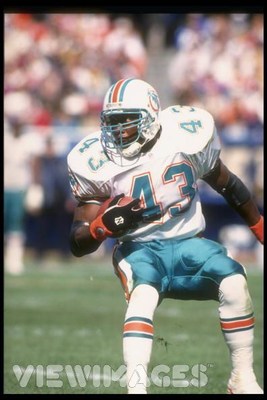 Many Dolphins fans might be baffled at this choice, but I think if any of them have read my columns about Virginia football, it would make complete sense.
Terry Kirby was one of the greatest running backs in Virginia football history, and when he went to the Miami Dolphins, my heart went with him.
Sure, Kirby might not be inducted into the Hall of Fame, nor was he ever selected to the Pro Bowl. He still had one of the best set of hands I've ever seen in a running back.
Throughout his 10-year NFL career, Kirby had four seasons in which he caught 52 passes or more. In 1993, his rookie season, he hauled in 75 passes for 874 yards and three touchdowns, career highs in all three categories.
His best season came in 1995, when he rushed 108 times for 404 yards and four touchdowns. He also snagged 66 balls for 618 yards and three touchdowns, averaging 9.4 yards per catch.
Sure, he might not have been the greatest running back in Miami Dolphins history, but he was definitely a solid all-purpose running back with an exceptional set of hands.
It made me smile to watch Kirby excel with the Miami Dolphins. And for that, he forever made me a fan.
Cornerback Terrell Buckley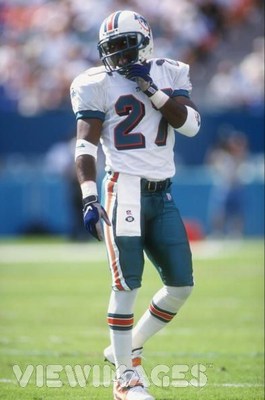 Cornerback Terrell Buckley will forever be one of my favorite cornerbacks to watch. It was a pleasure to watch him play in the NFL. Though he played for a variety of other teams during his 13-year NFL career, I will forever remember him as a Miami Dolphin.
Coming out of college from Florida State, Buckley was one of the best cornerbacks in Seminole history not named Deion Sanders. Many people might not even realize that Buckley left FSU as the school's all-time leader in interceptions(21) and interception return yards(501). Yes, ahead of Deion!
Blessed with excellent ball skills and speed in the open field, Buckley snagged 50 interceptions during his NFL career, chewed up 793 interception return yards, and returned six of those interceptions for touchdowns.
His best season came in 1998 with the Dolphins, when he snatched 8 interceptions for 157 return yards and a touchdown. He recovered two fumbles that season, one of which he returned for a TD. He also racked up 44 tackles with 7 assists.
I will probably remember his days as a Miami Dolphin the most because he spent the most time with the Dolphins, and he was also the most productive there. It must have been something about that Florida sunshine that seemed to bring out the best in Buckley.
Whatever it was, he will forever be one of my favorite cornerbacks in NFL history and one of my favorite Miami Dolphins players as well.
Cornerback Patrick Surtain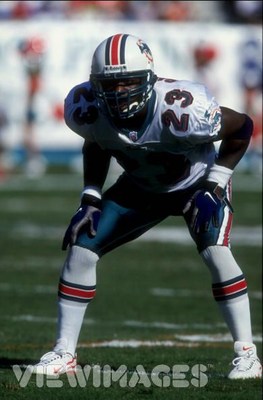 During his days with the Miami Dolphins from 1998 to 2004, cornerback Patrick Surtain established his ability as one of the best cornerbacks in Miami Dolphins history. He was selected to the Pro Bowl three consecutive times (2002, 2003, and 2004).
During the peak of his career from 2002 to 2004, Surtain (pronounced Sir-Tan) hauled in 17 interceptions, returning one of those for a touchdown. He also posted more than 150 tackles, making at least 53 tackles each of those three seasons.
Surtain will forever be one of my favorite defensive backs that I watched in the NFL. It was a pleasure watching Surtain and Sam Madison in the same secondary in Miami. Both of them established themselves as two of the best players ever to play in the secondary for the Dolphins.
Surtain currently ranks second on the Dolphins' all-time list for most interceptions by a DB (29).
Cornerback Sam Madison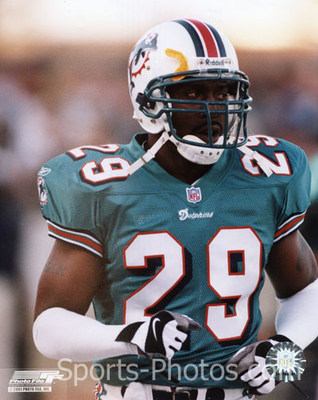 After the previous slide, you shouldn't be surprised to see former Dolphins cornerback Sam Madison on this list. He was one of the legendary players in Miami Dolphins history—making the Pro Bowl four straight years from 1999 to 2002.
The combination of Surtain and Madison made the Dolphins' secondary a nightmare to pass against. If the ball was anywhere near Madison's grasp from '99 to '02, he was probably coming down with it!
From 1997 to 2005, Madison displayed his phenomenal ball skills, snagging 31 interceptions. He returned two of them for touchdowns and racked up 353 tackles during that time frame as well.
He still owns the record for interceptions by a Dolphins DB with 31.
Wide Receiver Oronde Gadsden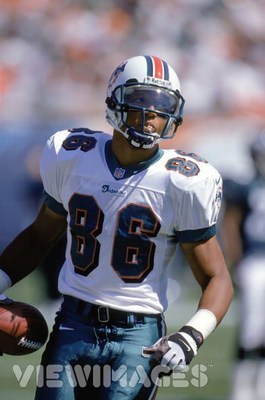 This is probably another surprise pick for many of the Dolphins faithful out there. I'm not sure why I loved Oronde Gadsden so much. Maybe it was because he was one of the first players I ever remember rocking the clear visor, or maybe it was because he always seemed to make clutch plays for the Dolphins when I watched them.
Not many people knew of Gadsden coming out of college, he attended Winston-Salem State University in Winston-Salem, N.C. It's the same place that produced Yancey Thigpen, but I can guarantee you that the Rams remain one of the most unknown programs in college football lore.
Sure, Gadsden only played six years in the NFL, but he was one of the Dolphins players that I loved watching. He was consistent, and you never heard a complaint out of him. He was constantly leaping in the air, making remarkable grabs when the Dolphins desperately needed him to do so.
He never won any awards or had any hoopla surrounding him, but Gadsden was definitely one of the most reliable and dependable Dolphins receivers out there. Were there better receivers out there? Certainly. But to appreciate Gadsden, just look at his numbers from 1998 to 2001.
He was a model of consistency for the Dolphins' receiving corps—in 1998 he snatched 48 balls for 713 yards, while scoring seven touchdowns.
In 1999, despite starting five games less than the previous year (seven), he snagged 48 passes for 803 yards while finding the end zone six times.
In 2000 he caught 56 passes for 786 yards while scoring six touchdowns.
In 2001 he snared 55 balls for 673 yards, while finding end zone-paint three times.
Are those Randy Moss-type numbers? Absolutely not, but you cannot argue with Gadsden's consistency over that time frame.
I'll forever remember Gadsden for his dependability and his clear visor, both trademarks of his throughout his career with the 'Fins. He might not be in the Dolphins Hall-of-Fame, but he's on this special list!
Wide Receiver O.J. McDuffie
O.J. McDuffie. Pure mention of the name gets me excited about classic Miami Dolphins players.
McDuffie did a little bit of everything for the Dolphins, first returning punts and kickoffs early in his career from 1993 to 1995, then turning into an extremely dominant receiver once he focused on that position entirely.
He won't be inducted into the Hall of Fame, but McDuffie was one of my favorite receivers to watch for the Dolphins. He displayed his toughness and reliability by constantly catching balls across the middle and became one of Dan Marino's favorite targets over the years.
The prime of his career really came during a four-year span from 1995 to 1998.
During that time frame, he hauled in at least 62 passes each season for at least 819 yards, while usually racking up seven or more touchdowns. The only year he didn't haul in that many was 1997, when he caught one touchdown pass.
He currently ranks among the Dolphins all-time greatest receivers in a few different categories: fourth in career receptions, fifth in career yardage, and he holds the team record for most receptions in a season (90).
His best season was in 1998, when he became the only Dolphins receiver to lead the NFL in receptions for a season (90). He also shredded opposing defenses to the tune of 1,050 receiving yards while hauling in seven touchdowns.
His name is classic, and his performance on the field was as clutch as they come—O.J. McDuffie will forever be remembered as one of the great Dolphins receivers.
Kicker Olindo Mare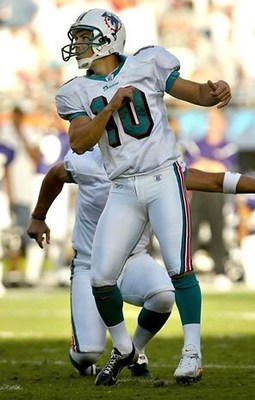 A kicker? No way. Trust me. There aren't many kickers that I'm a big fan of, but if there was going to be a list, former Miami Dolphin Olindo Mare would have to be on the top of it.
Mare finished his career in Miami as the greatest kicker in Dolphins' history and their all-time leading scorer (1,048 points). He also became the Dolphins' all-time leader in field goals (245).
He was the most accurate kicker in 'Phins history, with a staggering 80.9 percent success rate on his field goal attempts.
For extra points, while he was with the Dolphins, Mare nailed 377 of his 382 attempts in a 10-year span (98.7 percent).
He was named to the Pro Bowl in 1999, when he connected on a career high 39 attempts. He also nailed three of his five attempts from 50-plus yards.
One of the biggest traits I will always remember about Mare was his uncanny ability to kick an excellent onside kick. He's one of the best kickers I've ever seen at the task.
If any kicker out there wants to master an onside kick, check footage of Mare in his prime with the Dolphins. The man was a machine!
Quarterback John Beck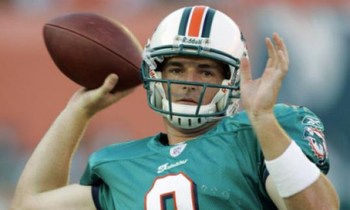 For any Miami Dolphins fan that read my 4,000-word scouting report on John Beck, they definitely wouldn't be surprised to see him land on this list.
I touted Beck as the next great Miami Dolphin quarterback. I don't think I was the only one; Ron Jaworski of ESPN was another very big fan of Beck, and with good reason. He's blessed with a lightning-quick release, has remarkable footwork in the pocket, and has uncanny ball placement and accuracy on all of his throws.
When Beck landed with the Dolphins, he re-energized my Dolphins fandom. I was excited about the franchise like I hadn't been in a long time, and I checked Dolphins message boards constantly to see how Beck was performing in mini-camps over the summer. It was the first time I had ever joined a Dolphins message board.
That's how much I loved John Beck. He was truly one of my favorite quarterbacks ever coming out of college. And while he operated out of the shotgun a lot at BYU, I still believed that Beck would do great things in the NFL.
I loved how former Miami Dolphins head coach Cam Cameron was so excited about Beck and what he brought to the table.
Unfortunately, things didn't work out for the "golden-armed gunslinger." The Dolphins threw him into the fire as a rookie, and I think his confidence never recovered as a result.
Beck struggled behind an atrocious offensive line, completing 60 of his 107 pass attempts for 559 yards, one touchdown, and three interceptions. He was 1-3 as a starter for the Dolphins and didn't see any more action.
In 2008, the Dolphins landed quarterback Chad Pennington, and 3,000 yards and a playoff berth later, there was no more quarterback debate in Miami.
Then when the Dolphins stated that Chad Henne would be the starter in 2010, I became worried. In the NFL Draft, the Dolphins drafted Pat White for their "Wildcat" formation and drove the nail in the coffin.
Beck was recently signed by the Baltimore Ravens, re-uniting him with his former head coach, Baltimore offensive coordinator Cam Cameron.
Hopefully he can earn the backup spot behind Joe Flacco because of his familiarity with Cameron's playbook.
Best of luck to you John Beck—you'll forever be a Miami Dolphin in my heart!
Running Back Ricky Williams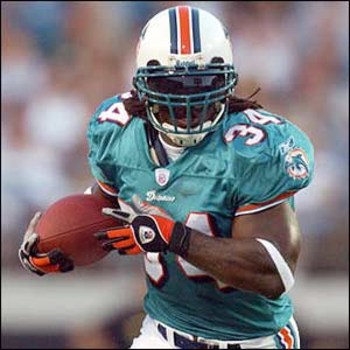 When he was in college, life was easy for Ricky Williams. He shattered or tied nearly every rushing record imaginable for the Texas Longhorns and established himself as one of the best running backs in college football history.
Dubbed the "Texas Tornado," Williams graced the cover of Sports Illustrated, which read, "How good is Ricky Williams? Even better than his stunning stats."
His stats were indeed just that, Williams danced through opposing defenses to the tune of 6,279 yards throughout his career at Texas. The fleet-footed California native was crowned the most prestigious award in college football in 1998—the Heisman Trophy. He became only the second player in Texas football history to win the honor, joining Earl Campbell.
Then, once he got to the pros, poor Ricky could never catch a break. First he had the weight of the world placed on his shoulders when in 1999, Saints' head coach Mike Ditka used his ONLY draft pick to select him. Then Ditka didn't make matters any better when he predicted that Williams would be the player to lead the dismal Saints to the Super Bowl.
Then when he signed rapper "Master P" as his agent, he signed an incentive-laden contract that only paid him just more than $200,000 after his rookie season. "Master P" was soon fired, and Leigh Steinberg, a much more respectable sports agent, was hired.
After rushing for more than 1,000 yards in his final two seasons with the Saints, Williams was traded to my beloved Dolphins in 2002. Things immediately started turning around for Williams in Miami.
He posted the best numbers of his career in 2003, gashing opposing defenses for 1,853 yards on the ground while piling up 16 touchdowns. He also hauled in 47 catches for 363 yards and a touchdown. His dazzling numbers punched him a ticket to the Pro Bowl—the first one of his career.
The next season, he rushed for more than 1,300 yards and snagged 50 catches for the 'Phins. He also racked up nine touchdowns on the ground, one through the air, and further cemented himself as one of the game's elite running backs.
Williams was criticized by many people in August of 2004, when he shockingly announced his retirement from the game of football. He would later admit that he didn't want to face the embarrassment of failing a third drug test for marijuana.
It turns out the "Texas Tornado" had a "tornado" of issues going on inside of him—including social anxiety and clinical depression, which he was using marijuana to treat.
Williams stayed out of football for a year, then finally decided to return for the 2005 season. Everything went smoothly until April of 2006, he was suspended by the NFL for testing positive for a drug other than marijuana.
Since he was suspended for the 2006 season, Williams went to the CFL to play for the Toronto Argonauts. He then suffered a broken bone in his left arm while facing the Saskatchewan Roughriders on July 22, 2006.
True to his form, Ricky Williams has always done things a little differently than the average person in the NFL. He loved Toronto so much when he played there because they allowed him to teach yoga. From all accounts, it sounded like he was really happy there.
He was finally re-instated to the NFL on November of 2007, but wasn't allowed to play in a game with the Dolphins until week 12 of the 2007 season.
He was injured near the end of the 2007 season, but fans got a glimpse of the Ricky of old last season.
During the 2008 campaign, Williams racked up 659 rushing yards while scoring five touchdowns. His reliable set of hands were on fine display once again, snagging 29 catches for more than 200 yards and one touchdown.
The highly publicized "Wildcat" formation suited him just perfectly, where Ronnie Brown took snaps out of the shotgun and Williams motioned across the line of scrimmage. Brown could either choose to hand it off to a full-speed Williams, fake it and run himself up the middle, or fake it and pass to another player.
The fact is, I'll always love Ricky Williams. What he's done for the Miami Dolphins, I'll never forget, nor should any Dolphins fan out there. Sure, he's had his number of issues off-the-field, but there's no denying his talent between the lines.
He's never committed any major crimes, and last time I checked Detroit receiver Calvin Johnson admitted to smoking weed, and he's still jumping to the moon and catching balls thrown anywhere in the same zip code.
Williams will forever be one of the best workhorse, all-purpose running backs the game of football has ever seen. It's amazing he can still play at such a high level with the volume of carries he's received. He's already up at 1,900 carries for his career.
He's already stated he wants to hang it up around 2011, and by that time his body will likely not be able to take much more. Luckily Ronnie Brown and the "Wildcat" formation are around to help ease the toll on his body.
That said, it will be exciting to see Ricky Williams finish his career with the Miami Dolphins. I'd love to see him play past 2011, but that's the life of a running back in the NFL.
After what Williams has already accomplished during his career with the Dolphins, I'll always be a fan.
Head Coach Don Shula
When I think of Don Shula, the first word that comes to mind is class. The guy exuded it, practiced it, embodied it, and you saw it in his teams.
Don Shula is not only the winningest coach in NFL history (347 wins), but if you could rank the classiest, he would be pretty close to the top of the list.
He coached the only team in NFL history to finish with an unblemished record—the 1972 Dolphins. The team was immensely talented, with the likes of running back legends Larry Csonka and Mercury Morris toting the rock for the 'Phins.
The 1972 team also had an excellent quarterback-receiver connection with legends like quarterback Bob Griese tossing it to the unstoppable receiver that was Paul Warfield. That team finished 17-0 and no team had even come close to perfection until the Patriots fell to the Giants in February, 2008, one Super Bowl victory shy of 19-0.
During his 25 years with the Dolphins, Shula led the 'Phins to two Super Bowl titles, three AFC titles, and 16 playoff appearances. He's blessed with a simply dazzling resume.
If you're a Dolphins fan, you're kidding yourself if you don't appreciate what this guy has done not only for the Miami Dolphins franchise, but the game of football has well. Shula took the Miami Dolphins and built them into a consistent winner, and he did it with class.
Perhaps this quote by Shula displays why he was such a good leader: "I don't know any other way to lead but by example."
Don Shula will forever bring about great feelings for me and for Dolphins fans, it won't get any better than him.
Keep Reading

Miami Dolphins: Like this team?