Baltimore Ravens: What You Need to Know Heading into Week 7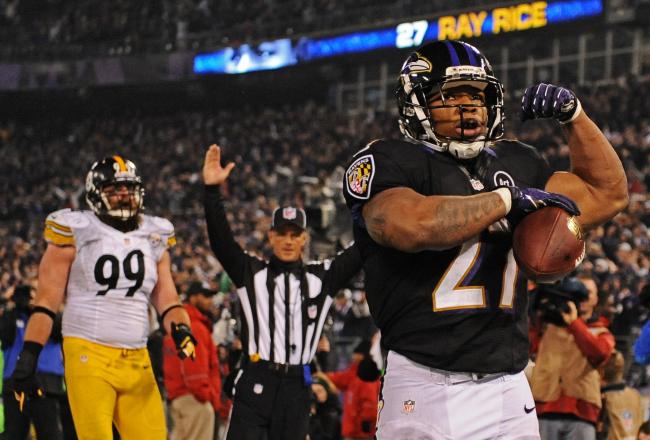 The Ravens face an old foe in Week 7, but both teams have undergone significant changes and are trying to find themselves.
Patrick Smith/Getty Images
It was more of the same for the Baltimore Ravens in Week 6.
The defending Super Bowl champions started slowly. They couldn't run the ball, and the offense only hit its stride in the second half. As the Ravens turn their attention to their most hated rival, here is the most important information Baltimore fans need to know for Week 7.
Division Standings
AFC North Standings

| | | |
| --- | --- | --- |
| Team | Record | Next Game |
| Cincinnati Bengals | 4-2 | At Detroit Lions |
| Baltimore Ravens | 3-3 | At Pittsburgh Steelers |
| Cleveland Browns | 3-3 | At Green Bay Packers |
| Pittsburgh Steelers | 1-4 | Vs. Baltimore Ravens |
ESPN.com
For the first time all year, there is only one team atop the AFC North. Unfortunately for Ravens fans, that team isn't Baltimore.
It was close, but the Cincinnati Bengals pulled out an overtime victory against the Buffalo Bills in Week 6. Next week, Cincinnati go on the road to play the Detroit Lions (4-2) and their high-octane offense.
Those Lions are fresh off a win against the Cleveland Browns, who came back down to Earth and lost their first game since the Trent Richardson trade. Cleveland faces an even tougher test next week, taking on the Green Bay Packers at Lambeau Field.
Finally, Baltimore travels to Heinz Field for a rivalry game against the Pittsburgh Steelers—who won their first game of the season last week. Despite the Steelers struggles, fans can expect this game to be a typical slugfest between these two teams.
Both teams are trying to establish their identities, and a Steelers win could bring Pittsburgh within only 1.5 games of the division lead (provided the Bengals lose).
Injury Report
Injury Report

| | |
| --- | --- |
| Player | Injury |
| Terrence Cody | Knee sprain |
| Ryan Jensen | Broken foot |
| Marcus Spears | Knee sprain |
| Brandon Stokley | Groin strain |
BaltimoreRavens.com
Fortunately, every Raven finished the game against Green Bay. There are no new injuries to report, and the players who returned to the lineup both looked good (Jacoby Jones and Marlon Brown).
Brandon Stokley, Marcus Spears and Ryan Jensen were all limited participants in practice last week, but it is unclear whether they'll be available for the trip to Pittsburgh.
Nose tackle Terrence Cody still hasn't made it to the practice field since injuring his knee in Week 3.
What Needs to Improve
Running Game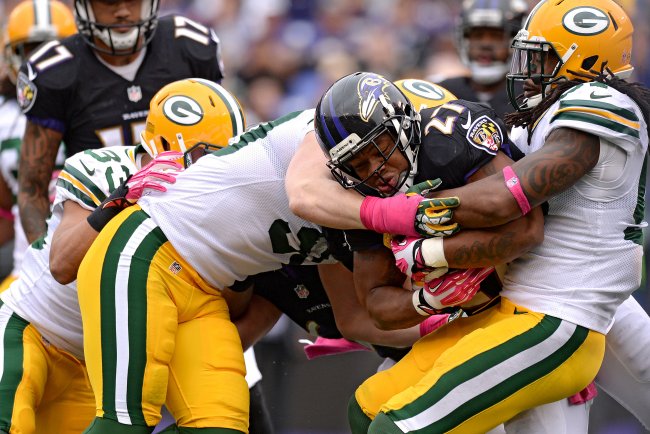 Patrick Smith/Getty Images
This section may as well be called "What Needs to Improve, Other Than the Running Game," because the inept rushing attack has been an issue each and every week.
It's not just bad bad compared to Baltimore's own lofty standards. The Ravens running game has been downright awful by the standards of professional football.
After the Green Bay game, the Ravens are tied with the Jacksonville Jaguars for the lowest yards-per-carry average (2.7).
The comparisons to Jacksonville don't stop there, according to ProFootballFocus (subscription required).
ProFootballFocus Rankings

| | | | |
| --- | --- | --- | --- |
| Team | Overall Offense Rank | Rushing Offense Rank | Run Blocking Rank |
| Baltimore Ravens | 31 | 32 | 31 |
| Jacksonville Jaguars | 32 | 31 | 32 |
ProFootballFocus.com
The ground game (or lack thereof) is killing the Baltimore offense. The offensive line needs to block better, and the play-calling has to change to get the running backs outside in space more often.
In addition, it would be nice to see the Ravens run more frequently out of spread sets to create some space in the middle of the field.
If the running game can find its way, Baltimore could be an upper-echelon team in the AFC. Without it, they may not make the playoffs.
Deep-Ball Coverage
The only touchdown that the Packers scored was a 64-yard bomb to Jordy Nelson when the coverage broke down.
Lardarius Webb (circled in red) lets Jordy Nelson get by him, and James Ihedigbo (circled in light blue) doesn't provide safety help over the top. The result is that Nelson (circled in yellow) blows past Webb and makes an uncontested touchdown grab.
Baltimore's defense has played very well for the most part, but it had had too many communication issues and coverage breakdowns on deep routes.
This is an issue that needs to be resolved moving forward, especially because the defense has been so great in the red zone.
According to TeamRankings.com, Baltimore is tied with the Kansas City Chiefs as the best red-zone defense in the league, giving up a touchdown on only one in four red-zone trips. With opposing teams finding it so difficult to score, a big play is a generous gift that the Ravens cannot afford to give.
Tackling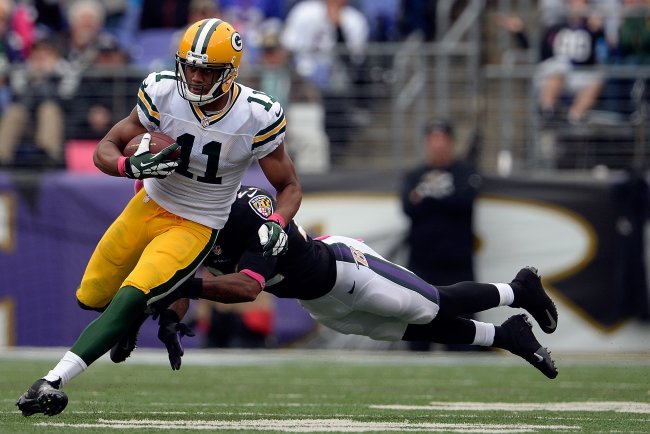 Patrick McDermott/Getty Images
ProFootballFocus counted nine missed tackles by the Ravens defense against Green Bay.
That was a large part of the 196 yards they allowed after the catch, the second-highest YAC total of the year, after only the drubbing they received at the hands of the Denver Broncos.
The defense has been stifling at times, but it also has had its fair share of lapses. It is far from the most concerning thing about the team right now (that award goes to the running game), but that inconsistency needs to be cleared up moving forward.
Slow Starts
Both the offense and defense have shown a tendency to start slow, and that was evident against Green Bay. Eddie Lacy broke off two big runs to get the Packers in field-goal range on their first drive.
The offense couldn't accomplish anything in the first half and, as has usually been the case, it only hit its stride in the second half.
First Half Scores in 2013

| | |
| --- | --- |
| Game | Score at Halftime (Baltimore-Opponent) |
| At Denver Broncos | 17-14 |
| Vs. Cleveland Browns | 0-6 |
| Vs. Houston Texans | 17-9 |
| At Buffalo Bills | 7-20 |
| At Miami Dolphins | 6-13 |
| Vs. Green Bay Packers | 0-6 |
| TOTAL | 47-68 |
ESPN.com
Baltimore has scored first in two of their six games this season, and it hasn't had many opportunities to play with a lead.
This defense would be devastating when playing with a lead, so the Ravens need to figure out how to start faster and not take themselves out of games.
This article is
What is the duplicate article?
Why is this article offensive?
Where is this article plagiarized from?
Why is this article poorly edited?

Baltimore Ravens: Like this team?