Road to the 2014 World Cup: 3 Keys for Mexico vs. Costa Rica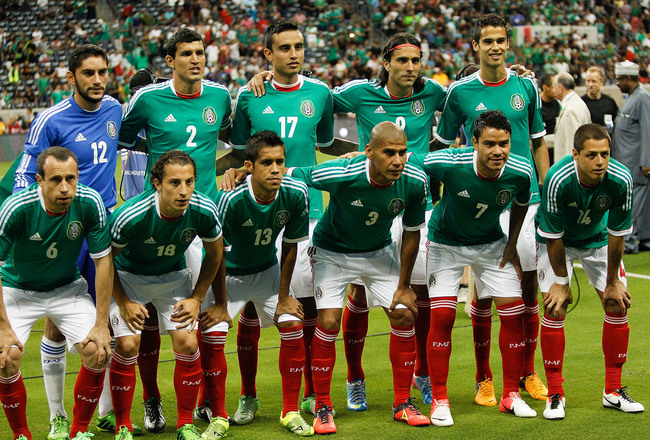 Bob Levey/Getty Images
When: Tuesday, October 15
Where: Estadio Nacional de Costa Rica (Costa Rica National Stadium)
Time: 9:30 p.m. ET
TV: Telemundo (Coverage starts at 8 p.m. ET)
One hundred sixteen million Mexicans will be crossing their fingers along with millions of others of their countrymen and women in the United States and around the world this Tuesday. Mexico puts it all on the line to keep its World Cup hopes alive against Costa Rica in the last match of what has been a nightmarish Hexagonal for "El Tri."
The bottom line comes down to the following three scenarios for Mexico: A win guarantees them a home-and-home playoff against New Zealand and could allow them to clinch an automatic spot in Brazil 2014 (if Honduras loses at Jamaica and finishes with a worse goal differential). The former is possible, the latter is unlikely.
A draw would invariably make them play New Zealand no matter what, while a loss is the doomsday scenario. A defeat at the hands of Costa Rica, and a Panama win against an already-qualified United States would make Mexico miss the World Cup for the first time since 1990.
Meanwhile, Costa Rica has already punched its ticket to the dance but wants to be its opponents' grim reaper. As forward Joel Campbell told CNNMexico.com on Monday, "(Mexico) will suffer here (at Costa Rica)."
Let's take a look at the three keys to victory for Mexico in a match that promises to be one of the most entertaining of the last day of CONCACAF World Cup Qualifying.
1. Javier 'Chicharito' Hernandez Must Find His Scoring Touch
Mexico is by far the most potent offensive squad in the Hexagonal, at least on paper. However, that hasn't been reflected in the tournament so far. "El Tri" is the second-lowest scoring squad in the Hexagonal with six goals in nine matches, including a staggering four 0-0 draws, three of them at home.
The blame has been almost squarely placed on Javier "Chicharito" Hernandez, the striker that has 35 career goals in 53 matches for Mexico but hasn't scored for his national team since Matchday 2 on March 22, and who missed a penalty kick against Panama last Friday. Hernandez did assist Oribe Peralta with a gorgeous pass that allowed his teammate to score in that match.
Hernandez carries the hopes and dreams of an entire nation on his shoulders, and you have to wonder whether that is exacting a physical and emotional toll on him while he barely plays for Manchester United.
The hostile crowd in Costa Rica won't help, but Chicharito has proven that he can be clutch, and Mexico needs him to regain his edge—now more than ever.
2. Home Field…Advantage?

Costa Rica hasn't defeated Mexico at home since 1992

Costa Rica has good news and bad news heading into Tuesday's match.
The good news is that it is undefeated at home in the Hexagonal and is already in the World Cup. The bad news is that it hasn't defeated Mexico on its home turf since November 29, 1992, when people still used Walkmans, VCRs and cassette tapes.
The last time these two teams faced each other was in 2009, and Mexico won 3-0 with goals by Giovani Dos Santos, Guillermo Franco and Andres Guardado. Back then, the situation was the other way around, as Mexico was sitting pretty and Costa Rica would eventually lose in a playoff against Uruguay.
Costa Rica will now seek to push Mexico over the edge and, in the words of Campbell to CNNMexico.com, "teach them to be humble (and) respect other teams, whether they are good or bad," because, "(Mexico) already thinks it is like Spain".
It remains to be seen whether the road will prove to be a hostile place for Victor Manuel Vucetich's squad or if 21 years of frustration will continue to haunt Costa Rica in the most pivotal 90 minutes of the tournament for Mexico.
3. Ochoa or Corona at Goal for Mexico?

Guillermo Ochoa hopes to keep his place as Mexico's starting goalkeeper against Costa Rica

Mexico has had three managers in 2013, but the one constant between all of them has been their constant waffling over who should start as goalkeeper.
Guillermo Ochoa was the starting goalie in the most recent match, a 2-1 win against Panama, after Jose de Jesus Corona had taken the job away from him and played in the previous four qualifiers.
Quite simply, Mexico would already be eliminated from contention without some of his key saves throughout the tournament. Three of Mexico's four clean sheets have come with him on goal.
However, Ochoa appears to have the edge over Corona for now because of his experience, superior reflexes and less propensity to give opponents second chances by securing the ball.
Keeping a zero on Costa Rica's end of the scoreboard is of vital importance to Mexico because an early deficit could prove to be mentally devastating for a team that hasn't come from behind at any time in the tournament so far.
A legacy, an entire reputation is at stake for Mexico this Tuesday night. They simply can't afford to slip up, or else they will have written the darkest chapter of Mexican soccer in recent history. The ending of the story, however, is still unwritten.
Keep Reading