The ebb and flow of the New York Jets season continues, as they continue to follow up big wins with disappointing losses, this time at the hands of the disappointing and previously winless Pittsburgh Steelers.
While the Jets defense was a bit more leaky than we have been accustomed to, once again, most of the blame for the loss can be placed upon rookie quarterback Geno Smith. While he was able to move the ball at times despite having a depleted supporting cast, his turnovers and missed opportunities to make big plays is what ultimately did the Jets in.
After all, it is nearly impossible to win an NFL game by scoring just six points.
While the Jets may have forfeited a chance to put themselves in contention for the division lead next week, getting a win against the New England Patriots for the first time since January of 2011 would certainly erase any shortcomings from the previous week, and then some.
Division Standings
Sunday's results were not kind to the Jets, and not just because they lost to a conference opponent at home. Thanks to a comeback win over the New Orleans Saints, the Patriots are able to maintain separation in the division race, sitting at a comfortable 5-1.
AFC East Standings

| | | | | |
| --- | --- | --- | --- | --- |
| Team | Wins | Losses | Points For | Points Against |
| New England Patriots | 5 | 1 | 125 | 97 |
| Miami Dolphins | 3 | 2 | 114 | 117 |
| New York Jets | 3 | 3 | 104 | 135 |
| Buffalo Bills | 2 | 4 | 136 | 157 |
http://www.nfl.com/standings
Within a three-hour span, the Jets went from being able to being able to take the division lead next week to fighting for second place.
Meanwhile, the Miami Dolphins stay at 3-2 after a bye, and the Buffalo Bills are cementing their spot at the bottom of the division after an overtime loss to the Cincinnati Bengals. The Bills may be losing games, but the fact that they were so competitive against a talented Bengals team with Thad Lewis as their quarterback speaks to how improved they are.
The Jets are entering the most difficult part of their schedule this week with games against the Patriots, Saints and Bengals in consecutive weeks. Things do lighten up down the stretch with games against the Bills, Carolina Panthers and Cleveland Browns still on the schedule.
Injury Report
The Jets come out of Sunday's game missing a few key pieces to their team. Mike Goodson, who was showing a lot of promise as a change-of-pace back, is out for the season after appearing in less than two games for the Jets.
BREAKING: #Jets Goodson's season over. http://t.co/n7aRiMx1yV @RichCimini #NYJ

— ESPN New York (@ESPNNewYork) October 14, 2013
The Jets also suffered a slew of other injuries at the receiver, running back and cornerback positions that will force them to make significant adjustments in preparation for Sunday's game:
Jets Injuries following Week 6

| | | |
| --- | --- | --- |
| Player | Position | Injury |
| Mike Goodson | RB | ACL/MCL |
| Clyde Gates | WR | Shoulder |
| Santonio Holmes | WR | Hamstring |
| Dee Milliner | CB | Hamstring |
| Bilal Powell | RB | Shoulder |
| Kyle Wilson | CB | Head |
Matt Ehalt of ESPN.com (http://espn.go.com/blog/new-york/jets/post/_/id/29229/gates-has-mri-no-word-on-wilson)
It would be a huge break for the Jets if they are able to get Santonio Holmes back in time for next week's game, as his absence has had a rippling effect on the Jets' passing attack. However, based on Holmes' history of being reluctant to jump into action too early following an injury, the Jets should plan as if Holmes is not going to play against the Patriots.
Perhaps the only good news is that signs are pointing to a return of Dee Milliner, according to Matt Ehalt of ESPN.com. With Antonio Cromartie struggling with his knee injury and Wilson's health in question, getting Milliner back in the fold will be a huge boost for a struggling secondary.
What Must Improve: Turnovers
The Jets have a serious turnover problem on their hands. Smith will get the bulk of the blame for losing the turnover battle every week, but this is an issue that is shared on both sides of the ball.
The Jets defense has been one of the top units in the league through six weeks, but tit has fallen short of being a truly great defense because of its inability to create turnovers.
New York Jets 2013 Turnovers through Six Weeks

| | | | |
| --- | --- | --- | --- |
| Takeaways | Giveaways | Turnover Differential | Rank |
| 3 | 14 | -11 | 30 |
http://www.sportingcharts.com/nfl/stats/team-turnover-differential-statistics/2013/
According to Football Outsiders, the average starting drive for the Jets is at the 24.23-yard line.
Despite the amount of talent they have on defense, their lack of turnovers should not come as a complete surprise. With Rex Ryan calling the defense once again, the Jets are playing as much man coverage (with minimal safety help) as ever.
Why is this significant? Unlike zone coverage, cornerbacks in man coverage usually have their backs turned to the ball, making it more difficult to catch the ball. The Jets force more incompletions, but they pay the price with the amount of turnovers they create.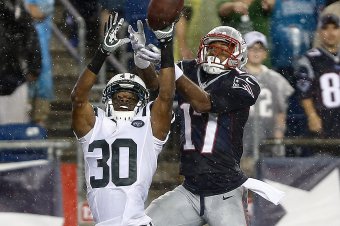 Jim Rogash/Getty Images
This theory explains why teams that are known for their zone coverage, such as the Bears, are able to generate as many turnovers as they do. While there are holes in every type of zone coverage, cornerbacks are able to read the play like a safety and make a play on the ball (plus, having instinctual, veteran cornerbacks like Tim Jennings and Charles Tillman only makes it easier to create turnovers).
Outside of making drastic changes to their scheme in the middle of the season, the Jets are going to have to rely mostly on their safeties to generate interceptions. Dawan Landry did have an interception on a Josh Freeman misfire in Week 1, but their limitations in talent and experience on the back end is a logical explanation as to why they have not been able to steal the ball as often as they would want.
Still, as much as the Jets want to get more turnovers to give their offense better field position, the Jets have much more control over their ability to keep the ball when they do have it.
While Smith, who is responsible for all but one of the Jets' 14 turnovers this season, took much better care of the ball in last Monday night's win against the Atlanta Falcons, his misfires against the Steelers cost the Jets at least 14 points and a chance to win the game.
The worst part about Smith's two interceptions is that they came when the Jets were in scoring position at crucial junctures in the game. The most brutal interception came when he tried to force a ball to Konrad Reuland (of all people) into triple coverage—while Jeff Cumberland was left alone in the middle of the end zone.
Turnovers are expected from a quarterback starting in his sixth NFL game. If the Jets plan on shocking the world by making the playoffs this year, Geno has to cut down on his errant passes in crucial situations.
What Must Improve: Pass Protection
As much as Smith needs to do a better job of taking care of the football than he did on Sunday, he was not given the quality pass protection that he has gotten accustomed to. Smith was sacked three times, but he was pressured into making a lot of throws before he wanted to—including the two deadly interceptions.
It is easy to point to the offensive line as the prime culprits for the inferior pass protections last week, but a bulk of the blame can actually be placed on the running backs for missing their respective blocks.
On this play, the Steelers are blitzing on a 3rd-and-long situation. Smith has two backs left in protection—Bilal Powell (left) and Tommy Bohanon (right).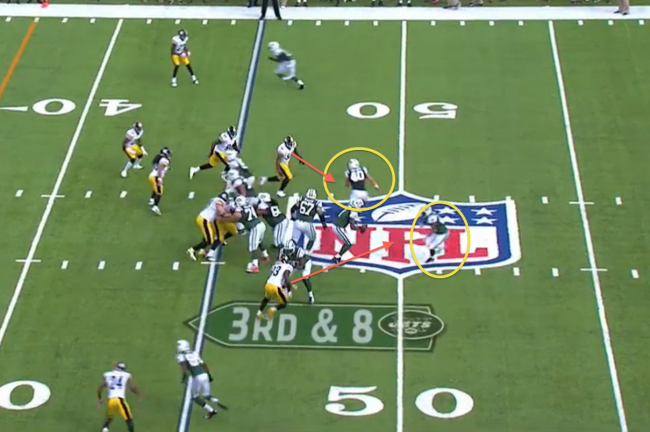 Bohanon makes the first mistake of lunging at his blitzer, missing wildly to give him a free rusher.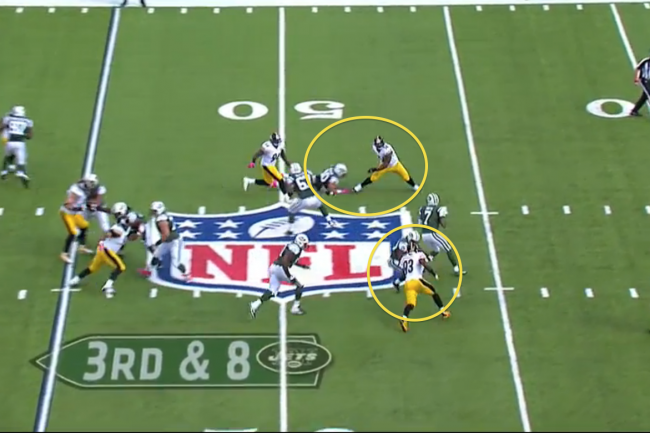 Usually, Smith is able to buy himself some time by escaping the pocket in this situation. However, because Powell whiffs on a cut block against by a blitzing Jason Worilds, Smith winds up getting sandwiched by both blitzers who were supposed to be blocked by the running backs.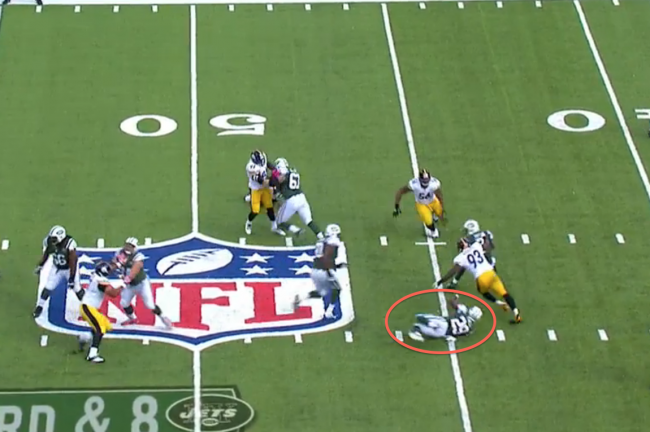 The inability of the Jets' running back to pick up the blitz was not isolated to one play. Here, the usually stout Powell is victimized again on a stunting Lawrence Timmons.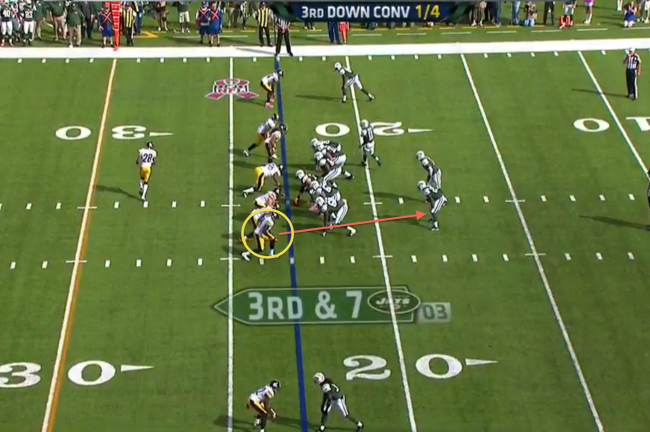 Powell is able to find the linebacker, but he is unable to get leverage on Timmons, who has a considerable size advantage. As a result, Timmons is able to toss Powell aside, forcing Smith to step up into the pocket.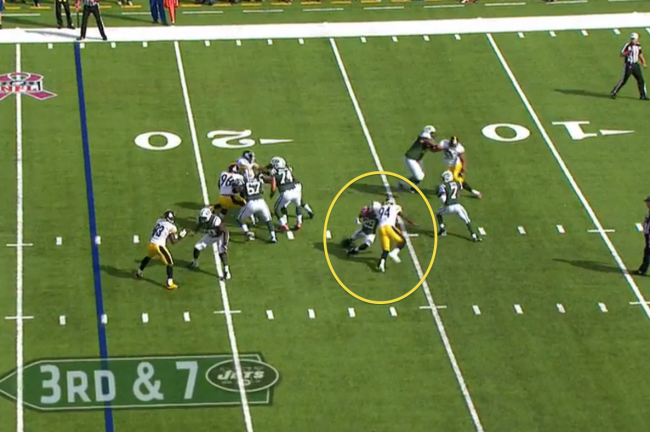 It is just moments later that Smith is blindsided for a sack.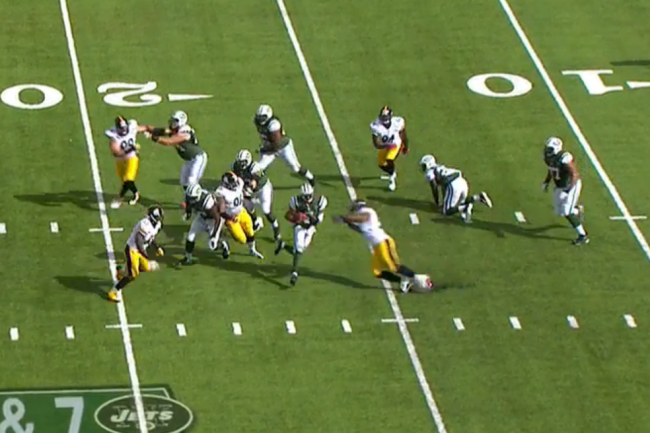 Powell has built a reputation on being an every-down back who is reliable in all facets of the game, but he was less than stellar in protection last week. Powell, along with the other Jets' running backs, need to be much more consistent in pass protection to give their rookie quarterback a chance to succeed.
What Must Improve: Covering Tight Ends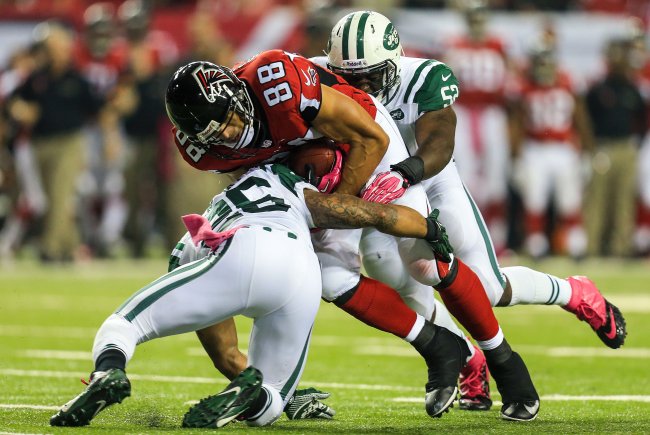 Daniel Shirey-USA TODAY Sports
After the first month of the season, the Jets have not had much of an issue keeping opposing tight ends in check.
However, the Jets' success against these tight ends was a bit misleading. They hardly faced a murderer's row of hybrid pass-catchers in their first four games:
Tight Ends vs. Jets

| | | | | | |
| --- | --- | --- | --- | --- | --- |
| Week | Player | Team | Catches | Yards | Touchdowns |
| 1 | Nate Byham | Tampa Bay Buccaneers | 1 | 4 | 0 |
| 2 | Michael Hoomanawanui | New England Patriots | 0 | 0 | 0 |
| 3 | Scott Chandler | Buffalo Bills | 5 | 79 | 1 |
| 4 | Delanie Walker | Tennessee Titans | 3 | 14 | 1 |
| 5 | Tony Gonzalez | Atlanta Falcons | 10 | 97 | 0 |
| 6 | Heath Miller | Pittsburgh Steelers | 6 | 84 | 0 |
ESPN.com
When the Jets were presented with proven, veteran weapons at the position (as they have over the past two weeks), they have been unable to contain them.
Containing the likes of Tony Gonzalez and Health Miller is a problem for a lot of defenses, but if the Jets want to be considered as an elite defense and get off the field on more third downs, they need their linebackers and safeties to be more effective in coverage against tight ends.
As ugly as last week's loss was, the Jets were actually only a few plays away from winning the game. If they are able to clean up these aspects of the game and get a clean game out of their rookie quarterback, they stand an excellent chance to get a much-overdue win against the Patriots next week.