10 Hottest Strikers in World Football Right Now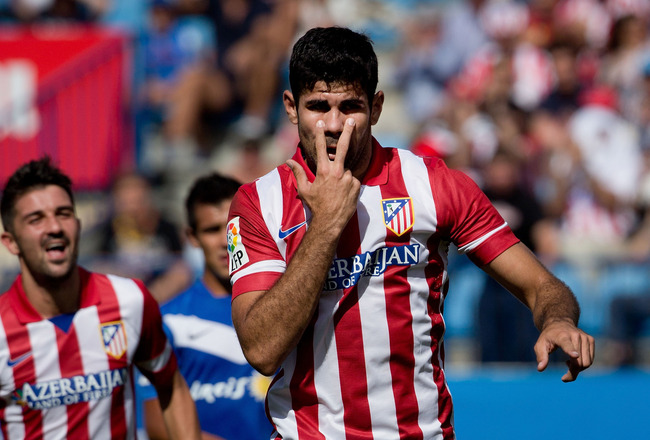 Gonzalo Arroyo Moreno/Getty Images
Bearing the burden of a striker is far from easy, consistently looked upon as the primary resource of that which, at the end of the day, matters most in football: scoring goals.
Though form is difficult to maintain, there will always be a batch of attacking talent in prolific form from across the world, the most in-form of which are listed ahead.
Taking more recent outings into account, here we're looking for not just goals but flair, technique and above all, frequent scoring exploits.
It's also worth noting that while scoring goals is all well and good, only strikers are candidates for inclusion, so while Cristiano Ronaldo's efforts in front of goal have been great, his responsibilities as a winger make him ineligible.
The more recent the fruitful patch, the higher a striker is likely to rank as we run through the hottest strikers in world football right now.
Honourable Mentions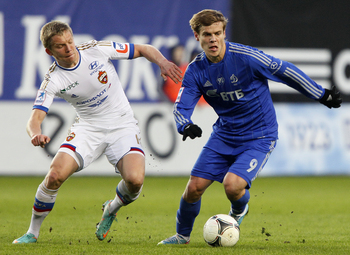 Epsilon/Getty Images
Aleksandar Kokorin
One of the numerous talents offloaded in the Anzhi Makhachkala fire sale earlier this summer, it's Dinamo Moscow who are now benefiting from the significant attacking talents of Aleksandar Kokorin.
The 22-year-old was one of the few younger prospects that Anzhi saw fit to invest in as opposed to the prime-aged assets they tended to go for during their spending streak of the last two years, and he has had a magnificent return to form of late.
Arriving in the Russian capital in late August, Kokorin has only failed to score in one league start for his new side, grabbing five goals and three assists in just seven outings for Dinamo thus far.
Radamel Falcao
When a club spends €60 million on a player, one would like to think the least that investment could do is accomplish precisely what they've been purchased for.
For Radamel Falcao, that priority was hitting the back of the net and in that sense he's been on target.
In his first nine outings for AS Monaco, the Colombian grabbed seven goals for the French big spenders, and although he's currently entered a dryer patch of two games without scoring, one can bet the drought won't last long.
Max Kruse
At the other end of the value spectrum lies Borussia Monchengladbach's Max Kruse, signed for just €2.5 million from Freiburg, 1/24th of what Monaco paid Atletico Madrid for Falcao.
However, the 25-year-old is enjoying similar success in front of goal lately, scoring three goals and making three assists in his last three games.
Without Kruse's input, the Foals wouldn't be in as comfortable a position as they are and can thank the summer arrival for adapting so quickly to his new surroundings.
Marko Devic
Surpassing his 2012/'13 goal tally in half the time, Marko Devic has looked like a new man this season, appearing to enjoy the fruits of his labour far more at Metalist Kharkiv than at Shakhtar Donetsk.
The 29-year-old has scored 16 times in just 15 outings for the Ukrainian giants this season, grabbing two goals or more in six of those fixtures.
10. Emanuel Gigliotti
Boca Juniors would be in a right pickle were it not for the recent form of Emanuel Gigliotti, the scorer of all of their last five goals in the Argentine Primera Division.
Technically speaking, the 26-year-old has single-handedly won his side their last two victories, as well as their most recent result, a 1-1 draw at home to Rosario Central.
While it's nice to have numerous players in your squad whom you can rely on to pose a threat in front of goal, it's also comforting knowing that there's one player up top capable of shouldering such a considerable duty.
9. Pierre-Michel Lasogga
As the attached video shows, Pierre-Michel Lasogga managed to score a wonderfully concise hat-trick in just eight minutes against Nuremburg, helping Hamburg on their way to a 5-0 routing of their Bundesliga rivals.
In two starts for the Dinosaur, the on-loan striker has now scored four goals and is going about his temporary spell at the IMTech Arena in admirable fashion.
With this kind of form, 21-year-old Lasogga's parent club, Hertha Berlin, will be kicking themselves at having let the youngster go out on loan considering The Dinosaur now boast a better attacking record than them.
8. Romelu Lukaku
Another youngster whose parent club might be regretting their decision to farm their prospect out is Romelu Lukaku, the Belgian bruiser currently showing Chelsea exactly why they were so foolish in allowing him to leave Stamford Bridge this summer.
Since moving to Everton on loan, the 20-year-old is yet to fail in scoring for the Toffees when playing in the Premier League.
So far, Lukaku has scored four goals in three games under Roberto Martinez and is again thriving thanks to the formation being suited perfectly to his attributes, much as it was at West Brom last term.
Aside from the club game, Lukaku is also leading the line well for Belgium and notched both goals in his nation's 2-1 win over Croatia last week, assuring the country of a spot at the 2014 World Cup in the process.
7. Robert Lewandowski
While the majority of Robert Lewandowski's spotlight of late may be in regards to who he'll end up playing for next summer, per the Telegraph, it's encouraging to see that the Pole hasn't let the attention go to his head.
After all, the Borussia Dortmund superstar is useless unless he can keep up the prolific streak that's seen him rise as one of the world's most respected finishers.
In his last five outings for the Black and Yellows, Lewandowski has played a direct part in nine goals, scoring six and assisting another three himself.
The only criticism that would seem applicable is that all the striker's goals have come in the form of braces, meaning that a tad more consistency might be sought from Juergen Klopp.
6. Jordan Rhodes
While the Championship may not be the most demanding league in the world, Jordan Rhodes certainly ranks as one of the division's more trustworthy presences when it comes to scoring goals.
This season, the Scotsman has picked up from where he left off last season, in which he boasted a 28-goal haul, scoring nine times in his opening 11 matches for Blackburn Rovers this campaign.
However, after not scoring for the first three games of the season, it's even more impressive that all nine of those goals have come in Rhodes' last eight league games, including important braces against Bournemouth, Barnsley and Bolton.
In fact, the 23-year-old is yet to fail to score against a club whose name begins with the letter B this term.
5. Daniel Sturridge
Daniel Sturridge will have been as glad as anyone to see the return of Luis Suarez in September following the Uruguayan's 10-match ban, not least of which because it helps his own scoring form.
Continuing his sensational resurgence at Anfield, the Liverpool forward has scored six goals and two assists in seven Premier League outings so far this season, only failing to net in the 1-0 loss against Southampton.
Last week, the former Chelsea and Manchester City man also translated that form to the international scene, converting a penalty for England in their 4-1 routing of Montenegro.
4. Jackson Martinez
Currently one of the more versatile scoring talents in world football, Jackson Martinez clearly wasn't content with winning just one Liga Primeira Golden Boot award and is well on track to a second consecutive top scorer accolade.
Reliable as ever, the Colombian forward has taken his chances with sublime precision this term, scoring seven goals in as many league games for Porto.
What's more, the South American notched a delightful diving header against Atletico Madrid in the Champions League, although the Portuguese champions would eventually lose 2-1 against their Spanish counterparts.
Spreading the goal share fantastically across both feet and his head, Martinez has made himself one of the hardest strikers to read in Europe, and his tally is soaring as a result.
3. Lionel Messi
Reliable as ever, Lionel Messi is once again proving why he's widely regarded as the best player in the world, leading Barcelona from the front in their pursuit of back-to-back league titles.
Having missed two of Barca's La Liga fixtures, it's incredible that the Argentine has still managed to bag eight goals, not to mention three assists from the six league games he has featured in.
Add to that sum another hat-trick contribution against Ajax in the Champions League and the pint-sized playmaker-cum-poacher isn't leaving much mystery as to why he's so renowned.
2. Diego Costa
Having failed to score in just one of the eight La Liga matches he's played in this season, Diego Costa is a deserved leading scorer of the Spanish top flight right now, proving that there is life for Atletico Madrid post-Falcao.
The Brazilian-turned-Spaniard got his campaign off with a bang, netting twice in the 3-1 away win at Sevilla and not looking back since.
Altogether, Costa has scored a magnificent 10 goals for Atleti this term, linking up well with David Villa and Co. as well as giving Los Rojiblancos a substantial boost in their pursuit of breaking up Barcelona and Real Madrid's hold over the division.
As well as quantity, Costa has brought a distinct touch of quality to the fore too, showing that despite being quite a large specimen, his footwork is somewhat more dainty than his size might suggest.
1. Alfred Finnbogason
After grabbing 24 goals in 31 appearances for Heerenveen during the 2012/13 campaign, Alfred Finnbogason is looking to finish with an even more prolific record this time around.
In seven Eredivisie games, the Icelandic striker has already nabbed 10 goals and is yet to fail in finding the back of the net in any game he's played a part in.
The 24-year-old played a direct hand in all four goals that his side put past AZ Alkmaar on the opening day of the season and has helped hugely in making Heerenveen the strongest attacking unit in the Dutch top flight.
One can attribute nine points to the Dutch club as a result of Finnbogason's goals this term, and the forward will continue to play an essential part of whatever chance the side have of making a run towards the European places.
If that wasn't enough, Finnbogason also put Heerenveen through to the next round of the KNVB Beker, scoring two goals and making one assist in the 3-0 win over FC Twente.
Keep Reading