Remaining 2013 College Football Games That Will Be Must-See TV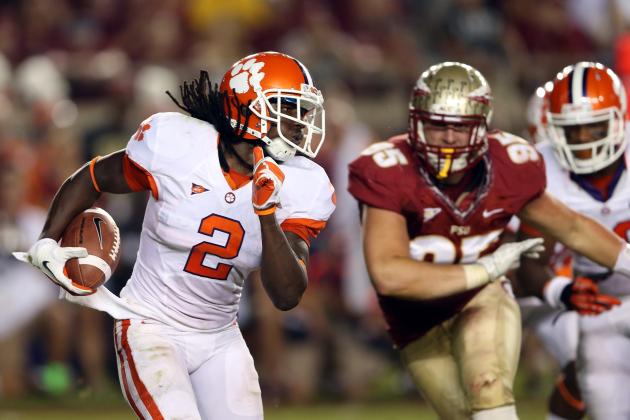 Streeter Lecka/Getty Images

College football's Week 8 will bring one of the most highly hyped matchups of the season when Florida State takes to Death Valley to do battle with Clemson in a Top Five struggle.
The skirmish between the Seminoles and the Tigers is a must-see game, but it is far from the last marquee matchup of the season.
The 'Noles and the Tigers will both be locked in tough rivalry battles after this game, as will a number of other BCS National Championship hopefuls.
Alabama, Oregon and Ohio State will all be tested by familiar foes before the season is up, as the remainder of the 2013 college football season promises some booming, technicolor fireworks.
Check this list and clear your schedules for the must-see games of the rest of the regular season.
Begin Slideshow

»
Tyler Smith/Getty Images

Date: Saturday, Oct. 19
Time: 8 p.m. EDT on ABC
There's only one sure-fire Top Five matchup left on the schedule, and it's a great one.
Freshman sensation Jameis Winston and Florida State will go to one of the best venues in college football, Death Valley, to take on Clemson and its star senior quarterback, Tajh Boyd.
While Winston and Boyd look to add to their Heisman Trophy resumes, much more will be on the line. The winner will not only take control of the ACC title race, but could also be on the fast track to the BCS title game.
Boyd and Winston rank at No. 1 and No. 2 in the conference in total offense and will present perhaps the best QB battle of the season.
The Seminoles and the Tigers also boast the two best offenses, as well as two of the better defenses in the league.
With ACC, Heisman and BCS hopes all on the line, this could end up as the game of the year.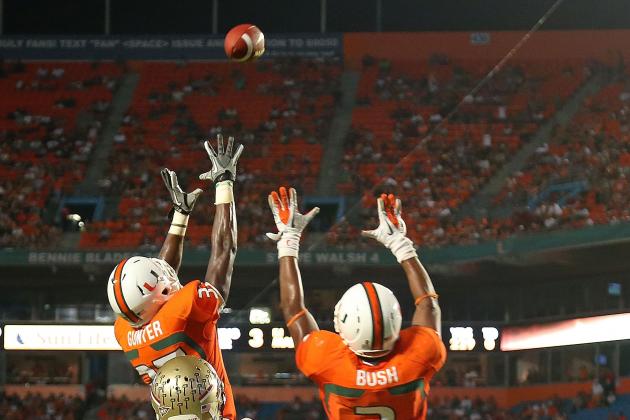 Mike Ehrmann/Getty Images

Date: Saturday, Nov. 2
Time: TBA
Regardless of what happens between Florida State and Clemson, the Seminoles will be slated in another huge clash with rival Miami.
Miami-FSU has always been one of the most closely contested rivalries in college football and has produced some of the most thrilling endings in college football history.
If FSU wins against Clemson, Miami would want nothing more than to knock its rival out of the BCS title picture in this game. The Hurricanes are one of the ACC's best teams, and this will likely be at least a battle of Top 10 teams.
The game also has its share of star power with Duke Johnson of Miami squaring off with Winston and Co. for Florida State.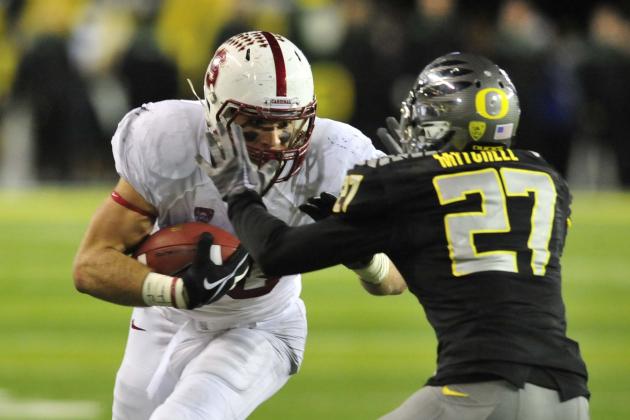 Steve Dykes/Getty Images

Date: Thursday, Nov. 7
Time: 9 p.m. EDT on ESPN
Stanford's recent loss to Utah soured what would have been arguably the biggest game of the regular season.
Oregon, if it makes it past UCLA as expected, will still be undefeated when it heads to Stanford. Last year when that happened, the Cardinal halted the Ducks offense and knocked them out of the BCS title game.
Even with its loss, Stanford is still capable of making that happen again.
However, the Ducks have looked almost unbeatable this season and, outside of last year, have had plenty of offensive successes against the stingy Stanford defense. UO eclipsed 50 points against the Cardinal in 2011 and 2010.
With revenge on their side, the Ducks could have the upper hand, but given how Stanford slowed their advance last year, the boys from Eugene will still be on upset alert.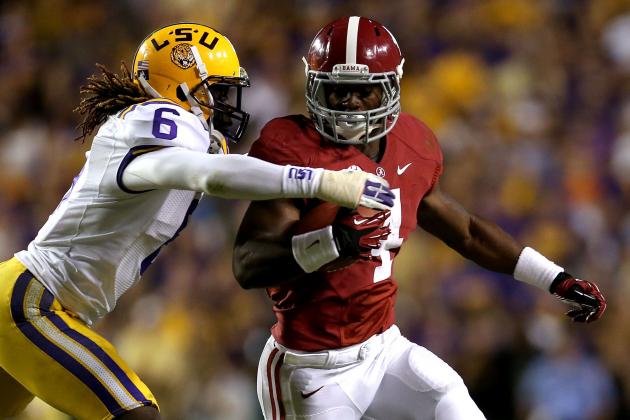 Matthew Stockman/Getty Images

Date: Saturday, Nov. 9
Time: TBA
This game really speaks for itself.
The last two regular-season battles between LSU and Alabama were nothing short of epic. Defense dominated the 2011 game, when the Tigers edged the Crimson Tide 9-6 in overtime.
The Tide then struck back with a dominating performance in the 2012 national title game. Then, during the 2012 regular season, LSU nearly returned the favor, but Tide quarterback AJ McCarron led a game-winning drive in the final minute for a thrilling 21-17 victory.
This time around, LSU will have another shot at possibly knocking 'Bama out of the national title game when the rivals meet in Tuscaloosa.
It's hard to argue that another rivalry has been better in the past few years than the one between LSU and Alabama.
This game will be no different.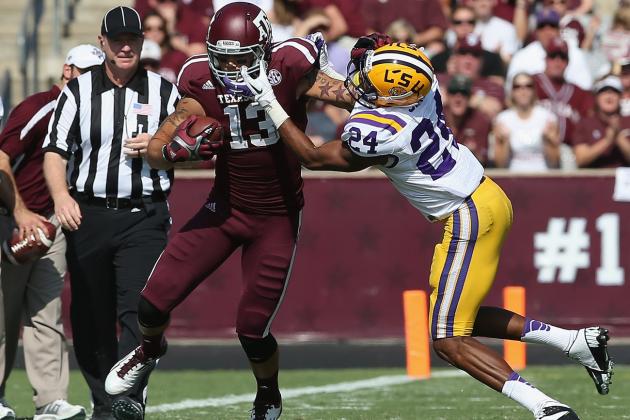 Ronald Martinez/Getty Images

Date: Saturday, Nov. 23
Time: TBA
Two weeks after LSU takes on Alabama, it will turn around and face Texas A&M.
If the Tigers beat the Tide, this game will be enormous. If they don't, it'll still be a huge matchup.
Two prolific offenses will take the stage in this one. Johnny Manziel, Mike Evans and Ben Malena will lead A&M, while LSU will be guided by Zach Mettenberger, Odell Beckham and Jeremy Hill.
The two will likely be playing for an at-large BCS bid so, if scoring is your thing, tune in for this contest.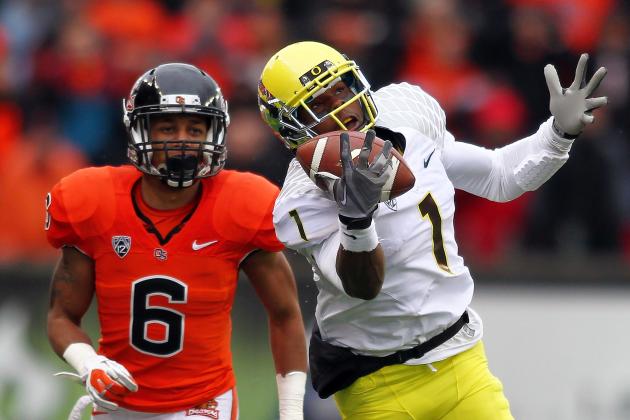 Jonathan Ferrey/Getty Images

Date: Friday, Nov. 29
Time: 7 p.m. EDT on Fox Sports 1
Speaking of scoring, there will be a lot of it when rivals Oregon State and Oregon square off.
UO boasts the No. 3 rushing offense in the nation while OSU ranks No. 1 in passing offense. Both rank in the top 15 nationally in scoring and total offense.
The "Civil War" is always a bitter rivalry, and the winner of this game has scored 30 or more points in each of the last 10 meetings. The Ducks have won the last five, a streak the Beavers will be hungry to snap.
Additionally, the Beavers could be playing to knock their rival out of the BCS title game. With Sean Mannion and Brandin Cooks of OSU running with Marcus Mariota and the UO offense, this game is sure to provide some fireworks.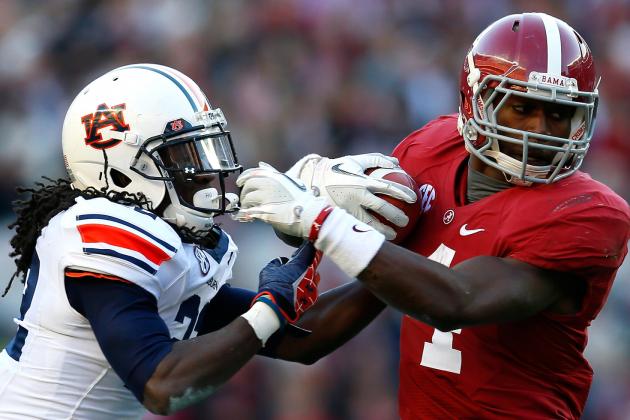 Kevin C. Cox/Getty Images

Date: Saturday, Nov. 30
Time: TBA
The Iron Bowl is another balanced and bitter rivalry.
Alabama embarrassed Auburn 49-0 last year, so the Tigers will be out for revenge.
AU should come into the game with much more confidence as it will actually be bowl eligible this year. Depending on how the Tigers finish the rest of their slate, the Tide could be heavily favored with another BCS title berth in their sights.
However, rivalry games like these are always unpredictable. If Auburn knocks Alabama out of a BCS title berth, head coach Gus Malzahn might have a statue in front of Jordan-Hare Stadium after just one year.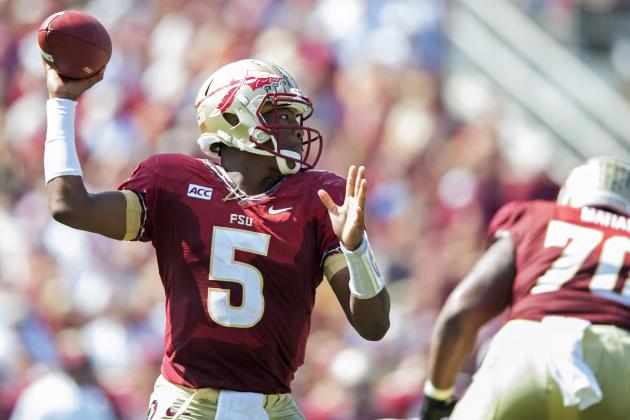 Jeff Gammons/Getty Images

Date: Saturday, Nov. 30
Time: TBA
If you haven't had enough rivalry action with BCS implications yet, here is another pair of games that could carry that at season's end.
Depending on the result from this weekend, Clemson or Florida State could be on its way to play for the national title in this final regular-season game.
However, it won't be easy for either as they'll both face rivals from the SEC.
The Tigers will be on the road against South Carolina while Florida will host the Seminoles and, depending on how the rest of the season goes, one of these two SEC clubs could represent the last line of defense keeping an ACC team away from a shot at the national title.
With cross-conference bragging rights on the line, both of these rivalries will be can't-miss conflicts.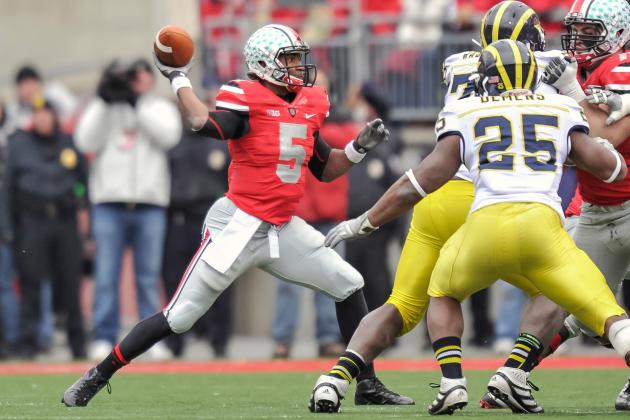 Jamie Sabau/Getty Images

Date: Saturday, Nov. 30
Time: TBA
Michigan's loss to Penn State took some of the luster away from this matchup, as it had the potential to be two undefeated teams battling in one of college football's most bitter rivalries.
However, even though the Wolverines fell, their duel with Ohio State could be a classic. Similar to final-week contests involving Alabama, Oregon, Clemson and Florida State, OSU could be on its way to the national title game, depending on how the BCS situation plays out.
It'll be an interesting quarterback matchup between Braxton Miller and Devin Gardner as well.
No matter what happens to UM for the rest of the season, knocking off the Buckeyes in this game would put a nice bow on the year.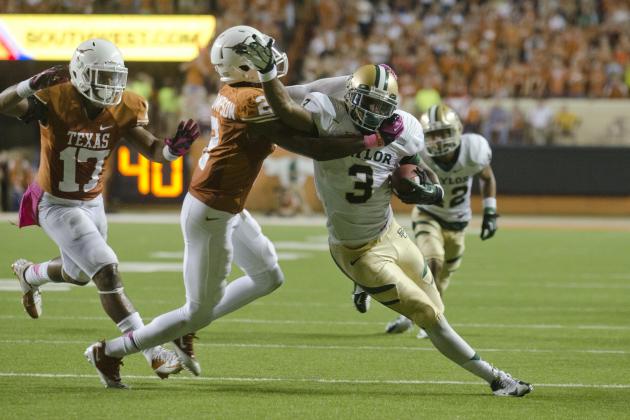 Brendan Maloney-USA TODAY Sports

Date: Saturday, Dec. 7
Time: TBA
This could be Texas head coach Mack Brown's final Big 12 game and, judging by how the Longhorns performed in (potentially) his final Red River Rivalry, this could be a thriller.
The UT upperclassmen would love nothing more than to send their coach out on top. Also, this contest could serve as the de facto Big 12 title game. Baylor and Texas are two of three teams still undefeated in league play.
The explosive Bears offense will be put to one final test in the regular season against the Horns' talented cornerback duo of Carrington Byndom and Quandre Diggs.
Meanwhile, BU running back Lache Seastrunk will have one last opportunity to add to his Heisman resume against a suspect UT rush defense.
The Big 12 is impossible to dissect this year, but this game is as close to a sure thing as possible in this league.