Golden State Warriors vs. Los Angeles Lakers: Live Score and Analysis for GSW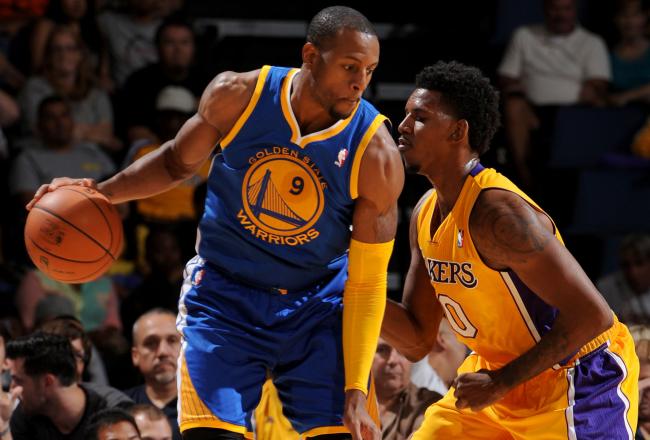 Noah Graham/Getty Images
The Golden State Warriors topped the Los Angeles Lakers 100-95 in preseason action at Beijing's MasterCard Center Tuesday.
David Lee paced the Warriors with 31 points, while Stephen Curry added 24 points and 7 assists. The Dubs collectively dished 24 assists to out-pace the shorthanded Lakers.
Stay dialed in to our post-game coverage as we bring you social media reaction, analysis and stats.
Warriors preseason outlook:
Following Tuesday's win in Beijing, the Warriors are trying to build toward a successful regular season, with an NBA title as a goal. Some quick notes:
Barnes "foot" injury is a toe injury
Prior to Tuesday, Harrison Barnes' injury had been referred to as foot inflammation, but we learned that it's specifically a toe injury. The Warriors need him to be a two-way contributor as soon as possible, whether it's starting or off the bench.
Dubs regain firepower
It had been a shaky preseason for the Warriors until they flexed their offensive muscle Tuesday. A healthy combination of interior work and perimeter scoring led to the 100-point outing.
We weren't really worried about the Warriors in training camp, but it's good to see them click before the regular season starts.
Aim to finish trip strong, make smooth transition back to U.S.
The trip to China is fun, but it's a long one (and it's not over, as the team heads to Shanghai later in the week). All the promotional events and long trip back could potentially drain the club and derail the remainder of their preseason.
It's Mark Jackson's job to ensure they do a lot of chemistry-building and resting as they finish the tour and come back to the States.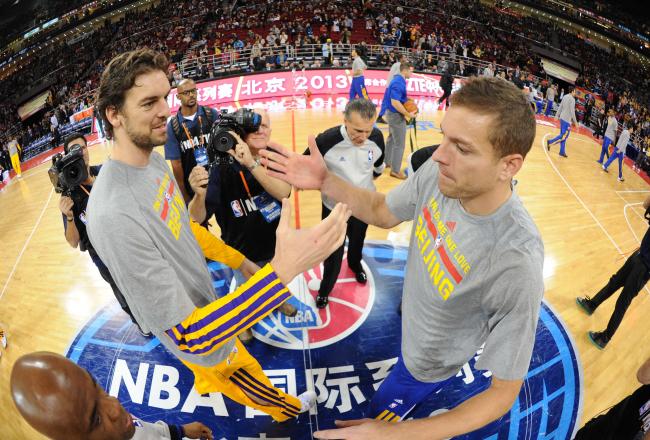 Up next for the Warriors is a rematch with the Lakers in Shanghai: Friday, Oct. 18, 7:30 a.m. EDT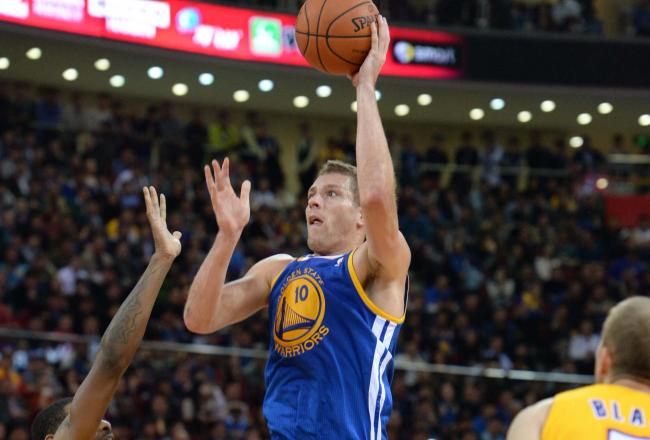 Key Takeaways:
-Golden State fed the big guys early, getting Bogut and Lee plenty of touches. Lee played physical and found his scoring touch in the first half, scoring 22 before the break.
-The Dubs defense was inconsistent during the first half, giving up too many open jumpers. The good news is it looks like its something they can adjust and correct quickly; the capability to defend is certainly there.
-It was a slow start for Stephen Curry, but Warriors fans were treated to a high-scoring second half from the playmaker. His hot fourth quarter sparked Golden State's comeback.
-Moving forward, Iguodala must become a more substantial contributor, especially if Harrison Barnes is ever sidelined like he was today.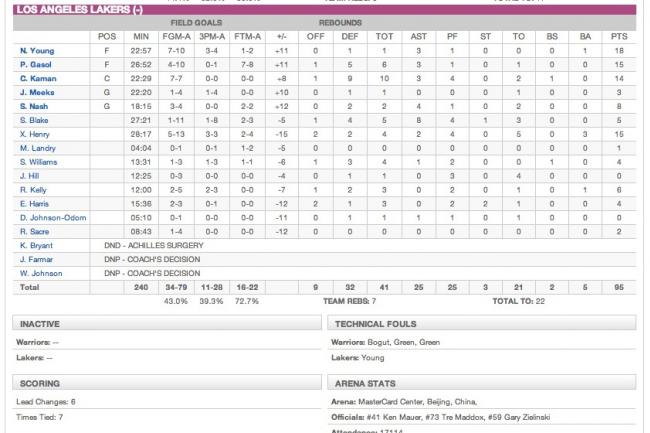 Lakers box score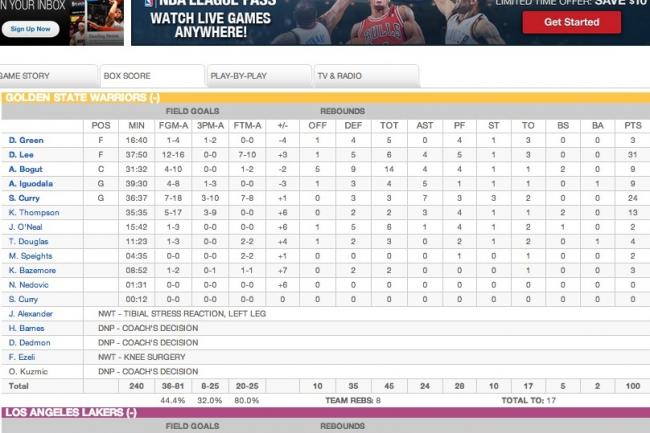 Warriors box score
Star Update:
David Lee: 31 points, 6 rebounds, 4 assists
Stephen Curry: 24 points, 7 assists
Klay Thompson: 13 points, 3 assists
Andre Iguodala: 9 points, 5 assists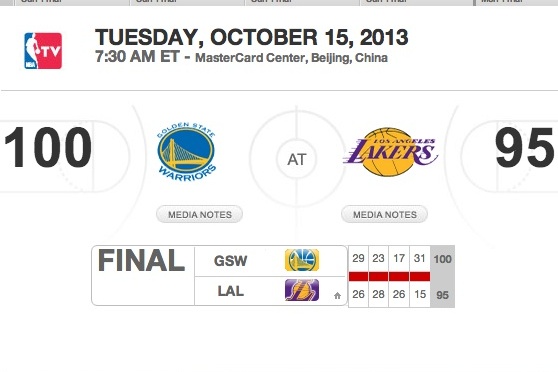 And that's a wrap from MasterCard Center in Beijing
Mark Jackson is obviously trying to get the Dubs' starters as many reps together as possible. Twitter is giving him some flack for it, but it could be worthwhile in the long term.
Meanwhile, the Warriors try to hold off the Lakers' benchwarmers comeback attempt.
Warriors 99, Lakers 95, 0:14 remaining in 4th quarter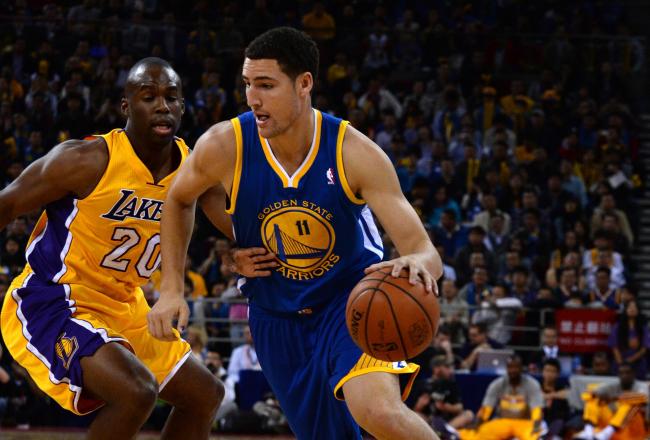 Golden State is at its best when Curry gets the defense off-balance and scrambling, and that's exactly what happened when he penetrated and gets the hockey assist to Thompson via Lee.
Warriors 97, Lakers 93, 1:43 remaining in 4th quarter
The relative sloppiness in this game can be quantified by the combined 37 turnovers between the two teams.
Neither club is in sharp regular-season form.
Did Iguodala just hit his forearm on the backboard on that alley-oop?

— Zach Harper (@talkhoops) October 15, 2013
Iggy using those springs.
Golden State is getting back to its early-game priorities, as they pound the ball inside to wear down the Lakers frontcourt.
Close-range buckets is the name of the game, whether it's easy fast break points or half-court post-ups.
Warriors 91, Lakers 88, 4:00 remaining in 4th quarter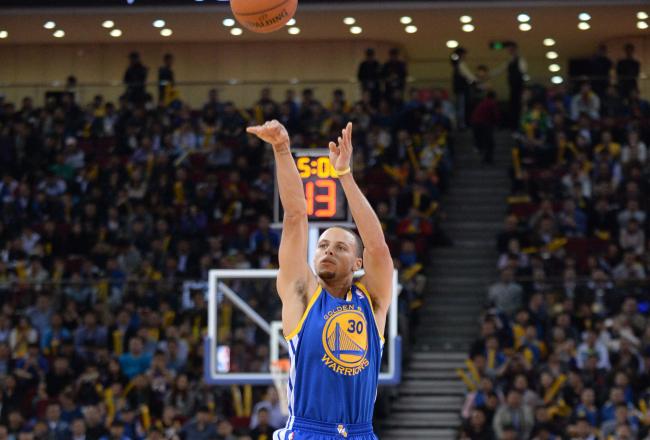 This is what can happen when Stephen Curry catches fire. The Dubs star has given Golden State the lead, as the Lakers reserves are having some trouble keeping tabs on him.
Warriors 87, Lakers 86, 5:38 remaining in 4th quarter
GSW has 4 starters on the floor, now within 3 points, LAL struggling to score w/every rotation player out. 7:25 to play.

— Mike Trudell (@LakersReporter) October 15, 2013
The comeback is on!
Golden State had a nice little fast break, with Curry finding Lee rim-running. Kent Bazemore follows it up with an aggressive take to the rim.
In the regular season, the Dubs need more of those calculated attacks, especially against a defensively vulnerable team like the Lakers.
Lakers 84, Warriors 81, 7:30 remaining in 4th quarter
As Serbian Nemanja Nedovic enters the game, it will be interesting to see how he collaborates with Stephen Curry.
Curry is looking to get his scoring touch back, catching the Lakers' D off guard with a drive to the tin, drawing a foul.
Why are Curry and Thompson still in? Maybe Mark Jackson wants both to break rare shooting slumps (both are 4 of 14).

— Mike Trudell (@LakersReporter) October 15, 2013
The Splash Brothers remain in action.
Both teams looking in sloppy preseason form to start the fourth. Iguodala, Green and Douglas falling all over the place.
Curry should try to slow things down, and get the Dubs offense to work hard for a crisp set.
Lakers 80, Warriors 72, 10:25 remaining in 4th quarter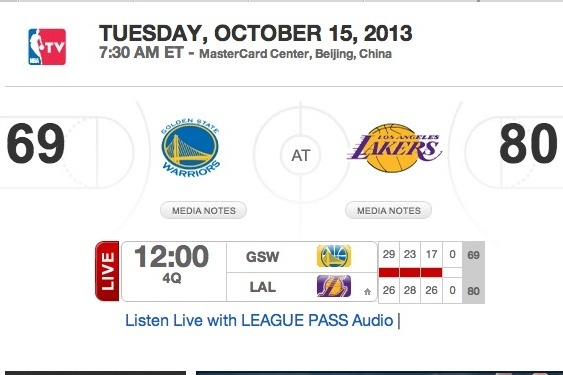 Through three quarters, the Lakers lead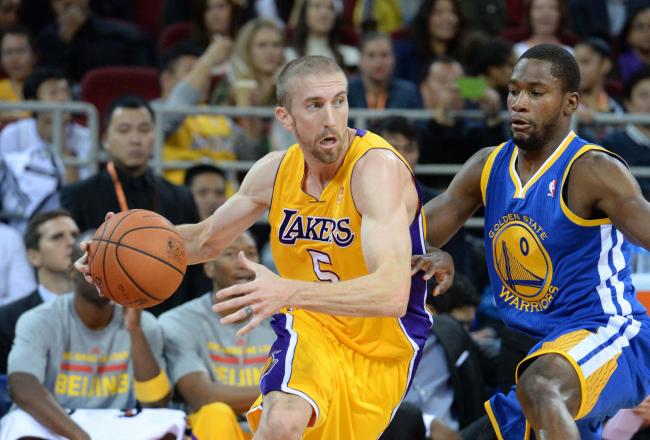 I can't speak as highly of the perimeter rotations, as Golden State surrenders another swing-pass triple.
Lakers 80, Warriors 69, 0:26 remaining in 3rd quarter
The Dubs played some stout pick-and-roll defense. Even though a foul was called, it's a good sign, hopefully something they can sustain this season.
Lakers 77, Warriors 67, 2:19 remaining in 3rd quarter
Toney Douglas runs the point like he's being hounded by an invisible Toney Douglas.

— Ethan Strauss (@SherwoodStrauss) October 15, 2013
Ethan Sherwood Strauss notes Toney Douglas' helter-skelter play.
Iguodala finally getting assertive on both ends of the floor, as he drives right through the heart of the Lakers' D for a deuce.
His presence is critical to a Golden State comeback.
Lakers 73, Warriors 67, 3:36 remaining in 3rd quarter
This article is
What is the duplicate article?
Why is this article offensive?
Where is this article plagiarized from?
Why is this article poorly edited?

Golden State Warriors: Like this team?