SEC Football 2013 Week 8 Simulation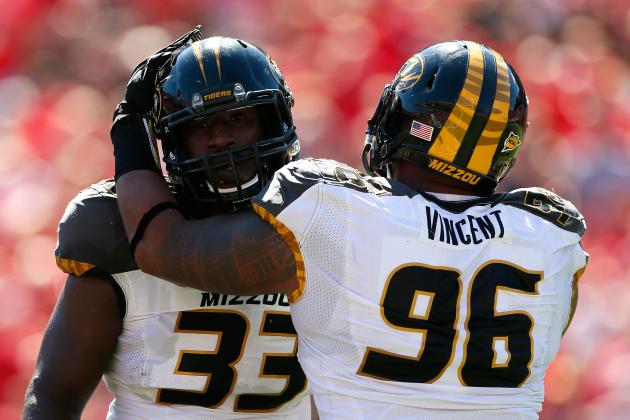 Kevin C. Cox/Getty Images

James Franklin's trip to Athens was bittersweet, to say the least. He led his team to a resounding 41-26 victory between the hedges as the Tigers took full control of the SEC East. He, however, left the game in the second half with a separated shoulder and he's expected to miss the majority of the season's remainder.
With Missouri's win, the SEC East's power is further west than its ever been. The question, of course, is can it remain there with Franklin out and games against Florida and South Carolina coming up?
This week I managed to pull back even with the computer against the spread, both of us exactly at .500. I'm still dominating in picks after a 6-1 week, holding a .875 percentage, despite the computer's correct choice of Missouri's upset in Athens.
This coming week promises to have huge implications for the national picture. Let's get to picking.
---
| | | |
| --- | --- | --- |
| | This Week | Overall |
| EA Straight-Up | 6-1 | 47-17 |
| Me Straight-Up | 6-1 | 56-8 |
| | | |
| EA vs. Spread | 3-4 | 32-32 |
| Me vs. Spread | 4-3 | 32-32 |
Begin Slideshow

»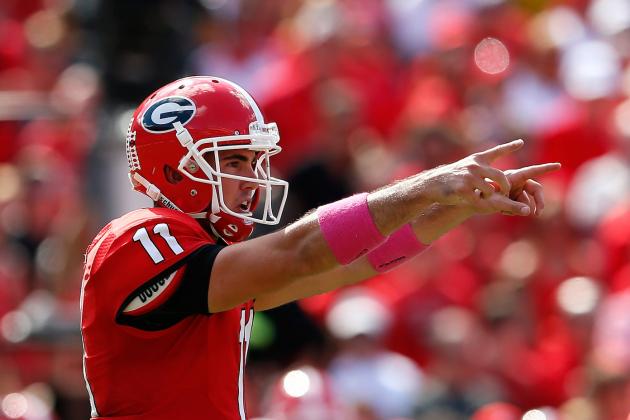 Kevin C. Cox/Getty Images

After losing by two scores at home this past weekend, the computer thinks the 'Dawgs head for Nashville a bit rattled.
Aaron Murray leads two consecutive scoring drives in the first quarter, each capped by passing touchdowns, to push the Bulldogs ahead by 14. The Commodores respond with a rushing touchdown and a 30-yard passing score from Austyn Carta-Samuels to tie the game in the second. A 69-yard bomb two minutes before halftime gives UGA the 21-14 lead at halftime.
Each team gives up a single touchdown in the second half and the Bulldogs escape with the victory.
Murray is picked off twice and still manages 350 yards of offense on 22-of-37 passing for four scores. Carta-Samuels is a bit more conservative, scoring once on 11-of-26 passing and 175 yards.
In the real world, Todd Gurley isn't playing until further notice due to injury, but in this one the computer calls for 131 yards on 20 attempts. Arthur Lynch, the underused Georgia tight end, catches 10 for 122 yards. Vandy's Wesley Tate records 96 on 13 rushes.
This game will say a lot. Were UGA's struggles truly due to injuries, is Missouri that talented, or something in between? A Vanderbilt win wouldn't shock me.
---
EA PICKS: Georgia to win, Vanderbilt (+8)
MY PICKS: Georgia to win, Vanderbilt (+8)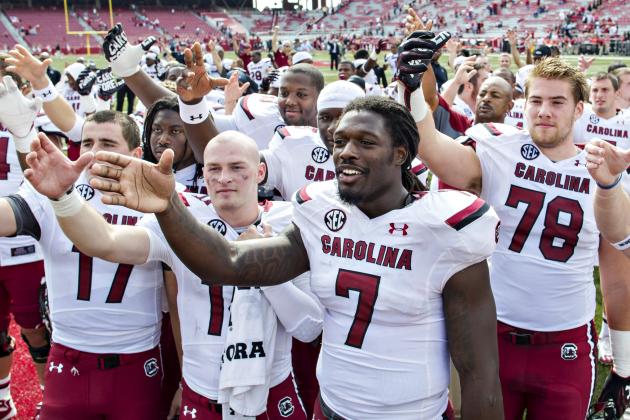 Wesley Hitt/Getty Images

South Carolina's romping in Fayetteville was surprising. At least to those of you who don't read my blog.
Tennessee, though, could be a different matter.
The Gamecocks are thrown for a loop early on, with two Nate Peterman touchdowns coupled with a 38-yard pick six from Eric Gordon handing the Vols an early 21-0 lead over SEC East-leading USC.
Connor Shaw lights a fire unlike has been seen this season and storms out to four (yes, four) touchdown drives in the second quarter alone, putting the 'Cocks up 28-21 at halftime.
After trading a couple of touchdowns, Tennessee's Rajion Neal puts it into the end zone and puts UT ahead 38-35 with 10:06 left in the game. Shaw saves Steve Spurrier's season with a 27-yard touchdown pass with 5:52 to finish off the win.
Despite the 80 combined points, neither team managed 400 yards and were helped by six combined turnovers.
The computer has Justin Worley injured, so the Vols rely heavily on their run game. Peterman only passes nine times, connecting on four of them for two touchdowns. Neal misses triple digits by one yard on 17 attempts and a score.
Shaw has a huge game for South Carolina, scoring six total touchdowns, including four through the air for 244 yards on 17-of-32 passing. Shaw also notched 80 yards on the ground on 15 attempts. After scrolling down a bit, I found Jadeveon Clowney's two total tackles.
This is similar to how I see this game. Competitive and high-scoring.
---
EA PICKS: South Carolina to win, Tennessee (+7.5)
MY PICKS: South Carolina to win, Tennessee (+7.5)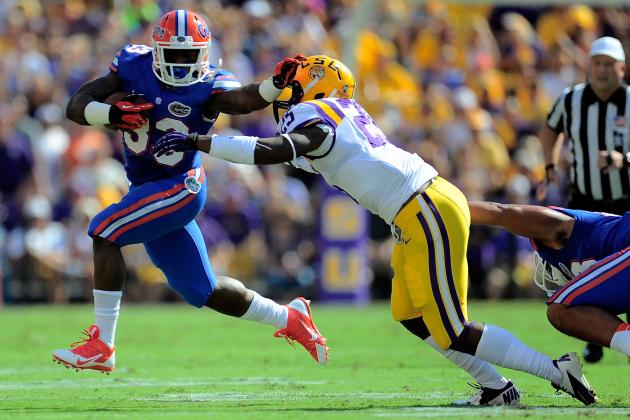 Stacy Revere/Getty Images

Can the Florida LOLfense truly take control of the SEC East with a win in Columbia?
The game has no idea James Franklin is injured, which is the weird part. Franklin leads a touchdown drive in the first quarter and Mizzou leads 7-0 after one.
The wheels then promptly fall off. Jeff Driskel leads four-straight touchdown drives, complemented by a 33-yard field goal, and Florida leads 24-7 at halftime. The game is never within reach after that point.
Florida's outstanding defense holds Mizzou's potent offense to 242 yards and the so-called LOLfense doesn't turn the ball over once, putting up 418 yards of its own. I'm calling bull.
Driskel only manages 147 yards on 11-of-29 passing, but does rush for four scores and 75 yards on 13 carries. Missouri's Darvin Roise records 13 tackles, one of those for loss.
This is one of the most difficult to predict games all season. A completely unpredictable and volatile Florida offense and a missing Franklin. Mizzou's defense will be the key to this game.
---
EA PICKS: Florida to win, Florida (-3)
MY PICKS: Missouri to win, Missouri (+3)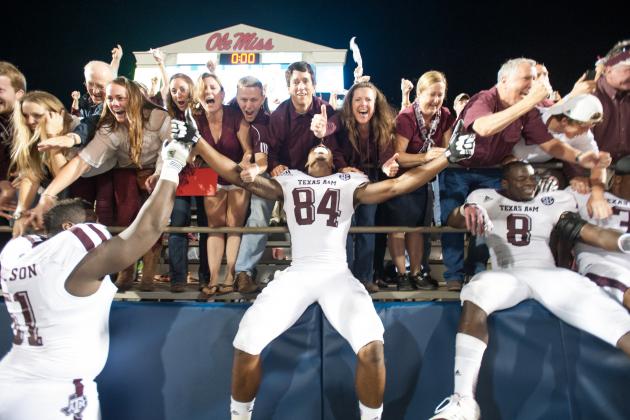 Michael Chang/Getty Images

Texas A&M is one close loss to top-ranked and undefeated Alabama away from a perfect season and number one ranking. People forget that, I think.
Johnny Manziel and Mike Evans on one side, Gus Malzahn on the other. Yes, this game sounds like offense.
This game is never truly in question, as A&M scores the first two touchdowns and Auburn is never able to pull the lead to within a score. Both teams put up over 400 yards of offense, with Manziel accounting for 217 of those for TAMU, including three scores, on 11-of-21 passing.
Auburn's Jonathan Wallace for 19-for-32 for 221 yards and three touchdowns but gives the ball up twice. Tre Mason rushes for 158 yards on 21 carries and a score.
These teams have similar concepts, but the Aggies have more talent.
---
EA PICKS: Texas A&M to win, Texas A&M (-14)
MY PICKS: Texas A&M to win, Auburn (+14)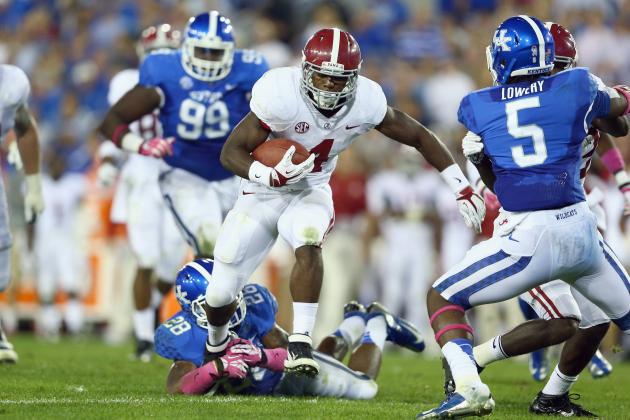 Andy Lyons/Getty Images

Alabama's soft conference schedule continues, as the completely overmatched Razorbacks enter Tuscaloosa with no confusion as to their fate.
After a quarter, the score is surprisingly tied. That doesn't last long, as 'Bama scores three touchdowns in the second to waltz to yet another victory.
Alabama puts up 435 yards, allows 326, and forces three turnovers. AJ McCarron leaves early after an injury, and Blake Sims puts up 223 yards and a score on 14-of-29 passing with a turnover. TJ Yeldon averages 7.8 yards per carry on his way to 110 yards, and Amare Cooper records 126 yards on 10 receptions.
The numbers for the 'Backs look slightly less impressive. Brandon Mitchell (remember, the computer has no Brandon Allen as the starting QB) goes 10-for-15 for 119 yards and a score and no other player put up over 100 yards.
Very, very few teams win in Tuscaloosa. Arkansas will not be one of them.
---
EA PICKS: Alabama to win, Arkansas (+28.5)
MY PICKS: Alabama to win, Alabama (-28.5)
Stacy Revere/Getty Images

EA is not a huge fan of LSU. According to the computer, this win puts the Tigers at 3-5 on the year.
In real life, LSU is a legitimate national championship contender, with its only loss a close one in Athens.
After a Zach Mettenberger 26-yard bomb and a fumble recovery for a touchdown, the Tigers lead 14-7 after a quarter. The Rebels' offense picks up some steam and scores three-straight in the second, though, to put hope in Oxford as Ole Miss leads 28-14 at halftime.
The Rebs wouldn't find the end zone until garbage time in the fourth quarter, however, and the Tigers' offense marched on to win the game.
Mettenberger has become an all-star, and this game is no difference. He connects on five touchdowns through the air to just one interception, passing for 215 yards on 14-of-25 accuracy. Jeremy Hill has also evolved into a major component of the offense, and he rushes 17 times for 92 yards against Ole Miss.
Bo Wallace hits on 17-of-36 passes for 262 yards and three touchdowns, but gives the ball up twice. I'tavius Mathers rushes 25 itmes for 128 yards and Vince Sanders is targeted five times for 117 yards.
LSU's shift to offense has been a bit strange. With Hugh Freeze's schemes, this game should include its share of points.
---
EA PICKS: LSU to win, LSU (-8)
MY PICKS: LSU to win, LSU (-8)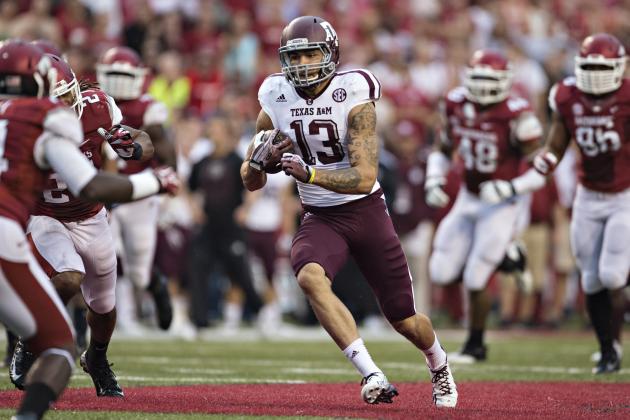 Wesley Hitt/Getty Images

Several teams with big goals have some solid obstacles to overcome this week.
South Carolina's trip to Knoxville could be a bumpy one. Ole Miss is no pushover and could put pressure on LSU's lacking defense. Vanderbilt is improved and Georgia is struggling with injuries.
The star of the show will be Florida's trip to Columbia, though. The winner of that game will have a major advantage for the SEC East title heading into the latter half of the season.
The computer and I differ on the Florida/Missouri matchup. Let's see if brains or silicon gets it right.
Follow me on Twitter @SEC_Nerd.