The NFL trade deadline usually consists of a few small deals, but there is a feeling around the 2013 edition of the date (Oct. 29) that at least one more huge name could be dealt.
With the Cleveland Browns trading away running back Trent Richardson earlier this season for a first-round pick, there are rumors that claim another deal of a similar magnitude could go down.
All stats and information via NFL.com and ESPN.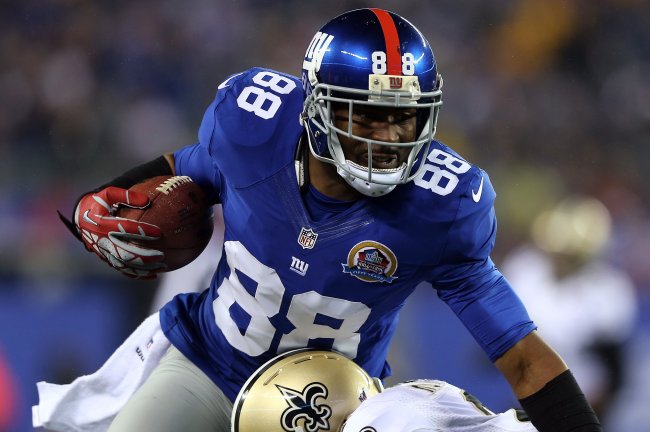 Elsa/Getty Images
Hakeem Nicks, WR, New York Giants
The New York Giants have started the season 0-6, and the chances of making a postseason run are all but over. With the franchise already looking to 2014, trading away potential free agents or overpaid players for picks before the deadline is the smart move.
That's where wide receiver Hakeem Nicks fits. According to Jason La Canfora of CBSSports, teams are beginning to gauge the interest in a possible trade for the wideout and how much the Giants will be asking in return:
Teams view Nicks as the best option available and with the Giants in a freefall, big changes possibly on the way there, and Nicks a potential unrestricted free agent at the end of the season, other general managers want to hear for themselves just how amenable to a trade Giants GM Jerry Reese might be. Several GMs contacted believed the Giants could get at least a third-round pick for Nicks, even if he is just a late-season "rental" who then hits the open market in March.
Nicks has been very inconsistent this season for New York (25 receptions for 442 yards and zero touchdowns), but the entire offense has struggled. With offensive line woes causing QB Eli Manning to play poorly, there will be teams that feel Nicks is a better fit for their franchise.
If contending teams desperate for receiver help like the New England Patriots or Green Bay Packers are willing to part with a late-round pick, Nicks could be dealt in another blockbuster before the trade deadline.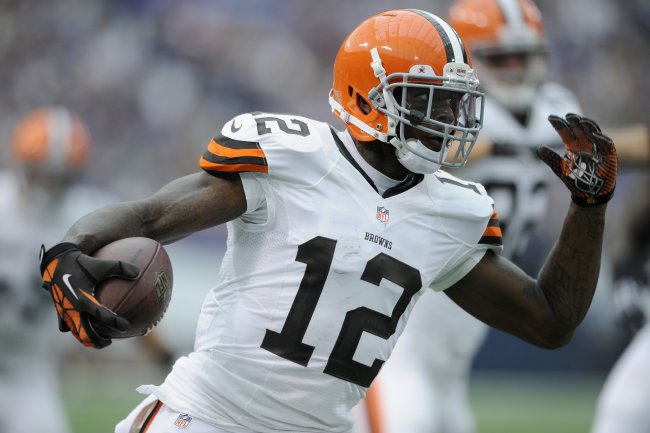 Hannah Foslien/Getty Images
Josh Gordon, WR, Cleveland Browns
There are mixed messages coming from the Cleveland Browns camp about the availability of wide receiver Josh Gordon, but with the Richardson trade and the original report from Adam Schefter of ESPN about Gordon being on the block, there is always a chance this trade could happen:
Cleveland fielding offers for and open to trading WRs Josh Gordon and Greg Little. At least one team has made a quality offer for Gordon.

— Adam Schefter (@AdamSchefter) September 22, 2013
Schefter reported that the San Francisco 49ers inquired about Gordon but likely wouldn't make the deal. While the ESPN analyst has remained adamant that the team was shopping Gordon, Browns head coach Rob Chudzinski told Mary Kay Cabot of the Cleveland Plain Dealer that the franchise has no interest in moving the receiver:
Browns-49ers have discussed trade for WR Josh Gordon. Deal unlikely with Mario Manningham coming off PUP, Crabtree slated to return in Nov.

— Adam Schefter (@AdamSchefter) October 7, 2013
#Browns Chud re-iterated: "We're not shopping Josh (Gordon) and we have no plans of trading Josh.''

— Mary Kay Cabot (@MaryKayCabot) October 9, 2013
Gordon was suspended for the first two games of the season, but he has returned to the field in elite shape and hasn't missed a beat. While many thought his numbers would take a hit with Brandon Weeden under center, his 25 receptions for 429 yards and two touchdowns in four games makes him one of the best in the league this season.
While Cleveland would undoubtedly want to keep Gordon on the roster, the right deal would force the Browns to pull the trigger on a trade just as they did with Richardson.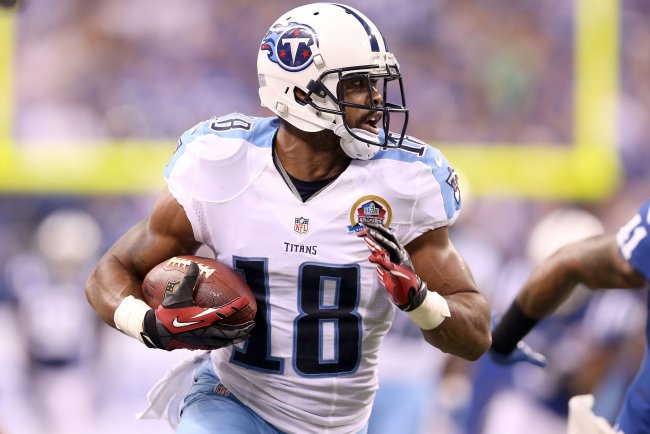 Andy Lyons/Getty Images
Kenny Britt, WR, Tennessee Titans
One of the players most likely to be dealt before the deadline is Tennessee Titans wide receiver Kenny Britt. According to La Canfora, the Titans are looking to deal Britt for a third-round pick or a package of picks:
The Titans have talked to several NFL teams regarding struggling receiver Kenny Britt, according to sources with knowledge of the situation, but have been attempting to get a third-round pick for him, or a combination of picks equal to a third rounder. Other clubs have found that price to be high, sources said, with them viewing Britt, given his off-field issues, expiring contract and lack of any recent production as valued more like a fifth-round pick.
Britt only played on two snaps in Sunday's game against the Seattle Seahawks, and it is clear that Tennessee has phased him out of the offensive game plan. With teams now waiting for Britt to possibly be cut, the Titans would be lucky to get any trade offers at all.
If a franchise thinks it has the ability to get the most out of Britt, making the deal for a late-round pick may be the kind of risk/reward trade that pays off down the road. The receiver has the physical tools to be a star, but he needs guidance and a new team.