The Top Five Plays Jaguar Fan's Can Live Without in 2009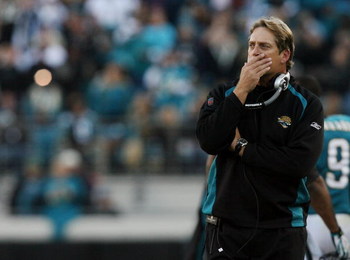 "What kind of play call was that Del Rio?! Even I can do better then that!"
Sound familiar? If you are a fan of the Jacksonville Jaguars and attended any of their home games last year, I'm sure that you have heard that expression stated more then once.
Last year, Jaguar fans who were used to the big play, sure scoring, offensive drives of 2007, were left wondering, where did that offense go?
Jack Del Rio watched his Jacksonville Jaguar offense drop from 7th in offensive production in 2007 to a dismal 20th in 2008. A lot of that might have been due to five play calls that I think Jaguar fans would love to never see return.
So grab your shovel and I'll grab the tombstone because it's time to put these plays to rest.
Number 5: The Third Quarter Onside Kick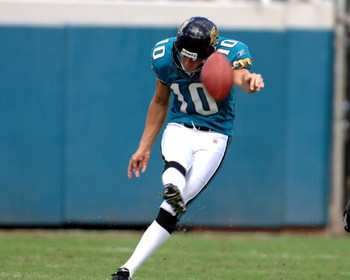 Nothing says "We give up." more then a desperate third quarter onside kick. As tricky as it may appear, the Jaguars almost became predictable in running special team trick plays.
Hey here's an out-of-the-box thought. Why not kick it deep and try to win the game of field position? Unless, that is, you don't think your defense can stop anyone. Well after putting it that way, scratch this slide. Bring on the onside.
Number 4: Going for it on Fourth Down on the Wrong Side of the Fifty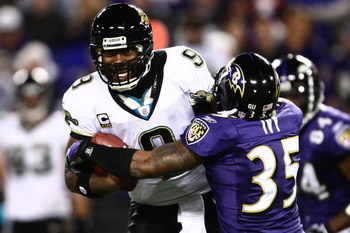 Despite being 14 for 24 with a 58.3 percent conversion rate on fourth down, the Jaguars told their defense with every fourth down attempt "We don't believe in you."
What a stark contrast with the attitude in 2007 when Jack Del Rio couldn't wait to get his mauling defense on the field and allow them to make a big play.
Of course, I'm not saying there is anything wrong with being aggressive and occasionally going for it on fourth down, however, when you are on your opponents 45 yard line and its fourth and 3, it might be a good time to punt the ball. I know that sounds crazy, but I think outside the lines. (Note the sarcasm.)
Number 3: The End-Around to the Slowest Wide Receiver on the Team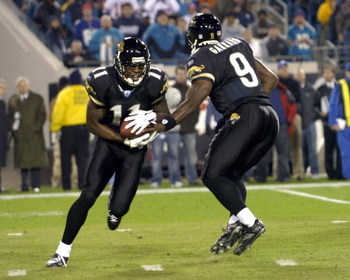 Troy Williamson, though being considered by most to be a complete NFL bust, ran a 4.38 at the combine when entering the 2005 NFL draft.
For a guy with questionable hands, you would think that the Jaguars who traded a 7th round pick for the former first rounder, would try to get the ball in his hands without the possibility of him dropping it.
A perfect wide receiver to run reverses, end-arounds and direct snaps, the fans just knew that the Jaguars would use this new speedy wide receiver in the backfield.
But the Jaguars opted to leave Williamson and his speed on the bench during the 13-6 loss to the Eagles and for some reason thought, "Hey, lets hand the ball off to arguably the slowest wide receiver on the team!" After the fumble, the pick up, and then the tackle for a 7 yard loss, it was apparent that they may have picked the wrong guy to run that play. Didn't see that coming.
Number 2: The Fade to the Back of the Endzone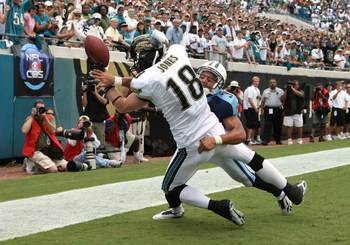 With wide receivers and tight ends on the team standing 6'6, 6'4, 6'6, and 6'8, the Jaguars looked primed to be one of the most dangerous teams in the red zone.
With popular receivers like Moss, Fitzgerald, and Harrison, being virtually unstoppable when running a fade route to the back of the end zone, Jack Del Rio tried desperately to add this play to his own team's red zone rotation.
With less then Moss-like or Fitzgerald-esque results, no one knew whether to blame the receivers running the routes, or the quarterback throwing the ball.
Bottom line, if your 6'6 wide receiver can't manage to bring down an end zone fade route completion over a 5'9 corner, it might be time to scratch that play out of the playbook.
Number 1: The Third and Nine Operation Butt Crack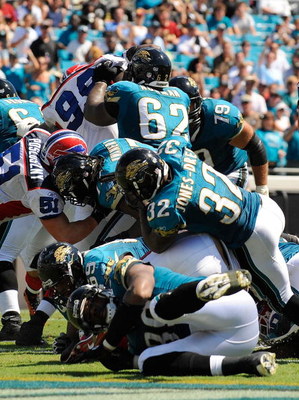 We've finally made it. The number one play Jacksonville Jaguar fans hope not to see come the first week of September 2009.
Operation Butt Crack.
What is Operation Butt Crack you may ask? Well let me set up the play call for you.
Its third down with nine yards to go. The ball is on the 48 yard line. The Jaguars need a first down to stay in this game.
As the team lines up, you notice that they are in an I-formation double tight-end set. You naturally think, "Ah. Play action. This is going to work."
However you notice that it is not play action at all. As a matter of fact, Garrard just handed the ball to Maurice Jones-Drew. And wait . . . He is shoving his face directly into Brad Meester's butt crack!
How could this be? It was third and nine for goodness sake? Where is the passing game? You realize it must be the wrong play call . . . Until they run the exact same play on the next third down call, and the next, and then on fourth and four.
Do you have any plays that you would like the Jaguars to stop running this year? Chime in. I'd love to hear your thoughts.
Keep Reading

Jacksonville Jaguars: Like this team?