Marquez vs. Bradley: Dinamita Hurts Reputation with Post-Fight Excuses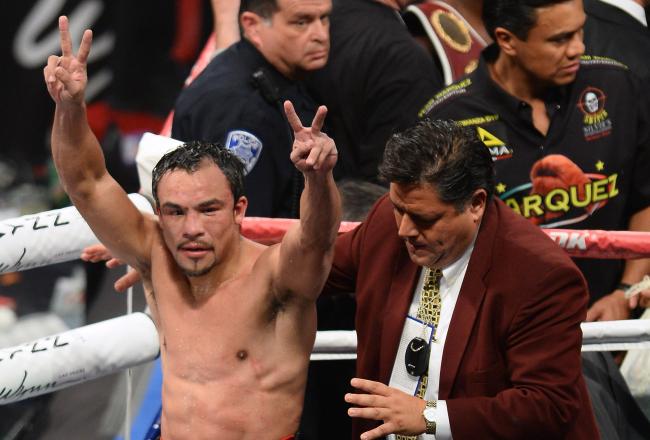 Ethan Miller/Getty Images
Perhaps Juan Manuel Marquez has developed a complex since his controversial loss via majority decision to Manny Pacquiao in November 2011.
One thing's for sure, though: He's not doing himself any favors by playing the victim card after his loss to Timothy Bradley Jr. on Saturday.
Marquez, who lost via split decision in Las Vegas, said after the bout, via Ryan Maquinana of the Guardian: "To be here in Vegas, I need to knock the person out to get a victory. Unfortunately, I need to be scared of the judges more than my opponent."
For most of Marquez's career, he's not only been a tremendous boxer, he's also been a very respectable person outside of the ring. That's what made his comments after the loss to Bradley on Saturday so perplexing—not to mention disappointing.
Marquez has been around long enough to know when he has won or lost a fight.
He clearly lost against Bradley on Saturday, and he knows it. But instead of taking one on the chin and accepting his fate, he allowed his trainer to join in on the excuse party.
Nacho Beristain projected, via the Guardian report:
Not only is (Bradley) a good fighter, he's lucky. He's the only undefeated fighter with two losses. His trainer (Joel Díaz) is my friend...He's very young with a bright future. But tonight, we won, and in his heart, he knows it.
Dan Rafael of ESPN.com countered:
If Duane Ford said that Bradley gave Marquez a #boxing lesson he would actually have been right. #BradleyMarquez

— Dan Rafael (@danrafaelespn) October 13, 2013
Marquez and Beristain's comments were not only wrong, they were downright disrespectful. Apparently, when the world is on his side (i.e. the controversial loss to Pacquiao), Marquez plays the part of the honorable boxer brimming with character, but when the world knows he's lost, he plays the victim.
Marquez's comments after the fight won't change my opinion of him as a fighter. After all, it wasn't that bad of a loss when you consider he's 40 years old.
But his character took a hit in my book, and losing character in boxing is a good way to truly turn the world against you.
Well, at least he has four fans, via Fight Score Collector:
@BoxingAsylum Thanks for you score for the Bradley-Marquez fight. Only 4 of 88 Press members scored for Marquez.. http://t.co/mC6yoPwuCD

— fightscorecollector (@thefightscore) October 14, 2013
Who do you think won Saturday's fight?
There will still be those who say Marquez was robbed again, but those people are a) wrong and b) blinded. Marquez has been so respectable throughout his boxing career that it's hard to even imagine him doing or saying anything wrong.
But Marquez was clearly in the wrong after the fight on Saturday.
It's too bad that he felt like he had something to prove because he didn't. He only made things worse for himself as his career winds down.
This article is
What is the duplicate article?
Why is this article offensive?
Where is this article plagiarized from?
Why is this article poorly edited?