If the Nebraska football team needed a recruiting boost, it has inadvertently received one.
The Huskers announced Monday morning that the 2016-17 home-and-home matchup with the Tennessee Vols has been rescheduled for a decade later. Instead, the Oregon Ducks have replaced the open slot.
Nebraska Director of Athletics Shawn Eichorst commented on the scheduling update in an official university statement.
This is a win-win scenario. The University of Tennessee asked for scheduling relief, and we were able to add the University of Oregon, a perennial top-25 program, to our non-conference schedule as we roll into the College Football Playoff era. This should be a great series, not only for our football programs, but for the tremendous fans of both schools.
The Ducks will travel to Lincoln, Neb. on Sept. 17, 2016, followed by the Huskers traveling to Eugene, Ore. on Sept. 9, 2017.
Reaction to the news spread across Twitter quickly. Many wondered about the potential benefits of Nebraska playing Oregon over two years.
One of the biggest potential benefits is how this matchup could affect the Huskers' recruiting.
In 2016, Nebraska welcomes Purdue, Minnesota and Maryland to Memorial Stadium. To say the home schedule needed a little something extra would be an understatement.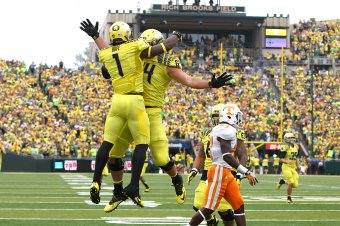 Jonathan Ferrey/Getty Images
Oregon brings national attention. The Ducks have quickly become one of the top programs in college football over the last decade.
From their extensive uniform collection to their impressive season records, the Ducks have captured the attention of recruits everywhere.
In fact, Oregon recently unveiled a new recruiting website that is nothing short of awesome. They captivate young high school players who watch them weekly on national television.
Bringing that attention to Lincoln, Neb. does nothing but benefit the Huskers.
Nebraska head coach Bo Pelini can use this matchup as a way to get in front of recruits that may have otherwise looked past the Huskers. Players previously unaware of Nebraska will have the opportunity to see the team in action. It could just sway some opinions, too.
How do you feel about Nebraska scheduling a home-and-home with Oregon?
Since Nebraska's home schedule is a little bland otherwise, bringing top recruits to town to see the Huskers face the Ducks will be exciting.
The environment will be electric, as the Huskers get the first game at home. Adidas will also likely roll out a new alternative uniform for Nebraska to draw more attention.
If the Huskers are able to keep the game close or win outright, it could bring a lot of momentum to recruiting. Will Nebraska be able to be victorious in these home-to-home games?
It's difficult to know what to expect a few years out. However, Nebraska will have experience on its side. Both quarterbacks Tommy Armstrong and Johnny Stanton will be seniors then, as well as the Nebraska defense. That's a positive aspect that cannot be ignored when viewing the potential of this matchup.
Fans will look at all angles of what these games with Oregon will do for the Huskers. The most important part will really fall to recruiting. If all goes well, it should provide the boost Nebraska recruiting needs.
A trip to Knoxville, Tenn. may have been nice. A visit from the Oregon Ducks is a much bigger benefit for the Huskers.