Boston Red Sox vs. Detroit Tigers: Game-by-Game Predictions for Detroit Matchups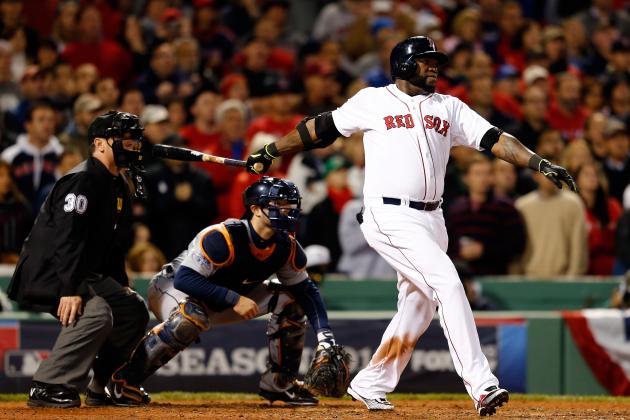 Jim Rogash/Getty Images

The Red Sox looked to be on their way to an 0-2 deficit in the ALCS when their bats suddenly came to life on Sunday night, as a grand slam by David Ortiz in the bottom of the eighth tied things up at 5-5 and a walk-off single from Jarrod Saltalamacchia knotted the series up at 1-1.
That came after the Red Sox mustered just one hit against Anibal Sanchez and the Tigers bullpen in Game 1, and were then no-hit for 5.2 innings by Max Scherzer in Game 2, as the top offense in baseball during the regular season had been silenced heading into that eighth inning.
Now, as the series shifts to Detroit, the pivotal Game 3 will take place on Tuesday afternoon with John Lackey taking the ball for the Red Sox and the red hot Justin Verlander going for Detroit.
What follows is a breakdown of the three games that will take place in Detroit, with complete predictions ranging from the final score, to each team's pitching lines and on to notable offensive contributors for each.
Begin Slideshow

»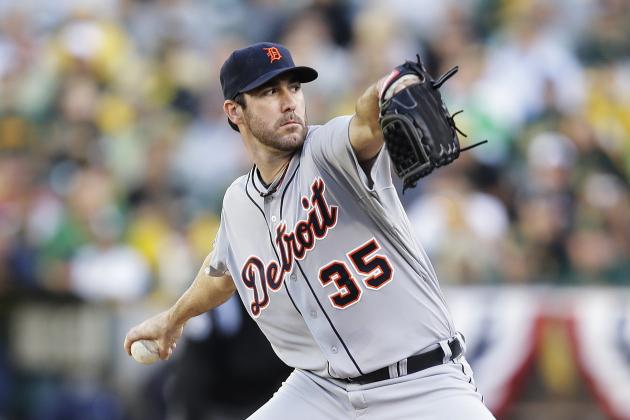 Ezra Shaw/Getty Images
SP Justin Verlander
Final Score Prediction
Tigers 4, Red Sox 1
Pitching Predictions
Boston
John Lackey (6 IP, 5 H, 4 ER, 0 BB, 3 K, L)
Junichi Tazawa (1 IP, 0 H, 0 ER, 0 BB, 2 K)
Brandon Workman (1 IP, 1 H, 0 ER, 0 BB, 0 K)
Despite the fact that John Lackey pitched significantly better at home this season, the Red Sox flipped their Game 2 and Game 3 starters for the ALCS, leaving Lackey to pitch the first game in Detroit. He did pitch well this season in his one start at Comerica Park, allowing two runs in seven innings of work for a no decision.
Detroit
Justin Verlander (8 IP, 5 H, 1 ER, 2 BB, 10 K, W)
Joaquin Benoit (1 IP, 1 H, 1 BB, 2 K, SV)
On the other side of things, Justin Verlander will look to stay red hot and swing the momentum back to Detroit. Verlander finished an up-and-down season strong, and dating back to his Sept. 18 start he's thrown 28.1 straight scoreless innings. The scoreless streak will be snapped, but he'll throw a gem once again.
Offensive Predictions
Boston
2B: Shane Victorino
RBI: Dustin Pedroia
The Red Sox scuffled through the first 16 innings of the ALCS, but they caught fire with five hits and five runs over the final two innings on Sunday. It'll be a tough going again against Justin Verlander, and after striking for a first inning run, the Red Sox don't score again.
Detroit
2B: Jhonny Peralta
HR: Prince Fielder, Victor Martinez
RBI: Prince Fielder (2), Victor Martinez, Omar Infante
The Tigers strike for an early run of their own, when Omar Infante follows up a Jhonny Peralta double with an RBI single, but things hold at 1-1 until the seventh inning as Lackey settles in as well. Lackey runs into trouble in the seventh, though, as back-to-back home runs from Prince Fielder and Victor Martinez chase him from the game and prove to be the difference.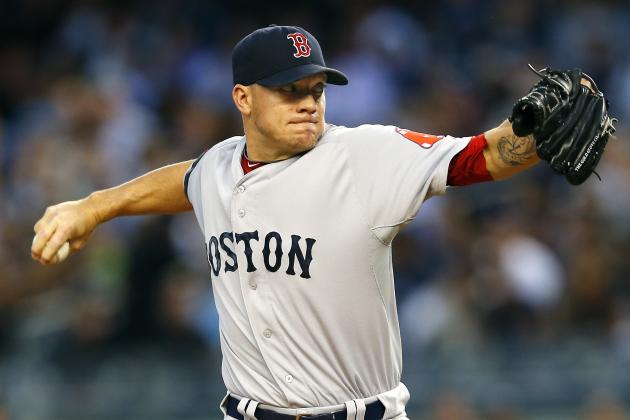 Rich Schultz/Getty Images
SP Jake Peavy
Final Score Prediction
Red Sox 5, Tigers 2
Pitching Predictions
Boston
Jake Peavy (7 IP, 4 H, 2 ER, 1 BB, 9 K, W)
Craig Breslow (1 IP, 0 H, 0 ER, 0 BB, 1 K)
Koji Uehara (1 IP, 0 H, 0 ER, 0 BB, 2 K, SV)
One of the prizes of the July trade deadline, Jake Peavy went 4-1 with a 4.04 ERA in 10 starts after joining the Red Sox, and he allowed five hits and one run in 5.2 innings of work in his ALDS start. He went seven innings and allowed four runs to pick up a win in his lone start against the Tigers this season, and I think he turns in a terrific start to even the series up once again. Breslow and Uehara slam the door without allowing a base runner over the final two innings.
Detroit
Doug Fister (5 IP, 6 H, 4 ER, 2 BB, 4 K, L)
Rick Porcello (2 IP, 2 H, 1 ER, 1 BB, 1 K)
Phil Coke (1 IP, 1 H, 0 ER, 1 BB, 0 K)
Al Alburquerque (1 IP, 1 H, 0 ER, 0 BB, 2 K)
Doug Fister has a solid postseason resume to this point in his career, going 2-2 with a 3.19 ERA in seven games (six starts). However, he did not have his best stuff in his ALDS start, allowing seven hits and three runs in six innings of work. The right-hander was 1-1 with a 5.23 ERA and 1.935 WHIP in two starts against the Red Sox in the regular season, and I expect him to get hit hard once again.
Offensive Predictions
Boston
2B: Jacoby Ellsbury, Stephen Drew
HR: David Ortiz, Jarrod Saltalamacchia
RBI: David Ortiz (2), Shane Victorino (2), Jarrod Saltalamacchia
After being stifled once again by Justin Verlander in Game 3, the Red Sox lineup finally gets things going from the start in Game 4, as a two-run single from Shane Victorino and a two-run home run from David Ortiz chases Tigers starter Doug Fister after five innings. Jarrod Saltalamacchia adds a solo home run off of Rick Porcello in the sixth to cap the scoring.
Detroit
HR: Torii Hunter
RBI Torii Hunter (2)
After shutting down the Red Sox offense for much of the series to this point, it's the Tigers offense that is silenced in Game 4, as they manage just four hits against Jake Peavy and company. Torii Hunter is 7-for-16 with a home run in his career against Peavy, and he provides the Tigers' only runs with a two-run home run.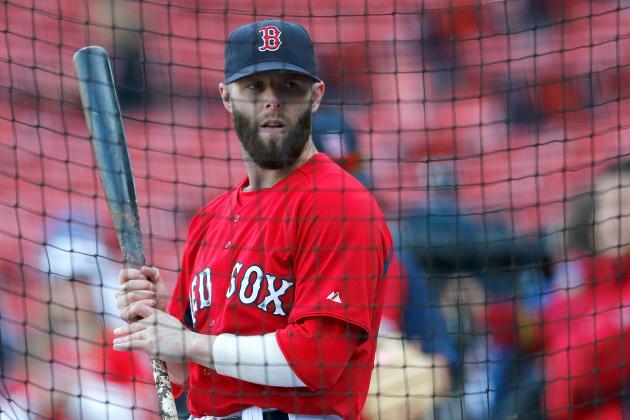 Jim Rogash/Getty Images
2B Dustin Pedroia
Final Score Prediction
Red Sox 2, Tigers 1 (10 inn.)
Pitching Predictions
Boston
Jon Lester (8 IP, 5 H, 1 ER, 1 BB, 7 K)
Junichi Tazawa (1 IP, 0 H, 0 ER, 0 BB, 1 K)
Koji Uehara (1 IP, 0 H, 0 ER, 0 BB, 2 K, SV)
He may be overlooked when compared to fellow postseason aces Max Scherzer, Clayton Kershaw and Adam Wainwright, but Jon Lester is every bit as capable as those guys of turning in a dominant start. He enjoyed a bounce-back regular season, going 15-8 with a 3.75 ERA in a career high 213.1 innings, and he's 1-1 with a 1.93 ERA in two starts so far this October. I expect him to have his best start yet in Game 5, though he'll have to settle for a no decision.
Detroit
Anibal Sanchez (7 IP, 6 H, 1 ER, 3 BB, 8 K)
Drew Smyly (1 IP, 0 H, 0 ER, 1 BB, 1 K)
Jose Veras (1 IP, 0 H, 0 ER, 0 BB, 2 K)
Al Alburquerque (1 IP, 1 H, 1 ER, 0 BB, 1 K, L)


After allowing eight hits and six runs (five earned) and taking the loss in his first start of this postseason, Anibal Sanchez bounced back with six no-hit innings in Game 1 of the ALCS, as pitch count kept him from going any further, but it was a positive sign nonetheless. He'll be tough again in this one and it will come down to a game of bullpens, with Al Alburquerque giving up a long ball in the 10th to take the loss.
Offensive Predictions
Boston
2B: David Ortiz
HR: Dustin Pedroia
RBI: Mike Carp, Dustin Pedroia
With Anibal Sanchez dealing, the Red Sox only manage to scrape across one run in his seven innings of work, with an RBI single from Mike Carp scoring David Ortiz in the second inning. Their bats go silent from there though, until the top of the tenth when Dustin Pedroia takes slider-specialist Al Alburquerque deep for what proves to be the decisive blow.
Detroit
2B: Miguel Cabrera
RBI: Miguel Cabrera
An RBI double from Miguel Cabrera, scoring Torii Hunter, is the only offense the Tigers muster against Red Sox ace Jon Lester as he's got his best stuff working from the get-go. The one-two punch of Junichi Tazawa and Koji Uehara slams the door in the eighth and ninth without allowing a base runner. The Red Sox head back to Boston with a 3-2 series lead looking to close things out against Max Scherzer in Game 6.