Georgia's loss to Missouri Saturday certainly hurt, but it's possible that the setback will prove to be more of a fork in the road than a roadblock. To be sure, there's a fair share of daunting tasks lying ahead for the Bulldogs, and the ultimate goal of Pasadena was significantly obscured by the recent defeat.
But, Georgia is still largely in control of its own destiny within the SEC, and if the Dawgs head in the right direction, things could still work out favorably.
Current Location:
The Bulldogs are assuredly missing their Top 10 ranking, having slid to 15 in the AP Poll and 16 in the Coaches Poll, but the season is still young. When comparing Georgia's ranking eight weeks into the season, the Dawgs are perfectly in line with some of the program's most successful recent teams.
At this point last year, the Bulldogs were ranked only slightly higher than their current poll position and still managed to come up just a few yards shy of appearing in their first ever BCS National Championship. In 2007, the Bulldogs were ranked lower eight weeks into the season and found themselves in a BCS Bowl game and walked away with a Sugar Bowl win.
Georgia's Ranking After Eight Weeks

| | | | | |
| --- | --- | --- | --- | --- |
| Year | Week 8 AP Poll | Week 8 Coaches Poll | Final BCS Ranking | Final Record |
| 2013 | 15 | 16 | ? | ? |
| 2012 | 13 | 12 | 7 | 12-2 |
| 2007 | 21 | 20 | 5 | 11-2 |
ESPN.com
Historical precedent implies the loss to Missouri and Georgia's current poll position has not eliminated the Bulldogs from contention.
The Road to Redemption:
Georgia is still largely directing its own destiny, but winning out during the regular season is a prerequisite to postseason aspiration. The loss to Missouri effectively squandered the goodwill and advantage in the SEC East that was gained by opening the season 3-0 in conference play. For Georgia to get back to Atlanta for a third consecutive year, the team must start by winning each remaining conference game.
Defeating Vanderbilt, Florida, Auburn and Kentucky would bring the Bulldogs to a 7-1 mark in SEC play. The Dawgs hold a tie breaker over South Carolina (they already achieved a head-to-head win) and Florida (thanks to a hypothetical win in early November). But, the Bulldogs will still need a little help in the form of two Missouri losses. Fortunately, the Tigers still have Florida, South Carolina, Ole Miss and Texas A&M on the slate.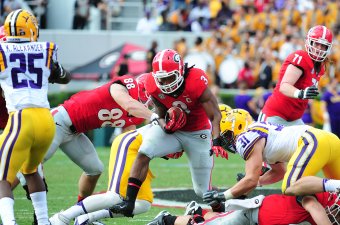 Scott Cunningham/Getty Images
Georgia's road to redemption can be much smoother if a few players can return from injury and play at a high level. According to Georgia coach Mark Richt, star running back Todd Gurley has a realistic shot at playing against Vanderbilt this weekend, but according to Seth Emerson of the Macon Telegraph, Georgia will not play Gurley until he is fully healthy.
Richt told Emerson, "Whenever he looks healthy enough and feels healthy enough, then we'll play him.
Additionally, the hope is that wide receiver Michael Bennett will recover from knee surgery in time for the matchup with the Gators on Nov. 2.
Challenges Ahead:
No disrespect to Vanderbilt, but the imminent challenge ahead lies in Jacksonville, Florida. When the Bulldogs take on the Gators in the annual rivalry clash, the matchup should favor Georgia.
Georgia's weakness clearly lies on the defensive side of the ball and thus far the Gators rank 104th in the nation in points per game. Even Georgia's uninspiring defense should be able to contain an offense that ranks 58th in the nation in rushing yards per game and 101st in passing.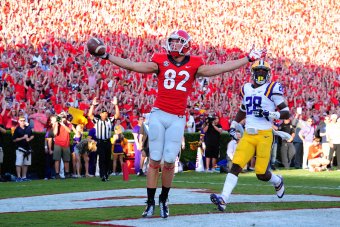 Scott Cunningham/Getty Images
Offensively, healthy contributors in the form of Gurley and Bennett could go a long way in negating the speed and athleticism of Florida's elite defense. Bennett had a breakout game against Florida as a freshman in 2011 when he hauled in a 20-yard touchdown catch on 4th-and-5 to bring the Bulldogs within seven points just before halftime.
The Dawgs went on to claim a 24-20 victory. Gurley played well against the Gator defense last year with a 114 yard, one touchdown performance as Georgia fought its way to a 17-9 victory.
To survive in the East, the Bulldogs will likely have to take down one more foe from the SEC West, the Auburn Tigers. Auburn worked into the Top 25 this week on the heels of a 5-1 start. The Tiger football program is rejuvenated under new head coach Gus Malzahn, and the crowd at Jordan-Hare Stadium will be yearning for an upset while the Bulldog faithful will be hoping for a seventh win in eight years against a bitter rival.
Help Needed:
Which team has the best shot at staying undefeated?
Obviously, Georgia needs some help to re-enter the National Championship picture, but if Georgia can defend its own cause by defeating two more ranked opponents (Florida and Auburn) over the course of the season, the Bulldogs might find luck on their side.
Common knowledge has always suggested that a one-loss SEC Champion would get an edge over an undefeated team from another conference when BCS consideration is at play. The same logic likely lends itself to a two-loss SEC team getting in over a host of one-loss teams.
Currently, 10 teams are undefeated and ranked ahead of the Bulldogs. Six of those teams are slated to play each other and eight more games will feature an undefeated team taking on a team ranked above Georgia. There is still a lot of movement left to take place within the rankings.
The Big Picture:
Georgia is 4-2 with a 2-2 record against Top 25 opposition. The Bulldogs have an opportunity to improve to 10-2 heading into an SEC Championship Game, and by doing so Georgia will conclude the regular season with four wins over currently ranked opposition.
If the Bulldogs get to Atlanta, the challenge at hand will be an all too familiar one: Defeat the SEC West. Georgia has failed to do so in its two consecutive SEC Championship appearances, but this year Georgia has had success against one of the teams in contention in the SEC West.
Moving forward, if Georgia can resemble the team that came away with an impressive win against LSU earlier this season—and not the frantic and depleted squad that lost to Missouri—the road to Pasadena might still be open.