What Needs to Be Settled in European WC Qualifying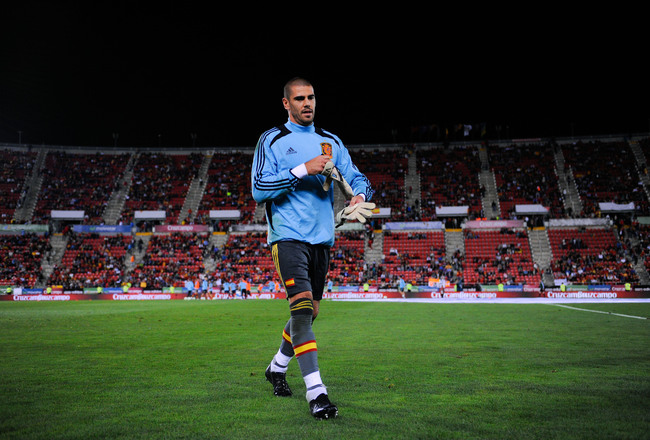 David Ramos/Getty Images
Tuesday sees the final round of qualifying clashes for the European national sides as they look to book a place in Brazil for next year's World Cup.
In the European zone, there are 13 qualification spots up for grabs, and only five of those have been settled going into the last set of games, meaning Tuesday night will be filled with drama, excitement and tension.
Belgium, Italy, Germany, Switzerland and the Netherlands have all sealed top spot in their relevant groups and have booked their place at the World Cup, but there is still so much to be decided.
Here, Bleacher Report takes a group-by-group look at every single clash that could prove decisive, and takes a look at who is still in the mix for qualification for the tournament next year.
Group A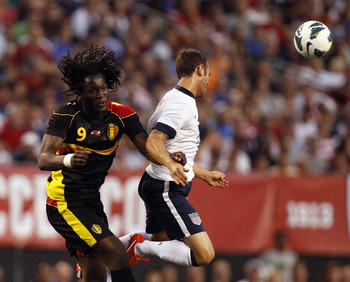 Romelu Lukaku's goals have shot Belgium to top spot
Matt Sullivan/Getty Images
Group winners: Belgium (confirmed)
Play-off place: Croatia (confirmed)
Starting with Group A, things are relatively straightforward in the first of the European zone groups. Belgium secured top spot on Friday night with a 2-1 victory over Croatia, a result that meant they could only finish second in the group.
Despite Serbia's 3-0 win over Wales back in September, they are six points behind the Croatians with just one game remaining, meaning it is impossible for them to even make the play-offs.
Bottom place in the group is still to be settled, with any one of Wales, Scotland and Macedonia in the running for the wooden spoon. Macedonia currently occupy the spot, and they visit Serbia on Tuesday night.
Fixtures: Serbia vs. Macedonia, Belgium vs. Wales, Scotland vs. Croatia
Group B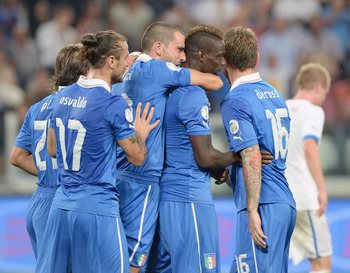 Claudio Villa/Getty Images
Group winners: Italy (confirmed)
Play-off place: One from Bulgaria, Denmark, Czech Republic and Armenia

Group B is set for a fascinating finish on Tuesday night. Italy's unbeaten record in the group means that the 2006 champions have booked their place on the flight to Brazil. However, that is just the tip of the iceberg in this group.
Of the other five teams in the group, four can still earn a play-off spot and keep their hopes of heading to the World Cup alive. At the moment, Bulgaria are in the driving seat due to a superior goal difference than Denmark, with both teams on 13 points. Just one point behind, on 12, are the Czech Republic and surprise package Armenia.
The Armenians however, face a trip to group winners Italy, and need a mathematical miracle to make the play-offs. The Danes look in pole position to qualify second: they face bottom side Malta at home.
Fixtures: Bulgaria vs. Czech Republic, Denmark vs. Malta, Italy vs. Armenia
Group C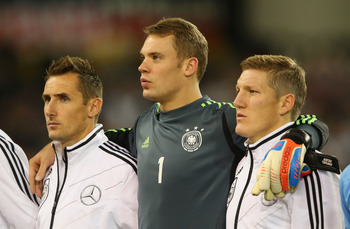 Alex Livesey/Getty Images
Group winners: Germany (confirmed)
Play-off place: Sweden (confirmed)
Like Group A, Group C is a pool where everything has been decided. The outstanding Germans have blitzed through qualifying, dropping only two points. They are already confirmed as group winners, whilst the Zlatan Ibrahimovic-inspired Swedes are set for a play-off berth, having secured second spot in the group.
Those two sides meet in the final round of qualifying fixtures tomorrow night.
Fixtures: Faroe Islands vs. Austria, Republic of Ireland vs. Kazahkstan, Sweden vs. Germany
Group D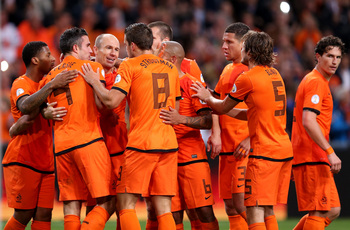 Scott Heavey/Getty Images
Group winners: Netherlands (confirmed)
Play-off place: One from Turkey, Romania and Hungary
Four groups so far, and four group winners confirmed. 2010 runners-up the Netherlands are booked in for a party in Brazil next year, having won the group with an identical record to Germany and Belgium, dropping only two points and being unbeaten.
Second-place is up for grabs though, with three teams in the hunt for the play-off spot available. Turkey are ahead of Romania on goal difference, and Hungary by two points. The Turkish face a tricky home tie against group winners the Netherlands though, meaning the door could be left open for one of Romania (who face Estonia) and Hungary to sneak in. Hungary face Andorra, who have yet to pick up a point.
Fixtures: Hungary vs. Andorra, Romania vs. Estonia, Turkey vs. Netherlands
Group E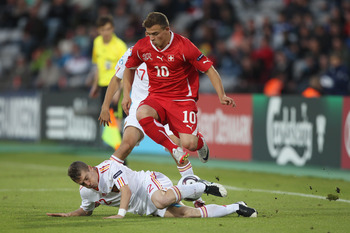 Michael Steele/Getty Images
Group winners: Switzerland (confirmed)
Play-off place: One from Iceland and Slovenia
The Swiss will be at the World Cup next year, and they are another side who have breezed through qualifying, having not lost a game so far. They will look to keep that record intact tomorrow against Slovenia, who are still in the hunt for second-place and a play-off spot.
They are tussling with Iceland for that spot, and they have extra incentive to seal it, as they have never qualified for a major tournament. If Iceland beat fourth-placed Norway, they will seal a play-off spot.
The other game in Group E sees the bottom two clash, as Cyprus host Albania.
Fixtures: Cyprus vs. Albania, Norway vs. Iceland, Switzerland vs. Slovenia
Group F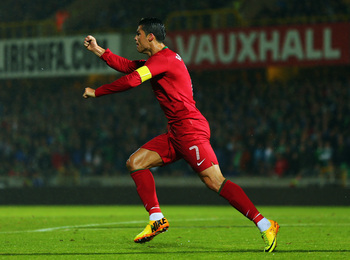 Bryn Lennon/Getty Images
Group winners: One from Russia and Portugal
Play-off place: One from Russia and Portugal
Group F, the first group in which the winners have not yet been decided, is a two-horse race. Russia currently lead the group by three points ahead of Portugal, who have to hope for a minor miracle if they are to qualify top.
Russia simply have to avoid defeat in Azerbaijan, and they will be heading to Brazil. If they lose however, a Portugal victory over Luxembourg and a seven-goal swing in goal difference will mean it will be Ronaldo's men sealing top spot.
Northern Ireland could yet finish bottom of the group, if Luxembourg better their result. They face Israel.
Fixtures: Azerbaijan vs. Russia, Israel vs. Northern Ireland, Portugal vs. Luxembourg
Group G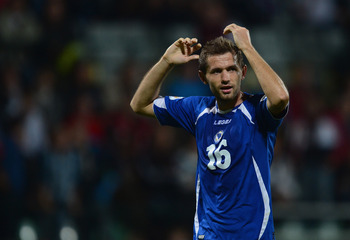 Jamie McDonald/Getty Images
Group winners: One from Bosnia-Hercegovina and Greece
Play-off place: One from Bosnia-Hercegovina and Greece
It is a similar story in Group G, where only two teams have a chance of making the top two, with the order yet to be determined.
Bosnia, who like Iceland, have never qualified for a major tournament, will be on the flight to Brazil if they beat fourth-placed Lithuania. Likewise, if they match Greece's result, they will finish top. If both sides win (Greece play bottom side Lichtenstein), then Greece would need to win by 18 goals more due to the dramatic separation in goal difference.
Latvia play Slovakia in a dead rubber in the other qualifier.
Fixtures: Greece vs. Lichtenstein, Lithuania vs. Bosnia-Hercegovina, Latvia vs. Slovakia
Group H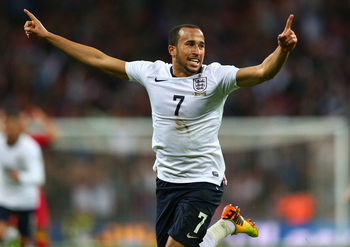 Michael Steele/Getty Images
Group winners: One from England and Ukraine
Play-off spot: One from England, Ukraine and Montenegro
Friday night's 4-1 victory for England means that simply a win over Poland is enough to ensure the former champions do not have to endure the agony of the play-offs. However, if they fail to beat the Poles, who themselves cannot qualify, things become interesting.
Ukraine play San Marino, who have yet to register a point, meaning that England failing to win would see Ukraine simply needing to beat San Marino to finish top of the group and put England in the play-offs. Put simply, Ukraine must better England's result to finish top.
Montenegro can technically still finish second, but they need to beat Moldova, hope Ukraine lose to a side who have lost every group game so far, and register a 12-goal swing in the process. Unlikely.
Fixtures: England vs. Poland, Montenegro vs. Moldova, Ukraine vs. San Marino
Group I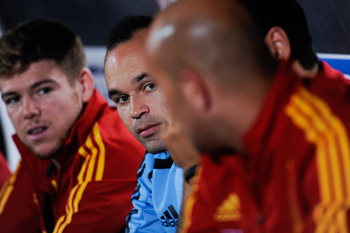 David Ramos/Getty Images
Group winners: One from Spain and France
Play-off place: One from Spain and France

Bizarrely, the world champions are yet to win their qualifying group as we head into the final round of matches. However, just a point for Spain against second-bottom Georgia would be enough to ensure their progress. Should they slip up though, the door will be open for France.
They would need to beat Finland and see a three-goal swing occur to ensure it is them who top the group, and put Spain into the play-offs. Some consolation for the French, is that they are guaranteed a play-off place.
Fixtures: France vs. Finland, Spain vs. Georgia
Keep Reading