It's rare to find an NFL game that doesn't mean anything, that doesn't have some kind of implication, whether those implications are on the outlook of a division or even the playoff picture. Some games, however, just have the special something. It could be a huge matchup on an individual level or just a great rivalry, but some games are simply more interesting than others.
Week 7 is no different in that regard with a number of incredibly interesting games, with a few in particular.
NFL Week 7 Picks

| | | |
| --- | --- | --- |
| Date | Matchup | Prediction |
| Thursday, Oct. 17 | Seattle Seahawks vs. Arizona Cardnials | SEA 31, ARI 10 |
| Sunday, Oct. 20 | Cleveland Browns vs. Green Bay Packers | GB 24, CLE 7 |
| Sunday, Oct. 20 | Tampa Bay Buccaneers vs. Atlanta Falcons | ATL 21, TB 3 |
| Sunday, Oct. 20 | Cincinnati Bengals vs. Detroit Lions | CIN 27, DET 24 |
| Sunday, Oct. 20 | Buffalo Bills vs. Miami Dolphins | MIA 13, BUF 10 |
| Sunday, Oct. 20 | New England Patriots vs. New York Jets | NE 35, NYJ 14 |
| Sunday, Oct. 20 | Dallas Cowboys vs. Philadelphia Eagles | DAL 42, PHI 35 |
| Sunday, Oct. 20 | Chicago Bears vs. Washington Redskins | CHI 17, WSH 7 |
| Sunday, Oct. 20 | St. Louis Rams vs Carolina Panthers | CAR 30, STL 24 |
| Sunday, Oct. 20 | San Diego Chargers vs. Jacksonville Jaguars | SD 21, JAX 17 |
| Sunday, Oct. 20 | San Francisco 49ers vs. Tennessee Titans | SF 21, TEN 9 |
| Sunday, Oct. 20 | Houston Texans vs. Kansas City Chiefs | KC 30, HOU 13 |
| Sunday, Oct. 20 | Baltimore Ravens vs. Pittsburgh Steelers | BAL 21, PIT 17 |
| Sunday, Oct. 20 | Denver Broncos vs. Indianapolis Colts | IND 35, DEN 31 |
| Monday, Oct. 21 | Minnesota Vikings vs. New York Giants | NYG 21, MIN 10 |
Schedule via ESPN.com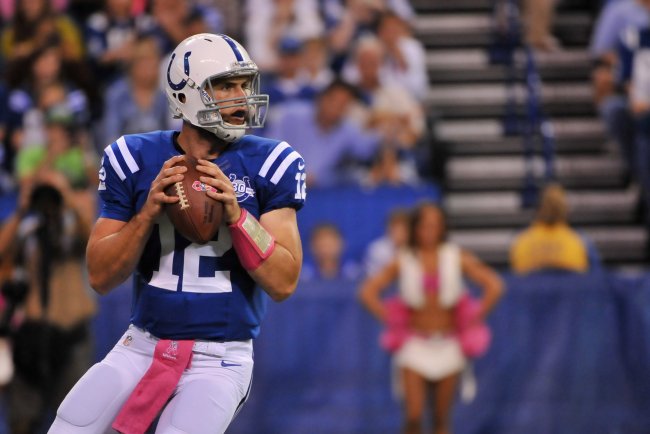 Jonathan Moore/Getty Images
Indianapolis Colts vs. Denver Broncos
This matchup has the chance to be the game of the year. The 6-0 Denver Broncos will take on the 4-1 Indianapolis Colts, which is interesting enough. Add the Peyton Manning situation and this one has pure gold written all over it.
Peyton and his team will do battle with the future Hall of Famer's former franchise, the Indianapolis Colts. It's not just his former franchise; it's the franchise he was drafted by, the franchise he played over 10 seasons for, the franchise he was supposed to end his career with. Now Peyton will return to Indianapolis to do battle with the young man who took his position, Andrew Luck.
Luck, while he hasn't had a Manning-esque season, has been solid for the Colts. He's passed for over 1,100 yards and seven touchdowns and has led his team to some big victories, including wins over Seattle and San Francisco.
Denver has been stellar, but its Week 6 game against the Jacksonville Jaguars didn't exactly go as expected as the Broncos turned the ball over three times, lending a glimmer of hope to the Indianapolis Colts and their fans that the Broncos are human and certainly beatable.
The history between Peyton and Indy really makes this matchup interesting, and adding their records to the mix certainly doesn't hurt.
PREDICTION: Indianapolis 35, Denver 31
Dallas Cowboys vs. Philadelphia Eagles
Thanks to an outstanding day by Nick Foles, the Philadelphia Eagles have reached .500 and are tied for first place in the NFC East with none other than the Dallas Cowboys, the same Cowboys that they'll battle for sole ownership of the division in Week 7. Nick Foles alone makes this one interesting, but there are a few other factors that make this one a must-watch.
This matchup is interesting for a number of reasons—the first being the divisional implications. The NFC East isn't exactly the prettiest division in the NFL with two teams at 3-3, one team at 1-4 and the hopeless Giants at 0-6, but someone has to end the season on top of the division, and this game could have a lot to do with who that is.
Another reason this matchup has an extra bit of spice on it is the history between these teams. The Cowboys and Eagles have done battle over this division for years and with the Redskins and Giants down, these two will most likely be fighting for the division come playoff time.
On paper, this matchup might not look that great, but not so fast. The Philadelphia offense has been great, ranking ninth overall in passing and putting up the best rushing numbers in the NFL. The Dallas offense, while it's not as attractive on paper, has shown that it has what it takes to do battle with the best offenses in the NFL after its 51-48 shootout with the Denver Broncos in Week 5.
The defenses aren't anything special, ranking 30th and 31st against the pass, which adds to the potential for a high-scoring shootout between division rivals. When added to everything else, that makes this matchup extremely interesting in Week 7.
PREDICTION: Dallas 42, Philadelphia 35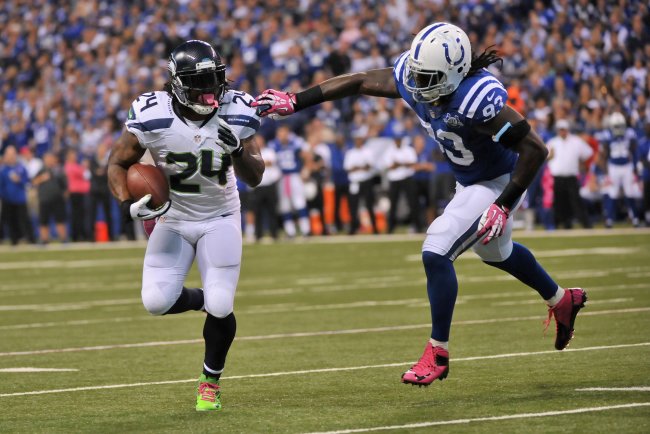 Jonathan Moore/Getty Images
Arizona Cardinals vs. Seattle Seahawks
Thursday night games aren't usually associated with anything interesting, but Week 7's Thursday night matchup could definitely change that. The Seattle Seahawks at 5-1 will do battle with their NFC West opponents, the Arizona Cardinals.
The Cardinals, while they're only 3-3, sit at third in the NFC West, but have a huge opportunity to better their position on Thursday against the Seahawks. Division matchups are interesting enough, but looking at the games between these two last season makes this one look a little more interesting.
Last season the Seahawks and the Cardinals put on a great show in their first matchup, which the Cards won 20-16. Then, later in the season, the Seahawks destroyed the Cardinals 58-0, showing that anything can happen in matchups between these division rivals.
Week 7 will be no different. The Seahawks are back on track after losing to Indianapolis in Week 5, and the Cardinals will be looking to right the ship after ending their winning streak against the 49ers in Week 6.
Any division game is interesting. Add a battle in one of the hottest young divisions in the NFL between two teams that can make anything happen and this game has a ton of interest. Will the game be close? Let's not get crazy.
PREDICTION: Seattle 31, Arizona 10