Who Is the Better Striker: Sergio Aguero or Edinson Cavani?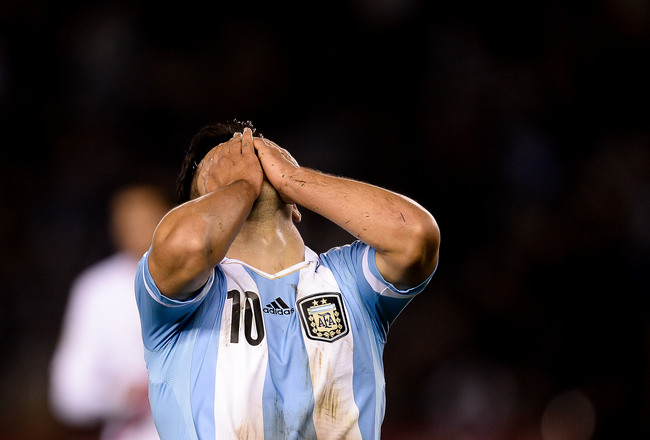 Near miss: is Aguero a better striker than Cavani?
Buda Mendes/Getty Images
On current form, Manchester City's Argentine international forward Sergio Aguero and Paris Saint-Germain's Uruguayan striker Edinson Cavani are two of Planet Football's most accomplished and respected front men, but which is the better of the duo?
Not an easy question to answer and the sort of poser that one might find doing the rounds in a busy bar in Buenos Aires or Montevideo, say, with perhaps predictable answers depending on which city one found themselves in.
From a neutral perspective, comparing two attackers of such undoubted grace, skill and precision does not come much harder, but in order to make this task easier, let's break the argument down into more easily defined sections before coming to a definitive conclusion.
Tale of the Tape
Aguero
Age: 25
Place of birth: Quilmes, Argentina
Height: 5'8"
Clubs/Goals: Independiente (2003-06): 23 goals in 56 matches in all competitions; Atletico de Madrid (2006-11): 100 in 230; Manchester City (2011-): 52 in 96
Internationals/Goals: 19 in 46
Total goals/matches: 194 in 428
Cavani
Age: 26
Place of birth: Salto, Uruguay
Height: 6'
Clubs/Goals: Danubio (2005-07): 12 in 30; Palermo (2007-10): 37 in 117; Napoli (2010-13): 104 in 138; Paris Saint-Germain (2013-): 5 in 11
Internationals/Goals: 18 in 57
Total goals/matches: 176 in 353
What is abundantly clear from even just the merest of glances at either player's attacking statistics from over the years is that both men have an eye for goal that puts them in the highest echelons of strikers currently operating in the world game.
Of the two, however, it is the Uruguayan that just—and I mean just—edges out his fellow South American when it solely comes down to pure numbers, with Cavani carrying a slightly superior career goalscoring rate of a strike every two games for club and country.
Meanwhile, his mate from Argentina has been scoring down the years at a rate of a goal every 2.2 matches for club and country, although Aguero does have a marginally larger sample size—as scientists like to call it—to work with having been playing at the highest level for two more years than Cavani, despite actually being a year younger than his fellow forward.
Trophy Hunters
Aguero
Club: UEFA Europa League (2010); UEFA Super Cup (2010); Premier League (2012)
International: Olympic Gold (2008)
Individual: FIFA Young Player of the Year (2007)
Cavani

Club: Primera Division (2007); Coppa Italia (2012)
International: Copa America (2011)
Perhaps surprisingly for two of world football's most sought-after and feared marksmen, they have both been relatively starved when it comes to silverware during their careers—whether that is domestically or internationally.
Aguero did win both the UEFA Europa League and the UEFA Super Cup with Atleti three years ago, and then as far as his club career is concerned, his greatest prize to date when his last-minute strike helped Manchester City win the 2012 Premier League title.
On the international stage, the Argentinian enjoyed success by helping his country win gold at the 2008 Olympics football final in Beijing, although as much as that is held in high regard by South Americans, it is still not the World Cup or the Copa America.
But Cavani has perhaps fared even worse in terms of getting his hands on trophies over the years with just a solitary league title success back home in Uruguay with Danubio six years ago, followed by victory in the 2012 Coppa Italia with Napoli.
However, one area where the Uruguay international does trump Aguero comes in the international arena, where Cavani helped spearhead his country's memorable and record-breaking triumph at the Copa America in Argentina just over two years ago, a trophy every footballer from that continent ultimately wants to get their hands on during their career.
Money Talks
Aguero
Independiente to Atletico: €21.7 million
Atletico to City: €45 million
Total: €66.7 million (€33.35 million per move)
Cavani
Danubio to Palermo: €5 million
Palermo to Napoli: €12 million
Napoli to PSG: €64.5 million
Total: €81.5 million (€27.1 million per move)
While Aguero's two transfers in his career so far may on average be superior in value to Cavani's three, the Argentina striker's big-money move to Eastlands in 2011 only puts him down in 16th place on the all-time list of world football's most expensive deals.
Meanwhile, Cavani's eye-watering move from Napoli to Ligue 1 champions PSG last summer is ranked the sixth-most expensive transfer in the history of the game.
What They Said
Aguero has been compared to a fair few centre-forwards in his time, including compatriots Diego Maradona and Carlos Tevez, however, his former manager at City, Roberto Mancini, likened the 25-year-old to one-time Brazil and Barcelona striker Romario.
"Sergio is a photocopy of Romario, they are the same player," Mancini said in August 2011, via BBC Sport.
"He is not 100 per cent yet but he is going to be fantastic for us."
Meanwhile, current FIFA Ballon d'Or winner Lionel Messi said of his countryman back in 2011, via the Daily Mail Online: "He has immense power, strength and an incredible work ethic."
And when Arsene Wenger was asked to compare Cavani with Colombia international Radamel Falcao, the Arsenal boss told Bein Sport: ""I believe it's very difficult to make a difference because for me they are very similar. They have an animal aspect inside of them. Both of them are animals.

"I think Cavani is a bit more mobile, and makes more runs off the ball, and Falcao is a bit more of a box player, a bit more of a killer than Cavani.

"But both of them, I love. And honestly, not to protect one or the other, but it's very difficult to make a difference between the two."
Style Gurus
Aguero is known for his outstanding close control, lightning pace—especially across the first five yards— and extreme strength, particularly in his upper body and thighs, which makes it hard for opponents to get the ball off him.
The squat and stocky Argentine international is a genuine centre-forward who likes to operate mainly in and around the penalty box, and if the ball breaks to him in this area of the field, then there is usually only one outcome.
Whereas in comparison, Cavani is better remembered for his goals, which on the whole tend to be more spectacular and eye-catching than his rival's efforts, although the Uruguay front man is not afraid to poach his fair share of close-range strikes in the area as well.
However, the more lithe and willowy 26-year-old's game tends to be characterised by a tireless and ceaseless work rate when the opposition are in possession of the ball, with Cavani always hoping to sniff out potential openings in front of goal for his team.
Did You Know?
Aguero's nickname is "Kun," which was given to him by his grandparents because of his resemblance to the character "Kum Kum" from the Argentinian's favourite TV show when growing up.
Also, "Kun" is the youngest-ever player to feature in the Argentinian Primera Division, aged just 15 years and 35 days when he made his league debut for Independiente in July 2003, beating the previous record from 1976 held by Maradona.
As for Cavani, the striker was top scorer in his final season in Serie A for Napoli with an impressive 29 goals in just 34 outings for the Southern Italian giants. While growing up in Uruguay as a boy, his hero was none other than former Argentina international marksman Gabriel Batistuta.
Big-Match Temperaments
Both men have that precious commodity of being able to find the back of the net in the most important matches when their teams need it most, which is why nearly €150 million in transfer fees have been splashed out on the pair over the years.
For instance, not only did Aguero net a double in his country's memorable 3-0 win over archrivals Brazil in the semi-finals of the Olympics in Beijing five years ago, but even more important was his last-minute strike to help City beat Queens Park Rangers 3-2 on the final day of the 2011-12 Premier League season and hand the club their first title in 44 years.
As for Cavani, the forward grabbed Napoli's crucial opening goal as they beat Juventus 2-0 in the final of the 2012 Copa Italia to win their first trophy since being crowned champions in 1990.
In Conclusion
In many ways, deciding who of Aguero or Cavani is the better striker is a bit like asking a young child whether they prefer chocolate or ice cream. It really is that hard to decide, but in the end for me, "Kun" just edges this particular head to head from all the evidence presented.
Keep Reading