NFL Power Rankings: Outlook for Each Team After Sunday's Week 6 Action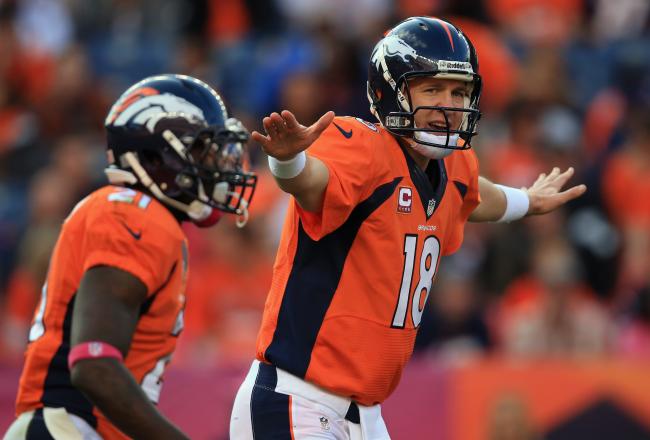 Doug Pensinger/Getty Images
Through Sunday's action in Week 6 of the 2013 NFL season, it seems as though things are as unpredictable as ever in this parity-ridden league.
Between the Denver Broncos not dismantling the Jacksonville Jaguars by at least four scores to the Houston Texans imploding at home against the St. Louis Rams, there were plenty of developments that left fans and analysts alike scratching their heads in confusion.
This list of power rankings focuses on some of the year's most surprising teams that have pieces in place for a playoff spot but have one fatal flaw apiece holding them back.
1. Denver Broncos (6-0)
OK, so Peyton Manning and Co. may have overlooked the Jaugars a little bit, but it's difficult to blame the Broncos for doing so.
Also, don't look overlook this tweet from B/R expert Matt Miller, who points out how Denver gets prolific pass-rusher Von Miller back next week:
And now the 6-0 #Broncos get Von Miller back. Good luck, NFL.

— Matt Miller (@nfldraftscout) October 14, 2013
Miller's presence will clearly make the defense better, and it will keep the Broncos rolling in the right direction and out in front for the No. 1 seed in the AFC.
2. Seattle Seahawks (5-1)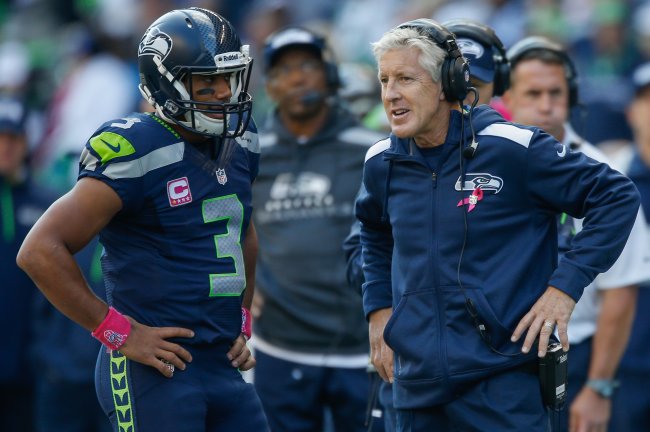 Otto Greule Jr/Getty Images
It wasn't the most aesthetically pleasing victory, but the Seahawks improved to 5-1 by besting the Tennessee Titans 20-13. Seattle seems to be unbeatable at home, and second-year quarterback Russell Wilson continues to play at a high level.
Wilson ran for 61 yards and threw for 257, and the defense was again relentless in forcing Wilson's counterpart Ryan Fitzpatrick into two interceptions.
The Seahawks should capture one of the top two seeds in the NFC and continue to be a force with such a significant home-field advantage.
3. Kansas City Chiefs (6-0)
Quarterback is the most important position in the sport of football.
The Chiefs' defense is formidable to say the least, and they are on par with Seattle's for the best and most talented unit in the league. However, when it comes down to the quarterback position, who do you ride with: Wilson or Alex Smith?
The answer is Wilson. Smith struggled mightily against the Oakland Raiders in Week 6 and is completing just 56.5 percent of his passes, averaging 6.16 yards per attempt with a 79.8 passer rating. Come on now.
4. New England Patriots (5-1)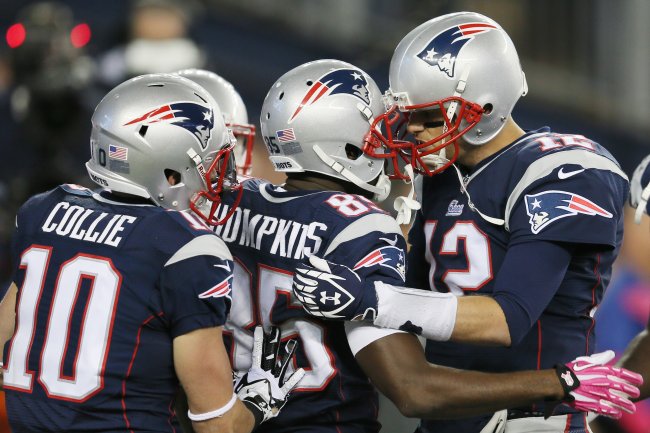 Rob Carr/Getty Images
By the aforementioned logic, it's tempting to put the Patriots at No. 3 because of what Tom Brady is doing with such a limited receiver corps. Kansas City's defense is just too talented, though.
Anyway, "Tom Terrific" was on full display when he chucked a game-winning touchdown pass to Kenbrell Thompkins with five seconds left against New Orleans. It caused the Gillette Stadium crowd to erupt, as the Pats knocked off the previously undefeated Saints, 30-27.
"Last night was as memorable a regular-season game as I remember for our team." --Tom Brady in an early-morning email to @themmqb

— Peter King (@SI_PeterKing) October 14, 2013
Brady should develop more chemistry with Thompkins and others, and he will soon welcome the return of tight end Rob Gronkowski—whenever that is. But credit the defense for yielding just 16.2 points per game so far this season.
5. New Orleans Saints (5-1)
The heartbreaking, last-second loss will sting the Saints, but this team is a legitimate Super Bowl contender, as long as Drew Brees is the trigger man on offense.
Defensive coordinator Rob Ryan has repaired the defense so well thus far. With a bye week to prepare for Buffalo at home, New Orleans should bounce back in a big way at the Superdome in Week 8.
6. Indianapolis Colts (4-1)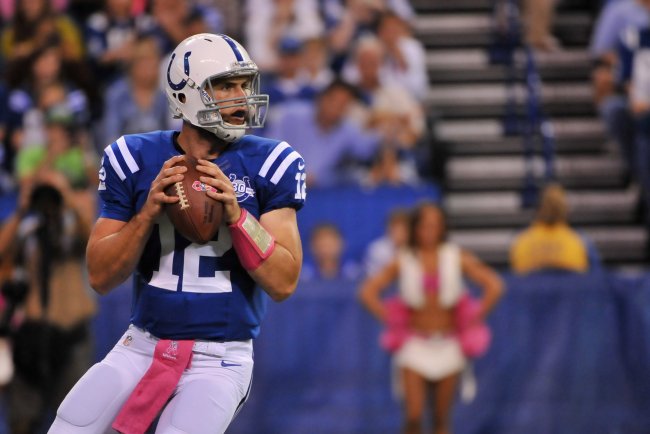 Jonathan Moore/Getty Images
Andrew Luck is the absolute truth at quarterback in Indianapolis, and he gets a shot to pad his numbers against a weak San Diego Chargers defense on Monday Night Football.
With the emergence of T.Y. Hilton as a legitimate No. 2 receiving target to complement Reggie Wayne, there is no telling how good Luck can be this year.
What would help is more production out of newly-acquired running back Trent Richardson, who's averaged an even 3.0 yards per carry since joining the Colts.
7. San Francisco 49ers (4-2)
The combination of Colin Kaepernick and super athletic tight end Vernon Davis connected on eight passes for 180 yards and two touchdowns against the Cardinals on Sunday. With defenses shading coverage over to wide receiver Anquan Boldin, it's no wonder Kaepernick is turning Davis' way so often.
San Francisco has no viable receivers outside of Boldin at the moment, but in spite of Kaepernick's struggles, the offense has been able to run the ball with Frank Gore at will.
As long as the Niners can wear down opponents in the trenches, they should remain an elite team in the NFC and in the hunt for the NFC West crown.
8. Chicago Bears (4-2)
Winning on Thursday night is always nice, because those games tend to be gritty and not pretty, but they do afford the victor extra time off and a buzz of momentum.
Then again, that win on Thursday came against the winless New York Giants by only six points, though Jay Cutler did bounce back nicely from a three-interception performance on a short week to throw for 262 yards and two touchdowns.
A trip to FedEx Field to take on Washington is next for the Bears, where their struggling pass rush that's had eight sacks in six games should get in the face of a less mobile Robert Griffin III.
9. Green Bay Packers (3-2)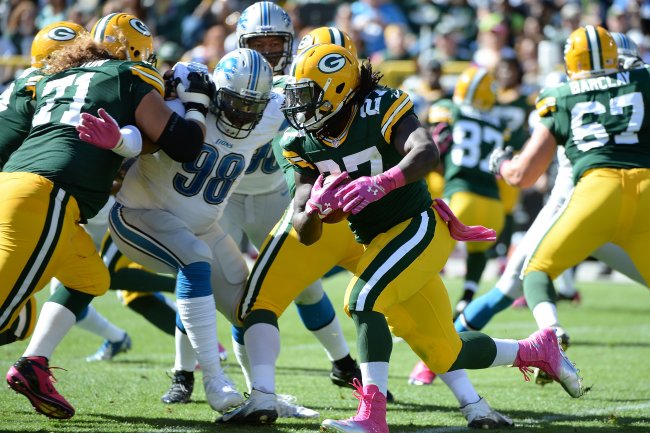 Harry How/Getty Images
Eddie Lacy's stellar performances in the past two weeks—where he's run for a combined 219 yards on 46 carries—should make Aaron Rodgers' job that much easier under center.
That is key, because in Sunday's win over the Baltimore Ravens, both James Jones and Randall Cobb went down with injuries. Jason Wilde of ESPNWisconsin.com documented the comments of their fellow receiver Jordy Nelson after the game, though, who said the injuries don't look to be devastating:
Nelson on Cobb, Jones injuries: "As far as I know, it's possibly not as bad as it could have been." That's all I've got, folks.

— Jason Wilde (@jasonjwilde) October 13, 2013
Hopefully that's true for the Pack, who need all the weapons they can have in Week 7 when the tough defense of the Cleveland Browns comes to Lambeau.
10. Miami Dolphins (3-2)
The bye came at a good time for the Dolphins, who needed some time off after a surprising 3-0 start became unglued with a two-game losing streak.
A home game against the Buffalo Bills looms in Week 7, where Miami must stop the run to ensure success.
Quarterback Ryan Tannehill has to develop a sustainable rapport with speedy wide receiver Mike Wallace in order to take this offense to the next level. Wallace's ability to stretch the field makes every skill player's job easier. He's had two 100-yard games but a combined 61 yards in the other three.
11. Dallas Cowboys (3-3)
Defeating Washington in dominant fashion isn't the achievement it was last season. Still, the Cowboys will take the win, along with the first-place division status that comes with it.
Only the Broncos score more points per game than the Cowboys and their 30.5 points-per-game average. Tony Romo is playing as well as ever, but starting running back DeMarco Murray sprained his MCL on Sunday evening:
Jason Garrett says DeMarco Murray has an MCL sprain and DeMarcus Ware has a quad strain.

— NFL: AroundTheLeague (@NFL_ATL) October 14, 2013
DeMarcus Ware's quad strain could also harm an already leaky defense, which has to be ready to run against the Philadelphia Eagles' up-tempo offense on the road this coming weekend.
12. Detroit Lions (4-2)
Quarterback Matthew Stafford continues to not force the issue too muchthis season, relying instead on a steadier stable of runners in Reggie Bush and Joique Bell along with the Lions' defense to do more heavy lifting.
Stafford threw three second-half touchdowns, as the Lions beat the Cleveland Browns 31-17 on Sunday. It's that type of play and adjusting that can get Detroit to the next level.
The big question mark is the Lions secondary, which doesn't have a lot of talent at the cornerback position and could be in trouble in divisional matchups down the stretch.
13. Cincinnati Bengals (4-2)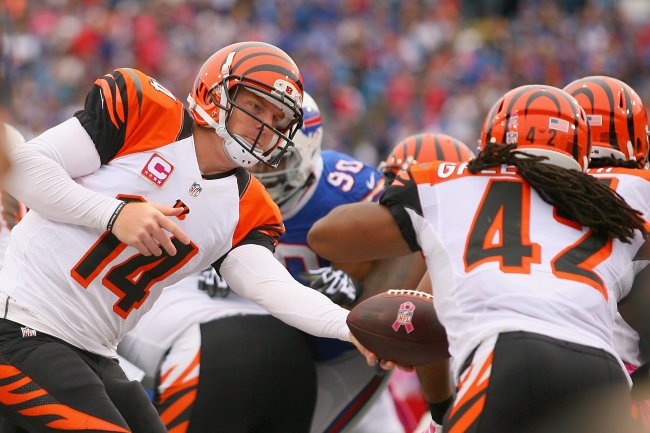 Rick Stewart/Getty Images
It's hard to say whether the NFC East or AFC North is the worst division in football at the moment, but those look to be the bottom-two.
Are the Bengals even a playoff team? Shutting down Brady in Week 5 was impressive, but Andy Dalton looks lost when he isn't throwing to A.J. Green in one-on-one or double coverage situations.
Good news: they are in a weak division, Mike Zimmer is still calling the shots defensively, and Gio Bernard—15 carries for 28 yards versus Buffalo notwithstanding—is a force to be reckoned with at running back.
14. Baltimore Ravens (3-3)
The defending Super Bowl champions have serious flaws. Joe Flacco threw for 346 yards and two touchdowns on Sunday, but he also took five sacks in the loss to the Packers
Green Bay didn't even have its best pass-rusher in Clay Matthews—an indictment on how unstable the Baltimore offensive line is.
Other discouraging Week 6 developments for the Ravens: the team still has no running game; they demonstrated an inability to stop a usually pedestrian-at-best Packers rushing attack; and Torrey Smith was held to one catch for 12 yards.
15. Carolina Panthers (2-3)
B/R's experts don't seem to be as high on the Panthers after Week 6.
It isn't so much that the Panthers' record is a shock; it's more that they're one of the most difficult teams to gauge right now.
Did Cam Newton turn a corner in firing three touchdown passes in a 35-10 win over the Minnesota Vikings on Sunday? Is Brandon LaFell a legitimate No. 2 receiver? Can the defense continue to look elite?
All of these questions hinge not on any one aspect of the team personnel-wise, but rather, it hinges upon this group's ability to win close games. Since Newton's arrival as the 2011 No. 1 overall pick, Carolina has proven incapable of sealing the deal in the last quarter.
Two years ago, the Panthers lost six games by eight points or less. In 2012, they dropped six contests by six points or less.
In two of the team's three losses this season, the outcome has been decided by one possession.
So, yes, Carolina looked strong as a front-runner on Sunday. The big question is whether it can capitalize on a generous schedule in the next five games and get on a run.
16. Tennessee Titans (3-3)
Until quarterback Jake Locker returns, head coach Mike Munchak has to be quivering in private, because this is a make-or-break season for him after not having made the playoffs the previous two seasons.
The Titans play a physical style on both sides of the ball, but they must get more than 3.1 yards per carry out of electric running back Chris Johnson to have any chance of continuing to be competitive.
17. St. Louis Rams (3-3)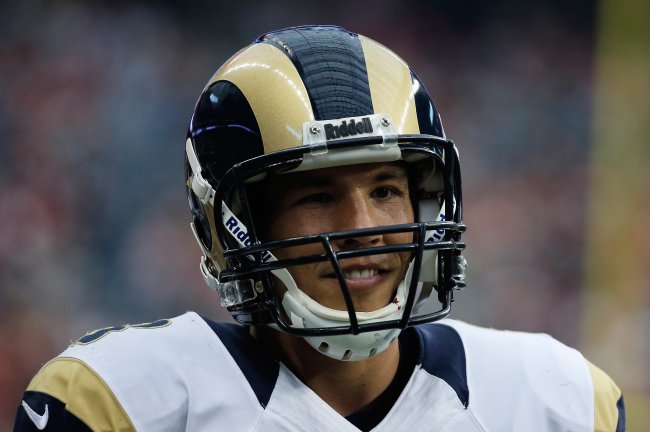 Scott Halleran/Getty Images
Year 2 under Jeff Fisher was meant to be the Rams' time to take that "next step," even in a tough NFC West division. A 1-3 start looked to doom those prospects until a two-game winning streak gave St. Louis new life.
Granted, the two wins have come over the hapless Jaguars and the free-falling Texans, respectively, but it's encouraging nonetheless that the Rams stuck together after facing early adversity in the first quarter of the season.
Zac Stacy has helped the running game when desperate assistance was needed. What remains to be seen is whether the defense can play at a high level against a quality opponent, and whether Sam Bradford truly does play like a quarterback who was taken at No. 1 overall in the 2010 draft.
Bradford is starting to show signs of progress with three touchdown passes in each of the past two contests, which gives him 13 touchdowns to just three interceptions through six games this season.
18. New York Jets (3-3)
For Rex Ryan's job security as head coach to be this strong is a shock to many. Critics will say what they will about his brash bravado, but Ryan is a heck of a defensive genius.
Oh, and general manager John Idzik looks like he crushed the 2013 draft in selecting Sheldon Richardson on the defensive line and prospective quarterback of the future Geno Smith.
Unfortunately, the rookie signal-caller's growing pains feature too many low points to carry this team to the playoffs in 2013.
Geno Smith has had quite the roller coaster this season. Check out his QBR by week: pic.twitter.com/VyH7EGVwqv

— ESPN Stats & Info (@ESPNStatsInfo) October 13, 2013
Smith turns the ball over far too much for the Jets to soar on a steady basis. With a golden opportunity to steal a Thursday night road win at New England in Week 2, three interception by Smith sunk their chances.
Against a traditionally vaunted but vulnerable Pittsburgh Steelers defense in Week 6, Smith reverted to his giveaway gaffs, as Pittsburgh fans gleefully guffawed in facing an inexperienced quarterback.
The chance is still there for Smith to improve and take this team to the playoffs, but through six games, he still has a lot to work on—chiefly, ball security.
19. Philadelphia Eagles (3-3)
This defense is still terrible and benefited from facing Tampa Bay Buccaneers quarterback Mike Glennon, who was making his second NFL start.
Having said that, Nick Foles looked comfortable as the starter in place of Michael Vick at quarterback. With a QBR of 89.8, three passing touchdowns and zero turnovers, Foles has made a case to remain the starter moving forward.
Presuming superstar running back LeSean McCoy stays healthy, the Eagles have a real shot to win the NFC East, no matter who's under center.
However, the defense must make even the slightest progress. It can't get much worse, though, as no one concedes more total yards per game than Philly.
20. San Diego Chargers (2-3)
Monday night is a make-or-break type of game for the Chargers. Philip Rivers is playing at a high level again, but the defense isn't helping him out at all.
The Colts are the toughest opponent San Diego will have faced all season, so hanging tough would be a huge confidence boost for Mike McCoy's team. Then again, this offense is explosive enough to win the game outright, so suffering a close loss wouldn't feel like a moral victory.
Since the AFC West features the undefeated Broncos and Chiefs, there isn't much margin for error before Nov. 10, when the Chargers host Denver. They will then travel to Miami and Kansas City in the weeks thereafter.
21. Arizona Cardinals (3-3)
Four turnovers gave the Cardinals little chance of upsetting the division rival 49ers on the road, but there were plenty of explosive plays generated in the passing game.
It's just hard to be sold on Carson Palmer at quarterback with any sort of conviction. It hasn't been all his fault, but the offensive line is still suspect—not a good thing when head coach Bruce Arians dials up a vertical-based offense.
If the immobile Palmer had first-round rookie guard Jonathan Cooper in the fold, perhaps it would be a different story.
22. Cleveland Browns (3-3)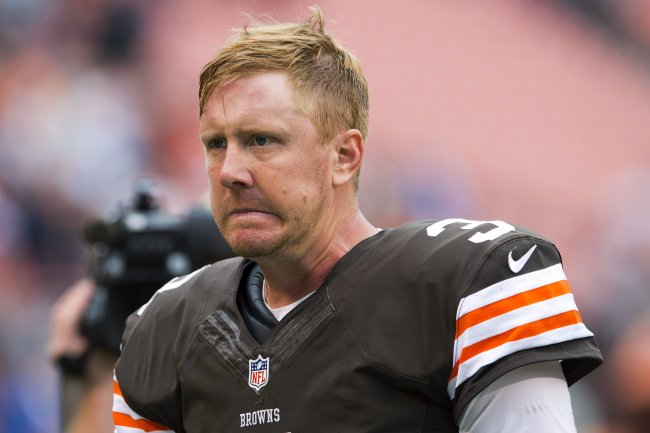 Jason Miller/Getty Images
Operating in an offense that was designed to suit his strengths, it's safe to say quarterback Brandon Weeden has regressed in his second year.
Weeden threw one of the ugliest interceptions in recent NFL memory to crush the Browns' chances of beating a good Lions team in Week 6. Here is a GIF, courtesy of Bleacher Report:
That was after Cleveland's playoff-caliber defense played a whale of a game.
As long as Weeden, who just turned 30, is under center and holding onto the ball too long while staring down receivers, this team has no chance at the postseason. If the new regime wasn't already looking ahead to the 2014 draft for a quarterback, Sunday had to drive that development into action.
Thus, this situation is very much like what the Jets face with Smith at quarterback—only Smith's athleticism gives them a far better chance than the statuesque Weeden gives the Browns.
At this point, if the defense is providing the only chance to win, the front office might as well reunite Tim Tebow with Willis McGahee—the tandem that drove the league's leading rushing attack in 2011 with Denver.
I'm only half-kidding.
23. Oakland Raiders (2-4)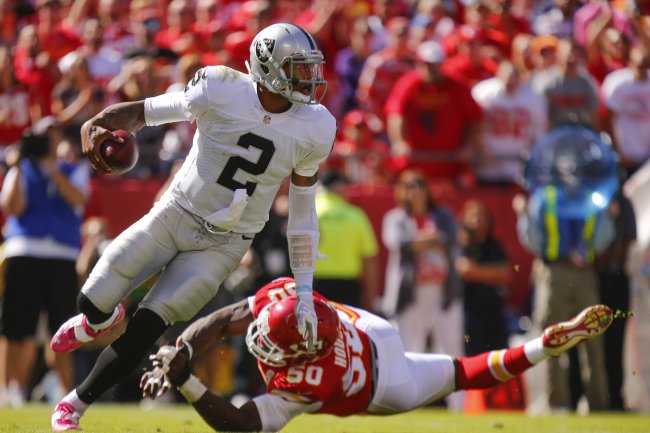 Kyle Rivas/Getty Images
This Raiders bunch is so much better than the record indicates. Their four losses were to the league's two undefeated teams as well as the Colts and Redskins—with the latter game in that sequence featuring Matt Flynn as the starting quarterback for Week 4.
Terrelle Pryor was sacked 10 times on Sunday against the Chiefs. Part of that is his still-developing awareness of pressure, but part of it was a tenacious Kansas City defense feasting on a depleted Oakland offensive line.
Video Credit: NFL Network
The injury-ravaged unit is what's holding the Raiders back from being a playoff contender, because Pryor is the only one capable of establishing a running game at the moment.
Things could be looking up in Oakland entering a Week 7 bye, though.
Until a Week 15 rematch with Kansas City in the Black Hole, the Raiders don't play another team with a current winning record. As long as Pryor continues to show promise and the offensive line steps up even in the slightest way, watch out for Oakland in the second half of the season.
24. Pittsburgh Steelers (1-4)
As horrible as Mike Tomlin's team looked through four consecutive losses to open the season, signs of life came after the bye week.
The defense played as it usually has for the past decade, and Ben Roethlisberger had his best game of the year, going 23-of-30 for 264 yards passing and a touchdown against a stout Jets defense.
A win at home over Baltimore in Week 7 would still give the Steelers a chance to climb back into the AFC North race, given the meager state of the division.
25. Buffalo Bills (2-4)
Without EJ Manuel at quarterback, Thad Lewis proved to be an excellent fill-in while facing a Bengals defense that had just stifled Tom Brady a week ago.
Then Lewis got hurt, but he should only be day-to-day with a mild foot sprain, per Pro Football Talk:
Bills QB Thad Lewis has mild foot sprain. No ligament damage. He is day to day. Per league source.

— ProFootballTalk (@ProFootballTalk) October 14, 2013
That may be enough to keep the Bills competitive for now, what with their swarming defense and a backfield featuring C.J. Spiller and Fred Jackson.
26. Houston Texans (2-4)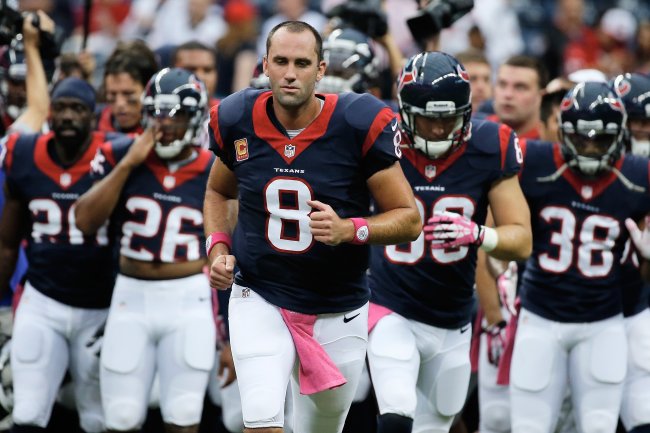 Scott Halleran/Getty Images
Even with an elite-caliber defense and
Arian Foster
running hard, the Texans cratered in a 38-13 loss to the Rams at Reliant Stadium in Week 6.
In the midst of a four-game losing streak, head coach Gary Kubiak is on the hot seat, and Matt Schaub may not be the quarterback in Houston beyond this season.
27. Atlanta Falcons (1-4)
Injuries threaten to cripple any hopes the Falcons have of mounting any sort of comeback charge to salvage a disappointing season.
It will say a lot about Matt Ryan if he's able to weather this storm without Julio Jones, who is out for the season with a foot injury, and with another banged up top receiver in Roddy White.
28. Minnesota Vikings (1-4)
The opposing Panthers were an absolute buzzsaw that the Vikings happened to run into in Week 6. A perpetual deficit put the game in quarterback Matt Cassel's hands, which isn't a winning formula.
Also, until head coach Leslie Frazier gets the defense sorted out, Minnesota will be hard-pressed to ride the best running back in the game, Adrian Peterson, to the playoffs for the second-straight year.
29. Washington Redskins (1-4)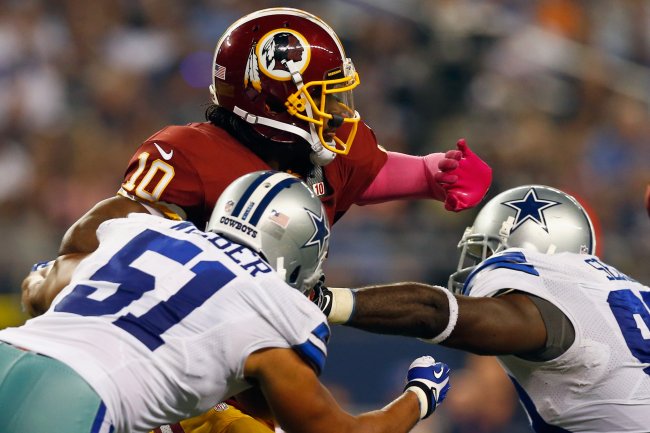 Tom Pennington/Getty Images
Robert Griffin III just isn't the same young man as the one who drove Washington to an NFC East title as a rookie. Cowboys cornerback Brandon Carr said as much before Sunday night's divisional showdown, per John Keim of ESPN Dallas.
Part of that may be the dreaded "sophomore slump." However, at least some of Griffin's struggles have to be attributed to him not being 100 percent, though.
Without the real RGIII, the Redskins defense isn't good enough to carry the load. After this nightmarish start, Mike Shanahan wouldn't be foolish to consider starting Kirk Cousins in the short-term.
30. Tampa Bay Buccaneers (0-5)
It is hard to say if Mike Glennon is the team's quarterback of the future, but head coach Greg Schiano will in all likelihood get the pink slip at some point, so it won't be up to the rookie third-rounder.
There is so much talent on this roster. Installing a new voice to the locker room and perhaps a new leader of the offense under center could see this team make a deep playoff push next season.
31. Jacksonville Jaguars (0-6)
No one expected the Jags to hang with the Broncos as much as they did. Alas, there is no way Jacksonville was going to rise out of the bottom-two of these rankings.
Justin Blackmon had a monster game with 14 catches for 190 yards. That makes it scary to think what he might do when GM David Caldwell brings in a surefire quarterback in the impending draft.
Head coach Gus Bradley was defensive coordinator in Seattle last year, and he put together a game plan to limit Peyton Manning as much as any opponent has in 2013. That's enough to bump the Jags out of the NFL cellar.

32. New York Giants (0-6)
This is always one of the toughest teams to get a handle on, but this year, it's easy to analyze the Giants: they're just bad.
Diagnosing what has gone wrong is more complex. Eli Manning has thrown an alarming 15 interceptions, despite a supporting cast featuring Victor Cruz, Hakeem Nicks and Rueben Randle.
Not having a running game hurts, but Manning should take a lot of blame for forcing the ball too often.
After two Super Bowl victories over the previous six seasons, New York looks to be in prime position to revamp its roster at or near the top of a loaded 2014 draft class.
This article is
What is the duplicate article?
Why is this article offensive?
Where is this article plagiarized from?
Why is this article poorly edited?