Who Loses out When Gareth Bale Returns for Real Madrid?
Use your ← → (arrow) keys to browse more stories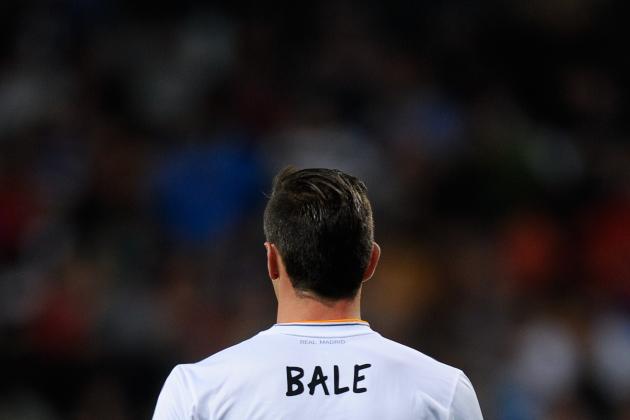 David Ramos/Getty Images

After playing just three games for his new club, it's easy to forget that Gareth Bale now plies his trade for Real Madrid. Following an exhausting summer transfer saga, Bale managed to record just a handful of minutes before suffering a hamstring injury. But early reports from Dermot Corrigan of ESPNFC indicate that the midfielder is approaching a return to the field soon.
Madrid have struggled their way through recent La Liga matches—barely edging out Elche and Levante on the road. Despite some close calls, Los Blancos are sitting in third place in the table, poised to make up ground on their trip to Barcelona in two weeks.
Will Gareth Bale be in the squad?
The left-footed dynamo will be reintroduced to the team shortly, but it is important to look at the ramifications of his return. Madrid boast a crowded attacking lineup without much of a weak link. Bale is capable of playing wide left, right and even through the middle, but to do so would displace either Cristiano Ronaldo, Isco or Angel Di Maria.
With Ronaldo an obvious untouchable, that leaves Isco and Di Maria fighting to remain in the starting XI.
Both have been in inspired form. Isco has taken charge in the center of the pitch following the departure of Mesut Ozil. His creativity and movement bring a lot to the table, even if he isn't quite the distributor his predecessor was.
Di Maria has been a source of great energy on the wing. Despite his slight frame, the Argentinian is capable of darting in and out of the back line in search of the perfect delivery. Admittedly not much of a goal threat, he is still quite valuable to the balance of play.
Where will Bale feature most often this season?
The return of Bale will upset this balance.
The man who cost €100 million is certainly on par with—if not superior to—those players, but it is his role in the side that needs definition. His scoring streak hit its peak when playing through the middle for Tottenham, but it is unclear how a Bale-centered lineup would affect the contributions of Ronaldo from the left wing.
Carlo Ancelotti has much to fuss over ahead of their Clasico matchup Oct. 27. The critical showdown allows Madrid the chance to make up lost points against the league leaders, but it also puts the pressure on their record signing to find a spot in the congested lineup.
Where Bale will fit into this season's plans remains to be seen, but Madrid would be silly not to tinker with the lineup to accommodate the Welshman. Through no fault of his own, Di Maria might be seeing his role diminished in the coming weeks. His energy will still be valuable from the substitute's bench, but the 25-year-old will have a tough time keeping the new boy from seeing the field.
Bale's talent is undeniable, and Madrid's performances have been anything but convincing in recent weeks. With pace to burn and a wicked left boot, the winger could be the spark they need to kick the offense into high gear.